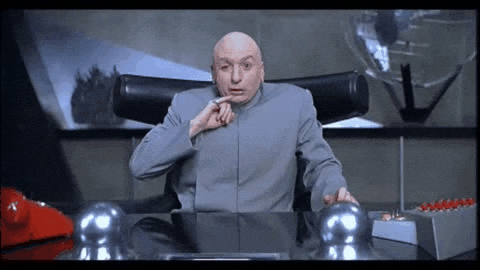 $1,186,527!
That's up just under 100% on our STP/LTP combination, which started with $100,000/500,000 on Jan 2nd so, all in all, it was a good year – as of 11/16 anyway. Now it's Nov 27th and I haven't updated the positions on the spreadsheets yet due to the holidays but, in the exact same positions after a couple of wild weeks, the LTP now stands at $894,878 and the STP is at $354,962 so that's a combined $1,249,840 as the STP got bigger and the LTP didn't lose too much ground.
That's for the UNTOUCHED positions but, as you'll see below, we did a lot of touching so it remains to be seen whether we made matters better or worse. Meanwhile, $1,186,527 was up $46,011 from our September Review (I never collected the October reviews into a single post) so we're chugging along pretty much as expected now and what really saved the LTP was all those short-term trades we made back on Sept 26th (see Top Trade Alert) that are indeed giving us a $100,000+ pop into the Jan expirations on all those short calls we sold in anticipation of a correction.
It's always a good idea to go back and read the logic we had at the time in retrospect so that, next time we have a similar situation, you'll have the experience of having gone through it before and you'll have a better idea of what to expect. As a bonus – those 9 positions we picked are mostly still good for new trades as they pulled back as expected, so now we wait for the next bounce to sell more calls.
Meanwhile, the summary of our Reviews is as follows:
Options Opportunity Portfolio (OOP) – Part 1: Don't forget, this is a quick review just highlighting changes. Image is from 11/2, not the current but I'll note any adds if I can and please ask about anything I may have missed where action may be required.
BJO – is now JO, apparently and on track at $42.81.
TZA – Hedge is doing it's magic, now up $8,000 but max payout is $25,000 from $7,500 net entry so +$17,500 is our goal – still more than 50% left to gain.
SCO – Like the STP,

we're rolling our 10 short Nov $16 calls at $5.60 ($5,600) to 15 short Jan $20 calls at $3.50 ($5,250).

CDE – Very good for a new trade down here.
CHK – Still way too cheap at $3.59.
Options Opportunity Portfolio (OOP) – Part 2:
GE – We're going to roll but no hurry.
GNC – Another one that got cheap again
LB -

Let's take the money and run on the 20 long 2020 $20s, now $15

- that's a nice $30,000 we can pocket off our net $12,000 entry (less as we also sold short calls we closed earlier).
OIH -

Let's buy back the short 2020 $27 calls for 0.45 and roll our 10 long 2020 $22 calls at $1.40 ($1,400) to 20 2021 $15 ($5.60)/$22 ($2.10) bull call spreads at $3.50 ($7,000) and let's roll our 5 short 2020 $23 puts at $4.90 ($2,450) to 10 short 2021 $22 puts at $4.50 ($4,500)

so the whole move is net $3,550 to put us into a $14,000 spread that's mostly in the money at $19. We put net $1,250 into the original set so net net $4,800 on the $14,000 spread – even though it went 20% against us. That's why these spreads are so powerful!
SPWR – We're likely to press this one but not yet.
WPM – I though earnings were fine so no changes yet, now down $8,000.
Short-Term Portfolio Review (STP): Now we're at $311,832 so not much gained on this dip despite adding 50% more SQQQ longs. It was Friday the 2nd that I put up the portfolio snaps and we were at $309,840 then and the S&P was at 2,720 and now 2,703 so I guess we shouldn't have expected much change.
IBM – In the last review, we closed those short puts at $20 and added them to the LTP (2020 $145 puts at $23.20) so it's the LTP's problem now!
UGA – We added 30 Jan $28 ($2.00)/$31 ($0.80) bull call spreads and UGA is at $27.27 but the short calls are 0.55 so no point in buying them back – we'll just see how it plays out.
CELG – Back to the lows and the bull call spread is dead but it was anyway. We'll decide next week whether we want to add a bull call spread when we roll the short puts (2021 $75 puts are $14 so 1.5x will put money in our pocket and drop 12% off our target). We're in for a net $1,300 credit and only 5 so net $2.60 credit even if the spread dies worthless means net $72.40 is our put side entry. Even if we don't believe in them enough to add the bull spread – that's still pretty good!
DXD – a $70,000 hedge that's mostly in the money but showing just net $30,000 so $40,000 downside protection here.
SCO – That's hurting us and we have to roll but we think this is a good bottom so

we're going to be aggressive and roll our 40 SCO short Nov $18 calls at $4 to 40 short SCO Jan $20 calls at $4

so we pick up $2 in strike without spending money. We could cut our exposure and sell 20 $20 puts for $2 (or split the trade into 20 puts and calls at that strike so both sides can't lose and we expose less) but, I don't think we stay below $60 so this should work and, if not, then we split.
SQQQ – We have 160 June $12s we bought for $3.50 (avg), now $4.25 and we have 80 short March $14 calls left from our last spread, those we sold for $1.25 and are now $2. Seems fine to me.
TSLA – Will pay us in full.
TZA – Still the same though now all in the money. It's a $40,000 spread currently priced at net $12,000 is so $28,000 upside protection there.
All in all, we're in good shape though the LTP has quickly given back the $70,000 it gained on the bounce so we are pretty much right back where we were two weeks ago and we're still waiting to see if those bounce lines break up or down. While I think down is more likely – the whole point of keeping the bounce chart is to take the thinking off the table and we don't get more bullish until the chart is green and we don't get more bearish unless it flips red.
Until then, we wait – PATIENTLY.
Long-Term Portfolio Review (LTP) – Part 1: Actually it's better than I thought as we were only at $933,656 back at our 10/19 review and now we're at $935,614 so we're up about $2,000 after a rough month – I can live with that – especially as "that" is still up 87.1% from our $500,000 start on Jan 2nd.
Also, the STP is doing its job and making money while we lie still and, while it's tempting to get bearish, this market is actually just making the bullish 10% correction we expected, only it's starting from 10% higher than we thought it would be so MAYBE down another 10% if panic ensues but we'll be buying then, not selling.
Meanwhile, our primary goal is to preserve cash and buying power so we're only going to change the really compelling positions and generally try to stick with what we have which is $555,528 in CASH!!! with $1M of our $1.8M buying power in use at the moment – that's something else I'd like to reduce so we'll take a hard look at our bigger margin-eaters and see if they are necessary.
HMNY – Still hanging onto 0.02 and the year is winding down and they aren't BK – interesting. They had lost about $240M by 9/30 but really – that was their plan all along, wasn't it. Their big mistake was doing this in a public shell instead of losing Billions in private like Uber…
WBA – Loose call from a position we'll discuss later.
Short puts – We trimmed a lot so these are just the losers:
KHC – Nothing wrong with our net $52 entry – that's where we are now and, since that was our downside target (see how these placeholders work?)

let's buy 15 2021 $45 ($10)/60 ($3.50) bull call spreads for $6.50 ($9,750)

and, you guessed it – I want to sell short calls down the road for income.
SBUX – Since the market is uncertain and we'd like to free up margin,

let's take the money and run as we're up 60% already

.
SEE – We were asleep at the wheel as they dipped to $30 early this month, now I'm not willing to chase a BCS but next time we should.
LTP Review – Part 2:
ETM – Still good for a new trade.
NRZ – On track.
SKT – I love this company, best REIT of them all at the moment with a 6% dividend. On track.
AAPL - More cowbell! ("Guess what? I got a fever! And the only prescription.. is more cowbell!") How could you not want more AAPL stock when it goes on sale? We have a big spread already but

why sell 10 June 2020 $160 puts for $12.88 ($12,880) when we can sell 15 2021 $170 puts for $18.80 ($28,200) and I know I said I wanted less margin but hey, $10,000 more (so we roll). Now we can use that $10,000 to roll the 40 2021 $190 calls ($33) down to the $180 calls ($37.50) for net $4.50 ($18,000)

so we've added $40,000 of potential upside for net $10,000 AND improved our position for when we do want to sell more short calls (and we're likely to collect the full $31,000 from the June $200s at this rate). More cowbell baby!
ABX -

We shouldn't be greedy as we're back in our range so let's sell 20 April $13 calls for $1.25 ($2,500)

.
ALB – Patience is paying off with them.
ALK – On track but I don't expect them to go over $70 so

let's sell 10 Jan $70 calls (full cover) for $2.25 ($2,250) and see how that goes

. If they go higher than $72.50, we're in the money for $25,000 and I'm happy to DD on the longs if they break up but, come on, it's only an airline…
AMGN – We're right on track as we sold the Jan $200 calls so we don't want them to be higher at the moment. We already took profits on the first leg of this trade and the 2021 spread is there to cover the short calls we left out. On the other hand, the premium on the 2020 $200 calls is ridiculous now but we're generally in good shape.
ARR – Those short puts expired at about $2 so evenish in the end. We're back to $22.50 and I don't like the option pricing but I do love the 0.19 MONTHLY dividends so

let's sell 10 of the July $22.50 puts for $2 and 20 of the July $20 calls for $2.50 and see how that goes

.
BBBY – Not much to do but wait on these.
BHC -

$10.60 for the 20 2020 $15 calls ($21,200) is much more than we'd get for the spread so let's cash those and buy back the short 2020 $15 puts for $1.40 ($1,400) and cover the short 2020 $22 calls with 20 2021 $22 ($8)/35 ($4) bull call spreads for net $4 ($8,000) and sell 10 2021 $20 puts for $3.25 ($3,250)

so that's net $15,050 and we've cut half our short put margin and we still have a $30,000 spread left over. Not bad off our original $4,200 credit spread (we were very aggressive with the put sale because — VALUE!!!).
C – Wow, doing very poorly at the moment.

We'll take advantage of the cheap 2021s and roll the 25 2020 $62.50 calls at $9.20 ($23,000) to the 30 of the 2021 $60 ($12)/75 ($5.50) bull call spreads at $6.50 ($19,500) and we'll roll the 10 short 2020 $70 puts at $11 ($11,000) to 15 short 2021 $65 puts at $9 ($13,500)

so we're pocketing $6,000 to make up for a bit more margin and now we have $45,000 worth of longs.
CAKE – Nothing to do here but wait.
CDE – Unlike ABX, they haven't recovered yet but I still like them long-term. No good moves to make, so we wait.
CHK – Strangely dead with

/NG

prices through the roof but, as noted recently, the long-term contracts haven't begun moving yet. On the whole though, we're on track, about halfway to goal.
CHL – A Chinese stock that made money. I should get an award!
CMG – How do I love thee? Let me count the ways. $26,000 on those Jan short calls! Now guess what?

I have no faith of $460 holding so we'll take $72 ($108,000) and run on the 20 short 2020 $460 calls and buy 20 of the 2021 $480 ($100)/540 ($65) bull call spreads at $35 ($70,000) and we'll roll 10 (1/2) of the 2020 short $580 calls at $26 ($26,000) to 10 more of the short Jan $485 calls at $13.50 ($13,500)

. We're doing that just to accelerate the Theta decay as we intend to pull a lot of money from short sales over time. We're taking net $25,500 off the table for now.
CZR – Still good for a new entry. Vegas was packed when I was there.
DAL – On track
DIS – These are leftovers from a successful spread but let's change up the timing by

rolling the 15 short 2020 $115 calls at $12.75 ($19,125) to 20 short April $115 calls at $7 ($14,000)

so we're putting $5,125 into it but we'll have another two or 3 chances to sell short calls this way.
F – Down on trade issues but still a good company so good for a new trade and no changes to far.
FCAU – On track.
FNSR – They came back strong on the buyout offer.

Our $10/22 spread is net $10 on 20 but the full $12.75 we expected otherwise, so let's just take it off the table and free up $60,000

. The short puts we can leave to expire.
FTR -

Let's take advantage of the low price and sell 50 of the 2021 $5 puts for $2.35 ($11,750)

and, technically, it will be a roll for the short 2020 $8 puts but they are only $4.50 so

let's say we set a stop at $4.75

and, otherwise, hope they recover before buying them back.
GCI – Good for a new entry.
GE -

It's silly not to pay 0.75 to roll the 80 2021 $10 calls ($1.90) to the 2021 $8 calls ($2.65) for $6,000

to buy $16,000 more in position. The $5s are $4.20 – steep by comparison.
GILD – Good for a new entry back at the bottom of the channel ($68.50).
GIS – Good for a new entry.
GPRO - Let's buy 40 more of the 2021 $5 calls for $1.90 ($7,600)
HBI – Very out of favor at the moment.

We'll roll our 50 2020 $13 calls at $3.15 ($15,750) to 50 2021 $10 calls at $5.60 ($28,000) so we're paying $12,250 to buy $15,000 in premium plus another year for HBI to get their act together. I guess we may as well buy back the 50 short 2020 $20 calls (0.65), since it's not worth waiting a year for and we'll sell 30 April $16 calls for $1 ($3,000) to pay for it

.
HRB – On track (again).
IBM – On track.
IMAX – Good for a new entry.

Let's buy back the 20 short 2020 $30 calls for 0.55 (not worth keeping) and wait for the next spike to sell more

.
IP -

Mis-entry as the 2021 Jans are supposed to be calls, not puts

on the spreadsheet – no wonder we're losing money when we had such a well-timed entry!
LB – On track.

We have a lot of short puts, let's buy back the 15 2020 $30 puts for $3.80 ($5,700)

M – Still good for a new trade
MO – Good for a new trade.
MT – Nice bottom so let's buy back the 40 2021 $32 calls for $2.90 ($11,600) and wait for some improvement to sell more calls.
MU – On track (barely).
I'll finish part 4 later.
Long-Term Portfolio Review (LTP) – Part 4:
NLY – Hanging around $10 but paying a nice dividend, so we don't really care. If we are assigned another 2,500 shares we'll have 5,000 shares at net around $8.50 (we already bought back short calls with a profit) so $10 is fine with us. They just paid a special dividend of 0.22 in addition to another 0.78 so we collected 0.30 ($750) in Sept and we're merging with MTGE (but NLY remains the ticker) – essentially acquiring them for stock so things will be messy for a bit.
NYCB – Like NLY, we'd love to be assigned more.
OPK – Overhang of SEC investigation is keeping them down. From the CC: "I will make some remarks about the SEC complaint filed on September 7, that named both the company and Dr. Frost. Most of you know we had no warning that such a complaint was coming. The SEC did not provide us with a Wells notice or any other indication of its intent to file the action. We disagree with the SEC's allegations as we've said publicly. We have spent considerable time over the past two months working closely with our advisors to address the allegations in the complaint. We have always prided ourselves on adhering to a high standard of excellence at every level. We are particularly frustrated that this incident has impacted our investors so deeply. Even worse, it came at a time when we were seeing quarter-over-quarter momentum on many fronts." So waiting and seeing on this one….
PZZA – It's only a $30,000 spread and we can pull $23,000 out now so is it worth waiting a year for $7,000?

I say take the $23.50 and run on the 20 2020 $35 calls ($47,000) and cash out the 15 short 2020 $42.50 puts at $1.40 ($2,100) and that leaves us with 20 short 2020 $50 calls at $11.25 and we'll cover them with 30 2021 $55 ($10)/70 ($3.40) bull call spreads at $6.60 ($19,800)

so that's net $25,100 off the table and room to sell short puts down the road. Now we've gotten almost all our potential cash off the table and still left a nice $45,000 spread as upside potential.
QCOM -

Let's buy back the 20 short 2021 $80 calls at $2.10 ($4,200) and roll our 2021 $55 calls ($8.20) to the $50 calls ($10.50) for net $2.30

.
SBUX -

It's already net $13,840 (because we're 2/3 covered) out of $11,250 if we were fully covered so let's be thankful and close it

.
SKX – On track.
SPWR – So unloved but I still love them. Good for a new trade.
T – While I'm not worried about the short Jan $34s coming back, we may as well buy them back to free the slot if they pop.

May as well spend $3.50 to roll the 2020 $30 calls ($2.25) to the 2021 $25 calls ($5.75) to widen the spread and buy a year

. That's $12,500 of intrinsic value we're buying for $8,750 and we just collected $500 for the first 5 short calls we sold. Now, with a wider spread, next time we can sell 10 for $1 ($1,000), which would currently be the April $31s but we're a bit low in the channel to make the sale now.
TGT – Such a silly sell-off. Fortunately, this is a defensive position to cover leftover short calls but now we've accomplished that we can effectively close out this trade (up $2,950 plus what we already took off the table) and

our new trade will be 10 short TGT 2021 $70 puts at $11.50 ($11,500) and 25 long TGT 2021 $65 ($13)/82.50 ($6.25) bull call spreads at $6.75 ($16,875)

so that's net $5,375 on the $43,750 spread with a $38.375 (714%) upside potential if TGT can claw back to $82.50 in two years. And we can sell short calls along the way!
THC – Another one where we took the winning calls off the table and covered the losers. In this case the losers were 10 short Jan $28 calls and those are now winners and the least we can do is widen the spread now, while it's cheap.

Let's roll the 15 2021 $27 calls at $7 to 20 of the 2021 $20 calls at $9.50 for net $2.50 ($3,750) + 5 new are $3,500 so $7,750 total spent

but we made $3,100 on the short Jan $28s from 9/26 so lots of money to be made on this one.
UCTT – This is supposed to be a nice, simple business. They sold 4.7M sshares of stock for $100M back in Jan but the company has really fallen apart since. $141M is still in the bank and sales are running over $1Bn and you can buy the whole company for $350M at $9 so I'm willing to stick it out. There are no 2021s so nothing to roll to yet.
WBA – This one was another cover after we cashed out longs but, so far, no pullback.

Let's buy back the short 2020 $65 puts for $2.90 ($2,900) to clear that slot for now. Let's also roll the 20 short 2020 $75 calls at $11.30 ($22,600) to 20 short Jan $75 calls at $7 ($14,000)

so we're spending $8,200 on that roll but clearing up slots to make 4 more sales like the Jans ($56,000?) for the rest of the year. Short Jan $80s (top of part 1) will hopefully go worthless too.
WHR – On track
WPM – Hopefully this is a bottom, love it as a new trade.
Butterfly Portfolio Update: Using the 11/2 chart so numbers won't be right and only discussing changes that matter – keep that in mind.
AAPL – This is why we only sold 4 puts and calls. We got burned on the $220 puts, now $29.95 so we lost $7,780 but we made $3,400 on the short calls so our net lose for the 1-month sale is $3,380 vs the potential $7,200 we could have made if we hit the mark.

We think AAPL will come back so we're going to roll the 4 short Nov $220 puts at $28.50 ( $11,400) to 6 short Jan $210 puts at 19.50 ($11,700) and we'll also sell 4 short Jan $200 calls for $3.70 ($1,480)

so we're putting another $1,780 in our pocket and we still have the $7,200 we sold last month so now we have $8,980 in pocket against paper losses while our backing spread, since we now sold the puts, cost us just net $4,550. While it would nice if it had gone perfectly, it really doesn't matter that it didn't as it's one disappointing sale out of 6-8.
Meanwhile, while it's cheap,

let's also buy 12 more months to sell and roll our 10 2020 $180 calls at $31 ($31,000) to 15 2021 $180 calls at $40 ($60,000)

so we'll put a bit more ($29,000) into the position to get more bullish. We can recapture $12,000 by selling 5 2021 $220 calls for $24 but we'd rather not if we don't have to go back to a full cover.
MDLZ – We sold $2.20 in premium and the short calls are $1.73 in the money so we won 0.47! While disappointing, it's a one month sale and we make $235 against our net $3,500 position in a single month and our position is $3.73 in the money so $7,460 coming on that end too – what's not to love? Now we feel better about MDLZ's stability and maybe even a bit more bullish as it held up well so

we'll roll our 5 losing short Nov $42 calls at $1.75 ($875) to 6 short Jan $44 calls at $1.30 ($780) and we'll sell 6 of the Jan $42 puts for 0.80 ($480)

so we're dropping another $385 in our pocket in addition to the $1,100 we still have from the last sale so now we have $1,485 to play with and a wider target ($42 to $44) to max our our gains.
OIH - Let's sell 5 more 2021 $24 puts for $6 ($3,000) and let's roll our calls (all 25) down to the 2021 $15s at $5.40 ($13,500) and we should recover about $6,000 so costing us net $7,500 to make that move but we can sell 25 2021 $ 20 calls for $2.75 ($6,875) to recover most of that but hopefully we can do a lot better.
Speaking of loser stocks – imagine if GE wasn't dragging down the Money Talk Portfolio:
Here's the print from Friday a week ago - before I left for my trip:
It's easy to take vacations when your portfolios are well-balanced! And what are we going to do with GE? Yep, probably double down while it's cheap - we'll never learn!
Essentially, we're on the hook for owning 1,000 shares of GE for $15 ($15,000) plus the $4,250 we spent on the spread but it's only a $50,000 portfolio (now $109,000) so we don't REALLY want to own $30,000 worth of GE so we'll move to AVOID the assignment and roll the 10 2020 $15 puts ($6.40) to 20 2021 $10 puts at $2.80, which is $5,600 so it costs us $800 to do that and that ups our net entry to $5,050.
Then we can just kill the current spread for $1,500 (net $3,550) and we're back to being in for 1/3 of an allocation block and, at the moment, I'd go for 25 of the 2021 $8 ($2.94)/12 ($1.50) bull call spreads at $1.44 ($3,600) so if GE is over just $10 in 2021, we get $5,000 of our $7,150 back and we get $10,000 at $12 for a small profit. In a smaller portfolio – we don't have the luxury of "going for it" with a huge move as a stock gets low – in GE's case, we'll be thrilled to get our current $3,550 loss back.
The problem Winston seems to have is that he thinks we're "wasting" time trying to get the $3,550 back on GE and there's some better opportunity out there but, in reality, that $3,550 is GONE and the old GE trade is GONE and this is simply a brand new trade that COINCIDENTALLY is using GE since GE is so cheap now that it's a very compelling way to turn $3,600 into $10,000.

The history of GE doesn't matter – nor does our past trading of it. What matters is whether or not, right now, GE seems like a bargain at $8.58 and whether the combination of stock and options we can take make it worth the risk of our $3,600 and whether or not we can think of a better, safer way to turn $3,600 into $10,000 (that also supports the diversity we want to maintain).

And yes, sometimes the trades don't work out but the ones that do tend to make up for it and we use SOME of those profits to stick with the ones that aren't working out – if we still think they can turn up.
I haven't updated the portfolios for changes we made from the boat but, last week to this week (completely untouched, which is a nice way to check if you're balanced) we're:
OOP $151,883 to $159,511
Butterfly $127,480 to $128,480 (yawn as usual)
STP $309,940 to $306,272
LTP $942,248 to $1,015,903
That's a net gain of $78,615 + $3,887 on the MTP so a net gain of $82,502 for the week on the completely untouched positions is the BALANCE I want people to focus on – not whether or not one individual trade idea is doing well or not 2 years into a 6-year cycle.
SELL PREMIUM, SELL PREMIUM and, when in doubt, SELL MORE PREMIUM – if you stick to that, your portfolio will generally take care of itself unless you don't HEDGE – in which case a downturn can break you but… BALANCE those philosophies and you can do very well in the market over the long-term – or even a good week once in a while…
Do you know someone who would benefit from this information? We can send your friend a strictly confidential, one-time email telling them about this information. Your privacy and your friend's privacy is your business... no spam!
Click here and tell a friend!