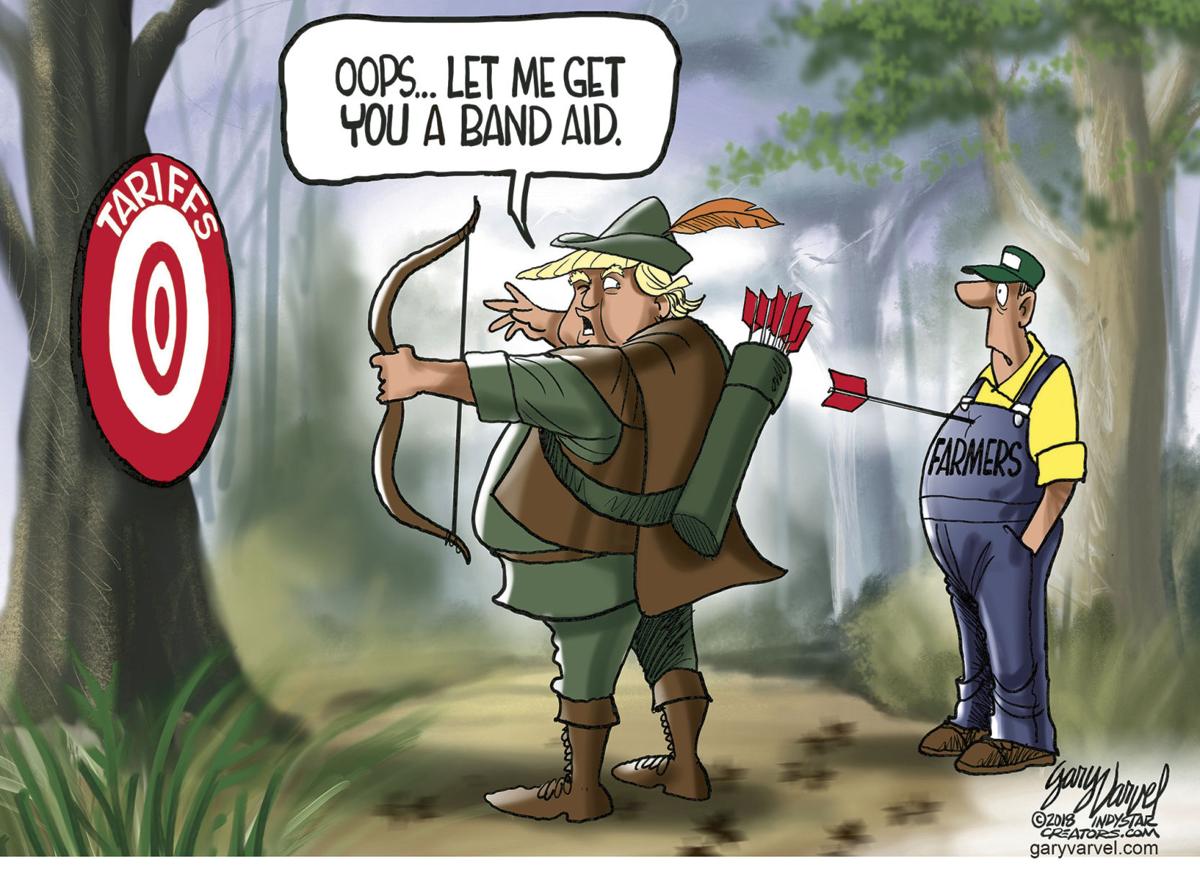 Does he do it on purpose?
As much as the President likes to complain about the market not performing well, more often than not he's the primary cause of poor performance. Yesterday, for example, we were having a lovely bounce (albeit on very low volume) but then Trump suddenly decides to say he's moving ahead and boosting tariffs on $200Bn worth of Chinese goods from the current 10% to 25% – which is up 150% from where they are and will sock American Consumers with an additional $30Bn in tax, crippling disposable income and boosting inflation. But it's $30Bn more in tax breaks he can give to his friends so – winning!
In an interview with The Wall Street Journal, Mr. Trump suggested that if negotiations don't produce a favorable outcome for the U.S., he would also put tariffs on the rest of Chinese imports that are currently not subject to duties.
"The rest" is another $267Bn with of goods and 25% of that would be yet another $66Bn picked from the pockets of American Shoppers. So we're talking about $96Bn worth of additional taxes aimed at the people who can afford it the least and the chances of Trump not doing that but instead making a deal with Xi this weekend that widens his already out-of-control budget deficit by $96Bn are slim to none – just as I've warned about from the start. These tariffs have nothing to do with China and everything to do with making middle Americans (the suckers who voted for him) pay for his tax cuts while wrapping it in a flag of patriotic protectionism that hasn't bought a single job back to our shores in two years.
Trump has done NOTHING for jobs and, in fact, Trump's first 22 months in office created just 4.1M jobs while Obama's last 22 months in office created 4.8M jobs – Trump inherited a triple and turned it into a double and, at this pace, it will dribble out into a weak single.
In fact, for the Red States he supposedly cares about – it's already a ground out as he's LOST 2% of the Jobs in 2018 while the Blue States with their higher minimum wages and crazy tax policies and Obamacare programs keep growing.
Now that GM has announced 14,0000 job cuts right in the heart of Trump Country, we don't expect that chart to improve and a continued trade war with China will shut down farming and equipment sales, leading to tens of thousands of additional job losses for the idiots who voted for Trump, thinking he actually gave a damn about them.
These aren't "accidental" losses, these are job losses cause by poor trade policies and poor economic policies and even poor environmental policies as GM is killing production of the Impala, Volt and Cruze – economy cars no longer in demand as relaxed Government mileage requirements led to a shift back towards SUVs and Trucks. Those 3 models had 170,000 units sold in the first 3 quarters vs over 400,000 Siverado trucks, which GM makes more money on and the salespeople have more incentive to sell now that the "Big Brother Government" is no longer requiring that GM watch their fleet mileage.
Silverados are made in Silao Mexico, Oshawa Canada and Valencia Venezuela and those cities are becoming great again while Cruzes, Impalas and Volts are made in Detroit, Flint & Hamtamck Michigan and Lordstown Ohio (the name didn't save them). Gee, who'd have thought that removing the incentives to make small cars and removing the penalties for making gas-guzzling trucks would have moved jobs from American factories making small cars to foriegn factores making large trucks? Yep, I guess no one could have seen that coming so I guess we should blame Obama, right?
That's why I have no pity for Trump voters in those places – Trump TOLD YOU what he was going to do and now he did it and these are the real-life consequences, not the fantasy outcomes he said would happen. One can only hope they learn a lesson that will last until November of 2020 – when we can once again vote for change – which is sadly what a lot of Trump's voters will be begging for long before then...
Meanwhile, back to trade talks (or lack thereof) – according to the WSJ:
Chinese Vice Premier Liu He, Mr. Xi's economic envoy, traveled to Germany this week to attend a China-Europe forum instead of going to Washington to meet with U.S. negotiators. People close to the Chinese government said Mr. Liu's trip to Germany had been planned for a while, but the timing was firmed up after Mr. Liu decided not to go to Washington for any presummit talks.
The President said tariffs could also be placed on Apple (AAPL) iPhones and laptop computers imported from China if the U.S. decides to put tariffs on additional goods – that's not helping the market much as AAPL drops back to $171, dragging the Nasdaq, Dow and S&P along with it. In a September letter to U.S. trade authorities, the iPhone maker said tariffs would disadvantage the company compared with foreign competitors and lead to higher U.S. consumer prices.
As you can see from the map, owning an android phone clearly makes you a Republican but being a Republican doesn't preclude you from owning an IPhone so Apple taxes will be another shock to many in Trump's base as they are just too darned popular to be contained by political boundaries.
Speaking of political boundaries (and World War III), Ukrainian President Petro Poroshenko said the country's parliament had approved his declaration of martial law for 30 days starting Wednesday, for a number of provinces most vulnerable to Russian aggression. Russia, who thinks they can now do whatever they want under the watch of a Putin Puppet President, seized 3 Ukranian Naval Ships and US Ambassador, Nikki Haley came out swinging on the President's behalf saying Russia's actions "Will further increase tensions with Ukraine." Wow, that's a strong response from the Trump Administration almost as strong as when Trump asked Putin if he meddled in the US elections and Putin said "no" and Trump made him do a pinky swear….
"We don't like what's happening (a clear act of war by Russia against the Ukraine) and hopefully it will get straightened out," said Mr. Trump, who had to pause while Putin had a drink of water but then added that the U.S. is consulting with allies in Europe about the incident.
NATO Secretary General Jens Stoltenberg said the events marked a serious escalation of tensions in the region. "Russia has to understand that its actions have consequences," said Mr. Stoltenberg, who called on Russia to release the Ukrainian ships and naval personnel. This morning, a court in Crimea has ordered one of the 24 Ukrainian sailors captured by Russia at the weekend to be detained for two months on charges of illegally crossing Russian borders.
Ukrainian troops have been fighting Russian-backed separatists in eastern Ukraine since 2014 but the hostilities have largely subsided since a truce was signed in 2015 but Russia build a bridge across the strait in May – the kind you might send troops across if you were looking to invade the rest of the Ukraine through Crimea…
Market-wise, we're still watching the same bounce lines we were watching yesterday. My comment to our Members in the morning chat was:
Still the same 10% lines and index lines we'll be watching as last week's slide below them was just a spike on the daily chart now that it's been erased, so we're at:

Dow

24,300

with a weak bounce at

24,800

and a strong bounce at

25,300

S&P 2,640 with a weak bounce at

2,710

and a strong bounce at

2,780

Nasdaq

6,870

with a weak bounce at

7,080

and a strong bounce at

7,230

Russell 1,485 with a weak bounce at

1,530

and a strong bounce at

1,575

NYSE

11,880

with a weak bounce at 12,150 and a strong bounce at

12,400

Another nice thing about the simple bounce line chart is it's easy to see where the inflection points are and this morning it's the NYSE, which is just over 12,150 at 12,195 at the moment. Then we'd look to see if the Nasdaq confirms a comeback but, at 6,651 after already being up 120 (1.8%) it's way beyond unlikely that we'll get another 200 points so we should be very skeptical of all approaches to the weak bounce lines while the Nas is still more than 10% down.

So, if anything, the NYSE failing 12,150 would confirm that the low-volume pop isn't likely to stick and then we can look to short the laggard on the way back down. How's that for a morning plan?
Do you know someone who would benefit from this information? We can send your friend a strictly confidential, one-time email telling them about this information. Your privacy and your friend's privacy is your business... no spam!
Click here and tell a friend!