Archive for 2018
by Zero Hedge - August 5th, 2018 11:30 pm
Courtesy of ZeroHedge. View original post here.
The son of the late al-Qaida leader Osama bin Laden has married the daughter of the lead hijacker in the September 11th terror attacks, Mohammed Atta, according to a recent interview the family gave to The Guardian.
The union was confirmed by Osama bin Laden's half-brothers during an interview with The Guardian. Ahmad and Hassan al-Attas said they believed Hamza had taken a senior position within al-Qaeda and was aiming to avenge the death of his father, shot dead during a US military raid in Pakistan seven years ago.

Hamza bin Laden is the son of one of Osama bin Laden's three surviving wives, Khairiah Sabar, who was living with her husband in a compound in Abbottabad, near a large Pakistani military base, when he was killed. He has since made public statements urging followers to wage war on Washington, London, Paris and Tel Aviv and is seen as a deputy to the terrorist group's current leader, Ayman al-Zawahiri. -The Guardian
"We have heard he has married the daughter of Mohammed Atta," said Ahmad al-Attas. "We're not sure where he is, but it could be Afghanistan."
"When we thought everyone was over this, next thing I knew was Hamza saying I am going to avenge my father," said his brother, Hassan al-Attas. "I don't want to go through that again.
Western intelligence agencies have been trying to track Hamza bin Laden's whereabouts for the past two years, according to The Guardian, as he is suspected to have become a "central hub of al-Qaida" as the organization itself "continues to be organised around Osama bin Laden's legacy," and may become galvanized around Hamza.
Another son of Osama bin Laden, Khalid, was killed in a US raid in Abbottabad, while a third, Saad, was killed in a 2009 drone strike in Afghanistan. Letter seized from bin Laden's compound suggest Hamza had been chosen as his father's successor.
Bin Laden's wives and surviving children have returned to Saudi Arabia, where they were
…

by Pharmboy - August 5th, 2018 9:29 pm
Reminder: Pharmboy is available to chat with Members, comments are found below each post.
Here's what we know about CRISPR safety – and reports of 'genome vandalism'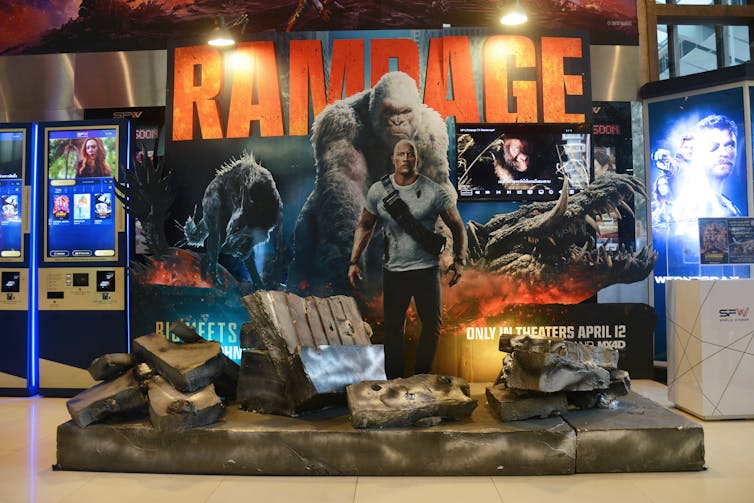 Courtesy of Jianhua Luo, University of Pittsburgh
A movie just recently released called "Rampage" features Dwayne "The Rock" Johnson using a genetic engineering technology called CRISPR, to transform a gorilla, among other animals, into a flying dragon-monster with gigantic teeth. Though this is science fiction, not to mention impossible, the movie captures the imagination of the public and their recent interest and fascination with CRISPR.
CRISPR, which stands for Clustered Regularly Interspaced Short Palindromic Repeats, was originally part of bacterial defense system that evolved to destroy foreign DNA that entered a bacterium. But this system was also capable of editing DNA – and now geneticists have honed the technology to alter the DNA sequences that we specify. This has generated enormous excitement and great expectations about the possibility of using CRISPR to alter genetic sequences to improve our health, to treat diseases, improve the quality and quantity of our food supplies, and tackle environmental pollution.
But a few recent scientific papers suggest that CRISPR is not without its problems. The research reveals that CRISPR can damage DNA that is far from the target DNA we are trying to correct. As a cancer biologist at the University of Pittsburgh School of Medicine, I use CRISPR in my lab to study human cancers and develop ways to kill cancer cells. Although the new finding appears significant, I don't think that these revelations rule out using the technology in a clinical setting, but rather, they suggest we take additional cautionary measures as we implement these strategies.
Treating human diseases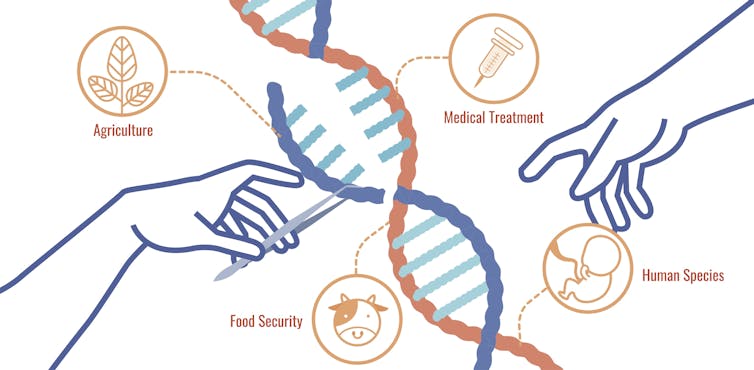 Using genome editing…

by Zero Hedge - August 5th, 2018 8:00 pm
Courtesy of ZeroHedge. View original post here.
Last week, the US Bureau Economic Analysis unleashed some statistical goalseek magic that would make Beijing thoroughly fabricated economic "data" blush for days: as part of the comprehensive GDP revision carried out every five years by the Commerce Department's BEA, US economic history was rewritten and in a shocking development, the annual saving rate was revised higher by 1.6% on average since 2010, with the 2017 US savings rate doubling overnight, from 3.4% to 6.7%.
Putting these revisions into context, the last comprehensive revision conducted in July 2015 only produced an upward revision of 0.3% per year. In fact, this revision to the saving rate over the prior 6 months is the largest on record, according to real-time data available from the St. Louis Fed since 1997.
Major revisions to national income (and consequently the saving rate) came from 3 sources of income: proprietors', dividend and interest income, as well as a tiny increase in employee compensation.
As BofA notes, the BEA incorporated the tabulations of sole proprietorship and partnership tax returns for 2016 which included new research by the IRS showing significant underreporting of income by nonfarm proprietors over time, causing a sizeable upward revision for proprietors' income starting in 2010. It wasn't immediately clear if this also meant a sizeable upward revision in tax audits by the IRS.
In addition, newly available IRS income data boosted dividend income in 2016 and 2017 by roughly $113bn and $143bn, respectively, shifting savings from corporations to households while the entire interest income series was revised higher due to changes in the way BEA calculates state and local employers' contribution to pension plans. Last, the saving rate got an additional boost in 2017 due to the integration of revised employment and wage data from QCEW which added $98bn to wages and salaries.
Unfortunately none of these statistical revisions actually mean anything, because both before and after the BEA revision, some 50% of Americans still don't have a single dollar in savings, and the only ones affected are those in the top percentiles of US society which means that – you guessed…

by Zero Hedge - August 5th, 2018 7:30 pm
Courtesy of ZeroHedge. View original post here.
The Russian Foreign Ministry announced on Saturday that Hollywood action star Steven Seagal would be the country's new representative for Russian-US humanitarian ties, according to Reuters.
The role was designed to "deepen cultural, art and youth ties" between the two nuclear superpowers.
The Russian Foreign Ministry likened Seagal's new role to that of a U.N. goodwill ambassador and said that the actor, who is known for his martial arts prowess, would receive no salary.

"It's a case of people's diplomacy intersecting with traditional diplomacy," the ministry said. -Reuters
US-Russia relations have been under seige since Russian President Vladimir Putin made the executive decision to annex Crimea in 2014 – stoking tensions with the West, which claims the Russian president acted above the law.
Out for justice, the US and others imposed harsh sanctions against Russia, while the Ukrainian army has found itself on deadly ground facing off with Russian forces throughout the disputed region.
Last year, Seagal was banned from entering Ukraine for five years, after the Ukrainian security service (BSU) deemed him a security threat and placed him on a blacklist. No word if he was marked for death by an attack force, or if they just don't like a guy who was born to raise hell. We're sure he would have received the maximum conviction had he set foot in the country, but for now he remains out of reach and hard to kill.
"Apart from a black belt, I have a black list now," -Steven Seagal
In 2016, Putin presented Seagal with a Russian passport – while apparently finding something humorous during the ceremony, an exchange which was clearly a big moment for Seagal.
Seagal – a frequent guest on Russian state TV and a regular visitor to the country for over a decade, was cited by RT as welcoming the appointment:
"I've always had a very strong desire to do all I can to help improve Russian-American relations," RT cited Seagal as saying. "I have worked tirelessly in this direction for many years unofficially and I am now very grateful…

by Zero Hedge - August 5th, 2018 6:30 pm
Courtesy of ZeroHedge. View original post here.
77 people were shot last week in Chicago, 9 fatally, but the rate of shootings has accelerated aggressively today as 'HeyJackass' reports "30 shot in 3 hours is the most shot in the least amount of time we've recorded in 5+ years. The previous record was July 4-5, 2016 w/ 29 shot in 6 hours."
Amid this carnage, ABC7Chicago reports that, police said there was a "trauma lockdown" at Stroger Hospital with only immediate family members of victims are being allowed in the emergency room. A spokeswoman for Stroger Hospital disputes the police account.
"Over the past 24 hours, Stroger's trauma unit received an unusually high volume of patients. At no time did Stroger go on bypass or 'lockdown' its trauma unit," the spokeswoman said. "We are asking the families of trauma patients to limit visitation at this time to immediate family members only so staff may focus on patient care. "
This comes just days after Superintendent Eddie Johnson visited ABC7 and talked about decreasing crime numbers and overall violence in Chicago.
"I think some of our more challenging, communities, it's just imperative that police and the community work together to reduce this gun violence," Superintendent Johnson said. "We just have too many guns on the streets of Chicago."
But, judging by the protests this week – that will shock the mainstream media narrative out of much of America – Chicagoans (particularly black inner city citizens) are furious at Mayor Rahm Emanuel's impotence and are asking President Trump for help.
VIDEO: Mayor Rahm Emanuel busts a move at South Side music festivalhttps://t.co/oyld95UDz8

(like he's dancing on the graves of the children that have been gunned down. look at me mommy, look at me!)

— SnorkyJr (@SnorkyJr) August 5, 2018
As Fox News reports, demonstrators took to the streets of Chicago this week to call for the resignation of Mayor Rahm Emanuel (D), blasting his administration for failing to curb the city's gun violence epidemic.
…

by Zero Hedge - August 5th, 2018 6:00 pm
Courtesy of ZeroHedge. View original post here.
Authored by Ryan Cooper via TheWeek.com,
American corporations are simply raking in profits. Some are so bloated and cash-rich they literally can't figure out what to do with it all. Apple, for instance, is sitting on nearly a quarter of a trillion dollars — and that's down a bit from earlier this year. Microsoft and Google, meanwhile, were sitting on "only" $132 billion and $63 billion respectively (as of March this year).
However, American corporations in general are taking those profits and kicking them out to shareholders, mainly in the form of share buybacks. These are when a corporation uses profits, cash, or borrowed money to buy its own stock, thus increasing its price and the wealth of its shareholders. (Big Tech is doing this as well, just not fast enough to draw down their dragon hoards.) As a new joint report from the Roosevelt Institute and the National Employment Law Project by Katy Milani and Irene Tung shows, from 2015 to 2017 corporations spent nearly 60 percent of their net profits on buybacks.
This practice should be banned immediately, as it was before the Reagan administration.
The most immediately objectionable consequence of share buybacks is they come at the expense of wages. Milani and Tung calculate that if buybacks spending had been funneled into wage increases, McDonald's employees could get a raise of $4,000; those at Starbucks could get $8,000; and those at Lowes, Home Depot, and CVS could get an eye-popping $18,000.
Some economists are skeptical of this reasoning, arguing that wages are set according to labor market conditions. But if you set aside free market dogmatism, it is beyond obvious that this sort of behavior is coming at workers' expense. Wall Street bloodsuckers are not at all subtle about it, screaming bloody murder and tanking stocks every time a public company proposes paying workers instead of shareholders. Indeed, it provides a highly convincing explanation for something that has been puzzling analysts for months: the situation of wages continuing to stagnate or decline while unemployment is at 4 percent. The answer is that wages are low in large part because the American corporate structure has…

by Zero Hedge - August 5th, 2018 5:30 pm
Courtesy of ZeroHedge. View original post here.
Last Friday's forceful intervention by the PBOC, in which the central bank hiked the reserve requirement for FX forwards trading from 0% to 20%, was a warning shot at the gathering yuan shorts who managed to briefly send the Chinese currency below 6.90 against the dollar last week, after losing 4% of its value in the past month, and bringing the cumulative decline against the dollar to 10% since April, a far steeper drop than seen during the 2015 devaluation.
The yuan slide had come amid growing speculation that Chinese authorities are more willing to let their currency weaken along with market forces and an escalating trade war, at least for as long as they felt any capital account leakages are contained and manageable.
And yet, despite China's long overdue intervention – after all, once capital flight begins as new holes in the capital account are uncovered, it would be too late to prevent a repeat of the 2015 scenario – the debate about Chinese currency depreciation and what happens next with Chinese policy gathered pace, with ING last week proposing that this latest attempt to "nuke the shorts" is doomed to failure, just like previous unilateral FX interventions.
Over the weekend, JPMorgan echoed ING's skepticism, writing that despite Friday's PBoC announcement and despite the cumulative depreciation over the past two months, "the pressure on the Chinese renminbi to decline further against the dollar is unlikely to go away if trade tensions with the US escalate further from here."
Meanwhile, in a move that puzzled many China watchers, at the same time that the PBoC announced an increase in the reserve requirement ratio for fx forwards trading, China announced that it would implement tariffs on $60bn of imports in response to a threat by the US earlier this week to raise the tariff rate from 10% to 25% on $200bn of Chinese exports to the US, prompting some to speculate that the FX intervention was merely implemented to prevent a collapse in the yuan beyond 7.00 vs the dollar as the market freaked out about the latest Chinese retaliation.
Of course the escalating tit-for-tat dynamic – which we have discussed extensively in the…

by Zero Hedge - August 5th, 2018 5:00 pm
Courtesy of ZeroHedge. View original post here.
With stocks at record high (price and valuations), and US macro data rolling over hard, it seems – based on speculators' positioning – that only a sucker would worry about downside risks right now…
Markets shrugged off a weaker than expected employment report (and constantly weaker than expected macro data) this week..
With VIX Futures and options speculative positioning is now at its most net short since Dec 2017…
As it seems investors have throw in the towel on worry.
Speculators have added to their aggregate Treasury short positions for 4 of the last 5 weeks, with this week showing the biggest addition to shorts since Nov 2017…
And hedge funds have never been so short gold… having added to shorts for seven weeks running…
But no matter how much speculators pile into USD longs, the greenback refuses to rise any further…
What could go wrong?
by Zero Hedge - August 5th, 2018 4:30 pm
Courtesy of ZeroHedge. View original post here.
A Polish brewery has produced a unique concoction; beer with vaginal lactic acid from two smoking hot models, Paulina and Monika, whose "essences" are caputured by a gynoecologist and treated by a laboratory in the city of Poznan in order to isolate the specific bacteria required for production, according to CEO Wojciech Mann.
"When you drink this beer, you realize that originally there was a beautiful woman who was maybe taking a shower, dancing or laughing at the very moment. You feel a close connection with this woman," the owner of the brewery Wojciech Mann told Sputnik.
The brew, made by "The Order of Yoni" (Yoni being the Sanskrit word for vagina) boasts 8% alcohol by volume and comes in two versions; Bottled Lust and Bottled Passion. Lust contains a "subtle nutmeg aroma and is produced using Paulina's vaginal bacteria," while Passion is a "classic light beer made from the essence of Monika's vagina."
Once the beer "containing the quintessence of femininity," was introduced to the wider public on the brewery's social media accounts, with a very hot advertising campaign involving Paulina and Monique, users from across the world were drawn to the Facebook page. -Sputnik
If you're wondering about STD's, fear not – "While a female netizen wondered whether the models had been tested for sexually transmitted diseases before contributing to the production of the beer, "The Order of Yoni" quickly replied that they had undergone gynecological examinations, and then the material was double-checked in the Poznan lab to make sure that the lactic acid bacteria were isolated from the smear."
…

by Zero Hedge - August 5th, 2018 4:07 pm
Courtesy of ZeroHedge. View original post here.
Hope you all take the time to read this piece by an Ohio soybean farmer caught up in Trump's trade wars.
Tariffs hurt the many and help the few. The "tyranny of the minority," if you will, and that is before taking into account the casualties of tit-for-tat retaliation.
Let me tell you a riddle.

"I slept with a billionaire because he said he loved me. I expected to make love, but in the morning I realized I was getting screwed. When I went to tell the world, I was offered cash to keep my mouth shut."

Who am I? No, I'm not a model or someone named Stormy. I'm the American farmer.

In the mid-1980s we were awash with over production in the corn and soybean sectors. Agriculture got busy, boarded planes, trains and automobiles and started building markets around the world, one handshake and one relationship at a time. We used our own funds through our check off dollars and trade associations to build markets in Mexico, Canada, Latin America and the Pacific Rim. And we didn't stop there. In partnership with the U.S. taxpayers, we built an ethanol industry to ensure another renewable energy source for U.S. consumers.

– Christopher Gibbs, Sidney Daily News
Hat Tip: @Noahpinion
Politics

Big special election in Ohio's 12th Congressional District on Tuesday. President Trump was stumping today for the Republican candidate. The seat has been held by Republicans since 1920, except for an eight-year stretch in the 1930s and a two-year term in 1980. It's tight, folks
A Monmouth University poll released this week shows a tight race, with Balderson receiving 44% support to O'Connor's 43%, with 11% of respondents saying they are undecided. – CNN
Stunning given the Republican beat the Democrat in the 2016 general for this seat, 66.6 percent to 39.8 percent, a whopping spread of 36.8 percent.
If the Dems take this one, the Republicans and the president are in deep-deep trouble. Even if it comes anywhere near to as close as the polls suggest, it still spells doom…