Archive for 2018
by Zero Hedge - September 9th, 2018 11:45 pm
Courtesy of ZeroHedge. View original post here.
In case you were wondering why Argentina hit the 'full panic' button late last week with interventions and promises of "painful" austerity to solve its currency collapse crisis, look no further than this chart…
As Bloomberg notes, Argentines pulled about $490 million dollars from personal savings accounts in the final two days of August, when the peso reached a record of 41.6 per U.S. dollar.
This is the biggest drop in 15 months as Argentina's Reserves have tumbled back to pre-IMF bailout levels…
It is evidently very clear that the collapse of the Argentine peso is making the country's citizens nervous… and the bank run has begun.
by Zero Hedge - September 9th, 2018 10:15 pm
Courtesy of ZeroHedge. View original post here.
When I moved to southwestern Virginia, I really didn't expect to be dealing with hurricanes. But, as I've just learned, a system like Hurricane Florence could affect places that are as much as 350+ miles from the shore.
So, if you are one of the 112 million and then some of Americans in the area classified as the "East Coast" – particularly the southern to mid-Atlantic part – you need to get prepared.
When and where will Hurricane Florence make landfall?

Hurricane Florence is picking up power and could make landfall as a Category 5 as soon as Thursday. If you aren't familiar with hurricanes, a Category 5 hurricane has sustained winds of 156 mph or stronger. It is the highest classification for hurricanes.
At this point, it looks like the coast between Charleston, SC, and Norfolk, VA will bear the brunt of the storm, with Wilmington, NC taking a direct hit from the eye. Here's a map from ABC News:
Now, a very important thing to keep in mind is that hurricanes are unpredictable until they get closer to the shore. At that point, we can know with much more certainty that the storm is headed our way. Unfortunately, at that point, it's really too late to get prepared. Supplies will be picked over at the stores and roads will be jammed with people fleeing the hurricane.
It's much better to prepare as far in advance as possible for a hurricane. And if this one turns back out to see, don't think your preparations have been wasted. Trust me, another one will come and you will be glad you have the supplies that you do.
How far away from the coast can hurricanes affect you?
The National Hurricane Center warns that the pictures on maps are only predictions and that the effects can go far beyond these cones.
NHC tropical cyclone forecast tracks can be in error. This forecast uncertainty is conveyed by the track forecast "cone", the solid white and stippled white areas in
…

by ilene - September 9th, 2018 9:57 pm
Coffee farmers struggle to adapt to Colombia's changing climate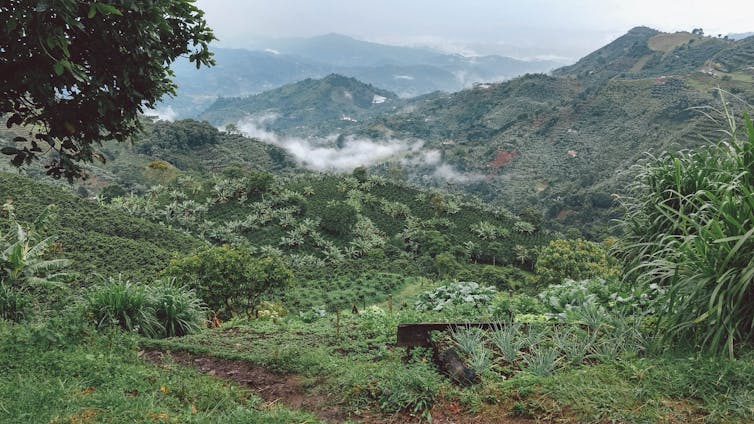 Courtesy of Jessica Eise, Purdue University and Natalie White, Purdue University
In Colombia's coffee-producing region of Risaralda, small trees run along the sharp incline of the Andes Mountains, carefully tended in tidy rows. Thousands of green coffee berries turn brilliant red as they ripen, ready to be harvested by hand. The steep hills here prevent mechanized techniques.
Its unique geography makes Colombia one of the world's greatest coffee-producing nations, selling US$2.64 billion of mild, high-altitude Arabica beans to countries around the world each year. Only Brazil and Vietnam export more coffee.
Despite their global reach, coffee farms in Colombia are generally family-owned and modest in size – perhaps 5 to 12 acres.
These fertile mountains already face weather-related risks, such as mudslides and erosion. Now, the country's coffee region is increasingly vulnerable to climate change-induced disasters like flooding, drought and invasive pests.
For the country's 300,000 coffee producers, these extreme weather threats – coupled with the increasingly unpredictable seasons, crop disease and invasive insects associated with climate change – endanger their livelihoods.
Farmers see the changes around them

Our research team went to Colombia in early 2018 to talk with the coffee farmers of Risaralda about how they are adapting to climate change.
We asked 45 farmers questions that tapped into the farmers' own conceptualization of climate change, such as "What is climate change?" and "How, if at all, has climate change affected you as a farmer?"
The results were stark.
Over 90 percent of the coffee farmers reported changes in average temperature. Seventy-four percent said droughts had gotten longer and worse, and 61 percent reported an increase in mountainside erosion and landslides because of more rain.
The farmers also perceived impacts of these environmental changes on their crops. Ninety-one percent reported changes in the flowering and fruiting cycles of the…

by Zero Hedge - September 9th, 2018 9:48 pm
Courtesy of ZeroHedge. View original post here.
With China launching an aggressive fiscal and monetary stimulus over the past 2 months to keep its economy humming in response to Trump's trade wars, coupled with the sharp depreciation in the Chinese Yuan ever since Trump launched his first round of tariffs on Chinese imports, whisper expectations ahead of today's CPI and PPI data out of China were of an upside surprise to consensus expectations even as some analysts were concerned that China's trade war-driven slowdown would hit its inflation data.
Well, this time the "whispers' won, with both August CPI and PPI coming in stronger than expected, as consumer prices rose 2.3%, higher than the 2.1% consensus (at the top end of the forecast range of 1.6% to 2.3%) above last month's 2.1% and the highest since February; PPI also came in stronger, printing at 4.1% above the 4.0% expected, if well below July's 4.6%.
The modestly stronger (than expected) CPI will bolster the case for PBOC support of the Yuan, as continued currency weakness would only lead to further gains in inflation (just ask Erdogan). That said, the offshore Yuan was largely unchanged on the news, as despite the small uptick inflation remains muted, and will not be a major concern for the central bank.
As for PPI, despite today's beat expect further weakness, because as go China's commodities, and especially coal, so goes PPI, and in light of the ongoing commodity market weakness (once again courtesy of Trump's trade wars) there is no reason to expect wholesale Chinese inflation to rebound any time soon:
Finally, while inflation this month may have come in hotter than expected, the far bigger risk is one of deflation, largely as a result of the ongoing collapse in China's credit impulse, which leads the industrial metals commodity index with a 15 month lead, suggesting that commodity prices are set for a sharp drop in the coming year.
And speaking of China's credit impulse, recall the dire forecast laid out by Goldman yesterday, which expects a sharp – and deflationary – collapse in Chinese consumption as a result of what the bank expects to be the worst credit impulse print this decade as soon as next quarter.
In other words, enjoy the "stronger than expected" inflation prints out of China. They won't last.
by Zero Hedge - September 9th, 2018 9:45 pm
Courtesy of ZeroHedge. View original post here.
After flying under the radar for months while Chinese domestic markets continued to drift lower, rattled by trade war fears, a strengthening dollar and anxieties tied to the PBOC's deleveraging campaign, China's National Team made its presence felt several weeks ago, just as the domestic benchmarks broke below their 2016 lows, initiating a brief but intense buying spreethe Financial Times identified five funds back in May that had bought up billions of dollars in A-shares after the SSE bubble burst in 2015, and claimed that those funds had liquidated $28 billion in shares during the first quarter, representing the bulk of their assets.
However, Goldman believes that National Team membership is much more broad. In total, the team has more than 22 member funds willing to carry out orders passed down from China's Securities Regulatory Commission. In total, their equity exposure amounts to 1.5 trillion RMB, or roughly $146 billion – equivalent to about 5.8% of A--shares free float.
For our analytical purpose in this report, we define the Chinese 'National Team' as the entities that were either created during the 2015 market turmoil (with the objective of supporting the market, e.g. Central Huijin Asset Management) or those that already existed before the market crash but were actively engaged in the A-share market during volatile times (e.g. China Securities Finance). Our definition gives the 'National Team' an aggregated equity exposure of Rmb1.5tn (5.8%/2.9% of freefloat/listed A-share market cap), spread across 22 standalone entities as of 1H18.
A list of suspected members, and a breakdown of their A-share holdings, can be found below (courtesy of Goldman):
that had a profound impact on global markets.
Since the August intervention, the actions of China's National Team elicited a 3% bounce in A-Shares. The intense media speculation that followed unsurprisingly caught the attention of analysts at Goldman Sachs (which has published several guides in recent weeks containing…

by ilene - September 9th, 2018 9:41 pm
NAFTA negotiations may threaten pharmacare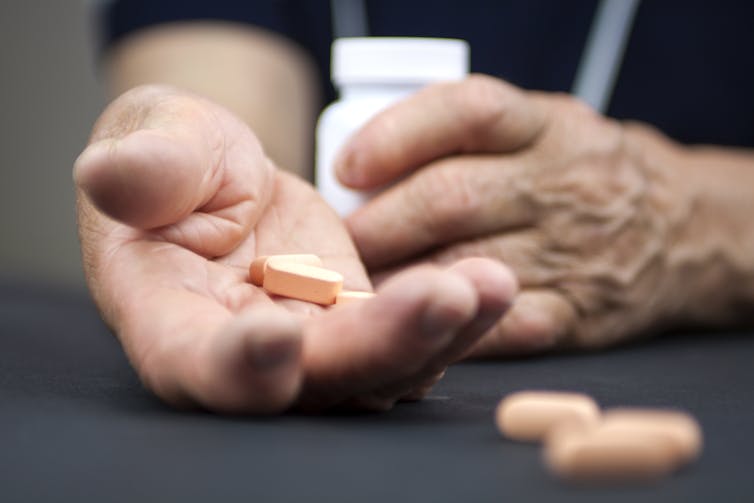 Courtesy of Joel Lexchin, University of Toronto
Around 91 per cent of Canadians want a national pharmacare plan, according to a recent national poll, so they don't have to choose between buying groceries or paying for drugs to keep them healthy.
The same public opinion survey has also found that prescription drug access and affordability are issues for almost 25 per cent of Canadian households.
But depending on what happens with the ongoing NAFTA renegotiations, the cost of such a pharmacare plan could go up, possibly dramatically.
This has to do with something called intellectual property rights (IPRs). Usually when talk turns to IPRs people think about patents. But there's also something called data protection.
The data that's being protected is information about the effectiveness and safety of drugs that comes out of the clinical trials that brand-name drug companies do when they want approval to market a new drug.
Generic drugs essential to pharmacare

The data is the private property of the brand-name companies and can't be used by anyone else, including generic companies, for a period of time.
It would be very costly for generic companies to do the original testing all over again, and it would also be unethical because the results of the trials are already known. So generic companies use the data once it's no longer protected.
Data protection is not a sexy topic, but it's important in determining how quickly some low-cost generics can reach the market. The presence of generics keeps public drug plans affordable and will be essential for any pharmacare plan.
Right now, seven out of every 10 prescriptions are filled with generic drugs, but paying for generics only uses up 21 cents out of every dollar that is spent on prescription drugs in Canada. A generic prescription is about one-third the price of a brand-name one.
Patents already mean that brand-name drugs are on the Canadian market for more…

by ValueWalk - September 9th, 2018 9:25 pm
By Guest Post. Originally published at ValueWalk.
In a kind of Robinhood effect, JPMorgan Chase recently launched a new digital investing service with deeply discounted trading fees and free access to the bank's stock research.
By The original uploader was Frank.trampe at English Wikipedia [Public domain], via Wikimedia Commons
It's seeking to attract younger, millennial investors and striving to fend off competition from fast-growing startups – notably Robinhood Markets Inc. – that offer unlimited, free app-enabled trading services.
Other major U.S. banks have made similar moves, triggering a mild price war in financial services. But none had dropped fees as sharply as JPMorgan. Its You Trade service will offer users 100 commission-free trades in the first year and charge just $3 a trade thereafter – far less than the $25-per-share rate the bank had been charging.
Q2 hedge fund letters, conference, scoops etc
Or overcharging, says Albert S. (Pete) Kyle, the Charles E. Smith Chair Professor of Finance at the University of Maryland's Robert H. Smith School of Business. Kyle wore a yellow jacket on the Chicago Board of Trade in the 1980s before leaving the exchange to teach and research finance in academia. As a research professor, he helped invent a new stock market design that slices away the edge long exploited by high-frequency traders, leveling the playing field between them, retail investors and large institutional players.
He says lower prices from legacy financial institutions in the United States have been long overdue.
"A long, long time ago the securities industry set up a cartel," says Kyle, taking the historic view of the industry, "with monopolistic pricing of commissions for retail customers." The commissions were set at high levels, and remained in place for decades, despite the passage of antitrust laws and the evolution of technology that makes buying and selling stocks faster and cheaper than ever before.
He recalls how in the 1970s, the industry began to see added competition on commissions. "Then, technology changed," he says. "Phone calls became cheaper and electronic communication became cheaper. And the ability to trade, in some sense, became possible to automate."
Still, commissions have held largely steady. Despite the advent of automation, there was still a substantial amount of human element in…

by Zero Hedge - September 9th, 2018 7:09 pm
Courtesy of ZeroHedge. View original post here.
With memories from the recent Chemnitz riots still fresh in German minds, on Sunday hundreds of protesters took to the streets of the eastern German city of Kothen once again, after a 22-year-old man died following a brawl with two Afghan nationals, who were arrested. The man, who was originally reported to have been killed, died after suffering heart failure medics said.
The victim intervened in a dispute over a German woman, which, according to Sachsen Anhalt and witness reports, involved the two suspects and a third Afghan man. Germany's Bild reported that the argument was about who got the woman pregnant.
"Two Afghans were provisionally detained on suspicion of homicide," police said on Sunday.
While first accounts said the man was beaten to death after he stepped into the row with another German, local press later reported that the 22-year-old died of a heart failure. The autopsy found the death to be "not in direct relationship" with the injuries suffered and that the man had a pre-existing heart disease, according to the prosecutor's office.
That did not stop hundreds of protesters from taking to the streets of Kothen, hours after anti-migrant activists in Chemnitz launched a separate call for protests in their city, also in eastern Germany.
Police were deployed to help prevent violent clashes and the city's mayor had advised residents to stay at home. Two water cannon were also brought in, according to RT.
A local pastor, Martin Olejnicki, said that every effort now had to be made to ease tensions, adding that the church would pray every day "for the victim, his family members and peace in the city".
"It is always a kind of danger – we just had Chemnitz – and so things could escalate and I believe nobody wants that," he said. "That's why we are trying to appease all sides and to talk to people and tell them that it's not the moment to let things escalate."
The death comes shortly after the killing in late August of another German man in the city of Chemnitz. He was stabbed and killed by a group of asylum seekers, believed to be from Iraq and Syria, a murder which has galvanized the right-wing in Germany and sent…

by Zero Hedge - September 9th, 2018 6:25 pm
Courtesy of ZeroHedge. View original post here.
Just when cryptos looked to have stabilized after Ethereum founder Vitalik Buterin sent the price of ether sharply lower Saturday afternoon when he declared that "the days of explosive growth in the blockchain industry have likely come and gone", the SEC has given investors even more incentive to sell.
The agency dealt suffering cyrpto bulls another blow on Sunday evening when it announced that it had temporarily suspended trading in popular Swedish ETNs, Bitcoin Tracker One and Ether Tracker One, due to "confusion amongst market participants regarding these products."
The Securities and Exchange Commission announced the temporary suspension of trading in the securities Bitcoin Tracker One ("CXBTF") and Ether Tracker One ("CETHF") commencing at 5:30 pm EDT Sept. 9, 2018 and terminating at 11:59 pm EDT Sept. 20, 2018. https://t.co/5z1vEYFBFB

— SEC_News (@SEC_News) September 9, 2018
The news overshadowed a Business Insider report which came out at the exact same time, claiming that Citigroup had created a new financial product called a "digital asset receipt" that would allow institutional investors a less-risky way of investing in crypto, and was the result of collaboration between the bank's capital markets origination team and the depository receipts services team.
The New York-based bank has come up with perhaps the most direct way to invest in cryptocurrencies without actually owning them, according to people with knowledge of the plans. The structure would place cryptocurrencies within existing regulatory regimes and give big Wall Street investors like asset managers and hedge funds a less risky way of investing in the fledgling asset class.

Citi has developed an instrument it's calling a Digital Asset Receipt or DAR. It works much like an American Depository Receipt or ADR, which has been around for decades to give US investors a way to own foreign stocks that don't otherwise trade on US exchanges. The foreign stock is held by a bank, which then issues the depository receipt.
What is unique about the Citi offering is that, similar to ETFs, the cryptocurrency will be held by a custodian, who takes on responsibility for safeguarding the crypto against "trouble", minimizing the custody headaches…

by Zero Hedge - September 9th, 2018 5:45 pm
Courtesy of ZeroHedge. View original post here.
The once months-long window between when Model 3 orders were placed and the time that these vehicles were delivered has collapsed. What once was an "exclusive" sounding waitlist is turning into a "department store closeout" style effort by Tesla to deliver whatever Model 3s they can as soon as possible, according to a new report by Electrek.
Even the pro-Tesla blog was forced to conclude that Tesla may be "trying a bunch of new delivery methods in order to push Model 3 deliveries higher by the end of the quarter", suggesting that much of Elon Musk's bizarre behavior in recent weeks may have been due not to supply bottlenecks but an unexpected drop in demand.
The report comes just hours after Tesla hosted a "delivery event" at its Fremont factory. This event was offered to Model 3 buyers, offering them an "exclusive" chance to pick up their vehicle at the factory. It also substantially cuts down on the amount of work and resources Tesla would need to deliver these vehicles to their respective owners.
"Tesla apparently made a large batch of Model 3 vehicles with popular configurations and it is trying to match them to custom orders from local buyers," an article from earlier this week states.
Model 3 buyers, many of whom reportedly had upcoming delivery dates, were sent the following invitation:
Now, Tesla is taking their delivery proactivity one step further: they are offering "immediate delivery" of Model 3s on a first come first serve basis. It was also reported that the company was sending out emails to Model 3 reservation holders who have been in line since day one, trying to entice them to come in and take delivery of vehicles that are apparently sitting around with nowhere to go.
According to the report, Tesla is emailing current reservation holders telling them the following:
"We have a limited number of Model 3 Rear-Wheel Drive vehicles on display that are available for immediate delivery.

As a first day reservation holder, you're invited to take advantage of this opportunity on a first-com, first-served basis.

We will be extending this invitation to addition Model
…