Courtesy of Pam Martens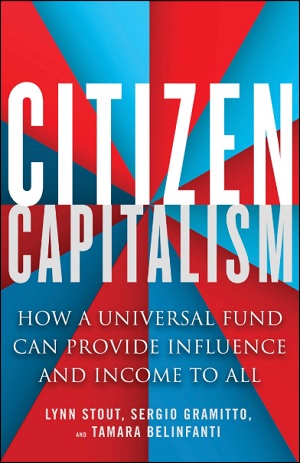 Wall Street, the epicenter of American capitalism, brought down economies around the globe in 2008, including a banking, housing and foreclosure crisis in the U.S. Why is it just now that fixing American capitalism is on everybody's mind? One answer is that it will be a central focus in the 2020 presidential campaign while a more nuanced reading is that the current dystopian billionaire administration has everyone grasping for answers as to how we got here.
Harper's magazine did make a valiant effort to look at the problem at the height of the financial crisis in November 2008 with seven essays on how to fix American capitalism. But the public at that time was more focused on keeping their jobs, a roof over their heads and pulling what little funds they had left from sinking mutual funds and teetering banks. Then the Obama administration convinced a lot of people that the Dodd-Frank financial reform legislation of 2010 was going to be the fix to put American capitalism back on a solid path. The legislation, of course, was written by the lawyers for the one percent and was simply meant to placate the pitchfork folks so that Wall Street could continue to loot behind the scenes with the help of the Federal Reserve and its secret $16.1 trillion loan program. That secret loan program, by the way, did not go to the people losing their homes but to the very banks that were taking those homes through tricked-up mortgages.
Channeling Harper's in 2008, last week Bloomberg News (owned by another billionaire beholden to Wall Street we should mention) rolled out its own version of "Seven Fixes for American Capitalism," also providing the views from seven different authors. One of the best ideas comes from Carolynn Look, who suggests that the U.S. adopt the German model to structure corporate boards. Look writes:
"A law that took effect in 1976 formalized what had been common practice at many German companies as far back as the 1920s. It dictates that in a corporation with more than 500 employees, a third of supervisory board seats must be filled by directors elected by workers, a share that rises to one-half for companies with more than 2,000 employees.
"The German system, known as co-determination, allows employees to have a say in working conditions, such as contractual terms and pay. It also gives them a voice in how profits are deployed—say, for a new research and development center vs. more dividends for shareholders. Some researchers say co-determination has helped spur productivity and innovation at German companies."
The new buzz on how to fix the deplorably broken system of capitalism in America got underway in August when Senator Elizabeth Warren, now a 2020 presidential candidate, introduced the "Accountable Capitalism Act." Warren explained the problem as follows:
"Because 84% of American-held shares are owned by the top 10% of our richest households, while more than 50% of American households own no stock at all, corporate America's commitment to 'maximizing shareholder return' is a commitment to making the richest Americans even richer at all costs. There is an urgent need to return to the era when American corporations produced broad-based growth that helped workers and shareholders alike."
…
Do you know someone who would benefit from this information? We can send your friend a strictly confidential, one-time email telling them about this information. Your privacy and your friend's privacy is your business... no spam!
Click here and tell a friend!