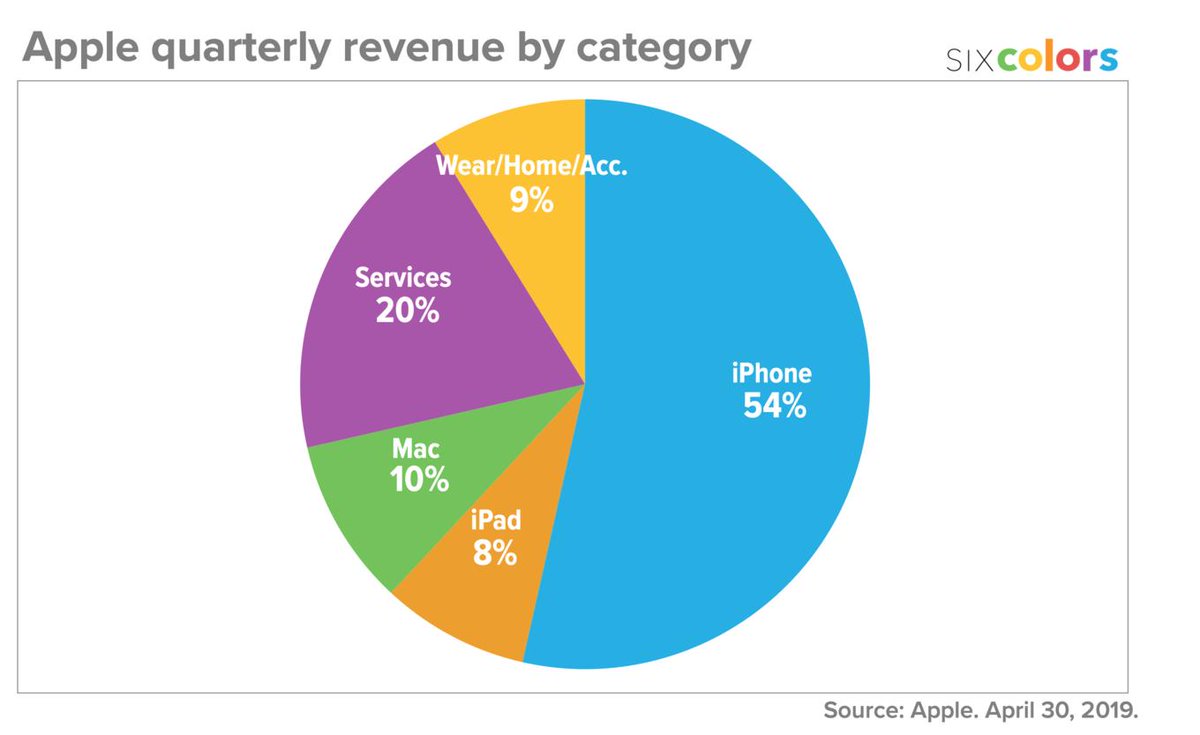 $11.5 Billion Dollars.
Or, what's known as a slow quarter for Apple (AAPL), who beat lowered expectations (they guided down $9Bn for the year back in January) on $58Bn in sales, which were down $3Bn from last year. So we have $3Bn less Sales and $2.3Bn less Net Income and the stock is up 33% from last April.
Apple is a bit different from most stocks as it was stupidly cheap last April and we have a substantial long on them in our Long-Term Portfolio and our Options Opportunity Portfolio and we even have short AAPL puts in the Short-Term Portfolio, where we sold the 2021 $170 puts for $22 back on November 20th, which was like getting $22,000 NOT to buy AAPL for $170 at this point, with Apple expected to open over $210 this morning.
We just reviewed the Options Opportunity Portfolio in the April 18th Morning Report and our AAPL trade at the time was net $38,525, up from a $12,500 entry back on Jan 3rd but we wanted to be a bit more conservative so we called for the following adjustment:
AAPL – There's no sense having $120 calls that are so deep in the money so we're going to cash those in for $85 ($85,000) and add 20 of the June 2021 $180 ($42)/220 ($23) bull call spreads at $19 ($38,000) and we'll roll our 10 short 2021 $185 calls at $36.50 ($36,500) to 10 short July $200 calls at $11 ($11,000)

so we're taking net $21,500 off the table and we still have an $80,000 potential spread 1/2 covered by short calls.
Now, had we left it alone, as of yesterday, the options spread looked like this:
AAPL Short Put

2021 15-JAN 195.00 PUT [AAPL @ $200.67

$0.00

]

-5

11/13/2018

(625)

$-13,000

$26.00

$-5.00

$-26.00

$21.00

$0.00

$2,500

19.2%

$-10,500

AAPL Long Call

2021 15-JAN 120.00 CALL [AAPL @ $200.67

$0.00

]

10

1/3/2019

(625)

$37,500

$37.50

$45.20

$82.70

$0.00

$45,200

120.5%

$82,700

AAPL Short Call

2021 15-JAN 185.00 CALL [AAPL @ $200.67

$0.00

]

-10

1/3/2019

(625)

$-12,000

$12.00

$22.25

$34.25

$0.00

$-22,250

-185.4%

$-34,250
Essentially, the net was about the same (about $1,000 lower) but the effect of our changes gave us this:
AAPL Short Put

2021 15-JAN 195.00 PUT [AAPL @ $200.67

$0.00

]

-5

11/13/2018

(625)

$-13,000

$26.00

$-5.00

$-69.50

$21.00

$0.00

$2,500

19.2%

$-10,500

AAPL Long Call

2021 18-JUN 180.00 CALL [AAPL @ $200.67

$0.00

]

20

4/18/2019

(779)

$84,000

$42.00

$-1.83

$40.18

$0.00

$-3,650

-4.3%

$80,350

AAPL Short Call

2021 18-JUN 220.00 CALL [AAPL @ $200.67

$0.00

]

-20

4/18/2019

(779)

$-47,000

$23.50

$-1.13

$22.38

$0.00

$2,250

4.8%

$-44,750

AAPL Short Call

2019 19-JUL 200.00 CALL [AAPL @ $200.67

$0.00

]

-10

4/18/2019

(79)

$-11,000

$11.00

$-1.83

$9.18

$0.00

$1,825

16.6%

$-9,175
The new trade is net $15,925 and we took $21,500 off the table so it's the same $37,425 but now, at $220 on AAPL, we cash out $80,000 for $42,575 more as opposed to making just $20,000 more on the original 10 calls. The $180/220 spread is also safer in a downturn (what's that?) than the deep-in-the-money $120 calls and, of course, we'll take less of a hit from the short July $200 calls than we would have from the short $185 calls.
It's always good to look over your trades before earnings and think about ways you can tweak them. In this case, we would have been happy to add to our trade if AAPL had a poor report and turned lower but, as it stands, we'll just have to wait to collect the rest of our $80,000 as Apple moves over the $1Tn mark once again. That's right, by the way, the above trade is net $15,925 cash ($13,226 ordinary margin is required on the short puts) and will be worth $80,000 if AAPL is over $220 in Jan, 2021 so I guess I would say it's still good for a new trade as the upside is $64,075, which is a 400% gain in 20 months – not bad for leftovers!
Considering that our Options Opportunity Portfolio had a starting base of $100,000 back on Jan 2nd of last year, $64,075 is a 60% gain between now and Jan 2021 on that one trade. As I talked about on the Hemp Boca Radio Show yesterday, that's how we make these outsized portfolio gains – NOT by gambling on momentum stocks but by taking perfectly reasonable value plays in blue chip stocks and using options to leverage the conservative returns. Your worst case is you end up owning a blue chip stock – in this case it would be 500 shares of AAPL at $195…
AAPL should give the Nasdaq a boost this morning but we're still not back to 8,000 on /NQ (the 100) and 7,800 is the 20% line on the Nasdaq so we'll be watching that closely as well as the 1,600 line on the Russell (/RTY) and, maybe, S&P 3,000 if all goes very well. Unfortunately, I can't see topping all those major lines without a pullback (Dow 26,750 will be in play as well) and this is a textbook 20% run for the year so even a weak retrace would bring us down 4% with a strong retracement giving us an 8% dip before we can consolidate for a move higer.
As the volume has been very, very low during this rally – I think it's far more likely we see S&P 2,800 tested again before we see 3,000 broken – the question is, what catalyst will it take to turn this market bearish? This afternoon we have an FOMC statement and, since no one expects them to raise rates again in 2019, any language in that direction could cause a bit of selling.
On the other hand, the US and China are making nice trade noises and, although a trade deal will only put us back to where we were before all this started – it's still being taken as a reason to rally. In our Portfolio Review (members only) I noted that the urge to cash out is growing very strong as our gains have been RIDICULOUS and can't possibly keep going at this pace but, then again, there's my Apple trade – how can I let trades like that go?
This is the trap we fell into in 1999 and 2007…