Day 6 of the rally.
I'm not upset because I wanted to crash, I'm upset because we didn't get a proper correction and now, this low-volume move back up doesn't give me enough confidence to enjoy the rally or assume we'll get to higher highs than the ones that have been rejected before.
How many times can we rally because we made progress on fixing things that weren't broken in the first place? What's next:
Mars is invading
Trump is talking to Mars
Mars is not invading – market soars to new highs
Have we really gotten this stupid? What happened to trading on earnings and performance? I'm a Fundamental Investor so of course I don't like it when the Fundamentals are ignored – it's very annoying. It doesn't stop us from making money, however as yesterday, right in the PSW Morning Report, I said: "The Russell (/RTY) is lagging in the recovery and can be played long over the 1,520 line but with tight stops below because NOTHING actually happened since the Russell was at 1,620." As you can see, we got a lovely pop off that line at the open:
Oh yes, I should clarify, that was early in the Morning Report (it's sent out to our Members while in progress) but, at the end of the morning report, I said:
We're well over all our bounce lines now so we can't make any bearish bets but what the Nasdaq 100 (/NQ) for a possible rejection at 7,500 and, of course, 2,900 on the S&P (/ES) and 26,200 on the Dow (/YM) also seems to get rejected a lot but we should still squeeze out a quick 15 points on the Russell (/RTY) at 1,535 before that happens and +$750 per contract is a great way to start the week off.
So 1,535 was our target and it was a pretty good one – as you can see from the chart. At 12:24, in our Live Member Chat Room, we flipped bearish and played the Nasdaq Futures to go lower:
With the Nas up 1.8% and Trump talking about tech anti-trust, I'd go short /NQ at the 7,550 line with tight stops above. Lined up with 26,160, 2,900 and 1,530.
You don't need an exciting market to make money, the Futures allow you to make quite a lot from the day-to-day gyrations, while you are waiting for the market to make a proper move. Meanwhile, our hedges, though unsuccessful, allowed us to stay in our long positions and ride out the dips so now we're almost back to where we started – which was wildly ahead for the year. That's what hedges are – they are insurance – not bets.
Essentially, we're trading in a rumor-driven market and, unfortunately, that means we have to keep a constant eye on what Trump is doing as he's ground zero for most of the rumors that drive the market. We were just discussing in Member Chat how we talk about Trump too much but it's because, every day, there's something to talk about. I think we might have gone 8 years of Obama mentioning him less often than we do Trump in a month! The bottom line is, if you are short-term trading the markets and you're not paying attention to what Trump is saying – you are a fool.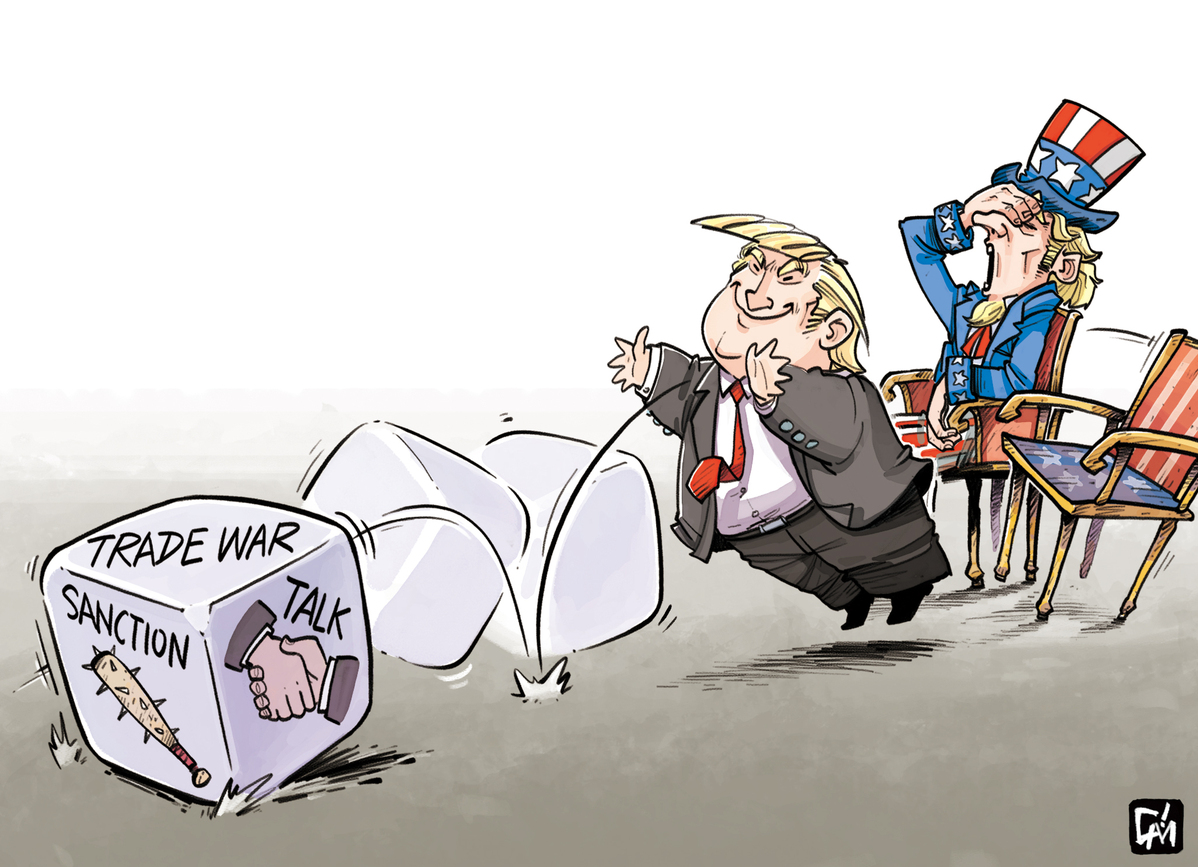 Yesterday, Trump was weighing more sanctions on Iran and tougher sanctions on China and talking about breaking up Big Tech with anti-trust actions that you would think the GOP would object to but Trump said it so they are fine. Just don't tell them Liz Warren said it first or their heads will explode! That's why we shorted the Nasdaq for the knee-jerk reaction but, realistically, it's very unlikely that current anti-trust law can affect tech companies as it's very hard to argue they have monopolies or restrain competition unfairly (domination is not restraint). The Government spent a decade looking into Microsoft (MSFT), who were on 90% of all computers at the time – and they failed to make a case against them.
Unfortunately, we need to be on our toes because, while stocks are recovering nicely, the Volatility Index (VIX) is not calming down much and that's a very dangerous sign we need to pay attention to. 16 on the VIX implies a 1% move in the market PER DAY so, if we extrapolate that out for the rest of the week, it's 4% up, to S&P 3,016 or 4% down, to S&P 2,784 and, of the two, which one were we recently at? Of course we are most likely to go 1% up and 1% down and 1% up and 1% down and end up nowhere on Friday – it doesn't seem likely at all we're going to make new all-time highs.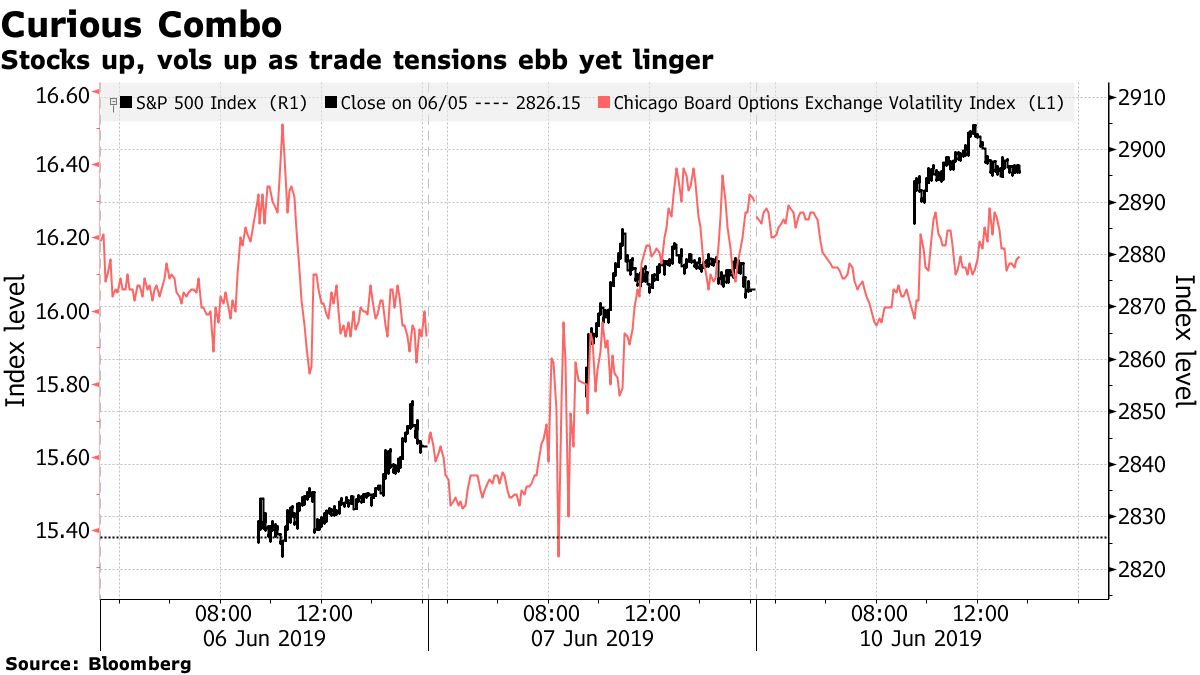 For one thing, the tension with China is still extreme. Yesterday, Trump warned that tariffs on China will go up if Xi Jinping won't meet at the G-20 summit in Japan. "I think he will go, and I think we're scheduled to have a meeting," the president told CNBC, adding Beijing is "going to have to make a deal." Trump also renewed his attack on the Fed, complaining it not having the power over the Fed that he says Xi wields over China's central bank. "The head of the Fed in China is President Xi," he said. "He can do whatever he wants." This is a constant theme with Trump, lamenting that he doesn't have the power of dictators.
CitiGroup (C) warned trade tensions are set to roil stocks, bonds and commodities even more. The bank's base case predicts Trump applying 25% tariffs on additional Chinese goods. If the Fed doesn't cut, expect a "full scale bear market" that sends the S&P 500 down 20% from its April peak, 10-year Treasury yields tumbling to 1.5% or lower and a surge in gold to $1,600 an ounce. Of course, no one is actually paying attention to anything bears have to say – so why worry?
Meanwhile, small businesses have never been more confident and they are the ones who hire 70% of the workers in America so I'm not saying we should blindly follow the bears – or the bulls – just that we should keep on our toes and pay close attention to those rumors because they start to matter when they become policy and these small business owners could be optimistic but I know when I ran a small business, I didn't have time to worry about Geopolitics.
Things were good when money was coming in and bad when it wasn't and certainly in April, money was still coming in but inventory was building and credit was deteriorating and earnings were flattening yet still they were very optimistic about the Future. Hopefully that trend (blind optimism) continues and the market keeps grinding higher but I'm still a bit skeptical – we'll just have to wait and see.
Meanwhile, we can amuse ourselves with short-term bets!
Do you know someone who would benefit from this information? We can send your friend a strictly confidential, one-time email telling them about this information. Your privacy and your friend's privacy is your business... no spam!
Click here and tell a friend!