Courtesy of Pam Martens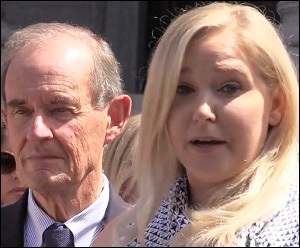 More than two dozen women who have accused Jeffrey Epstein of sexually assaulting them, most when they were underage girls, appeared in Federal Court in Manhattan yesterday. Some had their lawyers read their statement but 16 spoke on their own behalf. The theme consistent throughout their testimony is that the Justice Department must prosecute Epstein's accomplices – anything less is a failure of justice. Two names were repeatedly mentioned by the women: Ghislaine Maxwell and Sarah Kellen. But the powerful royalty, lawyers and Wall Street titans who have been accused of being part of Epstein's ring and participating in sexual assaults of underage girls must also be charged by the perpetually recalcitrant U.S. Justice Department.
The court hearing was called at the request of Federal prosecutors in order to dismiss the case against Epstein since they can't prosecute a dead man. Epstein was found deceased in his jail cell in Manhattan on the morning of Saturday, August 10. He was awaiting trial on new charges brought by the Justice Department in July of 2019 based on evidence the Justice Department and FBI had been sitting on since 2006 – thus allowing Epstein and his elitist pals to sexually assault more young women for an additional 13 years.
The Metropolitan Correctional Center where Epstein was housed is a Federal facility run by the Bureau of Prisons, which is part of the U.S. Department of Justice. Despite the Justice Department having a 53-page indictment sitting in its files since 2008 that indicated Epstein was a critical witness to unravel the powerful people involved in his sex ring, the Justice Department's Bureau of Prisons negligently allowed Epstein to die while in their custody: making the death seem more like a feature than a bug of the process.
The New York City Medical Examiner's office has ruled the death a suicide. Unfortunately, New York City has a reputation for calling suspicious deaths suicide, even when the person falls from a short six-story building and even when the knife that made the fatal wound is found underneath the body: Too many homicides and it looks bad for the New York City police commissioner and tourism in Manhattan. The new quip in New York is that the decedent has been "suicided."
Even Epstein's powerful criminal defense attorney, Reid Weingarten of corporate law firm Steptoe & Johnson, expressed skepticism in court yesterday about the official cause of death and asked the Judge to conduct an investigation. The U.S. Attorney General, William Barr, has already asked the Justice Department's Inspector General to investigate. But since the pivotal piece of evidence that could shed light on the matter, the video tape from the hallway outside Epstein's jail cell, has been either erased or rendered indecipherable in some other manner under the negligent care of this Federal facility, the prospects aren't looking good for that investigation either. (If you start to notice a pattern of failed investigations at the hands of the various units of the U.S. Department of Justice, it means you're paying attention.)
…
Do you know someone who would benefit from this information? We can send your friend a strictly confidential, one-time email telling them about this information. Your privacy and your friend's privacy is your business... no spam!
Click here and tell a friend!