Courtesy of Pam Martens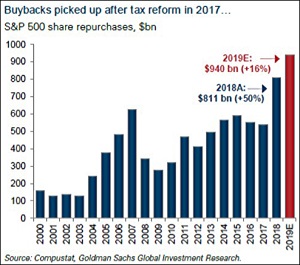 The mega banks on Wall Street report earnings this week led off by JPMorgan Chase, Goldman Sachs, Citigroup and Wells Fargo this morning.
Among the items of interest in JPMorgan Chase's written presentation was that it spent $6.7 billion in this past third quarter buying up its own stock and thus boosting its stock price artificially beyond outside investor demand. The third quarter buybacks of its stock came on top of spending $5 billion in the second quarter and $4.7 billion in the first quarter, bringing its net repurchases of its own stock just so far this year to a whopping $16.4 billion — money that could have otherwise gone to loans to small businesses to kickstart innovation and job growth in America.
This Thursday, the House Financial Services' Subcommittee on Investor Protection, Entrepreneurship and Capital Markets will hold a hearing on stock buybacks by publicly traded corporations. The hearing will make the following points: there's nothing normal about corporations inflating their share price through buybacks – in fact, the practice was illegal in the United States prior to 1982. The second point is that buybacks come at the expense of legitimate uses of corporate cash such as boosting stagnant worker wages, investing in new equipment or research and development.
Buybacks are also seen as abusive forms of stock price manipulation and the SEC has no meaningful programs to police how and when these transactions occur. The Subcommittee notes that buybacks have skyrocketed from less than $200 billion in 2000 to a record $811 billion last year. The mega banks on Wall Street are responsible for a big chunk of those dollars.
Another of the craziest aspects of this uniquely corrupt period in American banking is that Wall Street's brokerage firms and investment banks have combined with deposit-holding, federally-insured banks – giving the so-called "universal" banks the potential to use savers' deposit money to artificially inflate their own stock through buybacks. That's really crazy. But what is even crazier is that the SEC is also allowing these mega banks to trade in their own stock in their own Dark Pools, the equivalent of an in-house stock exchange. (See Wall Street Banks Are Trading in Their Own Company's Stock: How Is This Legal?)
Another unprecedented and totally crazy aspect of today's banking scene is that criminal felony charges no longer matter. You can be a bank like JPMorgan Chase, holding $1.6 billion in deposits for risk-adverse savers, while also being regularly charged with crimes. You never have to say "I'm sorry" to your shareholders because all they seem to care about is their stock price and the company is propping that up with stock buybacks that have been legalized. JPMorgan Chase is a 3-count felon and just last month one of its trading desks was labeled a criminal enterprise by the U.S. Department of Justice. On the same day, three of its precious metals traders were indicted on RICO charges, a statute typically reserved for organized crime. Throughout the past decade of felony counts and $36 billion in fines for wrongdoing and losing $6.2 billion in depositors' money in a crazy derivatives scheme in London (the London Whale debacle) the Chairman and CEO of the bank, Jamie Dimon, has kept his job, being allowed by his media sycophants to achieve icon status. (See Will Jamie Dimon Finally Lose His Job Over Racketeering Charges?)
…
Do you know someone who would benefit from this information? We can send your friend a strictly confidential, one-time email telling them about this information. Your privacy and your friend's privacy is your business... no spam!
Click here and tell a friend!