Courtesy of Pam Martens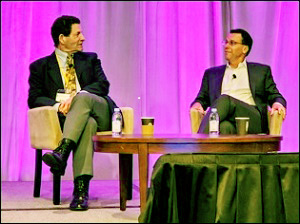 Unbeknown to most Wall Street reporters today, Jamie Dimon played a major role in the 1990s in allowing for the perpetuation of an institutionalized system of sexual harassment and verbal degradation of women on Wall Street. Dimon's role, which we will detail later in this article, is a critical backdrop for the recent Ken Fisher humiliation of women at an investment conference.
On the afternoon of Tuesday, October 8, the money manager Ken Fisher of Fisher Investments was on stage at the Tiburon CEO Summit with Chip Roame, the Managing Partner of Tiburon Strategic Advisors, the host of the investment conference. Attendees at the conference were made up of approximately 200 men and 20 women. Against that backdrop, Fisher apparently felt comfortable on stage to humiliate the women in the audience by comparing the acquisition of investment clients to "trying to get into a girl's pants." Another nugget of wisdom from the keynote speaker was that it's necessary to talk about genitalia when talking to investment clients, a brain-twisting statement which might possibly have a connection to another reference he made to tripping on acid. Fisher also suggested from the stage that his employees were so loyal that he could brand their "a**" with the Fisher company name.
One male investment professional at the conference, Alex Chalekian, was so outraged by Fisher's remarks that he posted a video about the diatribe on the same day. Other attendees have confirmed Chalekian's characterization of the remarks. Chip Roame, on the other hand, representing the host of the conference, made no effort on stage to chastise Fisher or stop his insulting and humiliating remarks, despite being the only other person on the stage with Fisher in what was styled as a "fireside chat."
Only after Chalekian's video went viral and media reports of Fisher's outrageous conduct proliferated, did Roame announce that Fisher was being barred from any future Tiburon investment conferences. CNBC reported that, indeed, Fisher had been talking about his own genitalia in a speech he gave at the "Evidence-Based Investing Conference" in 2018. CNBC reports he has also been banned from that investment conference.
Fisher manages over $100 billion for individuals and institutional accounts according to his filings with the Securities and Exchange Commission. Significant portions of that money are made up of pension funds for public workers, where the fiduciaries have a legal obligation to protect the assets from mismanagement.
…
Do you know someone who would benefit from this information? We can send your friend a strictly confidential, one-time email telling them about this information. Your privacy and your friend's privacy is your business... no spam!
Click here and tell a friend!