Courtesy of Pam Martens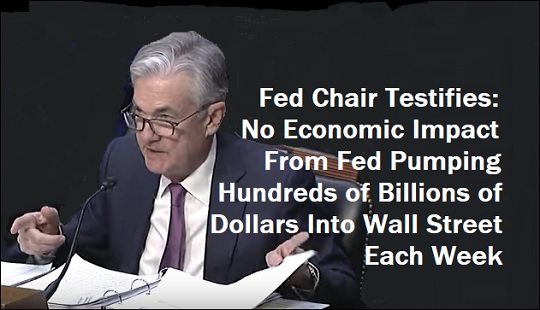 By Pam Martens and Russ Martens
Yesterday Federal Reserve Chairman Jerome Powell testified before the Joint Economic Committee of Congress. Only one Congressman, Kenny Marchant (R-TX), had the courage to ask Powell about the Fed's intervention in the repo loan market beginning on September 17. Since that time the Fed has been pumping hundreds of billions of dollars each week (that the New York Fed creates electronically out of thin air) into its 24 primary dealers on Wall Street. These primary dealers are not commercial banks that might be inclined to use the funds to make loans to local businesses or to consumers to buy a house and help their local economies. No, 23 of the 24 primary dealers are stock brokerage firms and investment banks that engage in leveraged bets in the stock, bond, commodities, and derivatives markets. The 24th is a foreign bank. (See primary dealer list below.)
There is nothing in the legislation that created the Fed, the Federal Reserve Act, that allows it to be the lender-of-last-resort to the trading houses on Wall Street. The Fed's Discount Window, which is legally allowed to make emergency or seasonal loans, is restricted by law to just deposit-taking banks – not Wall Street trading houses.
And yet, bailing out Wall Street is exactly what the Fed has been doing since September 17 of this year and what it did secretly to the tune of $29 trillion during the financial crisis from December 2007 to the middle of 2010. The Fed does have some leeway in an emergency situation but that has to be brief and defined. The Fed has announced that it's planning to keep its current money spigot to Wall Street flowing into at least January of next year. But according to Powell's testimony to Congress yesterday, there's no pressing crisis on Wall Street. Powell stated that "The core of the financial sector appears resilient, with leverage low and funding risk limited relative to the levels of recent decades."
Powell knows that it's a fallacy to say that leverage is low on Wall Street. It's only low if one ignores the hundreds of trillions of notional (face amount) derivatives residing at the mega Wall Street banks.
…
Do you know someone who would benefit from this information? We can send your friend a strictly confidential, one-time email telling them about this information. Your privacy and your friend's privacy is your business... no spam!
Click here and tell a friend!