Courtesy of Pam Martens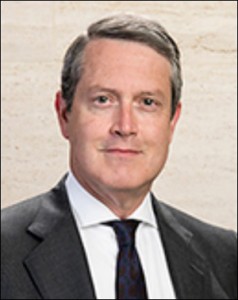 The House Financial Services Committee has released its memorandum outlining the topics that will be raised in its hearing tomorrow with Federal bank regulators, which will include Randal Quarles, Vice Chairman of Supervision at the Federal Reserve. Noticeably absent from the list of topics is what legislative authority the Federal Reserve has that gives it the legal power to be pumping out hundreds of billions of dollars each week in revolving loans to the trading houses of Wall Street.
Since September 17, the Federal Reserve has allowed its New York Fed branch to funnel approximately $3 trillion to unnamed trading houses on Wall Street, much of it at interest rates of less than 2 percent while the behemoth banks that own those trading houses charge their mom and pop credit card customers 17 percent on their credit cards. This looks like more of what Senator Bernie Sanders calls "socialism for the rich, and rugged, you're-on-your-own individualism for everyone else."
Since the Fed turned on its money spigot to Wall Street on September 17, not one hearing has been called in Congress to examine what gives the Federal Reserve, the central bank of the United States, the legal authority to provide cheap loans to the trading houses on Wall Street. These are the same Wall Street trading houses that blew themselves up with derivatives in 2008 and took down the U.S. economy in the greatest financial collapse since the Great Depression. Why should the Federal Reserve encourage more of that activity by providing cheap money?
Most of these trading houses are units of mega Wall Street banks that have publicly traded shares. If a publicly traded company cannot obtain loans from anywhere other than the cheap money spigot of the Federal Reserve, it needs to publicly disclose that to its shareholders and potential buyers of its stock. That's a material fact that legally must be disclosed. The legal argument could be made that the Federal Reserve is aiding and abetting a fraud upon the investing public by failing to name the trading houses that are receiving these massive loans. The loans started out as just overnight loans but they have since morphed to include 15-day and 42-day loans, strongly suggesting that one or more of these firms can't obtain long-term funding elsewhere.
The United States has historically bragged about its free and transparent markets. But what the Fed is doing today is pulling a dark curtain around the financing of this so-called free and transparent market. The public has no idea which Wall Street firms have received this $3 trillion or why they can't borrow it elsewhere. This kind of obfuscation by the Federal Reserve could actually stimulate distrust in the U.S. banking system. The Fed admitted as much in its most recent Federal Open Market Committee (FOMC) minutes, writing that participation in the Fed's loan program "could become stigmatized."
…
Do you know someone who would benefit from this information? We can send your friend a strictly confidential, one-time email telling them about this information. Your privacy and your friend's privacy is your business... no spam!
Click here and tell a friend!