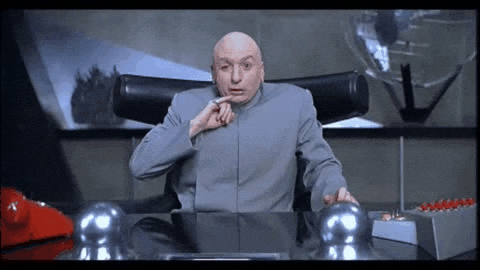 $152,053!
That's right, after closing our our last STP/LTP paired portfolios in September, 2019 with over $2.6M from a $600,000 start in Jan 2018, we decided to put $100,000 back to work in a new Short-Term Portfolio on October 1st. We haven't started a new Long-Term Portfolio yet, but our STP is already up 52% in just 2 months and, if we average 26% a month for 24 moths – that's $25,638,527 (compounded) so I'm not at all worried that we won't make enough money if we don't deploy our other $500,000 re-starting cash to the LTP right away as 26% a month is not likely to keep going but, if it does – than $100,000 is all we'll need to be very happy!
52% in two months is a silly amount of money to make and we have to keep that in perspective because we could have just as easily have lost 52% so I'm only comfortable with the relatively small risk in the closely-watched STP – where we can take advantage of long and short positions over varied time-frames.
We still have our Butterfly Portfolio and our Hemp Boca Portfolio from 2018 and 2019 respectively but Money Talk, Dividends, Earnings are also new portfolios – all started with $100,000 of virtual cash in October and November.
As it's early in the cycle, I don't have a lot to say so we're just consolidating our first round of Portfolio Reviews here:
Short-Term Portfolio Review (STP): Doing way better than planned but mostly due to BKNG working out perfectly (even a broken clock….) but also as there is only MJ on the losing side and not too much damage there. While the Portfolios are small, it's a good time to practice the expectations game.
Overall, I'm worried we turn down next week on low volume but, then again, they aren't done beating the dead horse of "China Progress" so this drift may go on for another month – into the year's end. Keep in mind I didn't WANT to have money back in play – it was just so boring to not play….
CBS – Net $32 is not going to be on my list of things to worry about – even in a downturn.

Expect to make the remaining $3,625

(I'm looking at a more updated one than the one printed)
BKNG – We bought back the short call leg as it was "only" $10 and that was ($2,000) off a sale of $21,390 – so massive profit there. Essentially, that was our play but I still see BKNG as a good quarterly money-maker so I'm not inclined to close it – even though we have $10,000 more profit if we cash out. However, the March $2,000 calls are $52 so 2 short of those is $10,400 plus whatever we sell more puts for (the short $1,700 puts are $39 so 2 would be $7,800) so $18,200 of March sales beats taking $10,000 off the table now but we don't project things we aren't sure of – though there's a lot of potential in this trade.
Still,

we have $10,000 and I'd be surprised if we don't at least realize that over time

.
FCX – Like CLF, big beneficiary of a China Trade Deal. They are 75% Copper and 16% Gold (the rest is Moly) and we like GOLD (trade of the year) and copper should do well as oil infrastructure must come back as well as construction (and where's our infrastructure bill?). We're already over our conservative target at net $1,335 on the $5,000 spread so I expect the full $3,665 (274%) to be made from here but, yawn…. At least we started with a $160 credit!
MJ – This one is very annoying but I think the worst of the selling is over and now we can concentrate on making money selling puts and calls.

To that end, we should buy back the short Jan $20 calls and sell 10 of the Jan $18 calls for $1.20 ($1,200) and 10 of the $17.50 puts for $1.50 ($1,500)

so that's $2,700 back in 56 days against our net $8,200 entry – seems like there's money to be made but nothing I would count on.
MO – Already over our target so I'll count on collecting the full $7,500 against the current net $4,195 so $3,305 (78.7%) left to gain by March. Yawn again but I guess other sites would put that up as their best trade of the year – so we should learn to enjoy the simple things as well…
TLT – This has been disappointing but we are on track. I don't see the Fed easing more so that would be the full $5,000 and currently net $3,225 so

another $1,775 (55%) in 56 days

doesn't suck.
TSLA – We just sold the $365 calls this week and already up 2/3 after yesterday's debacle. Overall premise is we hold $250 and that's our $25,000 buffer while we keep selling $5,000 worth of short calls every money or so – could be very lucrative…

For now, let's just say we expect to make the full $1,900 in 28 days and we'll see how it goes from there

.

Also, for $2 or less, I'd buy back the short calls to clear the slot.
So we're up $51,000 and the positions we currently have should make another $25,160 on the positions we already have. That certainly takes the pressure off as we hit our 2-year goal in 2 months! Now the trick is not to lose it but I don't want to waste money on a hedge when we already have positions in each direction and we can adjust on the fly.
Money Talk Portfolio Review (MTP): The restriction on this portfolio is we only trade (unless there is an emergency) when I'm on the show, once per quarter so it's the ultimate hands off portfolio.
SPWR – They are spinning off a division or I would have gone for the bull call spread too. I love these guys long-term and we can just sit on the short puts without worrying about the mess from the splits.

I expect to collect the full $3,310 on this one

.
GOLD – Our Trade of the Year so it better pay off! We're having a bit of a pullback but still ahead on the spread but only net $1,665 out of a possible $12,000 and

I fully expect to collect the remaining $10,335 (620%)

- so I'd call this good for a new trade too!
IBM – Last year's Trade of the Year is a resurrection play – as we've already cashed in the originals at $150. $135 got attractive again so we're back in with a $16,000 spread that's currently a net $680 credit and that's better than our entry so great for a new trade with a

$16,680 (2,452%) upside potential

over just $140! I
Only a week old and up $560 is OK and the potential for our new trades is $30,325 PLUS that $560 so that's enough money to beat the S&P over the next two years so I guess I'm done with this portfolio, right? Well, in the very least, I don't think we need to worry about it.
Butterfly Portfolio Review: $193,996 is up 93.9% in less than two years but well off our highs so nothing to be excited about. DIS is killing us at the moment – so it's time to make a serious fix there and MJ is the real culprit – back to $17. Ironically, we'll have more adjustments to make to the Butterfly Portfolio than all of the others combined – the opposite of our usual low-touch updates.
AAPL – $266 is way over our mark and we sold 20 short March $210 calls for $23.30 so a $71,350 loss there only 1/3 offset by the gains on the short puts. On the bright side, our $240,000 spread is 100% in the money and still net $140,000 – so $100,000 more to gain there. Many steps to this fix:

Buy back the 10 short June 2021 $175 puts for $5.50 ($5,500)

Roll the 20 short March $210 calls at $58.85 ($117,700) to 30 short June $260 calls at $23.65 ($70,950)

Sell 15 short June $240 puts for $9.20 ($13,800) with a stop on 5 at $11, 5 at $13 and 5 at $15

Roll 40 short 2022 $260 calls at $44 ($176,000) to 60 short 2021 $270 calls at $28.50 ($171,000)

Roll 40 2022 $200 calls at $80 ($320,000) to 60 long 2022 $240 calls at $54.50 ($327,000)

So, all told, we're spending just $36,450 and what are we accomplishing? We now have 60 2022 $240/2021 $270 spreads at $180,000 so worse than the one we had but the short 2021 $270s can be rolled to the 2022 $290s ($30) not even accounting for the 1-year decay advantage so I'm confident we'll get our $120,000 back there eventually.
Meanwhile, the big accomplishment is to push all the short calls into 100% shorter-termed premium while keeping them well-covered and we've lowered our downside delta considerably – other than the short puts, which are rollable.
This is why we have such major fluctuations in the Butterfly Portfolio so it's not the journey – it's the destination. If AAPL stops going higher every day long enough for some of the short premium to expire, we could pick up $70,950 plus another $13,800 by June if we thread the needle on the puts and that's $84,740 in pure premium we've sold for the next 6 months and 3 more chances means we'll sell $340,000 in premium between now and 2022 PLUS we think we can work into a $320,000 spread so POTENTIAL to make $640,000 but even a small portion of that will do wonders for our portfolio.
DIS – Similar problem to AAPL as we sold 25 of the Jan $130 calls and DIS is at $152 and those calls are down $7,625. Well, not that similar as it's way smaller – but the same concept! We have an advantage here as we aren't at 2022 yet and you always do better rolling for time and not just strike. Essentially, we're going to scrap the short puts and calls as we missed the target and lost net $4,300 – in this case it's not tragic and our bull call spread is deep in the money for a huge gain.

Sell 25 June 2021 $110 calls at $46 ($115,000)
Buy 50 2022 $130 ($33.50)/$160 ($18.25) bull call spreads at $15.25 ($76,250)
Roll 25 short June $135 calls at $28 ($70,000) to 35 short April $145 calls at $12.50 ($43,750)
Buy (to close) 25 short Jan $130 calls at $22 ($55,000)

Here we're spending net $42,500, putting us in this spread for net $9,775 (we had a large net credit to start) and we have a $150,000 long spread that's mostly in the money 2/3 covered by the short April $145s, which we should be able to roll out over time. On the whole, we do think DIS will correct a bit but, long-term, the streaming service will push a lot of money to the bottom line and the Star Wars Hotel will be booked for 5 years….
MDLZ – This one is, amazingly, dead center on track. Hard to imagine it stays right here but a pretty good call from way back in Sept, when it was 5% higher.
MJ – Is it a distraction we should kill or salvageable? Since we can sell 40 April $18 calls for $1.70 ($6,800) and closing the spread would cost $18,475 – it's simply cheaper to keep it. But, keeping it means investing on a roll of the 2022 $25 calls or we risk getting burned to the upside (I know, ha ha based on recent performance) and the puts we can fix too – so let's do it:

Buy to close 10 2021 $30 puts at $13.80 ($13,800)

Buy to close 10 2022 $25 puts at $10.30 ($10,300)

Sell 30 2022 20 puts at $6.50 ($19,500)

Roll 50 2022 $25 calls at $2.30 ($11,500) to 60 2022 $20 calls at $3.60 ($21,600)

Sell 40 April $18 calls for $1.70 ($6,800)

That's net $7,900 to "fix" our $18,955 paper loss and now we have more realistic targets and we've only sold 142 out of 786 days so 4 more $6,800 sales is a potential to collect $27,200 in premium while we wait to see if our $125,000 (also rollable) spread comes in. Of course, we don't think over $25 is very likely now so call it $25,000 at $25 but that would be nice…
WHR – Another one that's on target – AMAZING!
X – Brand new and on track.
It's all about AAPL as that has the potential to be a blockbuster spread – if it ever calms down but, since we are generally bullish – all that's really happened is we ended up positioning for much bigger gains and we've already banked over $100,000 in profits from AAPL in the past two years – the position just grows and grows as we take advantage of changes.
There are not many stocks I'd be willing to carry so much on but AAPL is NOT going BK so it's all about just managing the spurts and waiting, PATIENTLY, for things to normalize – as they often do.
Hemp Boca Portfolio Review: F'ing MJ! It's so annoying. At least the new shorts are working out but that early loss is a burden. Still, we can only press on and do better next time.
TAP – They bumped up their dividend – hopefully not priced in Canadian Dollars… We just added puts to the bull call spread but our conservative entry is net $42.40 and I have no worries about that so

I fully expect to gain the remaining $3,750 (98.6%) on the puts, so still good for a new trade

. On the bull call spread, we're down $1,100 – so also good for a new trade at net $7,900 on the $20,000 spread so $12,100 expected to be gained there but $7,900 is $54 and I need more evidence before I begin to say I'm counting on that money – so no green on the rest!
IMAX – As noted in the Earnings Portfolio, I feel very good about this one and we're already in the money at net $3,000 on the $4,000 spread so

$1,000 (33%) left to gain if they hold $21 for 2 months

. It's a tepid green since I'm still worried trade falls apart.
M – My now table-banger! Nice $10,500 potential spread at a net $3,218 CREDIT, so

$13,718 (426%) potential gain if M can make it to $20 in two years

. Since the worst-case is owning 1,500 shares of M for $12.85/share – I love the risk/reward on this one.
MJ – The old loss is what it is but it's good for a year and could improve a lot – but nothing to be counted on. What they do though, is provide an upside buffer so we can be more aggressive selling calls against our 2022 position – if MJ ever improves enough to make call selling worthwhile.
THC – Another one we love to buy whenever investors lose faith. Miles in the money now at net $4,575 but it's a net $7,000 spread that's 50% in the money so not bad for a new trade with

$2,425 (53%) left to gain

, We entered for net $1,000(ish) so up 350% already but now it's pretty much a sure thing so 53% is not boring when you don't even have to think about it.
So that's $20,893 left to gain despite not counting a thing on MJ and that's 40% of a $50,000 portfolio but we still have 75% of our $100,000 buying power and we will find ways to deploy that over time. Keep in mind we only trade this one on the Tuesday Radio Show.
Earnings Portfolio Review: Now it's more like another STP so I wonder if we should keep it? Most likely, I'll move these over to the LTP when we decide to commit to one. NO losers is off to a good start, should close it now to keep up my perfect score….
HBI – I have full confidence

we'll get the remaining $2,415 over time

and I guess the strategic play is to be happy with that and only pick up a bull call spread if we see $13(ish) again. Earnings were the 31st though and they caused a $2 pop, so it's going to be hard to get back there now as the support is forming up around $15. C'est la vie…
BA – Now I wish we sold puts but wasn't appropriate for the small portfolio. Of course, for GOOGL or AAPL I'd sell puts – because I don't think there's a rational risk that they drop 30% to doom the portfolio but BA COULD, POSSIBLY drop 30% – so not worth the chance. Still, it's a $25,000 spread currently netting $14,125 so $10,875 left to gain is another 77% left to gain, which I'm pretty confident about – especially after BA did finally get orders at the air show this weekend.
We're already up $3,125 (39%) in our first month on the BA but it slows down from here. Still, you can see why I like this strategy for earnings plays – it has a very nice short-term pay-off – if that's what you are in for – but it also makes a nice, long-term position once you get past the short-term fear and the 2022s would have given us time to adjust if the earnings/guidance were worse than we thought (or they could have been delayed).
CLF – All my babies are in this portfolio! Well, stick to what you know, right? So here we have a $10,000 spread that's $6,000 in the money and the net is currently $2,810, which is still $1,860 (195%) more than the $950 we paid for it – GOD, I LOVE OPTIONS!!!

So we are very likely to get the next $7,190 (255%)

, which is still a very exciting return on our current balance and the risk, of course, is a breakdown in trade but I like CLF BECAUSE they are local and may actually come out well in a massive trade war so yes, sticking with these for sure.
IMAX – We've been playing this one whenever it's low for 10 years. Investors are real idiots with cyclical growth stocks. So far, no blowback in China but that's a possibility if the trade war escalates. Terminator disappointed but Frozen is huge – that's show biz. So it's an $8,000 spread that's mostly in the money at net $3,762 so

a healthy $4,238 (112%) left to gain

and we're only up $587 ( ) from our original $3,175 entry so you didn't miss much – yet. Oh – and it pays off in June!
IRBT – I don't love them like I used to but we couldn't resist the chance to buy them on the dip. It's a wide, $25,000 spread and currently just net $3,425 so

$21,575 (629%) left to gain

and I really like this one too.
So just 5 positions and we're already up net $5,558 overall and we expect to make another $42,293 (42%) over 2 years on just these positions. Something I realize about myself is that, while I was pretty gung-ho to make earnings plays that first week – I pretty much lost interest after we had 5 good ones because my outlook shifted from "going for it" to "protecting our gains". I did not, subsequently, see anything I felt as certain about last month – so I didn't follow up with any picks.
I guess we'll leave these trades here and continue to use this portfolio for earnings-related activity but, when it gets full, we'll have to decide what to do about it. At the moment, we're not using much buying power – only about 20% of our $200,000.
Dividend Portfolio Review: We're already full, so all we're going to do with this portfolio is wait two years and see if we make 35%. I'm not going to waste time on this one because it's only up 1.4% and only SIG and SKT have paid a dividend so far so you're not missing anything if you play it from scratch but it's dead boring.
If we do decide to take on other dividend positions – they will go in another portfolio we will call Boring Dividend Portfolio II – and then we can leave that one alone for two years. Fun!
NLY and SKT got worse while the others (even M) made up for it.
Tanger Raises Guidance, Continues Repurchasing Shares

Tanger Factory Outlet Centers, Inc. 2019 Q3 – Results – Earnings Call Presentation
Do you know someone who would benefit from this information? We can send your friend a strictly confidential, one-time email telling them about this information. Your privacy and your friend's privacy is your business... no spam!
Click here and tell a friend!