Courtesy of Pam Martens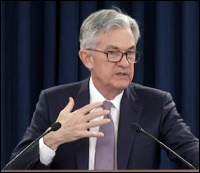 Congresswoman Katie Porter opened a hornet's nest on Tuesday during a House Financial Services Committee hearing where Fed Chair Jerome Powell answered questions. As we reported, Porter held up a photo of Powell in black tie attending a lavish party for billionaires and politicians at the Washington D.C. home of one of the richest men in the world, Amazon CEO Jeff Bezos. As it turns out, that wasn't even the worst part of the story. The real jaw dropper is that the Bezos party was the after-party for a secretive private club's annual dinner. The so-called Alfalfa Club is a 107-year old, invitation-only club that bars the press from attendance and banned membership of blacks and women for the bulk of its existence. Fed Chair Powell is a member of that club. More on that shortly, but first some background.
There is a constant refrain at the press conferences held by Federal Reserve Chairman Jerome (Jay) Powell that the role of the Federal Reserve is "to serve the American people." In the wake of constant Tweet lashings against him from President Donald Trump that he's not lowering interest rates fast enough, Powell has also gone out of his way to emphasize that the Fed will remain independent. And to bolster public confidence in the Federal Reserve, since February 25 of last year, the Fed launched a public relations campaign called "Fed Listens," which it describes as follows:
"At the Fed, we're currently reviewing our monetary policy strategy to find out if there are ways it could be improved to achieve the goals assigned to us by law. To make sure we consider a broad range of views from the public we serve, we're holding Fed Listens events in diverse locations across the U.S. These events will focus on communities where, despite a strong economy, people are struggling to keep pace."
The Fed knows from its own research that millions of people in America are working two and three jobs just to pay their rent and keep up-to-date on their high double-digit interest rate credit cards offered by the banks it "supervises." The Fed knows from its own research that 40 percent of Americans could not come up with $400 in an emergency without borrowing. And the Fed knows from national polls that it's in the top ranks of the least trusted institutions in America as a result of its tone-deaf attitude toward struggling Americans during the financial crisis as it pumped a cumulative $29 trillion to bail out Wall Street mega banks and their foreign derivative counterparties at loan interest rates often below 1 percent.
The Fed's New York branch supervised the very banks that brought on the crisis by making fraudulent loans and then bundling them into toxic securities that were sold to public pension funds, other institutional investors, and banks around the globe. And as the Fed was lavishing its $29 trillion on these banks, they continued right along charging struggling households high double digit interest rates on credit cards; they continued right along foreclosing on millions of homes, leaving entire neighborhoods blighted. And these banks like Goldman Sachs and Citigroup, even profited on side bets they had made that their own designed-to-fail toxic mortgage bonds would collapse. The icing on the cake was that the Fed stood by as these banks used taxpayer bailout funds to pay their execs large bonuses.
…
Do you know someone who would benefit from this information? We can send your friend a strictly confidential, one-time email telling them about this information. Your privacy and your friend's privacy is your business... no spam!
Click here and tell a friend!