Courtesy of Pam Martens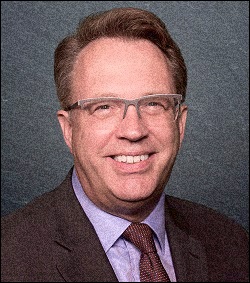 For the first time in the history of the Federal Reserve, it has signed on to a plan with Congress to nationalize the unmanageable debts of global banks and other multinational corporations and put the U.S. taxpayer on the hook for the losses. Conducting the bulk of these programs will be the Federal Reserve Bank of New York, known as the New York Fed, which is a private institution owned by (wait for it) multinational banks.
Because the New York Fed is owned by multinational banks and is allowed to create trillions of dollars out of thin air to conduct bailouts of global banks and multinational corporations since it created this precedent in 2008, it is effectively functioning as a multinational central bank with the Federal Reserve in Washington, D.C. and Fed Chairman Jerome Powell little more than titular props for what's really going on.
According to the language in the recent stimulus bill (CARES Act) passed by Congress and signed into law by President Trump, together with an interview Fed Chairman Jerome Powell gave to the Today show on March 26, the nationalization of bad debts will work like this: the U.S. Treasury will hand $454 billion of taxpayers' money to the Federal Reserve. The Fed will, in turn, hand the bulk of this money to the New York Fed. The New York Fed will then create Special Purpose Vehicles (SPVs) using the $454 billion as loss absorbing capital (equity) to leverage its purchases of bad debts to $4.54 trillion. Ostensibly, if debt markets keep sinking and the New York Fed needs to buy up more bad debts from the global banks and multinational corporations, Congress and the U.S. Treasury will put the U.S. into ever deeper debt to oblige our multinational overlords. (Before the last financial crisis, U.S. national debt stood at $11 trillion. It has more than doubled in a dozen years to the current $24 trillion. Much of that growth resulted from fiscal stimulus measures to shore up the U.S. economy that multinational banks on Wall Street destroyed in 2008.)
So far, the Fed has newly announced it will be engaging in outright purchases of corporate bonds in both the primary and secondary markets, exchange traded funds, asset-backed commercial paper along with its ongoing purchases of Treasury securities and agency mortgage-backed securities. It is also making trillions of dollars in revolving loans to multinational trading houses against collateral that includes stocks. (Former Fed Chair Janet Yellen was on CNBC recently advocating for the Fed to consider outright purchases of stocks and junk bonds, effectively nationalizing those markets as well.)
Powell explained the newly hatched plan as follows on the Today show:
…
Do you know someone who would benefit from this information? We can send your friend a strictly confidential, one-time email telling them about this information. Your privacy and your friend's privacy is your business... no spam!
Click here and tell a friend!