Courtesy of Read the Ticker
Early 2020 the fear was the human race 'David' may suffer terribly under a frightening new flu (COVID 19) 'Goliath', well after few short months it is now clear the human race will win this trial by combat.

Previous Post: SP500 Kitchin Cycle Review

In the previous post the blog said (part 1)

.."We must conclude the major 900 period low is now in, and we are now in a up swing, which may top out ate 2020 or late 2021. Any future top out may only generate a 10% to 20% correction, of course this can be deemed very mild. This is expected, but the expected does not always play out."…

Well it sure did not, the flu lock downs around the world turned off economic activity and crushed the risk on asset price move. The end result is we finally got a true SP500 Kitchin low which we needed to finish the 900 daily cycle. (charts below). The result is some sort of short term US recession can be expected.


Click for popup. Clear your browser cache if image is not showing.


In the previous post the blog said (part 2)

.."Rolling the dice to get '7′ does not always work. Post US elections seasonal's aligned with a poor start of the decade seasonal trends, add on high global recession risk, add on a stock market slump tends to occur in the years ending 9,1,2,3,4 (like 1973, 1982, 1991, 2001, 2009 are all recession years), markets may get very interesting."…

This still holds true, and we are not there yet.

Reminder ..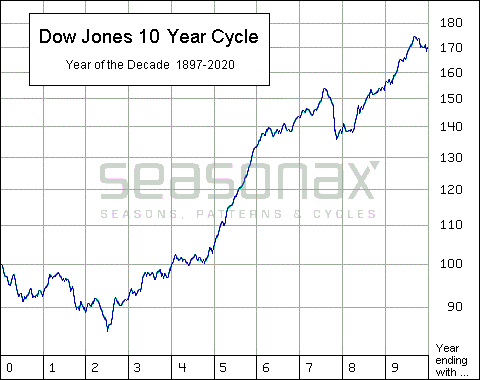 As a Wyckoff logic proponent we have to respect the demand behind the good volume little 'a' rally (chart below), because it made it easily into and passed the middle ground of the prior consolidation without attracting huge supply. This has to be considered a strength (minor strength, and yes demand is present).

Yes the price smash down from 'B' to 'C' was a typical sign of weakness of a serious note, but this like anything can be (temporary some say) over ruled. To be sure the little 'a' rally is true demand we must expect a successful test to little 'b' to ensure no supply is present, and once the supply judder bars are clear then its open season for a major strength move to little 'c'.

The coming little 'b' and 'c' moves will tell us (and volume behind them) if demand is healthy, but until then current price action has to be considered bullish [subject to little 'b' test confirmation of course].

Little 'b' test should not take out the low of big 'C', even better if it does not take out the low of big 'A', holding above 2600 would be even better. 

The fundamentals behind the little a-b-c would be simply the bad news is known (kitchen sink news) and the market liquidity (via the FED) will find a home in risk on assets. The 2020 bearish smash is a bust rather than a crash starting a economic depression. Time will tell. 




Click for popup. Clear your browser cache if image is not showing.


The Kitchin cycle has to be respected because as the historic DOW chart below shows it works.

The Kitchin cycle is a typical 900 period daily cycle (below the blog uses 880).

The chart above shows the fixed wall Kitchin cycle with the adaptive to price sine wave cycle via RTT custom indicator RTTHurstDPO.

The cycle charts suggest the real bearish market fun starts after 2020 year end.



Click for popup. Clear your browser cache if image is not showing.




Changes in the world is the source of all market moves, to catch and ride the change we believe a combination
of Gann Angles,
Cycles,
Wyckoff and
Ney logic
is the best way to ride the change, after all these methods have been used successfully for 70+ years.
This post is a delayed and small sample of what is avaliable to members. Sign up to enjoy the full service.



NOTE: readtheticker.com does allow users to load objects and text on charts, however some annotations are by a free third party image tool named Paint.net

Investing Quote…


…"All a man needs to know to make money is to appraise conditions."…

Jesse Livermore


.."By failing to prepare, you are preparing to fail"..

Benjamin Franklin


.."One must search through a maze of complex and contradictory details to get to the significant facts … Then he must be able to operate coldly, clearly, and skilfully on the basis of those facts." The challenge for the successful speculator is "how to disentangle the cold hard facts from the rather warm feelings of the people dealing with the facts." Moreover, "if you get all the facts, your judgment can be right; if you don't get all the facts, it can't be right"…

Bernard Baruch


.."Investing should be like watching paint dry or watching grass grow. If you want excitement…go to Las Vegas."…

Paul Samuelson


.."It's easier to fool people, than to convince them they have been fooled"..

Mark Twain

Do you know someone who would benefit from this information? We can send your friend a strictly confidential, one-time email telling them about this information. Your privacy and your friend's privacy is your business... no spam!
Click here and tell a friend!