Courtesy of Pam Martens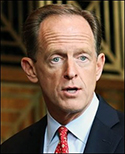 Yesterday, at 4:19 in the afternoon, Wall Street On Parade received an email from the nice communications folks at the Senate Banking Committee, which is chaired by Senator Sherrod Brown of Ohio, a progressive Democrat who has had about all he can stand of the robber barons on Wall Street. The ranking member of the Senate Banking Committee, who was supposed to become the Chair of the Committee in a Trump coup d'état, is Republican Pat Toomey of Pennsylvania, who has been serially funded and backed by Koch-funded front groups. Koch Industries owns a big trading operation, so it is very much vested in what happens in terms of stricter regulations for Wall Street. (For the role of Koch money in the insurrection at the Capitol on January 6, see our report: The Money Trail to the Siege at the Capitol Leads to Charles Koch and Koch Industries.)
The headline of yesterday's email from the Senate Banking Committee read: "Brown Blasts Ranking Member Toomey for Red Scare Attacks On Saule Omarova," along with this brief statement from Senator Brown:
"Before today, I thought red scare McCarthyism was rightly relegated to the dustbin of history. Any American citizen who fled communist repression – whether it be FDIC Chair Jelena McWilliams or OCC nominee Saule Omarova – should be lauded for their courage and conviction. I believe that my colleagues – from both sides of the aisle – will reject such character assassinations."
Naturally, our curiosity was piqued. What was Toomey up to this time in service to the Koch corporate machine. It turns out that Toomey had spent 11 minutes on the Senate floor yesterday bashing President Biden's nominee, Saule Omarova, to head the Office of the Comptroller of the Currency (OCC), the federal regulator of national banks. The thrust of Toomey's slurs is that Omarova is a radical Soviet sympathizer because she happens to have been born in the Kazakh Soviet Socialist Republic (now Kazakhstan) and attended Moscow State University on a Lenin Personal Academic Scholarship. That was more than three decades ago. Toomey now plans to dig up a paper on Marx that Omarova wrote in her early twenties and launch a full-scale red scare.
Omarova relocated to the United States in 1991. She received her Ph.D. from the University of Wisconsin-Madison in 1999 and her law degree from Northwestern University in 2001. She is currently a law professor at Cornell University Law School. You can read her bio here.
…
Do you know someone who would benefit from this information? We can send your friend a strictly confidential, one-time email telling them about this information. Your privacy and your friend's privacy is your business... no spam!
Click here and tell a friend!