Courtesy of Pam Martens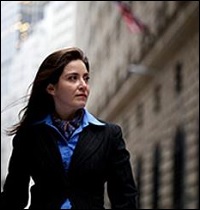 For more than two decades, the general counsels of Wall Street's mega banks have been meeting together secretly once a year at ritzy hotels and resorts around the world. This would appear to be a clear violation of anti-trust law but since Wall Street's revolving door has compromised the U.S. Department of Justice over much of that time span, there has been no pushback from the Justice Department to shut down these clandestine meetings.
Wall Street insiders say that among the top agenda items at this annual confab are strategy sessions on how to keep Congress from enacting legislation that would bring an end to Wall Street's privatized justice system called mandatory arbitration. This system allows the most serially corrupt industry in America to effectively lock the nation's courthouse doors to claims of fraud from its workers and customers. This private justice system also keeps the details of many of Wall Street's systemic crimes out of the press.
Wall Street's McJustice system is just one element of a fully-loaded dirty tricks playbook that Wall Street uses to crush an honest worker who is intent on holding the firm to account. The playbook includes gaslighting; a campaign of ordered ostracizing by coworkers; demotion; an internal investigation with a preordained outcome to malign the reputation of the whistleblower; blackballing in the industry; and, frequently, the ultimate humiliation of being escorted out of the building by security guards. As the dirty campaign unfolds in front of colleagues, it achieves the intended additional goal of silencing any coworkers who might be thinking about reporting illegal activities.
Following this psychological warfare inside the Wall Street firm, the honest whistleblower will be met with the next chapter of the sociopathic playbook: Wall Street's star chamber (mandatory arbitration) tribunals if he or she attempts to get compensated for damages, lost compensation and so forth. The Wall Street firms frequently bring current employees who were friends with the fired whistleblower to testify to outrageous lies about the honest worker in an effort to inflict more emotional damage to ensure this individual will look for future employment anywhere but Wall Street.
In one particularly brazen example of how this private justice system functions outside of the law, JPMorgan Chase employees felt confident that they could get away with falsifying written customer complaints against an honest whistleblower, broker Johnny Burris, and enter them at his arbitration hearing before the industry's self-regulator, FINRA. Burris had earned the wrath of the bank for having the temerity to tape-record his bosses pressuring him to sell the firm's own mutual funds to his clients, which generated more profits for the bank, rather than being allowed to decide which mutual funds would properly serve his clients' best interests.
…
Do you know someone who would benefit from this information? We can send your friend a strictly confidential, one-time email telling them about this information. Your privacy and your friend's privacy is your business... no spam!
Click here and tell a friend!