Courtesy of Pam Martens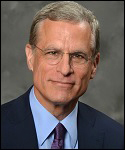 On October 12, Wall Street On Parade filed a Freedom of Information Act (FOIA) request with the Federal Reserve Board of Governors seeking the specific dates on which former Dallas Fed President, Robert Kaplan, had made purchases and sales in S&P 500 futures contracts in 2020. According to Kaplan's financial disclosure forms, he had made "multiple" transactions of over $1 million in S&P 500 futures during 2020, the year that he sat as a voting member of the Federal Open Market Committee and was privy to the Fed's unprecedented interventions in the market during the economic upheaval from the pandemic. (See Kaplan's financial disclosure forms from 2015 through 2020 here.)
Kaplan was under very precise instructions on his annual financial disclosure form to provide the "month, day, year" of each of his purchases of securities and each of his sales. But throughout his tenure at the Dallas Fed, Kaplan listed only the word "multiple" where the specific date should have appeared on the form.
Kaplan is a sophisticated Wall Street veteran who worked at Goldman Sachs for 22 years, rising to the rank of Vice Chairman. He should have certainly been able to follow the simple instructions on his financial disclosure form. By Kaplan eliminating the dates of his trades, it is impossible to know if Kaplan made two trades of over $1 million each in S&P 500 futures in 2020 or if he made dozens of trades of over $1 million. It is also impossible to track if his trades were conducted around the time that the Fed had made a major announcement about a Fed intervention to prop up the market.
Because Kaplan sat on insider information throughout much of 2020, he should not have been trading at all, let alone in S&P 500 futures which allow an individual to trade after the U.S. stock exchanges have closed – almost around the clock from Sunday evening to Friday evening. A member of the Federal Reserve system engaging in "multiple" "over $1 million" trades in a market-timing device like S&P 500 futures should have set off alarm bells at the Dallas Fed and at the Fed's Board of Governors – which includes Jerome Powell, the man that President Biden has just nominated to serve another four years as Chairman of the Fed.
But, somehow, with no explanation to date, the General Counsel of the Dallas Fed, Sharon Sweeney, signed off each year on Kaplan's financial disclosure form. Even worse, on January 21 of this year, the Federal Reserve Board of Governors announced that following a "rigorous process," it was giving its approval for the reappointment of all 12 Presidents of the Federal Reserve Banks – which included Robert Kaplan, despite his outrageous trading during a declared national emergency in 2020.
…
Do you know someone who would benefit from this information? We can send your friend a strictly confidential, one-time email telling them about this information. Your privacy and your friend's privacy is your business... no spam!
Click here and tell a friend!