By Anna Peel. Originally published at ValueWalk.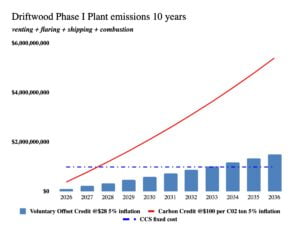 The environmental carbon emission impact of a project like Driftwood is controversial to begin with.
Q4 2021 hedge fund letters, conferences and more
Carbon dioxide has to be stripped out of the raw gas before the clean gas is chilled and liquefied at minus 161 degrees Celsius. The CO2 is then vented back to the atmosphere.
For an extraction and liquefaction project like Driftwood, Tellurian Inc (NYSEAMERICAN:TELL) needs to cover by its own means an amount 54.5 million C02 mt e. on 10 years.
Policy Risk
In the European Union LNG is imported without a carbon duty, (gas only taxed at the combustion- buyer stage), while other high carbon intensity products are.
U.S cargoes have "a free-lunch " in the EU taxonomy: so far foreign LNG has evaded the list of emissions taxes at the production source.
This arb loophole that has incentived U.S exports but some legislators want to close what they call "carbon leaking".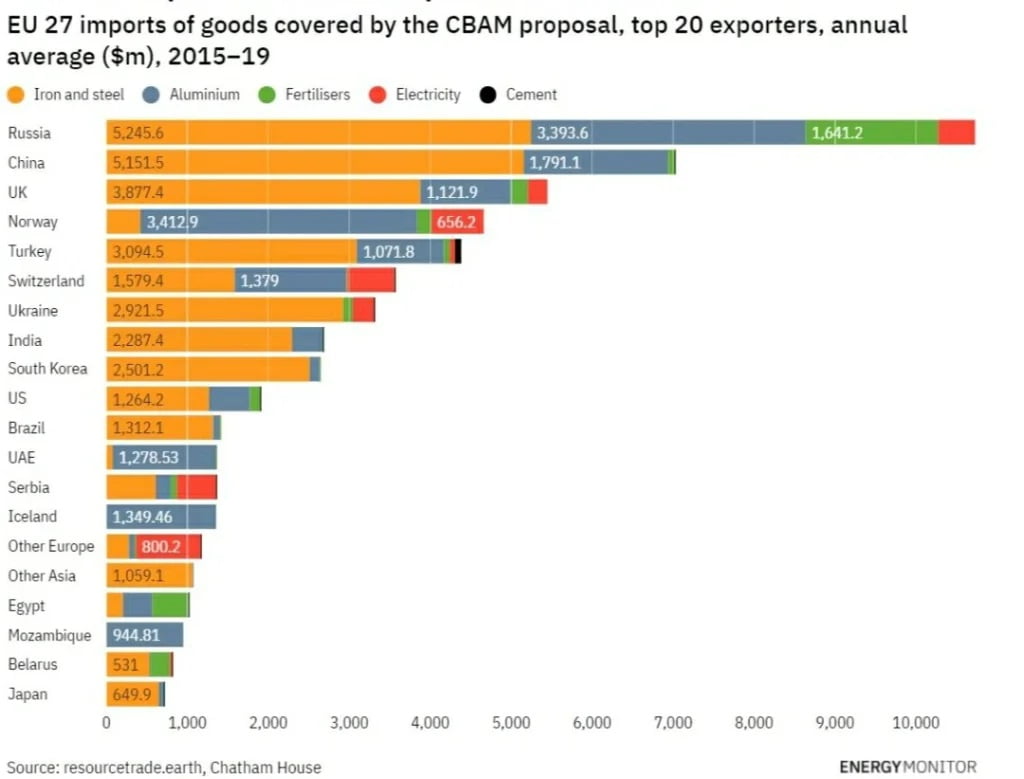 Financially in the U.S the cargoes produced are also not taxed by a carbon mandate. Producers can however voluntarily offset their emissions.
In the future, the United States are not going to outright ban LNG FIDs, but are simply making gas more regulated and costly now on.
U.S Climate Tsar John Kerry is totally clear about that.
Biden's Climate Envoy Endorses Natural Gas with CCUS as Long-term Energy Solution
BY ANDREW BAKER
January 26, 2022
U.S. Special Presidential Envoy for Climate John Kerry this week expressed support for natural gas as a long-term energy source, provided that the resulting carbon emissions are abated.
"I'm for gas as this transitional effort, and I hope someone will come up with the technology that can affordably find a way to capture the emissions," Kerry said during a virtual panel at an event hosted by the U.S. Chamber of Commerce.
"Gas by itself is not the problem," Kerry said. He added that the problem is the carbon dioxide emissions that result from burning methane, the primary component of natural gas. 
He cited that the unabated greenhouse gas emissions of burning natural gas are roughly half those of coal, "so I'm for gas. I'll take a gas turbine in the place of a coal-fired power plant anytime…"
Source: NGI
Where is exactly Tellurian in the carbon-neutrality and GHG emissions ?
A 10 years 11mmtpa lng project necessitates more than 54.5 million C02 ton equivalent. @$100 / co2 mt ~$2.40B.
Read also: Quantifying Driftwood's Cash-Equity Production Gap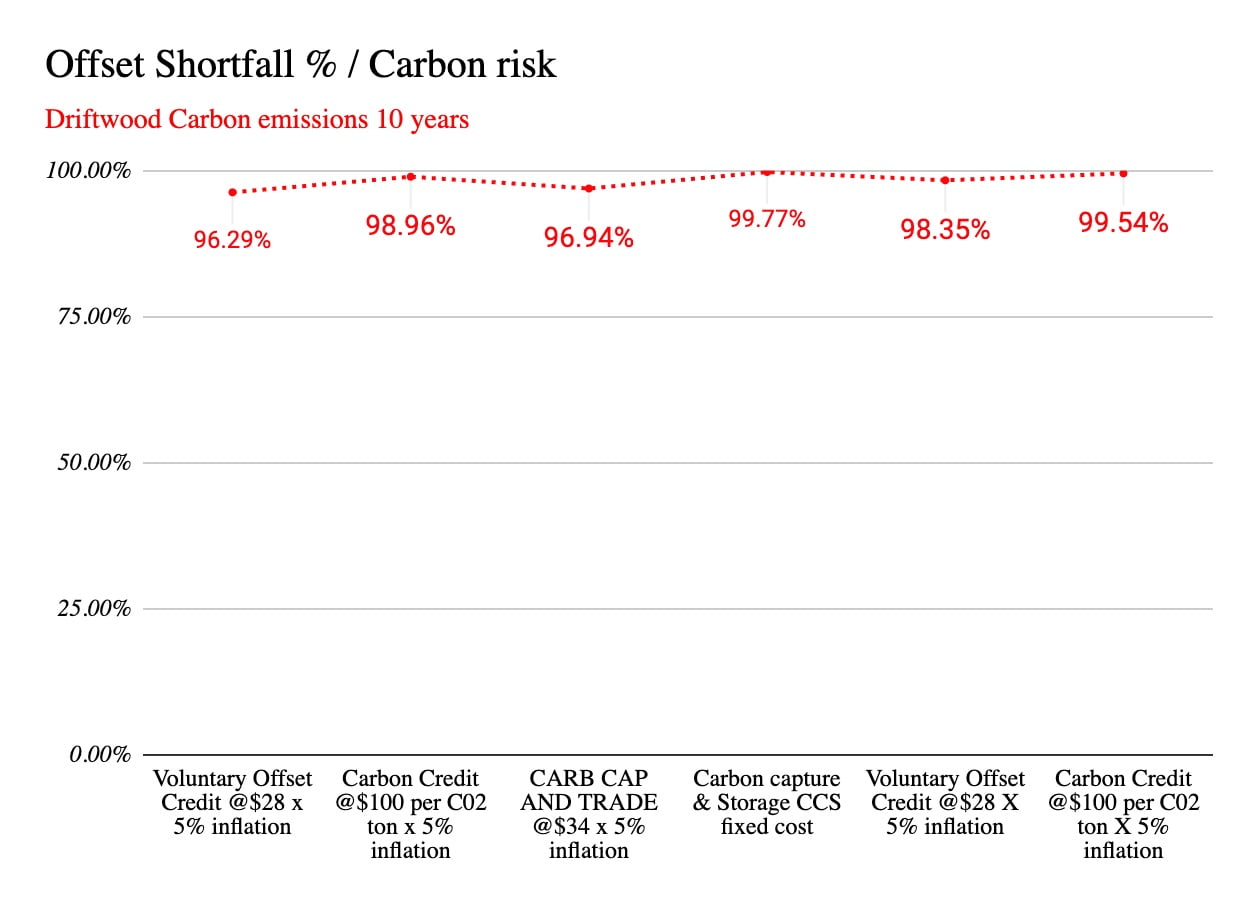 At 100$ per C02 ton in 2026 it costs Tell at least $35-40/lng mt in emissions costs X 11MMT per year ( year 1, year 2, year 3…10 etc.
It can plant forests/bury it or buy carbon certificates but under various scenarios, but what Renee Pirrong, head of Tellurian IR forgets to remind the investors ( reddit or via twitter bots, and company placed articles) is that Tellurian has this exposure to carbon risk while none of the Tellurian LNG SP&A contracts have actually been apportioned for this carbon exposure cost.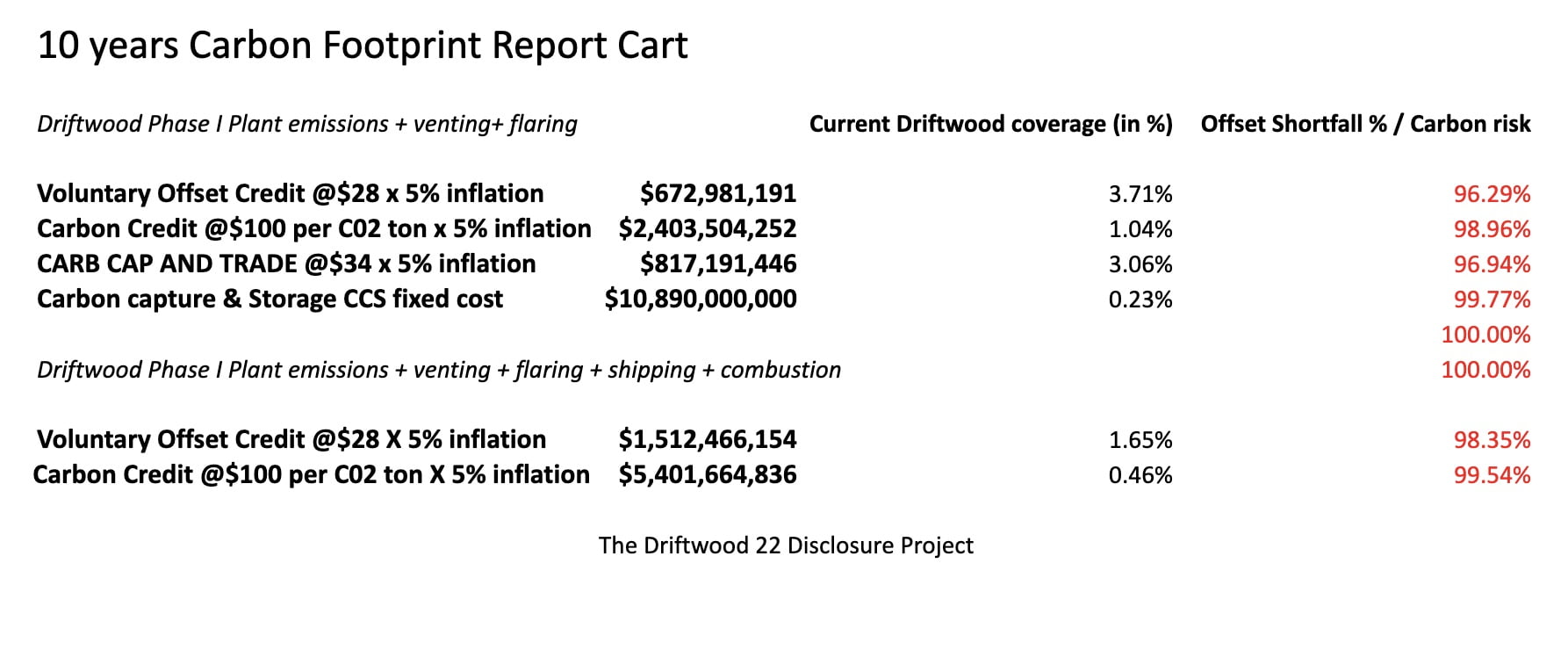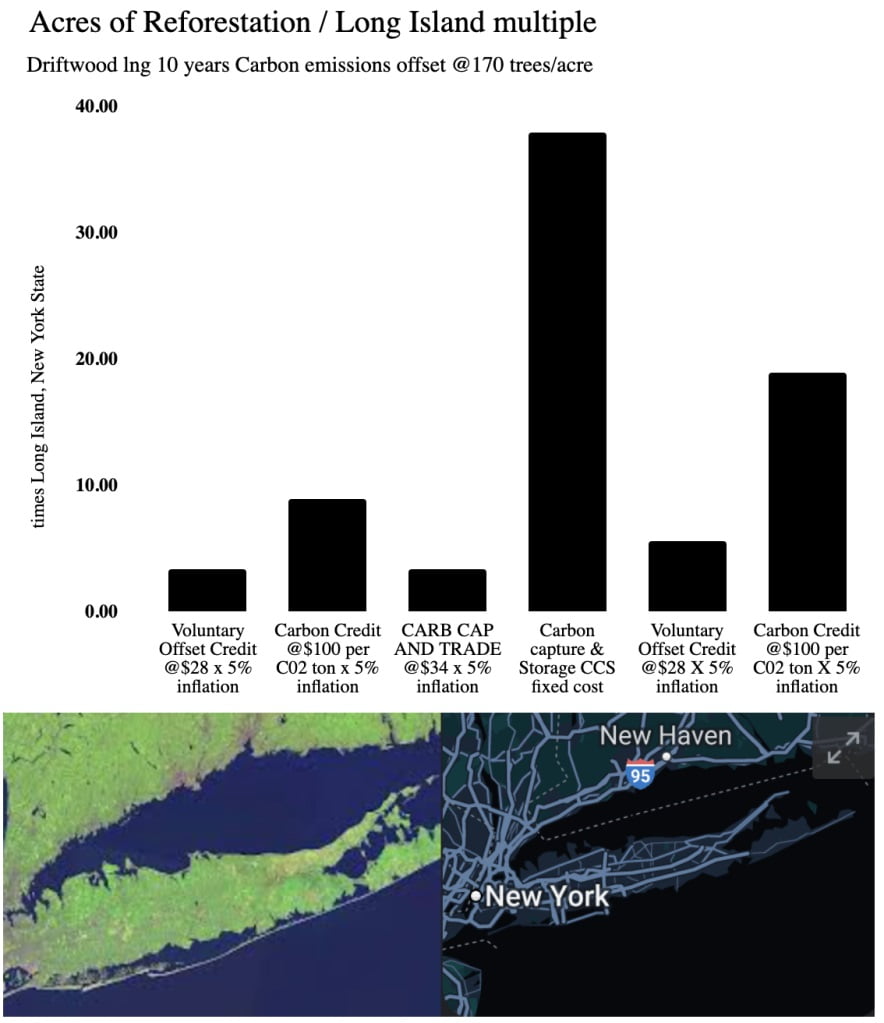 What is remarkable about Tellurian is that this company has seemingly never performed a sensitivity analysis Cash Flow at Risk (CFaR) to the 10 years carbon emission price.
These emissions-of a long-term liabilities nature- are omitted by Tellurian but factored by the banks in any FID analysis.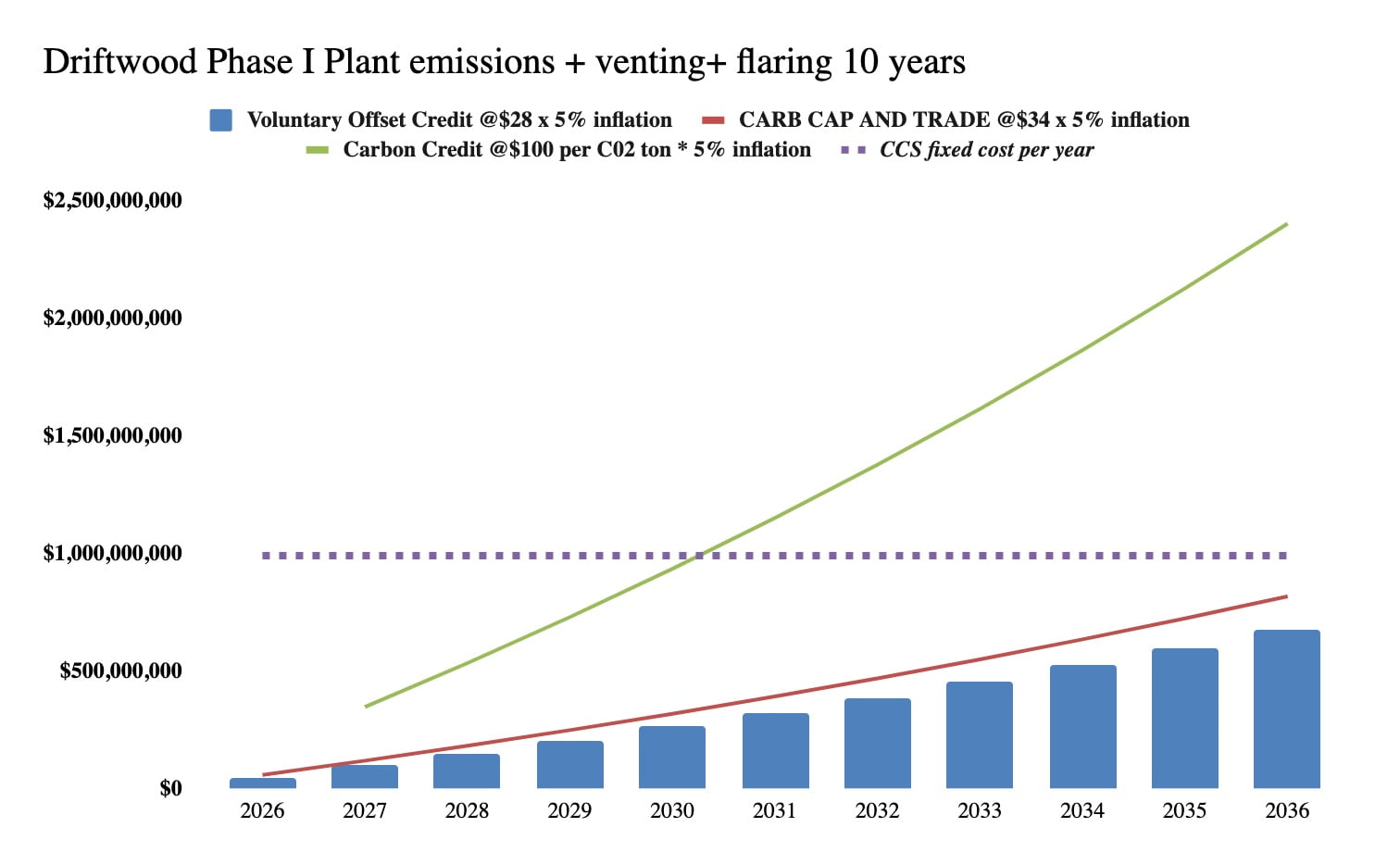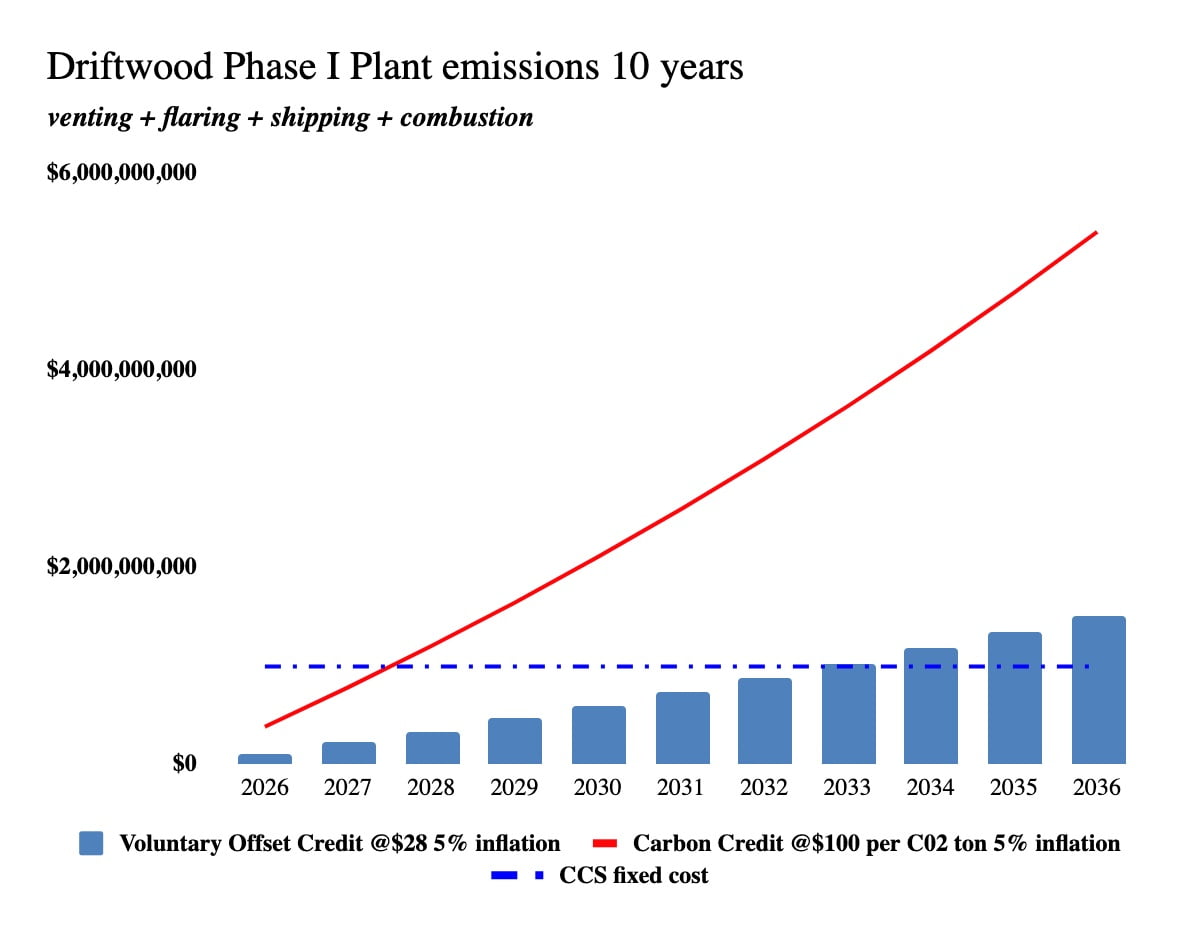 Bank Financing
Banks perform cash-flows analysis.
Based on the netback contracts signed by Tell, in 2026 it would only receive $3/mmbtu1 vs $9.11*-$11.87** break-even.
JKM 26′ strip minusAsia DES freight netbacked to houston
** Commercial break even per $mmbtu "de-risked" including the average carbon risk.
* Total production cost excluding the carbon risk.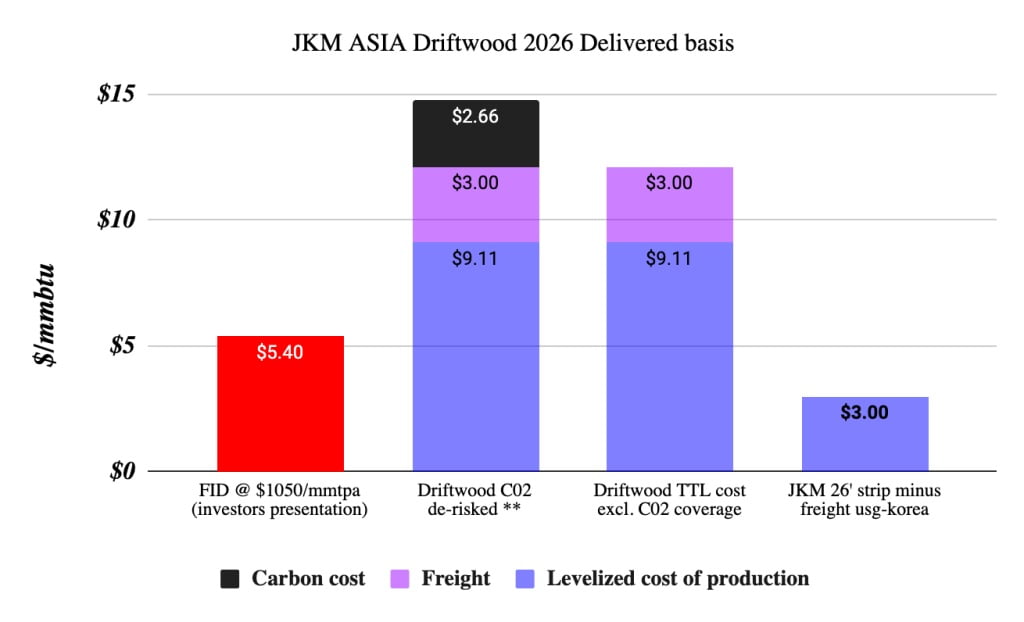 Total Driftwood Delivery Cost DES Asia
Tellurian is not going anywhere with or without carbon neutrality. Driftwood is a fake.
It just strikes that Platts has continued to give consent to Tellurian entertaining the idea that Driftwood contracts were near to be "financeable".
Since our first report on Value Walk, Tell: nyse has fallen -50%.
In our next installment we'll review Tellurian's (marked-to market) value of "LNG contracts".
-The Driftwood 22 DISCLOSURE Project
EXPOSING THE TRUTH ON DRIFTWOOD LNG FALSE ACCOUNTING AND MISREPRESENTATIONS TO THE INVESTORS
Article by The Driftwood 22 DISCLOSURE Project
---
Disclaimer
The author may have short position in stock.
Updated on
Sign up for ValueWalk's free newsletter here.
Do you know someone who would benefit from this information? We can send your friend a strictly confidential, one-time email telling them about this information. Your privacy and your friend's privacy is your business... no spam!
Click here and tell a friend!