By Insightia. Originally published at ValueWalk.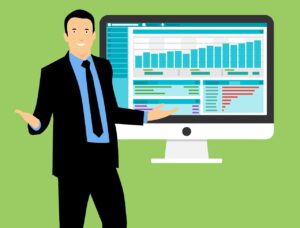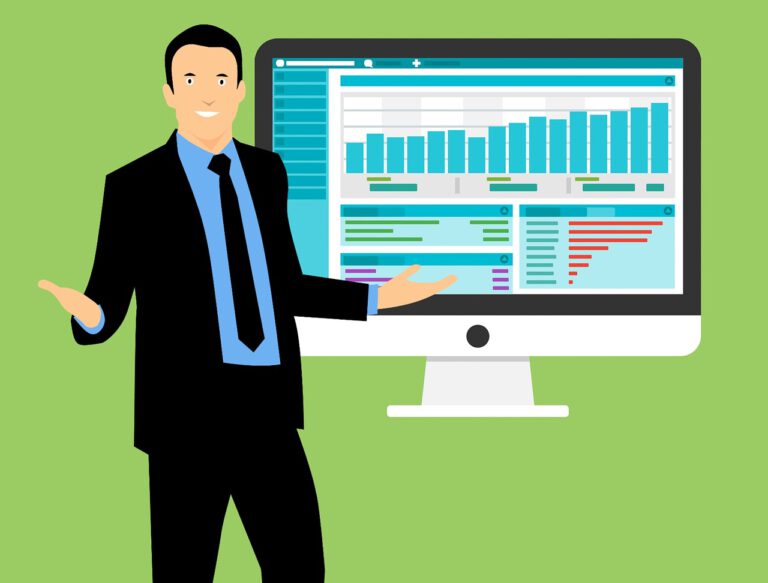 Hello from Insightia. Last week, we released our ninth Activist Investing Annual Review, the definitive publication on trends in shareholder activism, in association with Schulte Roth & Zabel. The 52-page report explores such topics as why activist campaigns appear to have gotten rougher, why financial value-driven and ESG activism has converged on the energy sector, and why institutional investors are increasingly voting against sitting directors, even without an activist alternative. Join the discussion on social media with the hashtag #AIAR22.
Q4 2021 hedge fund letters, conferences and more
Last week's most-read story on Activist Insight Online covered Legion Partners Asset Management calling on Guess to remove founding brothers Paul and Maurice Marciano from the board.
Meanwhile, Proxy Insight Online's most-read article explored the vice chair of Swiss investment bank Credit Suisse, Severin Schwan, reportedly facing opposition to his re-election to the board.
On Wednesday, we'll be watching whether activist investor Unearth International can oust Oi Electric Co., Ltd. (TYO:6822)'s CEO and Chairman Ko Ishid. On Thursday, it's off to Griffon's shareholder meeting where Glass Lewis and Institutional Shareholder Services (ISS) have recommended shareholders vote for Voss Capital's nominee Charlie Diao. Finally, on Friday, RMB Capital has called for shareholders to support a spinoff of Nippon Columbia by IT company Faith, Inc. (TYO:4295).
What's New In Activism: Toshiba Split
Toshiba Corp (TYO:6502) said it will now separate into two standalone companies instead of three, amid pressure from activist investors and shareholders to boost returns and improve corporate governance. In addition to changes to the breakup, the company said it plans to return $2.6 billion to shareholders over the next two years, triple the previous commitment.
Under the fresh plan, the company will split its device unit from its infrastructure division. The previous restructuring entailed the breakup of the company into three: energy and infrastructure, devices, and memory chips.
The new plan is unlikely to soothe shareholders and activist investors who would prefer the company to pursue a sale to private equity. When the news of the possible change was announced, one shareholder told Reuters that his view was management changed the plan to "suit themselves."
3D Investment Partners publicly denounced the initial restructuring plan, while other shareholders told Activist Insight Online that they did not like it. Some shareholders have said that Toshiba changed the plan in order to decrease the approval threshold needed from two-thirds to just 50%.
"We have not changed the plan to avoid confrontation with shareholders," CEO Satoshi Tsunakawa said at a briefing, according to Reuters. Tsunakawa added that the new restructuring will be put to a shareholder vote with an approval threshold of 50%.
To arrange an online demo of Activist Insight Online, send us an email.
Activism chart of the week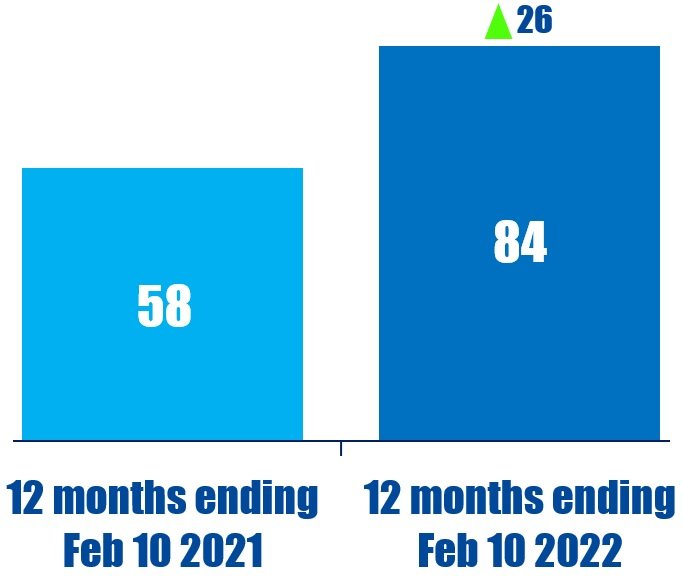 In the 12 months ending February 10, 2022, globally, 84 companies were publicly subjected to environmental-related demands. That is compared to 58 in the previous 12-month period.
Source: Activist Insight Online
What's New In Proxy Voting: BlackRock Letter
BlackRock intends to broaden its range of products and services to help clients navigate the net-zero transition, according to a February 10 client letter.
In response to a range of questions about managing the net-zero transition, the world's largest fund manager sent a letter to clients, seen by Pensions & Investments. The letter explored how BlackRock intends to help clients "navigate, drive, and invent this economic and financial transformation" through new tools and investment strategies.
"Today there is a significant degree of uncertainty about the transition," the letter read. "The issue, however, no longer is whether the net-zero transition will happen but how and what that means for your portfolio."
BlackRock will utilize its risk-management system, Aladdin, to build "the industry's clearest map of how the transition is likely to unfold across technologies, sectors, and regions." The fund manager will also create the BlackRock Transition Scenario to provide portfolio managers and clients with access to analytical and modeling capabilities. Other tools available to investors will include BlackRock Sustainable Investing Intelligence, a framework that helps to identify companies "best prepared to mitigate risks and capture opportunities associated with the transition," the letter said.
The pressure on BlackRock to accelerate its engagement with climate change is evidently beginning to bear fruit. BlackRock voted in favor of 44.4% of environmental shareholder proposals at U.S.-listed companies in 2021, compared to 17.2% and 17.9% in 2019 and 2020, respectively, Proxy Insight Online data reveal.
To arrange an online demo of Proxy Insight Online, send us an email.
Proxy chart of the week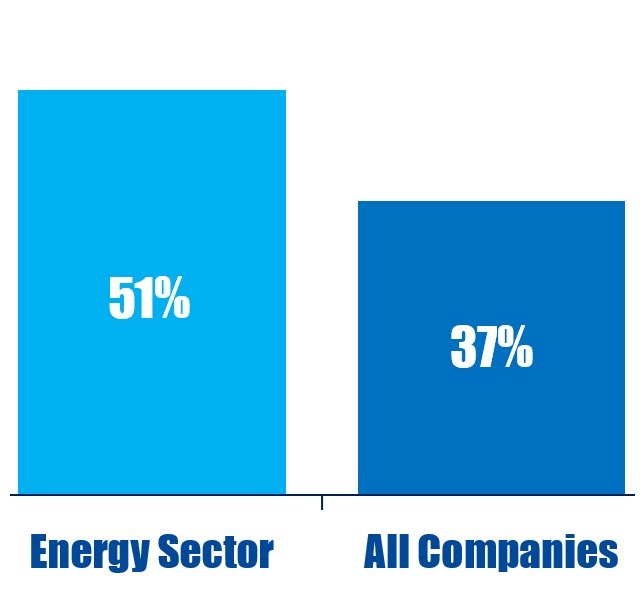 In 2021, support for environmental and social shareholder proposals at U.S.-based energy companies was 51%. That is compared to 37% for all U.S.-based companies.
Source: Proxy Insight Online
What's New In Activist Shorts: DOJ Probe Into Citron Research
Former activist short seller Andrew Left's Citron Research is one of 30 firms under a Department of Justice (DOJ) probe investigating "potential trading abuses," predatory behavior, and insider trading.
In early 2021, the DOJ conducted a major sweep in the U.S. for potential trading abuses in the short seller market leading to the FBI seizing computers from Left's home. Shortly following this, Left announced in a video posted to Twitter that Citron would no longer "be publishing what can be considered as short-selling reports."
Activist short sellers including Kerrisdale Capital Management, Viceroy Research, J Capital Research, Oasis Management, Valiant Capital Management, and White Diamond Research said they hadn't been contacted directly by the government, according to Bloomberg which cited people close to the matter.
"It's very tough to defend yourself when you haven't been accused of anything," Left said in the Bloomberg report.
The DOJ subpoenaed market participants in the third quarter of 2021 to provide documents that could have information regarding communications, calendars, and other records that relate to abuses in investments and trading.
Other firms mentioned in requests include Atom Investors, Bonitas Research, Connective Capital Management, GeoInvesting, Gotham City Research, Park West Asset Management, QKM, Sabrepoint Capital Management, Silverado Capital, and Spruce Point Capital Management.
To arrange an online demo of Activist Insight Shorts, send us an email.
Shorts chart of the week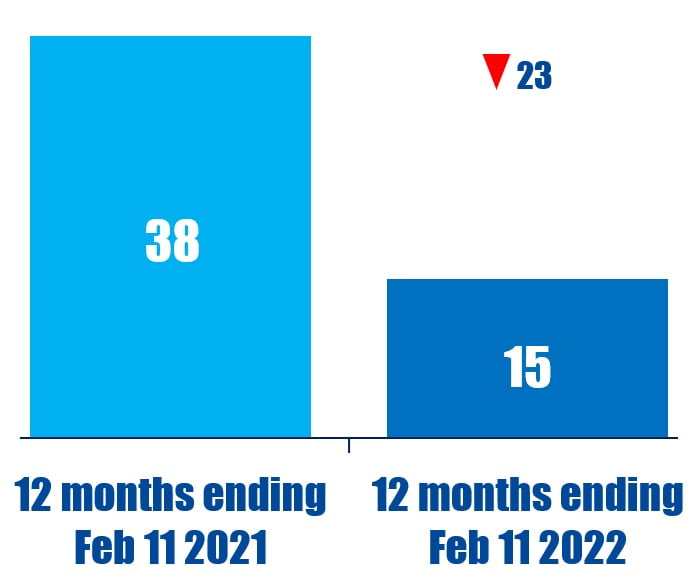 In the 12 months ending February 11, 2022, 15 healthcare companies were subjected to a public activist short campaign. That is down from 38 in the 12 months ending February 11, 2021.
Source: Activist Insight Shorts
Quote Of The Week
This week's quote comes from Belgian chemicals group Solvay who questioned Bluebell Capital Partners' expertise in assessing the climate impact of its soda ash facility in Italy. Read our reporting here.
"It is difficult to imagine how Bluebell, a fund with no known expertise in environmental science or chemistry and no track record of sustainability investing, would understand Solvay's soda ash operations better than environmental regulators and independent scientists." – Solvay
Updated on
Sign up for ValueWalk's free newsletter here.
Do you know someone who would benefit from this information? We can send your friend a strictly confidential, one-time email telling them about this information. Your privacy and your friend's privacy is your business... no spam!
Click here and tell a friend!