By Martha Robert. Originally published at ValueWalk.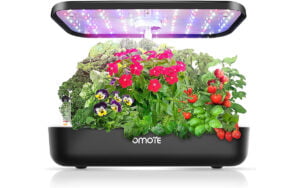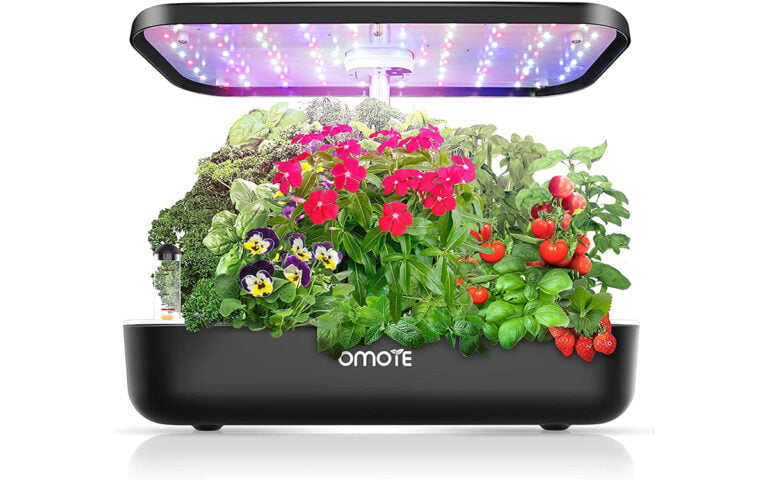 To all the many summer gardeners out there, did you ever think of having a winter garden? I've summer gardened for years but never really thought of doing any sort of winter gardening until I acquired this wonderful compact OMOTE Hydroponics Growing System that fits the bill!
Q4 2021 hedge fund letters, conferences and more
Set Up Of The OMOTE Hydroponics Growing System
The system comes with a few parts to put together, but it is very easy to assemble. Mainly you attach the adjustable 7–12-inch rod that then holds up the light panel. The lights are full spectrum LED grow lights. You can turn on the Veg Mode that uses red, white and blue lights, or you can use the Fruit Mode that has more red light for flower and fruit growing. There are 80 little LED lights that in total use only 36W of power. The lights automatically power on for sixteen hours and off for eight hours of the day.
How To Grow Plants In The OMOTE Hydroponics Growing System
The hydroponic garden contains 12 little baskets to grow 12 different plants if you want that many. I grew six different plants with two of each plant in the system. At first, the lights need to be pushed down close to the plants, then as they grow taller, you raise the lights to 21 inches.
Hydroponic means grown in water with a nutrient solution, so there are two small bottles of plant food solution that is mixed with water. This is poured in the reservoir in the bottom and there's an indicator of how much water is in there and when to refill with the plant food solution again. At the beginning, I had to refill it once a month. I'm sure that later it will be more like twice or more a month since the plants will be using up the water. The reservoir has a quiet pump system to circulate the water through the roots when the lights are on.
Pros And Cons Of This System
Pros: Fresh herbs and greens in the winter, or year round if you want! It is easy to maintain, you just have to watch the water level, check it every once in a while to make sure it's doing well. Some of my seeds didn't germinate so I replanted those.
It's easy to use, set up and maintain. No need to hang lights, since they are part of the system. Clean and neat appearing, great for a first timer attempting winter gardening or a fun project for kids.
Cons: I planted a couple short tomato plant seeds, but they quickly grew out to the side and up above the 21 inches, so I will need to transfer them to regular pots of soil and put them under other grow lights so that they can continue on there. I think that herbs and smaller plants work the best in this system.
An important note to growing the plants; you need to get a small fan that will blow on the plants continuously, especially so at the beginning of their growth, so that the stalks will grow strong, and not spindly resulting in them falling over.
Another point to note is, if your power goes off, you have to reset the cycle again, meaning you will have to get up at 6 a.m. and reset the timer the next morning if you want them on from 6 a.m. to 10 p.m. I have mine in my basement and so I don't have to worry about when they're on or off, so that's an advantage if you have that type of setup.
This would be a great setup for kids to learn about gardening and my grandkids love coming and looking at it and watching it grow!
In all, the OMOTE Hydroponics Growing System is a convenient, fun way to get your green thumb going even in the winter and I hope you give it a try too and enjoy the experience! You can get this Growing System here.
(Disclaimer: We received this product free in exchange for an honest review.)
Updated on
Sign up for ValueWalk's free newsletter here.
Do you know someone who would benefit from this information? We can send your friend a strictly confidential, one-time email telling them about this information. Your privacy and your friend's privacy is your business... no spam!
Click here and tell a friend!