By Jacob Wolinsky. Originally published at ValueWalk.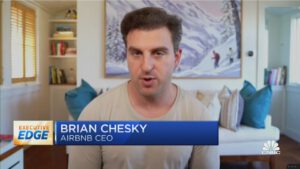 Following are excerpts from the unofficial transcript of a CNBC interview with Airbnb Inc (NASDAQ:ABNB) co-founder and CEO Brian Chesky on CNBC's "Squawk Box" (M-F 6AM – 9AM ET) today, Tuesday, March 1st. Following is a link to video on CNBC.com:
Q4 2021 hedge fund letters, conferences and more
Airbnb To Offer Free Short-Term Housing For Up To 100,000 Ukrainian Refugees
Part I
ANDREW ROSS SORKIN: Welcome back to "Squawk." More than half a million refugees have fled Ukraine since the Russian invasion. On Monday, Airbnb announcing it is offering free temporary housing for up to 100,000 refugees. Company building upon that program that it launched following the crisis in Afghanistan. In an interview last night, I asked Airbnb CEO Brian Chesky about how this all came together.
BRIAN CHESKY: When this crisis unfolded and we started really realizing last Thursday or Friday that there were going to be presumably hundreds of thousands of displaced people, we went into action and really over the weekend, it was 24 hours working around the clock with a huge group of people to be able to mobilize. We reached out to governments in Poland and Germany and Hungary and Romania, and countries even west of them to offer assistance. We've been reaching out to our hosts, we've secured funding and so we're prepared to house up to 100,000 refugees, and frankly, we can house as many refugees we have hosts.
SORKIN: And so when you say you've secured funding, how much does this cost?
CHESKY: It's hard to know. I mean, I've put in millions of dollars into this initiative. I also personally put in millions of dollars as a donor of Airbnb.org. Other donors have, it's a little unclear because we don't know how many people we are going to house. We're gonna house as many as possible, but also hosts have an option to host for free, at a discount or full price. So where we pay money is when it's discounted or full price. Obviously we won't pay anything if it's a free stay and we'd love as many free stays as possible, but not everyone can do that. So it's just not possible but you know, it will be a substantial investment.
Part II
SORKIN: Meantime on Monday, Airbnb announcing it's offering free temporary housing for up to 100,000 refugees. Airbnb has more listings in the European Union than any other region. I asked Brian Chesky in an interview yesterday about the listings it has in Russia.
CHESKY: It is going to be very hard for Russian hosts to get paid given a lot of the restrictions on money that are being accrued on banks locally. Obviously, we have to pay and remit hosts. So I think effectively a lot of the limitations are already on our local community there but I've been really focused the last few days on providing housing for refugees. That's where I'm focused on right now and we'll kind of see how the situation plays out.
SORKIN: You mentioned payments, and it's an important question. Have you thought through the implications of for example, putting limits on or the fact that banks are going to put limits on the SWIFT system, how you make those payments currently? Are people thinking about using other payment systems and the like?
CHESKY: Yeah, I mean, we're thinking about like a range of contingencies. So I mean, we have a payments team that's handled $330 billion through our platform in the last dozen years alone. So we've worked on we have a lot of contingencies. It's just we're only, you know, days into this crisis, so it's hard to know how it's gonna play out right now.
SORKIN: We're starting to see some people try to take payment in crypto in Ukraine as a result of this. Does Airbnb support crypto?
CHESKY: Well, Airbnb is I mean, I am personally supportive of the idea of crypto, of course, I think it's a really interesting technology. I went on Twitter in the beginning of the year and I asked a community on Twitter like if Airbnb can launch anything in 2022, what would it be? The number one response was add crypto payments, so I have a team looking into that. We don't have anything to announce but we are absolutely looking into this and specific to this crisis, you know, I don't know, nothing's going to be able to be implemented probably that quickly. So right now we're really focused on is providing housing for refugees. That's what I've mobilized a team to do.
SORKIN: I also spoke to Brian about inflation and the increasing price for bookings.
CHESKY: I think like like a lot of services, we are seeing prices go up. Our average daily rate is up. Now, what is important to note is one of the biggest reasons that our average daily rate is up is actually a mix shift. People are shifting towards booking one- or two-bedroom homes and studios in urban markets to larger homes. We've also had a mix shift from Latin America, Asia, which has been depressed especially Asia has been in particular depressed towards more expensive homes in North America and Europe. So that's been the primary explanation for why our average daily rates are up but again, I think that prices across the board and a lot of services are going up. I think one other thing I'm trying to say I think a lot of hosts, a lot of people are turning to hosting, obviously, with inflation, with a lot of economic uncertainty a lot of people see hosting as a really important way to make supplemental income. So hopefully this is a way to be able to help a number of people.
SORKIN: And Brian Chesky recently announcing he will be living in different Airbnbs this year moving to a new location every few weeks. Even hosting the company's latest earnings call while on the road in Miami last month, I asked Brian Chesky on how he thinks about the future of work and whether hybrid's really here to stay.
CHESKY: I think this is the beginning of a revolution in how we're going to work. I mean, obviously, there is ultimately I think, I don't think CEOs or even government officials are going to determine whether or not people return to work and how frequently. I think the employees will and what the employees are voting on is they are voting on flexibility. And I think after compensation, flexibility about where people work will be the number two benefit that ultimately CEOs have to compete for the very best talent. So I think we're living in a world where it's gonna be a lot more flexibility. The lines between travel, living and working are blurring together. And I think this is the very beginning of signs to come. And it's just good for everyone to remember, this is the worst that technology will ever be in our lifetime so obviously, camera technology, bandwidth, everything's going to get a lot better. And so I think that's going to allow for a lot more remote work. That being said, we are going to need to gather. This is one of the loneliest times in human history. We can't just stare at screens all day because then we're going to reproduce the movie Wally, I don't think anyone wants to do that. So it's going to be a balance, but I don't think it's five days a week. Anyone who thinks people are going back to the office five days a week or even the majority of days will probably be an outlier. That's not really where the world's going.
Updated on
Sign up for ValueWalk's free newsletter here.
Do you know someone who would benefit from this information? We can send your friend a strictly confidential, one-time email telling them about this information. Your privacy and your friend's privacy is your business... no spam!
Click here and tell a friend!