By Louis Navellier. Originally published at ValueWalk.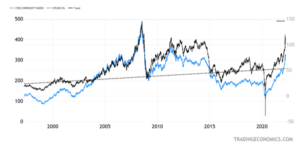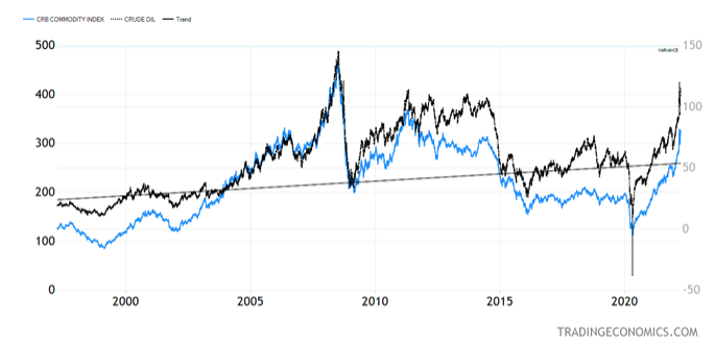 The commentary below delves into commodities at large. For a more focused commentary on natural gas see Bull Market For Natural Gas Exports Confirmed.
The year 2008 does not bring fond memories in its latter half, but in the middle of the year, commodity traders sure did have a lot of fun with oil and all kinds of other commodities going parabolic – like crude oil near $150 a barrel – the sort of way commodities are acting now.
Q4 2021 hedge fund letters, conferences and more
A Relief Sell-Off In The Commodity Indexes
WTI crude closed last week at $114 a barrel, so the 2008 high is in play, contingent of course on how the Ukrainian crisis plays out. A speedy conclusion of the war, which right now seems unlikely, would mean a relief sell-off in the commodity indexes and a continued relief rally in stocks – while deterioration of the situation in Ukraine means the opposite.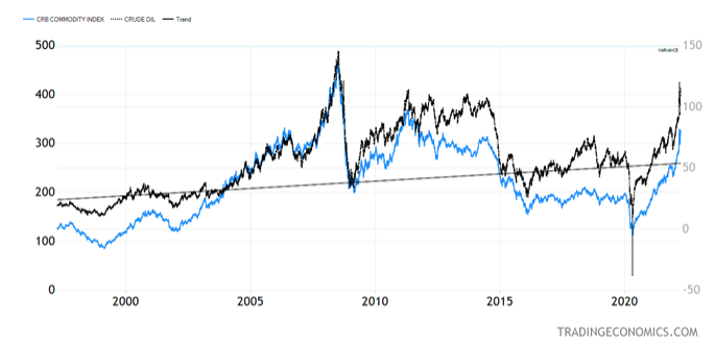 It is ironic that two years ago, the front month WTI futures flipped well into negative territory as mechanical selling in the rollover of positions resulted in large sales of "paper oil" in the expiring contracts and large buys of the next contract month. Algorithmic trading is relentless and if one were looking for sanity that day in May 2020, one would not find it in those trading algorithms.
Now, we have sanctions on one of the largest commodity producers – Russia – which invaded a large agricultural commodity producer, Ukraine. About 25% of the global wheat supply is in danger and, given that the soybean harvest in Brazil is unlikely to be very good, substitution of one commodity for another is unlikely. Put starkly, 13% of global calories are about to disappear.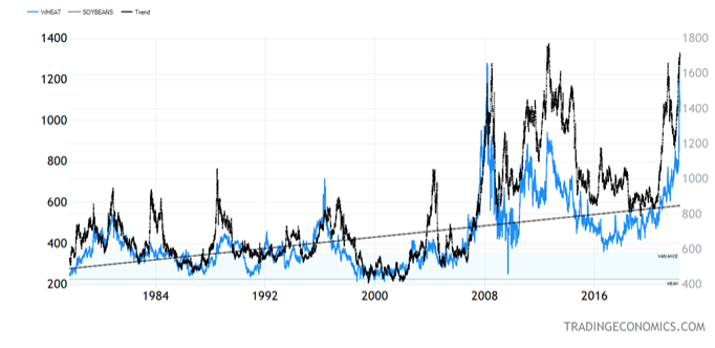 Wheat and soybeans are headed for all-time highs, unless by some miracle the wheat harvest in Ukraine is saved by an immediate ceasefire and the limitation of Russian actions to the Donbass region. Having hopelessly miscalculated the ferocious resistance of the Ukrainian military, there are initial signs that the Russians are looking to save face and focus on the south only: Donbass and a possible land bridge to Crimea, which is why Mariupol is now being turned into rubble.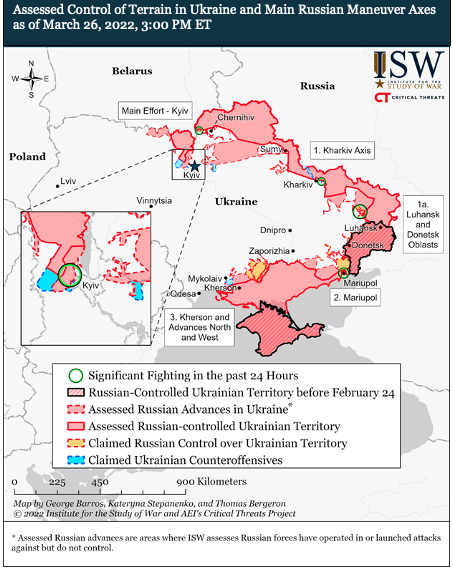 A superior force cannot achieve its objective due to the underestimation of the fierce resistance of an inferior force defending its homeland. The Russians can win, but is the destruction of whole cities a price they are willing to pay? I have my doubts.
This war turned into one heck of an economic event. I don't think the sanctions, as understandable as they are, will stop the war, but they sure have the potential to backfire, particularly on Europe. And if the Chinese, who have been waiting to take Taiwan since 1949, want to use the present global chaos to invade their renegade island, they likely won't be faced with the same sanctions, as they are a much bigger economy than Russia, and Taiwan controls over 90% of the global microchip supply, without which the global economy would come to a standstill.
The Energy Sector Probably Has Further to Run
"Energized" by a triple-digit oil price, energy stocks probably have further to run. The NYSE Oil Index (XOI) ended its underperformance against the S&P 500 in late 2020. After years of under-investment in production and assault by the ESG crowd, including Biden administration policies that encourage green investments, the stocks are on fire, catalyzed by the Ukraine crisis.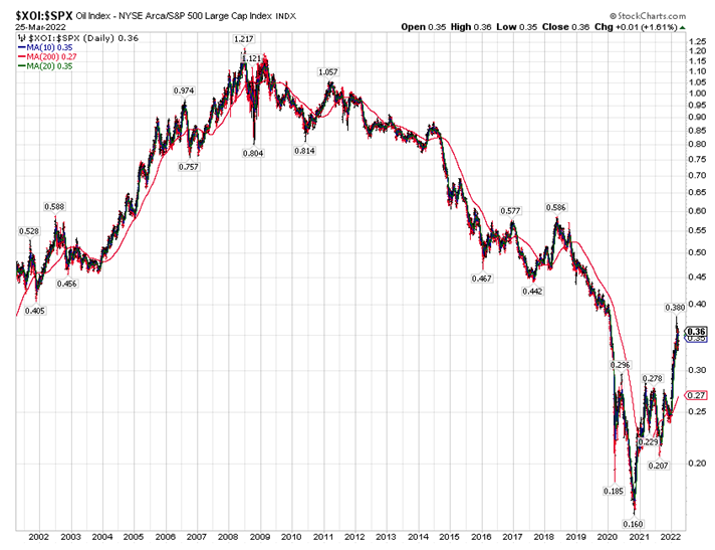 I am all for protecting the environment and going green, but not at the cost of driving the U.S. and global economy into a recession because of botched decarbonization practices. One way to get more oil onto the market is to approve the Keystone pipeline that Joe Biden rejected.
Energy companies have been right to be more conservative in the development of new projects as shareholders have demanded the return of capital while the industry got shell-shocked by a negative oil price two years ago. I think the Biden Administration if it does not want disastrous results in the coming November midterm elections, needs to flesh out a smarter energy policy, as it would be hard to pin inflation and surging gasoline prices on Vladimir Putin alone.
Updated on
Sign up for ValueWalk's free newsletter here.
Do you know someone who would benefit from this information? We can send your friend a strictly confidential, one-time email telling them about this information. Your privacy and your friend's privacy is your business... no spam!
Click here and tell a friend!