By Fintel. Originally published at ValueWalk.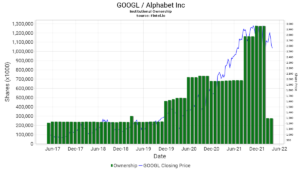 Alphabet Inc (NASDAQ:GOOGL) shares traded -3.6% lower on Tuesday leading into the release of Q1 results. The stock is down -16.1% over the past month and is only up +3.6% since the beginning of 2022 as the tech sell-off continues.
Alphabet reported first quarter EPS of $24.62, coming in below market expectations of around ~$25.8 per share. Group revenue came in slightly short at $68.01 billion vs the markets ~$68.1 billion forecast. After hours the stock has continued to slide a further -2.6% in-line with the earnings miss.
Q1 2022 hedge fund letters, conferences and more
When delving further into segment performance we observed the following:
YouTube advertising generated $6.87 billion in revenue, short of forecasts at $7.5 billion
Google Search & Other generated $39.6 billion in sales, slightly outperforming analysts $39.3 billion
Cloud revenue came in at $5.82 billion, outperforming the markets $5.76 billion expected
Traffic acquisition costs (TAC) were $11.99 billion vs forecasted $11.69 billion
Youtube underperformed as pandemic at-home trends subsided and as peer firm Tik Tok gained market share of global video streaming advertising revenues. The cloud segment was the clear standout as expected as trends continued of firms shifting away from their own data centres.
Some interesting Google search points to note from management:
Searches for 'shopping near me' jumped +100% y/y
Searches for 'travel' were above Q1-2019
Searches for 'vacation rentals' were up +37% y/y
These searches are in-line with the general recovering sector trends that we have observed as the pandemic comes towards an end.
New Share Buyback
In addition to the result, the Alphabet Board authorized the repurchase of up to an additional $70 of Class A & C stock. The new program is in addition to the $13.3 billion of stock bought back in Q1.
Market Commentary
Eric Sheridan from Goldman Sachs sees the increased stock buyback program as another step by the firm to sustain a multi-year trend of improved shareholder returns.
Ygal Arounian from Webush securities believes Google remains the best place to be among digital advertisers and the current price represents a great entry point for a tech leader trading at a discount to usual valuation.
Colin Sebastian from Baird said the Q1 results were relatively decent considering a backdrop of macro/industry headwinds with solid search advertising and cloud segments offset by weaker Youtube DR revenues in Europe.
Analysis
GOOGL has a consensus 'buy' rating with an average target of $3,465, implying +46% upside to the current stock price.
For Q2, the market is forecasting EPS of around $27.50 and group sales of around $71.7 billion.
These are some key metrics that we have highlighted from Fintel's Quant analysis that
interested us:
GOOGL has a Quality/Value/Momentum (QVM) score of 74.13 which ranks it well
among 3,200 peers. You can find more analysis here
GOOGL is trading on a PE Ratio (TTM) of 22.57
GOOGL has a Put/Call Ratio of 0.83 indicating bullish sentiment. Find more optionsanalysis here

We have included a chart for this metric at the bottom of the article

We have observed Institutional Ownership fall in recent times and Retail Ownership has generally held firm. See charts below for reference:

We also note the stock has an Ownership Accumulation Score of 72.80 which ranks it in the top 4,500 of 24,000 companies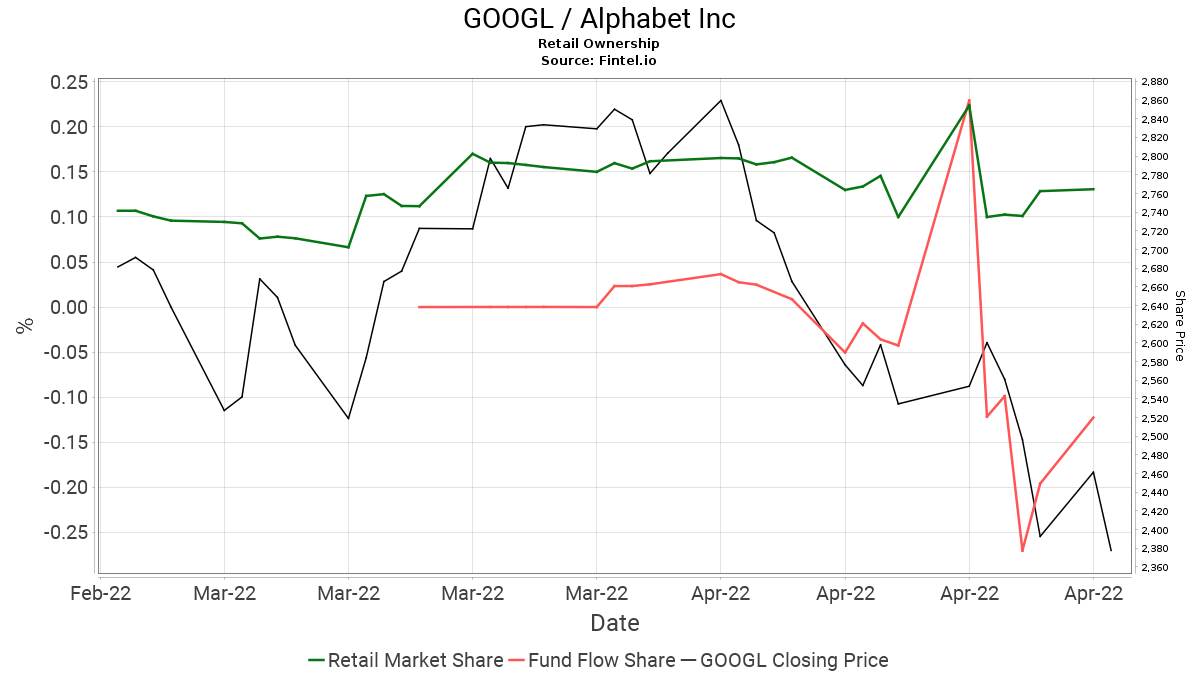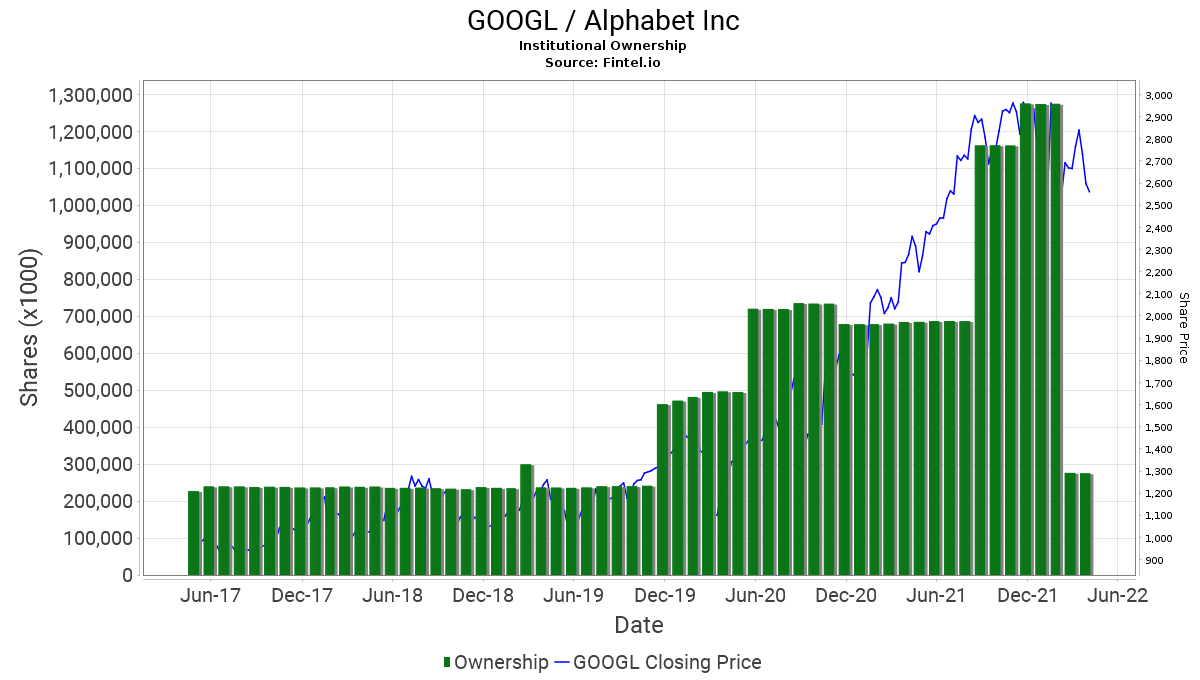 Put/Call Ratio chart: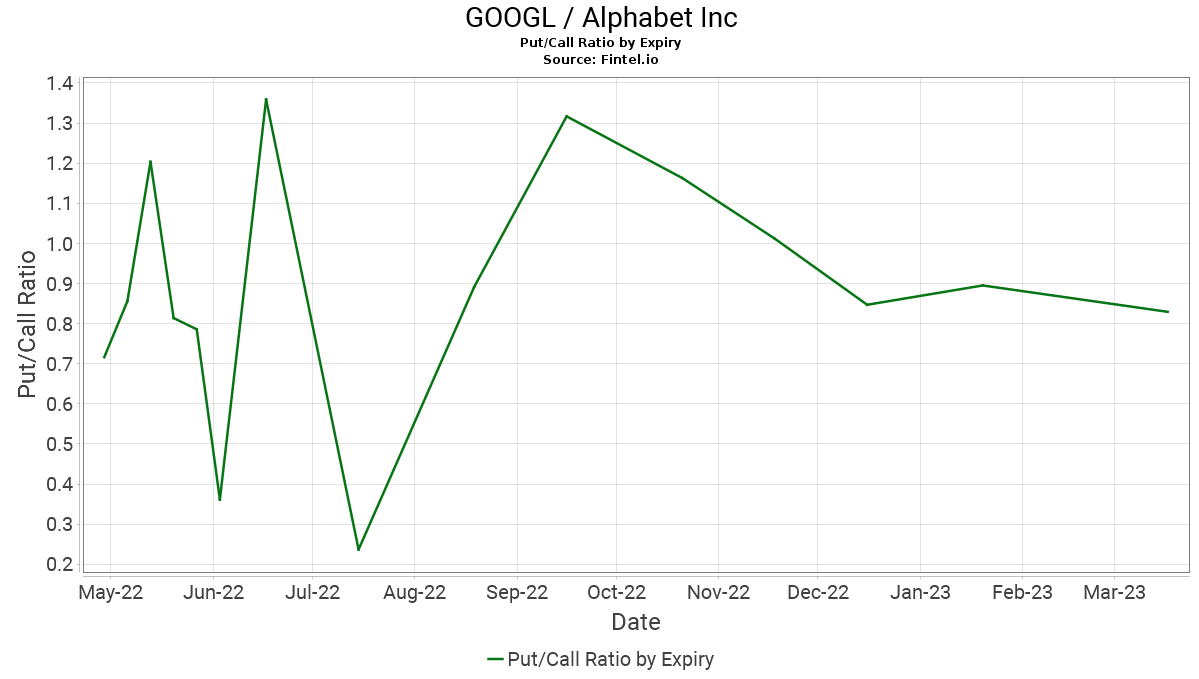 Updated on
Sign up for ValueWalk's free newsletter here.