By Ankur Shah. Originally published at ValueWalk.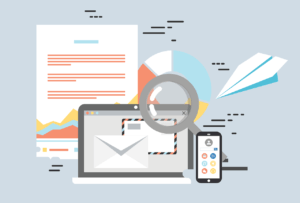 Email marketing is one of the earliest forms of digital marketing that is still going strong up to this present day. That's because it's the most straightforward and efficient means of gathering, connecting, and developing leads — these same leads can evolve into paying customers and even loyal ones.
Q1 2022 hedge fund letters, conferences and more
What Is Email Marketing?
Email marketing sells products or services directly to your desired audience. What makes it stand out and so effective is that it utilizes personalized emails in bulk with a call to action. Email marketing tries to persuade a lead to act on the CTA, usually learning more about the product or service, signing up, or making a purchase.
Integrating email marketing as part of your brand's overall digital marketing strategy can bring a higher return on investment (ROI) and grow your business in the long run. With an estimated 91% of US consumers checking their email daily, you'd want to provide compelling and targeted emails that won't end up in the trash folder.
Why Is A Landing Page Important?
The landing page your email leads to is the next step in your sales funnel, and this is a crucial stage. As a result, your leads have already taken an interest in your services. So an optimized landing page should be able to influence their decision to purchase a product or avail of a service.
The same holds true for product and service pages. Each product or service you offer on your website must have its own optimized and enticing page. Not only does it help with SEO and get the right people to your site, but it also exhibits the professionalism and reliability of your brand or business.
How To Improve Your Email Marketing And Landing Pages?
An effective email marketing strategy should always include landing page optimization and best practices like email tracking to ensure movement down the sales funnel to grow your business.
Write Catchy Headlines
Headlines do matter, and it's what attracts a potential customer. It's the most prominent element in creating copy but is often forgotten. And if you've got captivating headlines throughout your body, your email has a better chance of being read from start to finish or have it skimmed through, at the very least.
But it isn't just the email landing headlines that need to be striking, so does the subject of your email. Your business' marketing email needs to stick out among the sea of other promotional emails and spam. The best way to see which subjects and headlines work is by testing a number of them and seeing which improves your open email rate.
Showcase Your Value Proposition
Your copy in both your email and landing page needs to clearly present your value proposition. Sure you can have new emails and landing pages featuring new offers each time, but honestly, that can get redundant and tiriong for your audience.
Tiltillate your target audience with with something they will actually need , and thus, be interested to acquire. Get to know your customer persona a bit more and find out what it is that piques their interest that they would be able to commit their information to you as new leads.
Your email needs to tantalize your target audience enough to click on its call-to-action button while your landing page is the gateway to acquiring any leads and conversions. By offering a solution to your audience's problems or queries through a free trial, an ebook, or the like, you get more leads and conversions.
And once you do get them hooked, no need to be shy about why they should care about your brand and your vision. Tell your audience directly about your product or service and how it can benefit them and offer a solution.
Offer Social Proof
Testimonials and reviews from actual users established media outlets and personalities will inspire confidence in your prospects.
Endorsements from satisfied customers build trust in your brand, wherein visitors will be more likely to convert. Add testimonials from your clients directly, your social media channels, and even review sites.
Think of your email marketing campaign to build trust with your prospects and your website landing page to reflect positive customer feedback. Another way to get potential clients to trust your brand is by adding your contact details on your landing page — usually at the footer.
Simplify It
There must be a single and clear objective from the email to the landing page. Your themes must match, and content must flow from the email to the landing page once clicked on.
Your copy must be direct and concise without fluff because visitors want to get straight to the point. Many of them have no time for dilly-dallying.
One way to get your prospects hooked and more likely to convert is through short and digestible video content that clearly explains your product or service.
Your email must state your goal and have a clear call-to-action (CTA) to lead to the landing page. Once there, the landing page must have all the necessary information and links without the visitor navigating your site for service pages and such.
Provide Limited-Time Deals
Now is an excellent time to use the fear of missing out, more commonly known as FOMO, on consumers.
If you have (or do not have) a deal around any time of the year, prospects will take their time acquiring it to the point of being forgotten. No one ever wants to miss out on a great offer, especially if it comes with a time limit.
That's why using FOMO to your advantage, like running limited-time offers and discounts, piques the interest of potential customers.
They'll be quick to purchase with time-sensitive deals because you're letting them know that they'll be missing out if they don't grab it now. And that is a surefire way to increase your conversions.
Wrapping Up
Once you have your email and landing pages optimized and ready to work with, you'll easily see a spike in your engagements and conversions. But even as both factors go hand in hand to increase conversions, it's still important to focus on each one's performance to get a better view of how your entire campaign is going.
Updated on
Sign up for ValueWalk's free newsletter here.
Do you know someone who would benefit from this information? We can send your friend a strictly confidential, one-time email telling them about this information. Your privacy and your friend's privacy is your business... no spam!
Click here and tell a friend!