By Fintel. Originally published at ValueWalk.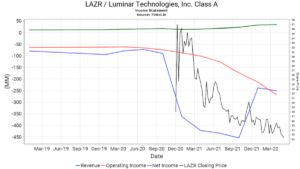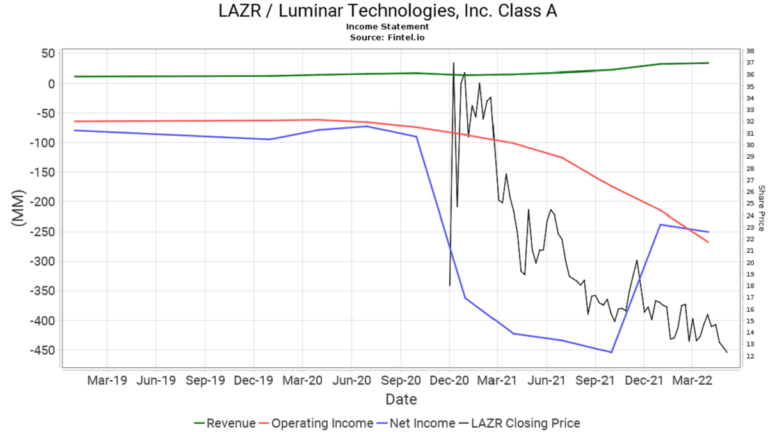 Luminar Technologies Inc (NASDAQ:LAZR) chairman and CEO Austin Russell Wednesday said he purchased 300,000 LAZR shares at an average of $8.89 per share. Russell disclosed the buy in a Form 4 filing with The U.S. Securities and Exchange Commission
Russell now owns 455,000 shares in total that have a current value of ~$4.3 million. We first noticed the purchase when using the Fintel CEO Purchases screen.
Q1 2022 hedge fund letters, conferences and more
Senior management can sell shares for various reasons but generally only purchase stock when they believe the company is expected to grow or is undervalued. In Luminar Technologies' case, it appears both are at play.
LAZR shares fell 57% in the last year and 39% in the last month. The monthly rout follows Thursday's first quarter results that missed Wall Street expectations with a 16 cents a share loss, compared to a 13 cents a share loss analysts' consensus estimate.
The company reported weaker than expected revenue of $6.9 million, compared to Wall Street's $8.3 million forecast.
Luminar said it had $706.9 million of cash and short-term securities on hand at quarter-end.
In a press release, LAZR provided some updates on major FY22 milestones, noting that:
"Luminar remains on track to meet its goal to achieve series production readiness for Iris lidar and core software in 2022."
"Luminar is on track to release the beta version of Sentinel before the end of 2022."
"Luminar achieved two additional major commercial wins since the beginning of 2022 and is on track to meet or beat the 40% growth target."
The CEO's recent accumulation lifted the company's Ownership Accumulation to 88.70. The score is a quant model designed to uncover significant buying by officers without a large price increase. The metric can help identify companies with high management confidence before price movements reflect it. It's apparent that Russell thinks that the market undervalues the shares.
Fintel calculates The Ownership Accumulation Score using a sophisticated, multifactor quantitative model to identify companies with the highest institutional accumulation. The scoring model combines the total increase in disclosed owners, the changes in portfolio allocations in those owners and other metrics. The number ranges from 0 to 100, with higher
numbers indicating a higher accumulation than its peers and 50 being the average. Update Frequency for this score is daily.
Our interest piqued, we took a look into our Institutional Ownership data trove to determine investor sentiment for the volatile share price. We noticed significant institutional ownership growth from mid-2021. Luminar Technologies (U.S.: LAZR) has 313 institutional owners and shareholders that have filed 13D/G or 13F forms with the Securities Exchange Commission (SEC). The stock has an Ownership Accumulation Score of 65.55, ranking it in the top 30% of stocks with the most institutional accumulation. The chart below illustrates this: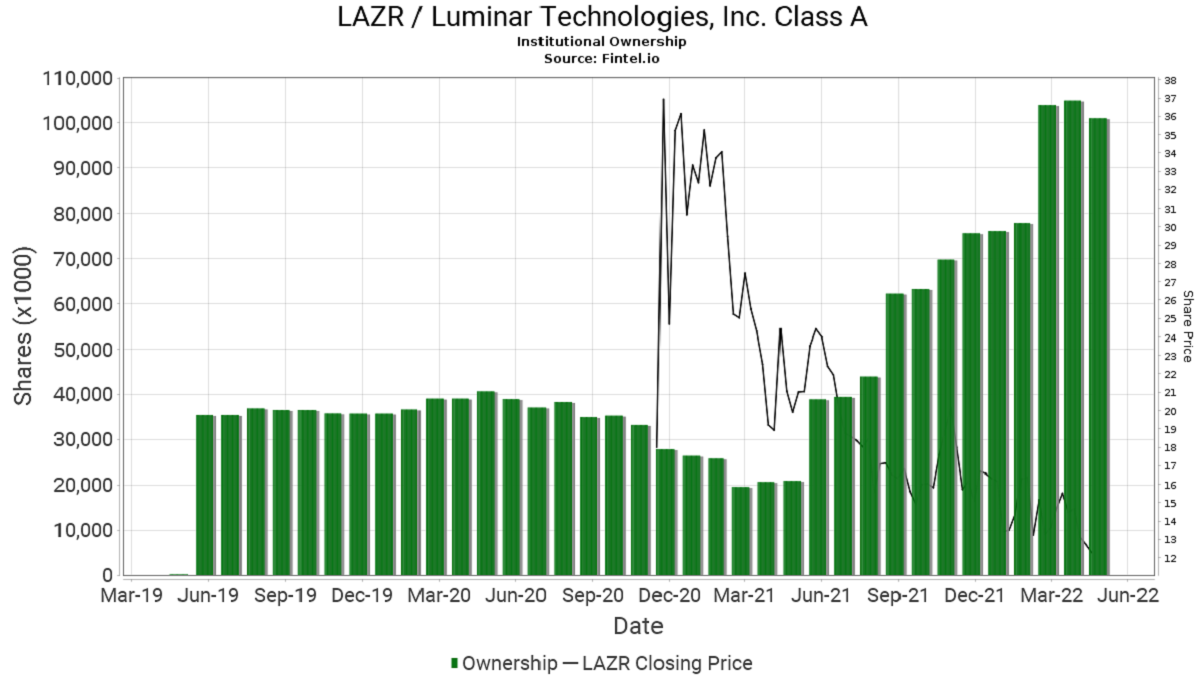 We also noticed an interesting chart from the LAZR's Financial Metrics page that we have included below. The chart illustrates share price movements that have performed in line with the companies operating income (trending downwards). On the other hand, we can see revenue growth on the top line. We would expect that as revenue grows, the operating income will shift higher and should, in turn, see similar movements in the share price.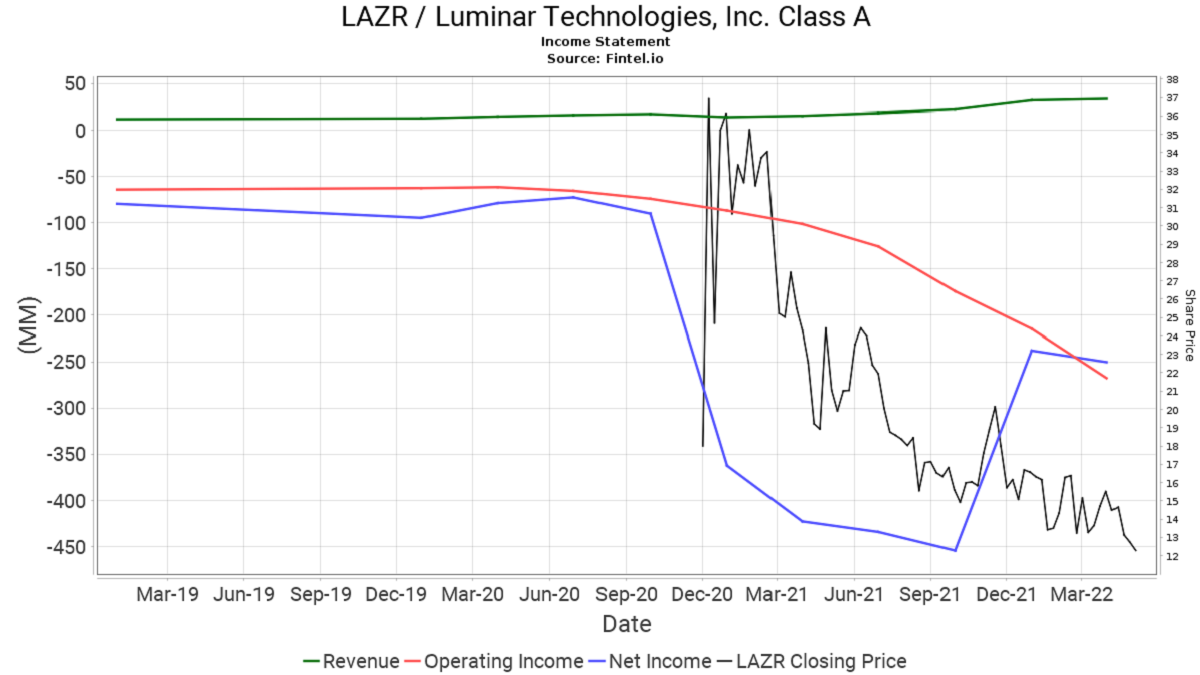 What Are The Analysts Saying?
Emmanuel Rosner from Deutsche Bank reiterated his sentiment that LAZR remains the best-positioned LiDAR supplier to capture meaningful business wins for L3+ autonomy. They remain buyers of the stock with forecasts of revenue toward $400 million in 2024 and with a target price of $23.
Credit Suisse's Dan Levy acknowledged the last quarter's revenue decline was a negative, but he believes high spending supports the commercial opportunity ahead. The firm maintains the 'outperform' rating initiated in mid-April with a $22 target.
Joshua Buchalter from Cowen & Company sees compelling long-term value with shares down -34% year-to-date and maintains an 'outperform' rating on the stock.
Analysts maintain an average 'overweight' rating with a $20.40 mean target price. That data implies a 116% upside to the current share price.
Article by Ben Ward, Fintel
Updated on
Sign up for ValueWalk's free newsletter here.