By Fintel. Originally published at ValueWalk.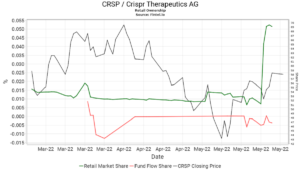 Crispr Therapeutics AG (NASDAQ:CRSP) is a Swiss-American gene editing biotech company developing gene-based medicines. The company's technology targets specific DNA sequences to modify, delete or correct them. The company's platform focuses primarily on ex-Vivo programs that target sickle cell disease, β-thalassemia and B-cell malignancies.
The lead program targeting sickle cell disease and β-thalassemia has entered clinical testing.
Q1 2022 hedge fund letters, conferences and more
CRSP shares fell from a January 2021 high of $220.20 per share in Jan. 2021 but shed 27% this year. The shares found support at around $50 since it reported first quarter earnings in May.
CRSP shares rose in popularity with retail investors posting their portfolios to Fintel, rising 366 slots to the 120th most held stock on the platform. Included below is a chart that shows the level of retail investor activity over the last three months: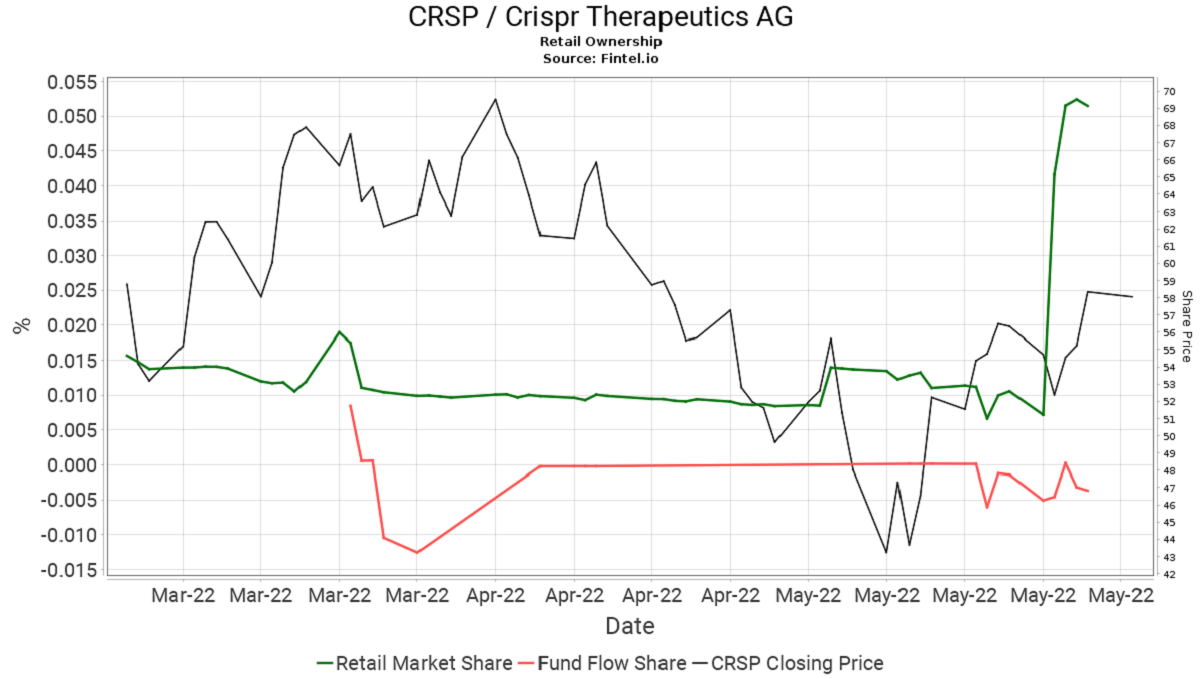 For a comparative view, included below is a second chart that shows the level of institutional activity over a five year horizon. The chart illustrates continuing interest and ownership over time. As the share price stagnates, the trend has started to drift higher in the last three months. There has been no significant insider buying or selling recently.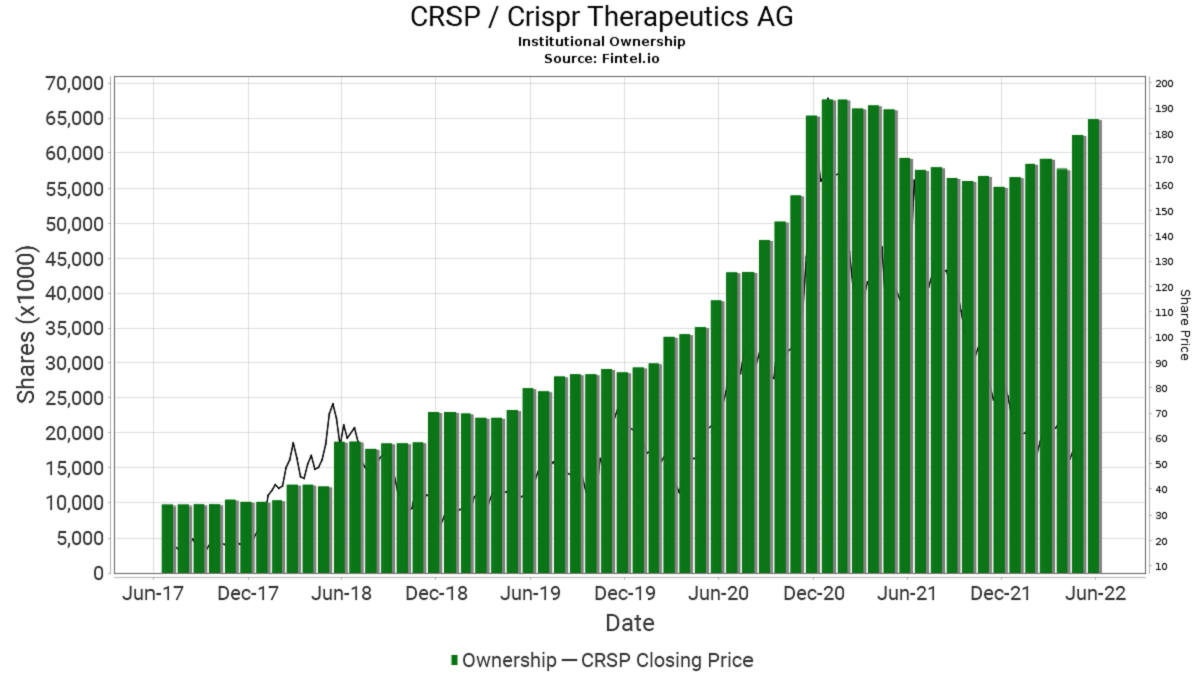 Fintel's quant analysis gives CRSP an ownership accumulation score of 73.16, which placed the stock in the top 20% of 24,000 included constituents. CRSP has 618 institutional owners and shareholders that hold 64.8 million shares. Only 1 of these institutional investors is short, with 18 investors long/short.
On May 9, Crisprposted a $2.32 a share loss compared to analyst expectations of a $1.94 a share loss. The firm spent $118.2 million on research and development expenses, with a market forecasting spend of around $128 million. Liquidity remains robust with $2.22 billion in cash and short term investments compared to $2.38 billion at the end of CY21.
Also, in May, Crispr named Phuong Khanh Morrow as Chief Medical Officer, beginning his duties on May 23. Morrow was previously Vice President and Global Therapeutic Area Head of Hematology, GI Oncology, GU Oncology, and Bone at Amgen (US: AMGN).
CRSP stands out on the Fintel platform with a short squeeze score of 87.19, based on a short interest of 14.4% as a portion of the total float, according to data from Nasdaq and S&P Capital IQ.
What The Brokers Think Of Crispr Therapeutics:
Silvan Tuerkcan from JMP securities views the imminent updates from the CAR-T programs and the potential filing of the first product (hemoglobinopathies/CTX00) by the end of 2022 as major progress. The firm believes the recent pullback in gene editing names represents an attractive entry point. Following Q1 results, JMP reiterated the 'market outperform' rating but reduced the price target to $100 from $150 before reflecting higher discount rates on future cash flows.
Benjamin Burnett from Stifel is encouraged by drug trial data, but he remains skeptical that they will change the market sentiment toward the stock, and he cut his target price to $64 from $52 and rates the shares a hold.
Analysts from Chardan Research believe the $2.2 billion in cash places the company in a strong position to continue execution across its product pipeline.CRSP holds a consensus 'overweight' rating with an average target of $116.60, which implies a 101% upside. The consensus target price has drifted lower over the last six months, with the most recent leg down in the share price.
What's Next?
CRSP will host an Innovation Day focused on early research and development on Tuesday, June 21, 2022, at 2 p.m. ET
Article by Ben Ward, Fintel
Updated on
Sign up for ValueWalk's free newsletter here.