By Fintel. Originally published at ValueWalk.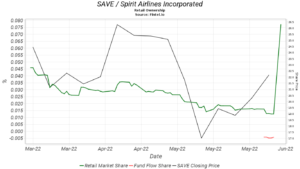 Spirit Airlines Incorporated (NYSE:SAVE) rose 244 ranks to the 90th spot most held security by retail investors that have linked their portfolio with Fintel ahead of the upcoming special June 30 shareholder meeting to determine which of several suitors will buy the company.
The meeting was initially created to vote on a Frontier Group (NASDAQ:ULCC) but got postponed and to consider a rival bid to allow the Spirit Board to continue discussions with shareholders, Frontier and JetBlue Airways (NASDAQ:JBLU).
Q1 2022 hedge fund letters, conferences and more
The meeting on the 30th will likely determine the share price direction in the medium term with possible upside if the JetBlue offer succeeds.
The chart below illustrates the jump in retail investor activity since the beginning of June: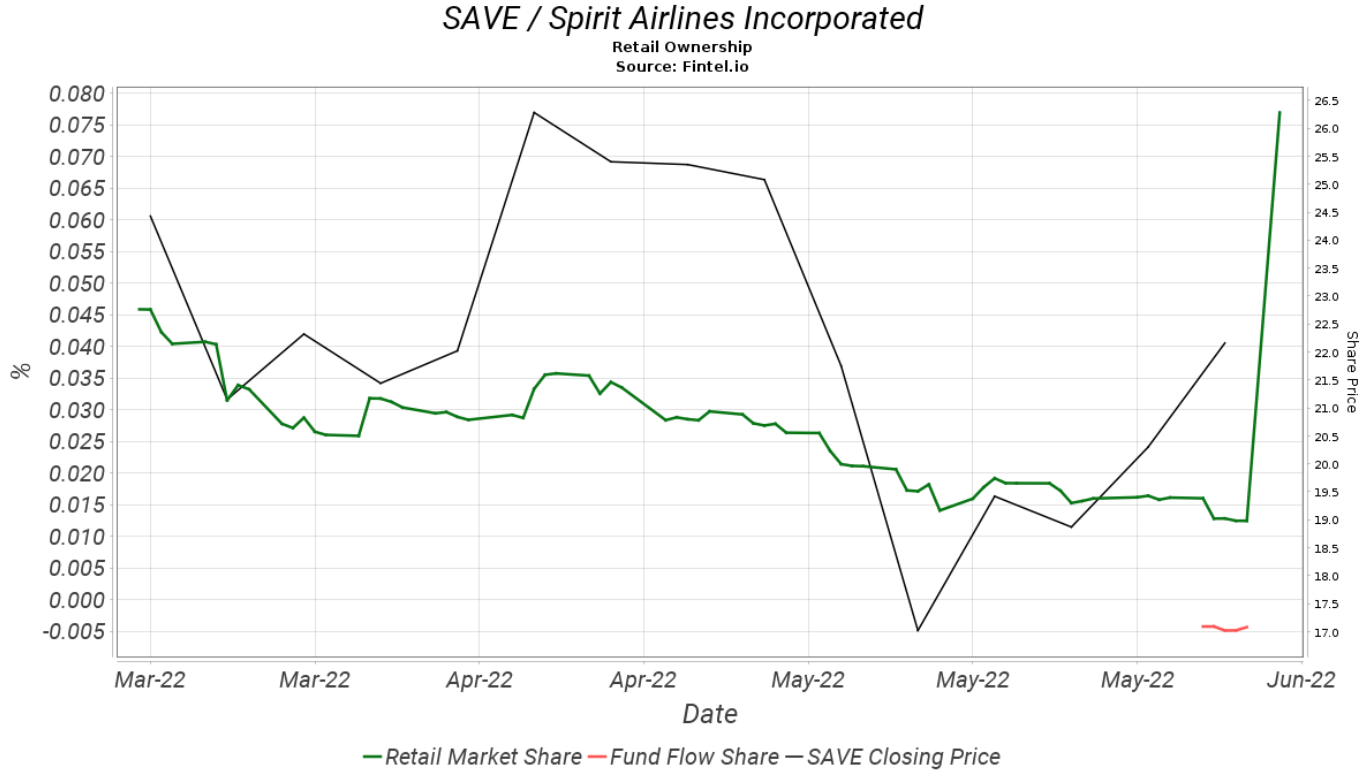 Spirit grabbed headlines in Feb. when it revealed the Frontier merger plans it valued at $2.9 billion and said would create another $500 million of synergies.
In April, The New York Times reported JetBlue (US:JBLU) offered $33 a share for Spirit. That's a 40% premium to Frontier's current bid.
The rivalry continued through May as the three way dialogue produced Sprit's board's decision to go with Frontier's deal, saying Jetblue's proposal was not superior.
JetBlue responded with a $30 s share tender offer to all Spirit holders, which raised to $31.50. The improved proposal sparked Spirit's board's attention and postponed the meeting to June 30.
Spirit shares are off 5.5% in 2022. The Ukraine/Russia conflict increased volatility across all sectors, with airlines hard hit by skyrocketing jet fuel costs and other inflationary pressures.
JP Morgan analyst Jamie Baker upgraded his recommendation on the stock to 'overweight' from 'neutral' this week, calling it a tactical trade idea and likely contributed to increased retail interest.
Baker believes JetBlue likely wins Spirit, giving that outcome an 80% probability. Baker raised his share price target to $30, from $24.
On a different tack, Seaport Research Partners reiterated their thesis that the Department of Justice would likely sue to block either of the proposed mergers. Analyst Daniel McKenzie did note that out of the two; the Frontier merger would probably make a more straightforward case to argue in front of a judge. The firm remains 'buy' rated with a $36 price target.
Analysts widely covered SAVE and produced a consensus 'overweight' rating on the stock with an average target price of $29.
Options sentiment remains bullish for SAVE. The put/call ratio is 0.49, indicating about two open call options for every open put option. The put/call ratio for forward-dated expirations is also bullish.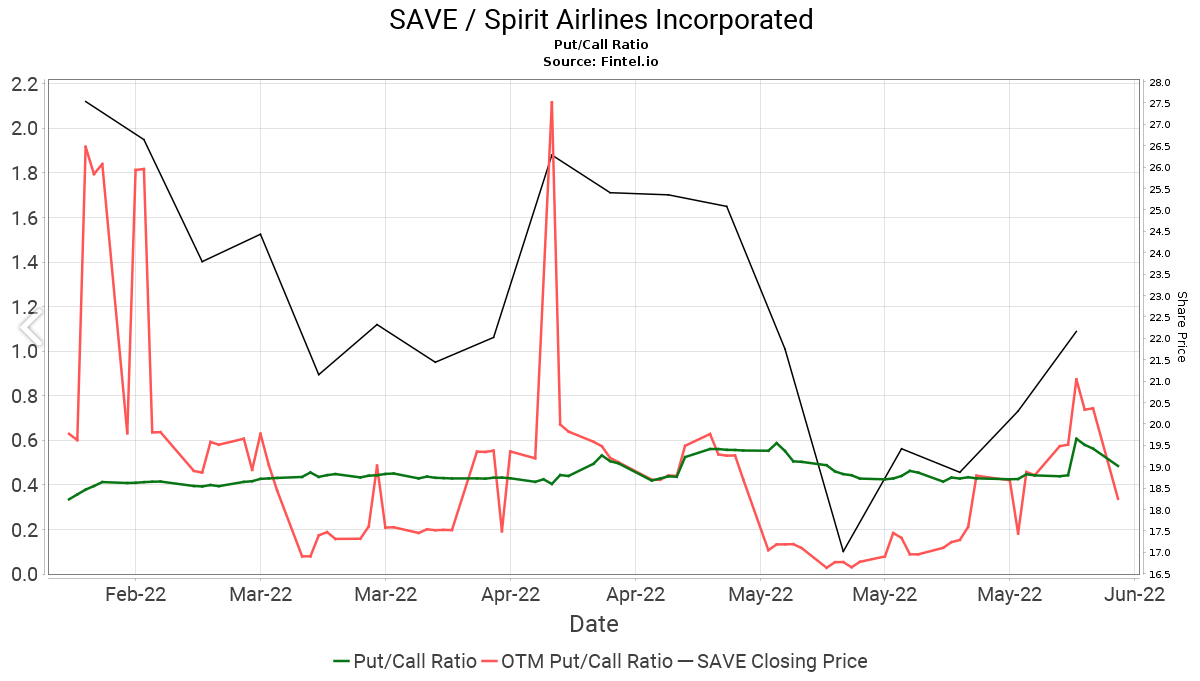 For a broader perspective, the chart below displays the put-call ratio for institutional investors over a longer time horizon. Spirit Airlines currently has 461 institutions that hold about 87 million shares or 80%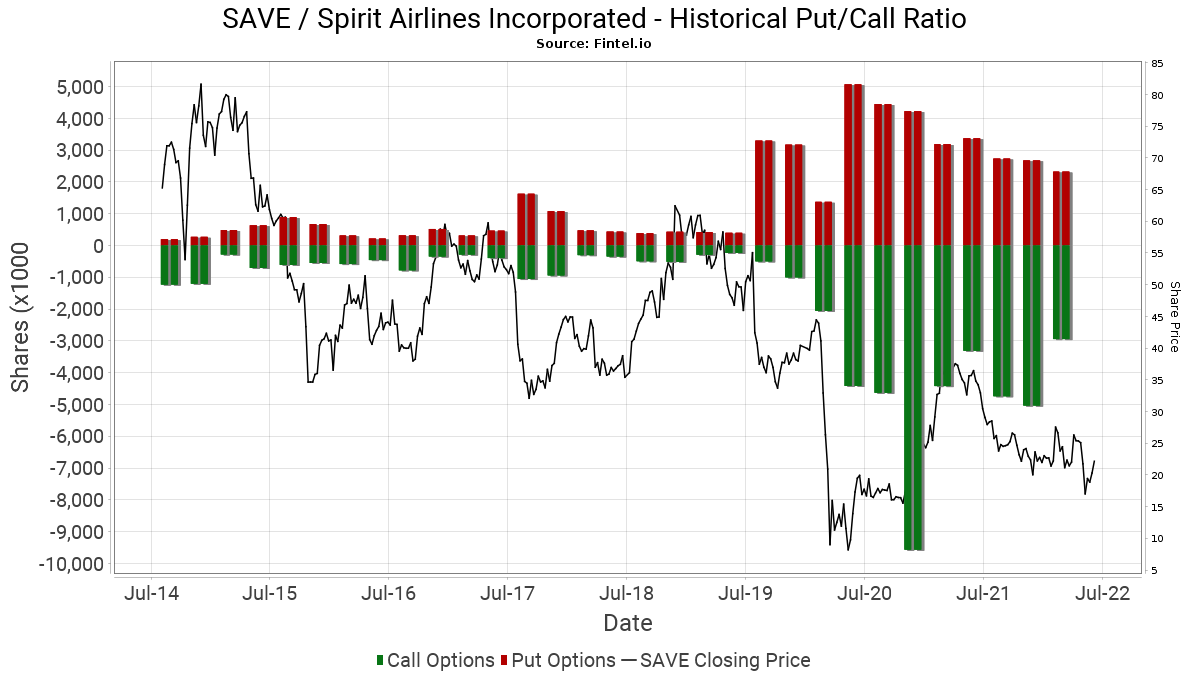 Article By Ben Ward, Fintel
Updated on
Sign up for ValueWalk's free newsletter here.