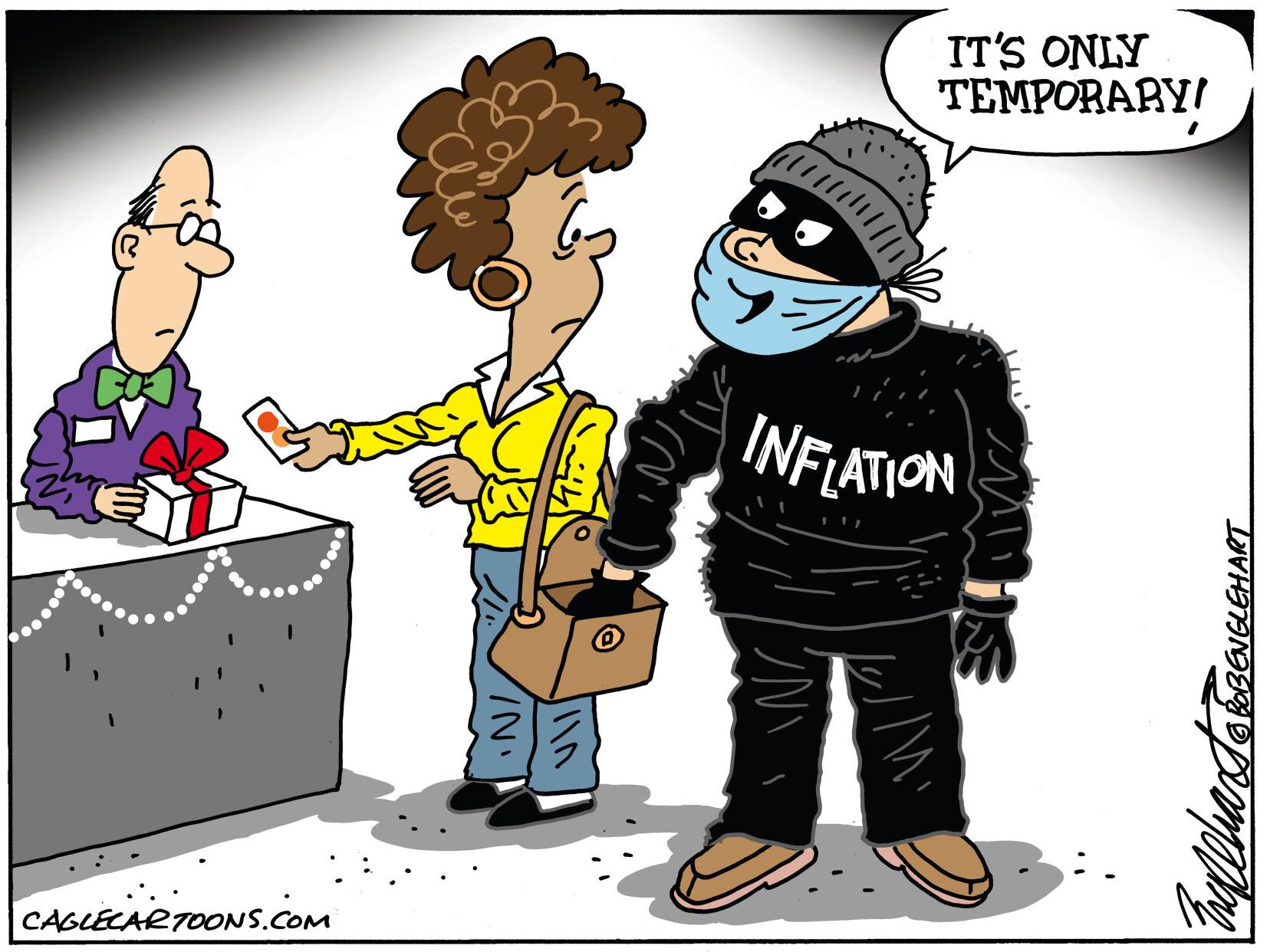 It's Inflation Data Week!
We have CPI tomorrow, PPI on Wednesday, Retail Sales, Industrial Production, Import & Export Prices along with the NY and Philly Feds on Thursday and then, on Friday, we get to see how Consumers feel about all that with the Sentiment Report.  
With mortgage rates now just under 6% (5.89%), Housing Prices are starting to fall because you don't buy a house, you buy a mortgage and higher rates mean people can afford less housing – but wait until they see what happens to property taxes when states and counties have to balance their budgets in June.  
There will be no Fed speeches as we head into the next meeting on the 21st so we're going to be very data-dependent this week as earnings have also fizzled out: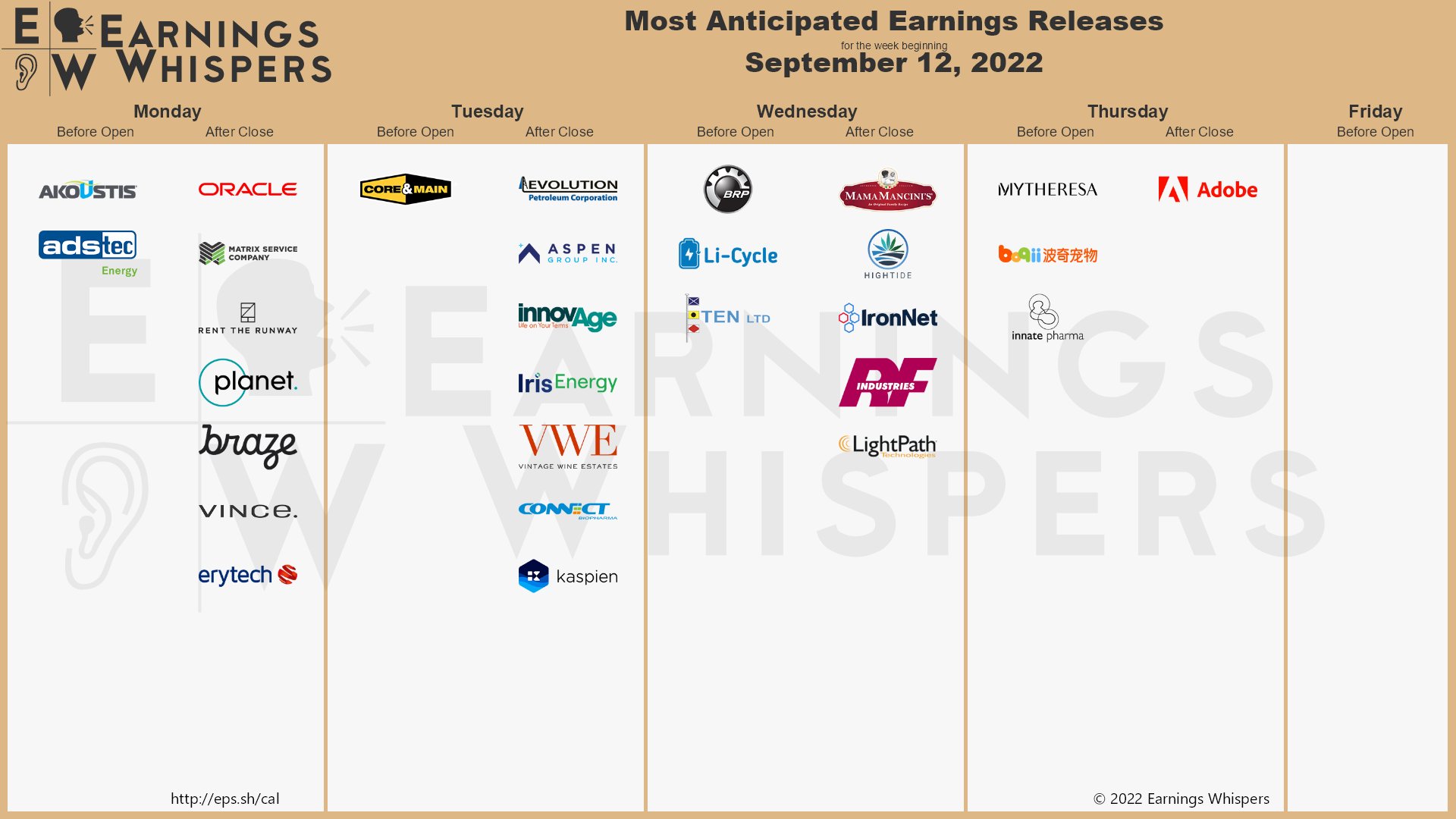 Yawn…  But we could use a nice, quiet week as it is Options Expirations Week so we'll be reviewing our Member Portfolios and then it's already time to plan for our next Earnings Season, which begins on October 13th, when AA, BLK, DAL, DPZ, PGR, UNH and WBA ahead of the big banks the next day. 
King Charles addressed Parliament over the weekend and talked about how great Democracy was as he was flanked by his Royal Guard – the irony seemed lost on most people but well captured here.  
We're winning the war in Ukraine so Biden has decided he has the time to declare war on cancer – which will be nice for our Biotech holdings.  60 years after Kennedy launched the moon program, Biden is calling it a "Cancer Moonshot."  It will be funny to see how many Republicans come out against curing cancer and, even if we cure it – if it's a vaccine – they won't take it.  
This is very smart of Biden politically, as curing cancer via vaccine will increase Democratic voters considerably, just as Covid killed 73 more Republicans per 100,000 (240,000 in the US) than Democrats – because they tended to live in states that didn't have mask mandates and tended not to get vaccinated.  
It's also smart of Biden since we're already on the way to curing cancer – so this lets him take credit for it.  You don't see him promising to cure Covid – that we don't know how to do yet – but cancer has a lot of promising treatments in the pipeline and it's already privately funded but it will be nice to relax stringent testing rules to speed up the process.  
The Dollar had a rough weekend, falling back to 108 and that has punched Silver (/SI) up over $19.50 – so congrats to all who played that one with us!  On September 6th I said in our Morning Report:
"The Dollar is surging as China eases further and the Euro falls below 99 cents.  The new UK Prime Minister is another Thatcherite – so people are already bailing on the Pound as well.  That's going to give us another chance to go long on Silver (/SI) at $18 and we'll see how the indexes do when the Dollar calms down – we should see 4,000 on the S&P again this week."
Those /SI contracts pay $50 per penny so 150 pennies is $7,500 per contract – you're welcome!  The S&P (/ES) Futures went from 3,900 to 4,000 (4,100 actually) also as predicted and those were good for $5,000 per contract at 4,000 and $10,000 by the end of the week – aren't Futures fun?
I was interviewed last week and they asked me what indicators I use to make such accurate top and bottom calls and I have to explain that we don't use any because we are FUNDAMENTAL investors and we don't give a crap what the chart LOOKS like when we make our calls.  What we care about most is News Flow and Valuations – things that don't show up on charts.  
The Silver chart doesn't tell you the Dollar is overbought because the EU was behind on raising rates and traders misunderstood their last policy statement and the timing of the Euro falling below $1 a week before the ECB meeting but two weeks before our Fed meeting where expectations were already baked in for a 0.75 hike meant there was an incredibly strong probability that the Euro would bounce and bring the Dollar off it's 20-year high which would then boost Silver off the already bouncy $18 line.  
Try saying all that on TV and they'll cut to a commercial before you finish, which is why all the TV analysts say "Look at the pretty chart!"  
Instead I say "Look at the News!" but, looking at the analytics of the pages – hardly anyone ever does:
Oh and California, who already has a $15/hour minimum wage for companies with 26 or more employees ($14/hr for less than) is considering raising that minimum to $22/hour for restaurants with more than 100 national locations – like SBUX or Subway or MCD.
SBUX has 3,000 locations in CA with about 12 people per store and let's say $7 x 36,000 x 40 x 52 = $524,160,000 more expenses next year.  SBUX only makes $3.5Bn total Dollars so that would knock 15% off their profits – and that's assuming other states don't follow suit.  They could raise prices 15% to offset the cost so your $5 coffee becomes $5.75 and the person serving it to you will be making $880/week – fair trade indeed!  
This is why we are only at the beginning of the Inflation Cycle that is likely to go on for years.  Maybe $22 is too much but $15 is not enough and 30 states in this country still pay less than $10/hour to workers, who take home barely $1,000 per month to live on. 
Getting to the right spot, whatever it is, will take a very long time because we've been underpaying workers (leading us to overstate realistic profits and realistic prices) for years and that won't be fixed by a couple of rate hikes.  
"At the end of the day you're another day older
And that's all you can say for the life of the poor
It's a struggle, it's a war
And there's nothing that anyone's giving
One more day standing about, what is it for?
One day less to be living.
"At the end of the day you're another day colder
And the shirt on your back doesn't keep out the chill
And the righteous hurry past
They don't hear the little ones crying
And the winter is coming on fast, ready to kill
One day nearer to dying!
"At the end of the day there's another day dawning
And the sun in the morning is waiting to rise
Like the waves crash on the sand
Like a storm that'll break any second
There's a hunger in the land
There's a reckoning still to be reckoned and
There's gonna be hell to pay
At the end of the day!" – Les Miserables