We've made good progress but we're not out of the technical woods yet.
It was easy for the S&P 500 to get to our predicted 3,800 line (see yesterday's Report) with no news, no Fed, no resistance and no volume (Mondays) so NOW we'll see how it performs when things start to get real.
Global PMI Reports were weak and the Chicago Fed was weak and that means the Central Banksters are doing their jobs which means, MAYBE, that their jobs will one day be finished.  That's the hope anyway.  Hope, unfortunately, is not a viable investing strategy so we'll keep looking for FACTS – if you don't mind…
Unfortunately, we had a lot of misses this morning including MMM (guidance), AWI, CLF, GLW (guidance), GATX, GE, IVZ, JBLU, KMB, MCO, PNR (guidance), RTX (guidance), SAP, SBSI,  SSTK (guidance), TRU (guidance) and XRX.  That's 17 out of 47 misses and FBP, NVR, ST and UBS were in-line so that's only 27 beats out of 47 for 57% and anything lower than 70% is not particularly good, earnings-wise. 
Any single morning is a bit random and I'd be way more concerned if KO missed than I am about MMM but we have some big misses here and it's 43% of the reports – so we MUST take it into account.   Here's a better scorecard of where we are so far, with EarningsWhisper's chart of how reporting companies have performed since giving their reports: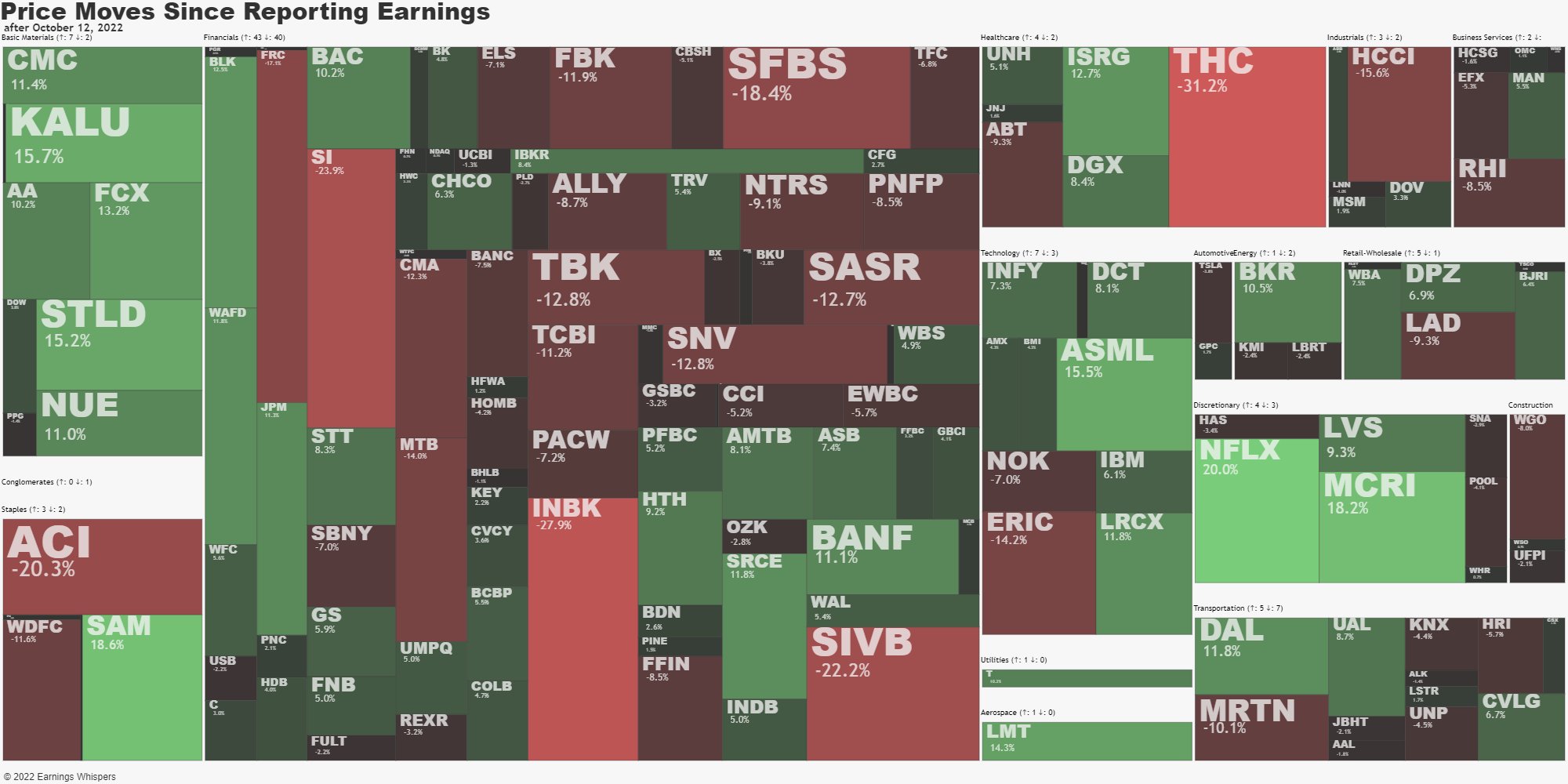 So it's Financials causing most of the turmoil at the moment but Transportation is weak and that's a leading sector, so we don't like to see that at all…  Basic Materials seems to be the place to be but that's due to shortages and very low expectations that haven't been MISSED that badly.  CLF just missed too, – we'll have to see why that happened in chat.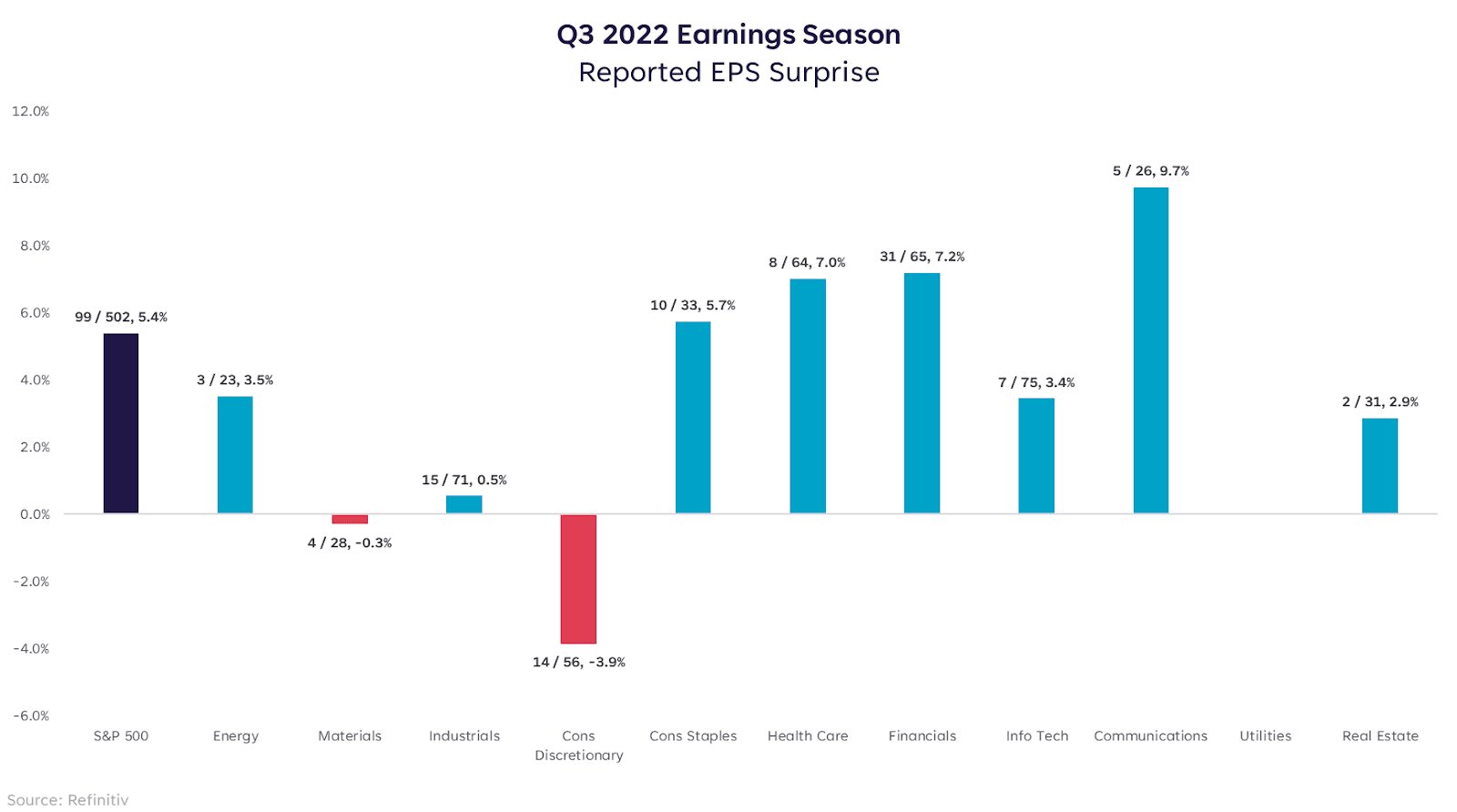 Overall, the S&P 500 has been beating by 5.4% – hardly a recession.  This has all been a warm-up for this evening when we hear from GOOGL, KO, MSTF, V, CMG, TXN and tomorrow morning it's BA, BMY, KHC and WM followed by META, F and NLY and that should give us some more color on the situation.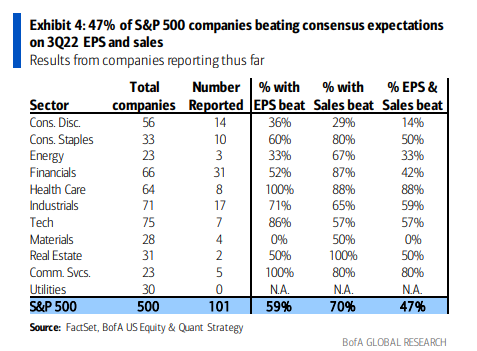 This stuff will all be much more important next week for comparisons – today is just a good day to log where we are at the moment.  Housing data is cooling off a bit this morning with FHFA Housing Price Index down 0.7% – the second month of declines and Case-Shiller's Home Price Index is up 13.1% for the year vs 16% in the July reading – also calming down.
Will this be enough to calm down the Fed?  We'll find out next week.