Happy Halloween!
The Dollar is bouncing back and that's going to put a bit of pressure on the markets in what is likely to be a slow trading day.  Over 111 and it would be a miracle if we don't push lower.  
Why is the Dollar strong?  Because we KNOW the Fed is adding 0.75 to our rates on Wednesday and we don't know that other Central Banks, who are behind the curve on raising rates – will be following our Fed as Europe and Asia are both staring down the barrel of a Recession (as are we, most likely).   Not all Central Banks think destroying demand is the best way to fight inflation – some favor increasing supply but our Fed has no faith in US ingenuity, apparently.  
Eurozone Inflation hit 10.7% in October, the result of their weaker currency exacerbating the underlying conditions.  To make matters worse, Putin seems to be reneging on his grain deal with Ukraine – where Russia was supposed to allow exports through the Black Sea.  That sent Wheat Futures (/ZW) flying higher this weekend.  
More than half of the 19 countries in the eurozone recorded double-digit inflation rates in the year through October, including Germany (11.6 percent), the Netherlands (16.8 percent), Italy (12.8 percent) and Slovakia (14.5 percent), with the Baltic countries at the highest end of the spectrum with rates over 21 percent.
Natural Gas (/NG) blasted back over the $6 line after a crazy sell-off that was based on a warmer-than-expected fall but, as predicted by our chief Natural Gas Analyst, Ned Stark: "Winter is coming" and you never know what those crazy Russians will do next so /NG is a nice thing to play, whenever it's below $6 (on the way back up, of course).  
Aside from the Fed on Wednesday we have Chicago PMI this morning, ISM and Construction Spending tomorrow, Productivity, Factory Orders and ISM Services on Thursday and Friday, it's the Big Kahuna – Non-Farm Payrolls.  
And, of course, there are plenty of earnings: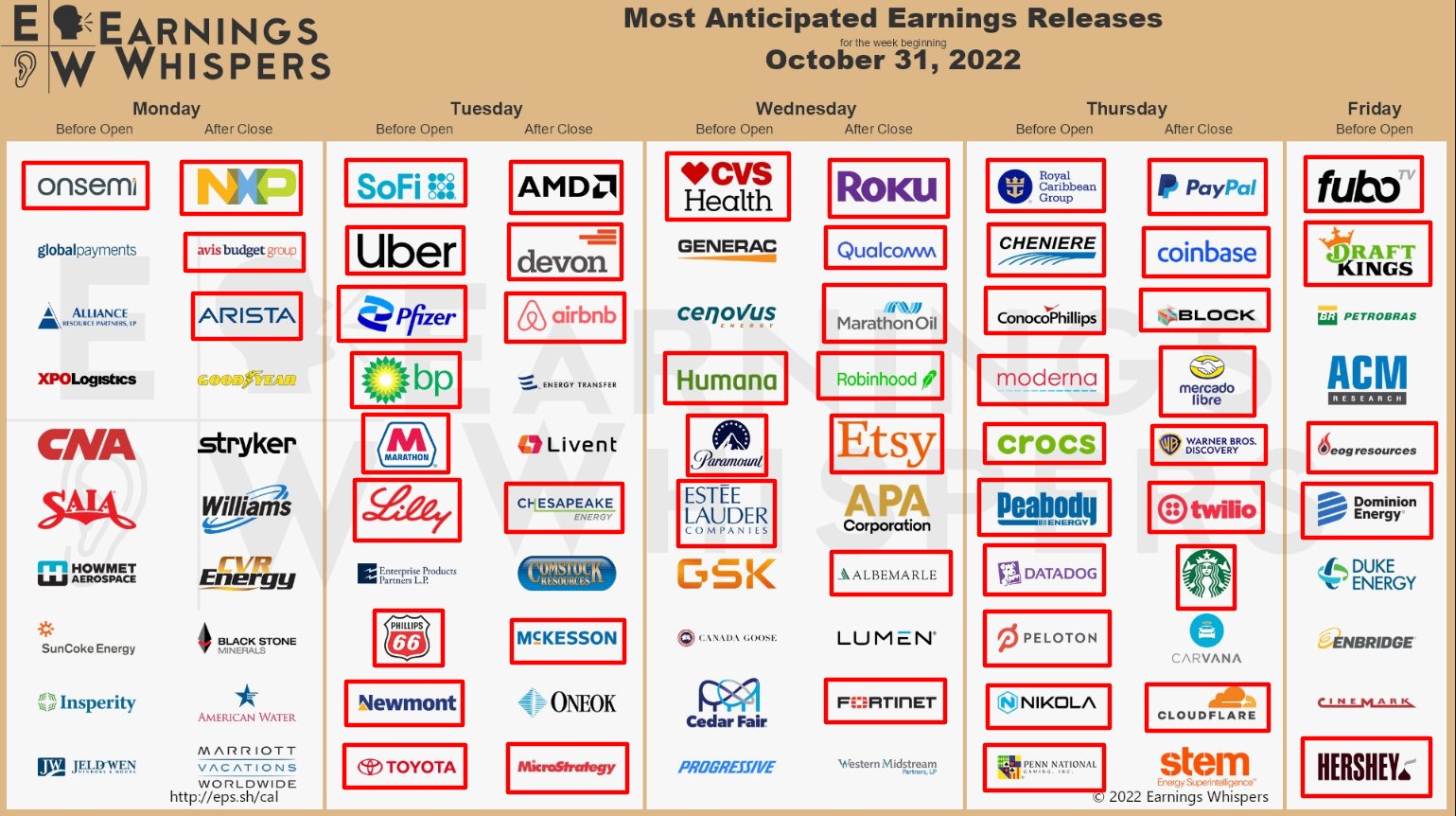 We're just under 11,500 on the Nasdaq 100 and that's a nice, bullish line if we cross it.  A lot of Big Tech got oversold last week and we'll see if the buyers are willing to scoop some of them off the ground.  Chinese stocks took an additional hit earlier this morning on more lockdowns – even in Macau again – hurting the casino stocks. 
We cleared all our goals last week and this week, with the Fed, we'll be happy just not to drop back down.
We'll see how things go.