We are still here:
Of course, if you zoom out a bit, to the weekly view, you realize all this rally talk BS from the MSM is ridiculous as we're still down 10.75% from 4,818 at the start of 2022 but a cock-eyed optimist would say we are up 23.17% from 3,491 last October – does that make you feel better?  Still, the MSM cheerleaders and their Corporate Masters get to call this a rally – regardless of the fast that we are in the same place we were in June of 2021.
Don't get me wrong, I love a good rally as much as the next guy. In fact, our $700/month Portfolio, which we reviewed just this Wednesday morning at $9,133 is already up to $9,605 – that's a gain of $472 (5.16%) in two days!  Rally on my friends – we're happy to take the money, right?  
At this pace, we should be making about 1,000% per year – that's totally normal, isn't it?  Well, OK, it is NOT and that means we should take about 1/3 of our clearly over-clocked winnings and put them into some hedges to lock in those gains.  
Well, we only have $289 left so our options are limited but let's add 1 SQQQ 2025 $20 ($8)/30 ($6) bull call spread for $2 ($200) and that will give us $1,000 of upside protection at $30 and, since SQQQ is currently at $22, we are $200 in the money and it's a 3x ETF and $30 is 36% higher than $22 so a 12% drop in the Nasdaq – back from 14,539 to 12,794 would do the trick and we'll make $800 (400%) to cover our losses.  That's a good hedge!  
It is SILLY that we've made 37.2% in 10 months and it would be even sillier not to lock it in.  Now we are in a position where, if the market is flat, we keep our 37.2% and get our money back on the spread.  If the market is down, we lose some of what we gained but make up to $800 on the spread.  If the market is up, we lose the $200 we paid for the spread but we've already done the math and we have $12,613 of upside potential in these spreads – so we're sure not going to miss the $200 insurance policy, will we?  
NOW you can see how handy it is to have a trading plan for every position and to KNOW exactly how much you expect to make and when.  It helps us make better decisions every single step of the way – like those dozens of little adjustments you make when you are driving that you barely think about.  Why is that?  Confidence and EXPERIENCE – you've put in your 10,000 hours of driving – you are an EXPERT at it! When you put in your 10,000 hours of trading – you will be an EXPERT at that too!  
Also, an alert for our Members, we added LoveSac (LOVE) to our Long-Term Portfolio after hours last night.  Skeptical or not, if there's going to be a rally – we may as well buy some stuff, right?
Speaking of experts, Donald Trump is getting to be an expert on being indicted! So far, in 2023 alone, the GOP front-runner has been charged with: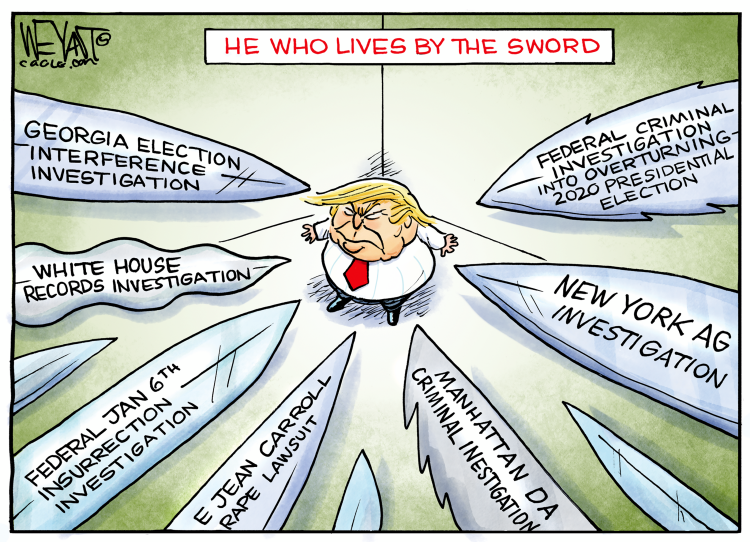 On May 9th, our momentarily ex-Commander in Chief of our Armed Forces was found guilty of sexual abuse and defamation in a civil case brought by E. Jean Carroll, a former magazine writer who accused him of raping her in a Bergdorf Goodman dressing room in the mid-1990s12. A federal jury in New York awarded her $5 million in damages on May 9, 20232.  This week (and I am not kidding) Trump has said he only sexually abused her – so the settlement should be less as he did not get to go all the way.
Oh yes and HUNTER BIDEN'S LAPTOP!  See – fair and balanced…  
Anyway, not too much else going on into the weekend.  Don't forget, we're just 3 weeks from ending Q2 and then it's back to earnings again, where we'll see if all these recent gains are justified.  The Fed meets next Wednesday and we have CPI Tuesday, PPI Wednesday and Thursday it's Retail Sales, Philly Fed, NY Fed and Industrial Production with Consumer Sentiment closing out the week's data on Friday (a holiday weekend).
Interestingly, we have earnings reports from ORCL, LEN, JBL, KR and ADBE next week – so that's all still going on as well….
Have a great weekend,