And we're back! 
Our new and aggressive S&P lines seem to be holding up so far though we are still REALLY far from our Weak Bounce Line at 4,600 but, if we do manage to clear it, we're looking at 4,800 coming back into play (assuming we survive earnings).
We have not inflation-adjusted the Nasdaq chart though 11,000 (up 10%) does look like good support but I'd like to see at least an attempt at 16,000 before we start redrawing our lines. 15,119 doesn't quite cut it yet and look how stretched both RSI and MACD are:  
This is a weekly Nasdaq chart and those are the 50-WEEK and 200-WEEK moving averages that we are miles above – so overdue for a correction it's getting painful!  Yet you wouldn't know it from the way traders are acting and if 1999 has taught us anything it's "Don't stand in the way of a good rally" – so we continue to play along – for now.
We did just add a TZA hedge to our Short-Term Portfolio in yesterday's Live Member Chat room – spending $30,000 for an additional $120,000 worth of downside protection – just in case.  That tilts our portfolios pretty bearish heading into earnings next week and the Fed hike the week after that – sounds about right to me…
Speaking of bearish, oil is back over $75 thanks to the OPEC cuts and now we're sending cluster bombs to Ukraine – so it's kind of hard to bet against oil with a never-ending war going on with one of the World's top oil producers, who are now essentially a part of OPEC.  
However, $75.50 on /CL is $80 on Brent (/BZ) and that's a line we think will be rejected at least for a weak retrace of a run from $72.50 so $7.50 x 20% is $1.50 and that would be a weak retrace to $78.50 and we can expect a $1 pullback on /CL to $74.50 and that would be good for $1,000 per contract if it works out.
Keep in mind the Petroleum Status Report comes out at 10:30 and yesterday, the API Report showed a massive build, with Crude up 3Mb, Gasoline up 1Mb and Distillates up 2.9Mb.  API and EIA were way off last week so traders aren't taking it seriously but I think this short is worth a poke!
Speaking of data, CPI is pushing the markets higher this morning as it came in at 0.2% vs 0.3% expected and that's the Fed's target so all done, I guess.  Most importantly, core CPI is 0.2%, down from 0.4% last month but that in itself seems suspicious – dropping 50% in a month at the core?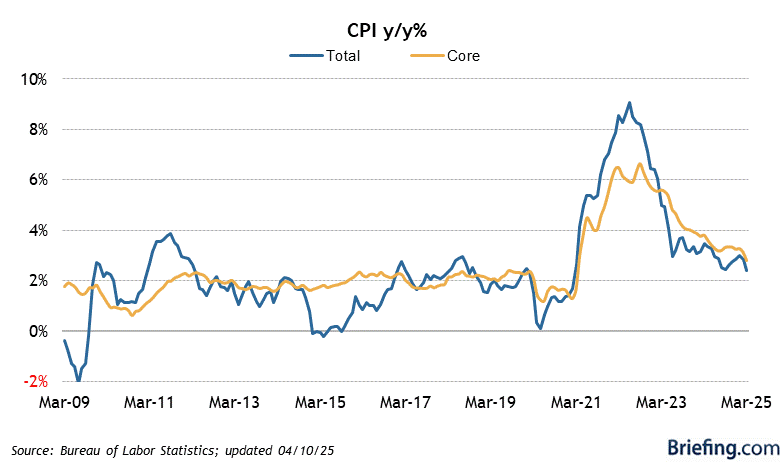 Actually it's possible because it doesn't include rising energy prices (or food) but it does include shelter costs (rents and housing are down) and auto sales (prices coming down on used ones, finally) so maybe the Fed is winning though it's very hard to be sure based on one month's data – it could just mean the economy is crashing…
We get to read the Fed's Beige Book this afternoon and that will be during our Live Trading Webinar