Four reasons why western companies have been 'trapped' in Russia since it invaded Ukraine
By Simon Evenett, University of St.Gallen and Niccolò Pisani, International Institute for Management Development (IMD)
More than 600 days since Russia invaded Ukraine, over 1,400 international companies are still operating in Russia. Only a small percentage of western firms have been able to close down their operations in the country since it invaded Ukraine in February 2022.
As a result, there is now a group of "trapped multinational subsidiaries" operating in Russia – in several cases unwillingly. This includes firms, like Danish brewer Carlsberg Group, which struggled to sell its Russian subsidiaries before the business was seized by the Russian government in August 2023.
In our recently published research we explored why some multinationals have been trapped in Russia, finding it very difficult, if not impossible, to exit the country. We found that western companies have been exposed to multiple competing forces that have prevented them from winding up their Russian operations. In an increasingly fractured world, the risk of being trapped abroad in such a situation poses a new challenge for corporate executives and policymakers.
Our original research finding released in January 2023 showed that 5-13% of western firms from the EU and G7 nations had fully divested from Russia in the first nine months of the invasion. That is, they had been able to complete the sale or disposal of their Russian subsidiaries by December 2022.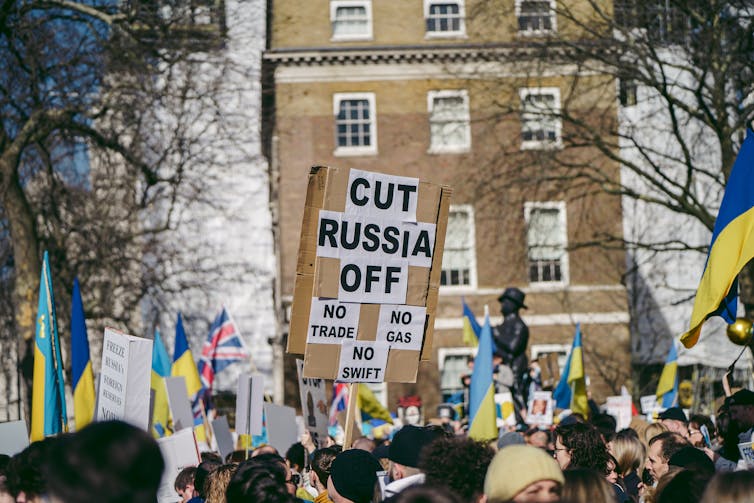 Public pressure for greater sanctions on Russia also affects western companies that have not yet left the country. Sandor Szmutko/Shutterstock
Recent analyses from other initiatives tracking this issue confirm our early findings. The Kyiv School of Economics' (KSE) latest figures suggest only 8.1% of foreign firms operating in Russia have exited the country so far. Since their total also includes non-EU and non-G7 foreign firms, many of which have been doing business in Russia via exporting and thus not necessarily by way of a controlled subsidiary, their percentage is not strictly comparable to ours.
However, when KSE restricts its analysis to foreign-owned Russian affiliates for which it is possible to gather financials, the percentage of completed exits as of October 2023 is still only 19%. This indicates that the vast majority (over 80%) of foreign companies present in Russia prior to the invasion have not yet left the country some 20 months after the war began.
KSE also observes that "in the last 13 months the ratio of those who leave or stay is virtually unchanged". This is a surprise given high profile media coverage about companies exiting Russia (or not), especially in the first and second quarters of 2022.
So why did the initial increase in western company exits tail off? Our new research identifies four push and pull factors that have had a – mostly negative – effect on the rate at which western companies have left Russia:
1. Watching and waiting
The sequential ratcheting up of western sanctions regimes may have led some western firms to "wait and see" rather than going ahead with an exit from Russia. That is, they are waiting to see if the sanctions induce Moscow to leave Ukrainian soil, which has unfortunately not happened.
Moreover, EU, US and G7 sanctions have been "targeted". That is, they have been selective in terms of commercial activities, types of companies, goods, services and technologies covered. This may have encouraged companies operating in sectors excluded from formal sanctioning to "wait and see" whether the sanctioning regime would change at a later stage.
2. The Hotel California effect
A stringent Russian counter sanctions regime may have either discouraged or impeded the divestment of western subsidiaries operating in Russia. For example, Russia's October 2022 decree listing 45 foreign banks prohibited from disposing their assets in the country have clearly made it very difficult to sell up. This has created a Hotel California effect whereby companies like Carlsberg can check in (invest) but cannot check out (divest).
3. Government guarantees
Pre-invasion guarantees were made by some western governments to protect corporate investments in Russia. For example, by the end of 2022 the German government had offered €7.3 billion (£6.4 billion) in guarantees against certain political risks, including war, to German companies investing in Russia. Again, this may have encouraged corporate boards to wait and see.
4. Acting responsibly
Guidance about responsible business conduct in conflict-affected areas from the Organization for Economic Cooperation and Development (OECD) and an expert advisory group to the United Nations recommend against divestment if it could cause significant harm to non-combatants. So, for example, this would dictate that pharma companies should keep selling medicines to sick Russians. Additionally, the UN and OECD guidelines recommend companies contemplating exit to carefully consider whether exiting/suspending activities could exacerbate tensions.
At the time of the invasion, not all of these four factors were known or in play. But six months into the invasion, once the Russian counter sanctions regime came into force, pressure on western firms to divest intensified. This has left corporate decision-makers facing these conflicting pressures.
What to do about profits
A complicating factor is that some of these Russian subsidiaries are generating profits – OECD and UN guidelines do not address this issue. So, what guidance should policymakers give corporate management about trapped multinational subsidiaries?
Perhaps a good place to start is to stop subsidiaries selling to state and private organisations engaged in war efforts. This would mean identifying sensitive sectors that directly or indirectly contribute to Russia's government coffers or its war effort – sales to the Russian military, for example.
Trapped multinationals should also be encouraged to support war victims, regardless of which "side" they are on. And they should certainly continue to supply essential goods such as medicines to people in conflict areas.
A trickier question is what multinationals should do about reinvesting the profits from their trapped subsidiaries. On the one hand, it could be argued that these investments are needed if these companies are to sustain their operations to support victims and continue supplying essential goods. On the other hand, investing this money into the Russian economy would benefit the government and its military.
An open dialogue between business and government in western countries is urgently needed on this subject. After all, these issues may not only continue but could also spread to other countries and regions in this era of elevated geopolitical tensions.

Simon Evenett, Professor of International Trade and Economic Development, University of St.Gallen and Niccolò Pisani, Professor of Strategy and International Business, International Institute for Management Development (IMD)
This article is republished from The Conversation under a Creative Commons license. Read the original article.