Author Archive for Greg
by Greg - January 7th, 2019 8:45 am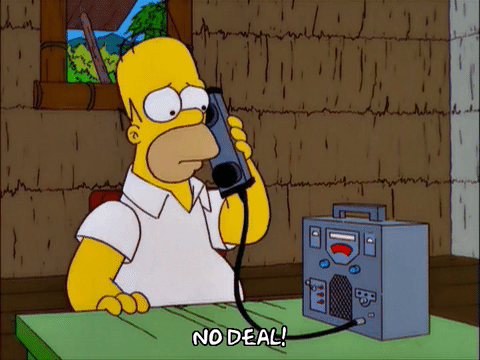 Well, we're still closed.
Today is, officially, the first day Government workers will actually not get paid. Already we've seen TSA workers have sick-outs for protest and things are going to get much worse as Trump's Saturday and Sunday meetings with the new Congressional Leaders resulted in NO DEAL as Trump maintains his "wall or nothing" stance.
Meanwhile, Trump has said he is going to declare a State of Emergency in order to fund the wall but he's already lost that court case by announcing that he's going to make up an emergency just to fund a wall – what an idiot! I hope you enjoyed Friday's December Jobs number because, as of this morning, 420,000 people are working without pay and 380,000 people have been furloghed – a nice way of saying temporarily laid off.
Trump has said he won't sign any bill funding the government that doesn't include $5.7Bn in border-wall funding that was part of a measure signed by the GOP-controlled House in December which THEY couldn't pass then, before Democrats took over the chamber. Two Democratic aides said Sunday that an afternoon meeting was delayed by 45 minutes because Republicans weren't ready with documents to explain why that $5.7Bn amount was needed for the wall. Keep in mind this is after two full years of sayinging they needed a wall.
The much bigger deal this week is the resumption of trade negotiations with China and we can expect a rumor-driven market until something official is announced, which could be a few MONTHS – if at all. As you can see, Trump was tweeting out great progress on Dec 14th but that same day, as soon as China said they had no idea what he was talking about, the markets began their second 10% leg down – so be very careful trusting the President – not that you should need a warning about that by now….
We have 9 Fed speakers this week and the release of the last meeting's FOMC Minutes on Wednesday but not all that much data as the Government Shutdown is pushing back a lot of reports so we'll be flying fairly blind into earnings, which are…

by Greg - October 24th, 2018 9:26 am
Speaking of trading, I am scheduled to be on BNN's Money Talk tonight at 7:30 which means it's time to adjust our Money Talk Portfolio. We did a review last Thursday and the Portfolio was at $97,037 with the S&P at 2,802 and, as of yesterday's close, we had dropped $1,394 to $95,645 but that's still up $45,645 (91.3%) for the year so not terrible but it lets us know we need to do a bit more to lock in the gains (ie. more hedges).
ALK – A short put we are confident in,

should gain another $3,275 at maturity

.
SQQQ – A good hedge that's $6,760 in the money but only showing net $3,450 out of a $10,000 potential. Hopefully we lose the $3,450 because the market does well as it's simply insurance and not a bet.
ABX – A long-term bet on gold that pays up to $12,500 and is currently on track at net $2,225 so good for a new trade with

another $10,275 (460%) left to gain at $15

.
by Greg - September 24th, 2018 11:08 am
One year anniversary for the Money Talk Portfolio and we can't make any adjustments (as I only do them on the show) so here it is. We haven't looked at it since I did the show back in July (17th) and we were at $84,300 and, since then, we've moved to $89,287 so up 78.6% for the year. Keep in mind we went to much more CASH!!! last time as I didn't want to stay open for the summer and we have dogs like WPM, ABX, LB and GE left in the portfolio but, BECAUSE we keep plugging away and we keep selling premium – we just keep making profits!
I would certainly encourage you to go back and read the last review and contemplate how conservatively we play this ultra low-touch (once a quarter, never in between) portfolio. All year long we simply take off the maturing winners and add a new play each Q and, despite several very disappointing stocks – we make money anyway because we keep selling premium and we take non-greedy exits.
In fact, that $24,475 profit on short WPM calls was the short leg of a long spread but we CASHED out the long leg because $22 was the top of our expected range. So we got more than the full expected profit on the long end and now we owe nothing to the short caller. The new bull call spread was only set up to cover the short 50 calls, we didn't expect WPM to go that high.
All in all, I'm very happy with this portfolio – despite the restrictions.
by Greg - August 20th, 2018 10:49 am
BNN Money Talk portfolio - update 8/20/2018
We already have plenty of downside bets on our portfolios and, since Options expired on Friday, let's have a look at our hedge in the context of our public Money Talk Portfolio, which we feature on BNN's Money Talk about once a quarter. We only make changes on the show, so it's a very low-touch portfolio and we're coming up on the one year anniversary on 9/6, as we only begin doing this one year ago but, already, the portfolio is up 86.8% from $50,000 to $93,370 as of Friday's close.
Remember – every single trade AND adjustment was announced live, on TV, before they were made in the portfolio. We're simply showing people how to use our Be the House – NOT the Gambler techiques and hedging strategies in real-time market situations:
We cashed out a lot of winners in July as I was too nervous about the summer markets to leave what were, as the time, $34,300 worth of gains on the table and we can't make any adjustments until the next time I'm on the show in September – so better safe than sorry… We had $34,490 in cash at the time and, as you can see, we raised our cash holdings to $85,740 (91.8% of the portfolio's value) but we still managed to gain another $9,070 from our remaining positions in the past 30 days. You do not need to keep a lot of cash in the market to make great gains if you know how to properly apply leverage!
…

by Greg - July 24th, 2018 8:17 pm
Russians hacked into America's electric grid. Here's why securing it is hard.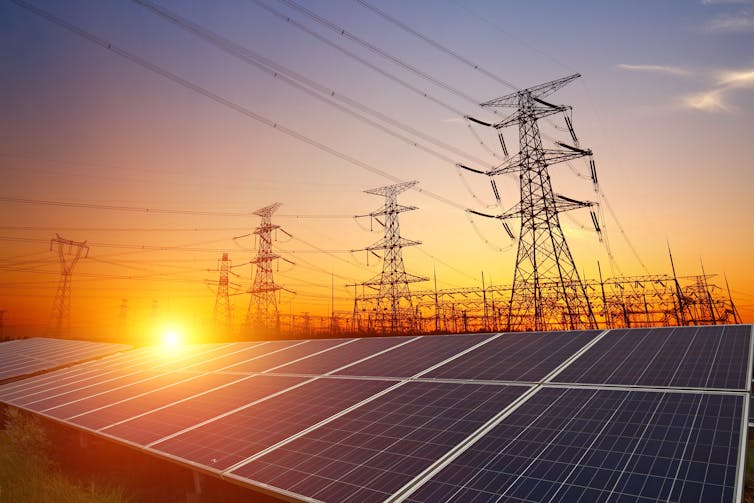 Courtesy of Theodore J. Kury, University of Florida
Hackers taking down the U.S. electricity grid may sound like a plot ripped from a Bruce Willis action movie, but the Department of Homeland Security has recently disclosed new details about the extent to which Russia has infiltrated "critical infrastructure" like American power plants, water facilities and gas pipelines.
This hacking is similar to the 2015 and 2016 attacks on Ukraine's grid. While DHS has raised the number of the Russian utility-hacking incidents it detected from dozens to hundreds, it still maintains that this infiltration has not risen beyond scouting mode. Russia denies having any role in the hacking, yet the specter of Russian sabotage in the U.S. now seems more realistic than it used to.
Clearly, there's no time to waste in shoring up the grid's security. Yet getting that done is not easy, as I've learned through my research regarding efforts in to stave off outages in hurricane-prone Florida.
Florida Hurricane #Irma Power Outage Numbers as of 9/27/2017 9:00 AM ET. PDF at: https://t.co/MdtDTxRJZf #FLRecovers pic.twitter.com/BdutFgdGfD

— Florida SERT (@FLSERT) September 27, 2017
A catch-22

There is no way to completely protect the grid. Even if that were possible, utilities tend to adopt new and better security procedures after mishaps, boosting the chance that some attacks will succeed.
Regulation at the state and federal levels makes it hard for utilities and regulators to work together to get this job done.
Utilities can charge their customers only what it takes for them to cover reasonable expenses. Regulators must approve their rates through a process that needs to be open to public scrutiny.
Say, for example, a power company is building a substation. The utility would disclose what it spent on construction, prove that it picked its contractors…

by Greg - July 24th, 2018 8:06 pm
Courtesy of Joshua M Brown
I haven't really seen anything like the chart below, which comes to us via Savita Subramanian's group at Bank of America Merrill Lynch. They're showing the seasonality of stock buybacks broken down by weeks of the year. Apparently, we're headed into the thick of buyback season, and this past week was way above trend…
Buybacks by our corporate clients last week were the sixth largest in our data history since 2008. In particular, Tech companies' buybacks were the fourth-largest in our data history.

In a reversal to recent trends, buybacks in Financials and Health Care stocks picked up last week. Financials saw the second-biggest buybacks (after Tech) by our corporate clients.
Josh here – what's interesting to me is that the pace of buybacks historically spikes twice in the average year, in what looks like the 8th week (end of Feb) and then around the 34th week. If last week's kickoff to the season was indicative of what the rest of the summer will look like, it's not hard to understand why we'd be making new record highs soon.
By the way, regardless of what happens with buybacks this summer, I think it's clear that, thanks to the tax cut, 2018 is going to be a year to remember. Here's the post-crisis history of buybacks on a 4-week rolling average from the same report:
Source:
Here come the buybacks
Bank of America Merrill Lynch – July 24th, 2018
by Greg - July 18th, 2018 12:57 pm
Money Talk Portfolio Review: I am doing the show tomorrow so I have to put this together first. Sadly, we dropped a lot since our June 14th review, when we were at $92,727 (85.5%) but now down to $84,300 (68.6%), mostly due to LB's pullback and our inability to roll SQQQ like we did in the STP/OOP. Nonetheless, up 68.6% since Sept doesn't suck and now we can make some adjustments!
I'm a bit concerned about the rest of the summer so we're going to be cautious – especially with these gains to lock in.
ALK – I'm very confident in the next $51.80 entry so no change here. Earnings are 7/26 so we'll watch those carefully but expectations are low (about $1.65) and they made $2.51 last Q2, so I'm only worried about guidance.

Anticipate making $3,725 more on this one

.
IMAX – Lots of blockbusters ahead should be good for them but this spread is well in the money and

can be cashed out for $8.80/4.10 for net $4.70 ($9,400) out of a possible $5

so it's not worth the risk as we can't make interim adjustments so we'll take the profit off the table.
SQQQ – We still need a hedge and
…

by Greg - February 19th, 2018 9:30 am
The PhilStockWorld.com MoneyTalk Portfolio
We will be tracking our trade ideas in a the Money Talk Portfolio which we're starting with $50,000, giving us $100,000 in ordinary margin to play with. We will update it monthly and post a link for our viewers to follow and we'll do live progress reports along the way.
Sept. 6, 2017 – (see original portfolio discussion here)
Sept. 20th, 2017 Update:
November 9th, 2017 – Making great progress and discussed in today's Report:
To become a PhilStockWorld member and gain access to our other virtual portfolios sign up today!
December 12th, 2017 – Chugging right along. PSW Members went to CASH!!! into the holidays on our portfolios, this is the only open one left (see today's post for comments):
I'm certainly not worried about Apple (AAPL), which is a 3-time Stock of the Year champion. Though the spread is already

up $7,400 (113%)

at $13,500 after just 3 months, the goal is to get back $30,000 so this humble trade is still good for another $16,500 (122%) of additional gains if AAPL is good enough to hold $165 for the year.
IMAX should do very well this month with Star Wars out on Friday so the force should be strong for
…

by Greg - February 13th, 2018 11:12 am
…

by Greg - January 30th, 2018 7:09 pm
This year's severe flu exposes a serious flaw in our medical system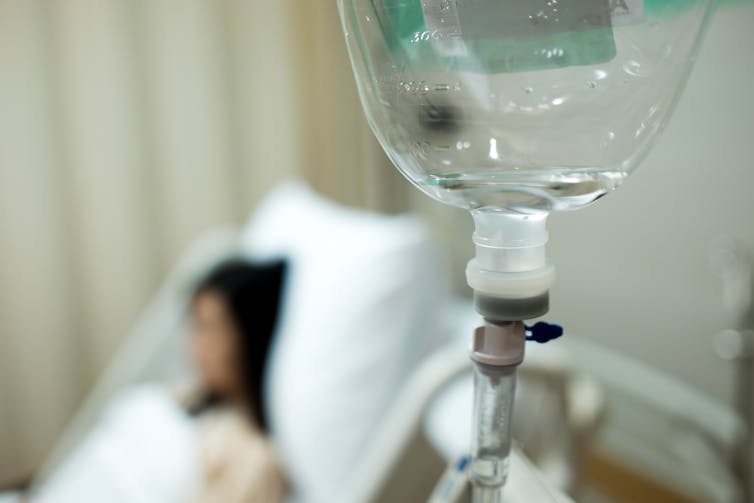 Courtesy of Morten Wendelbo, Texas A&M University and Christine Crudo Blackburn, Texas A&M University
Flu season in the U.S. typically peaks in February, but this year's outbreak is already one of the worst on record. As of Jan. 6, 20 children have died from the flu, and overall mortality caused by the flu is already double that of last year's.
One reason the flu is so severe this season is that the dominant strain is H3N2, which has an impressive ability to mutate and is particularly aggressive against Americans over 50.
Making the threat worse is the fact that most of the IV saline bags used in common medical treatments and procedures – including severe cases of the flu – are made in Puerto Rico, which is still reeling from Hurricane Maria. Hospitals in some areas around the country that are operating at or above capacity because of the flu are quickly running low on saline, resorting to time-consuming and potentially dangerous treatments of patients.
The IV saline shortage is unlikely to cause a life-threatening breakdown of medical treatments. But the shortage does expose a dangerous flaw in the medical supply chains that everyone relies on to counter disease outbreaks or bioterrorism. Many different types of important medical equipment and medicines either come from abroad or rely on a single producer.
Global supply chains

Globalization has changed the way we produce, transport and store almost anything, including medicines and medical supplies. Now that it's inexpensive to transport goods, many can be easily produced abroad at substantially lower costs. In nearly all cases, that benefits producers and consumers alike.
For the medical industry, approximately 80 percent of all pharmaceuticals used by Americans are produced overseas. The majority of this production takes place in China and India.
Forty-three percent of saline in the U.S. comes from Puerto Rico. The U.S. was already running below optimal levels of saline when Hurricane Maria hit.
…