Author Archive for stjeanluc
by stjeanluc - July 24th, 2019 8:35 am
Via Jean Luc
Funny but probably true: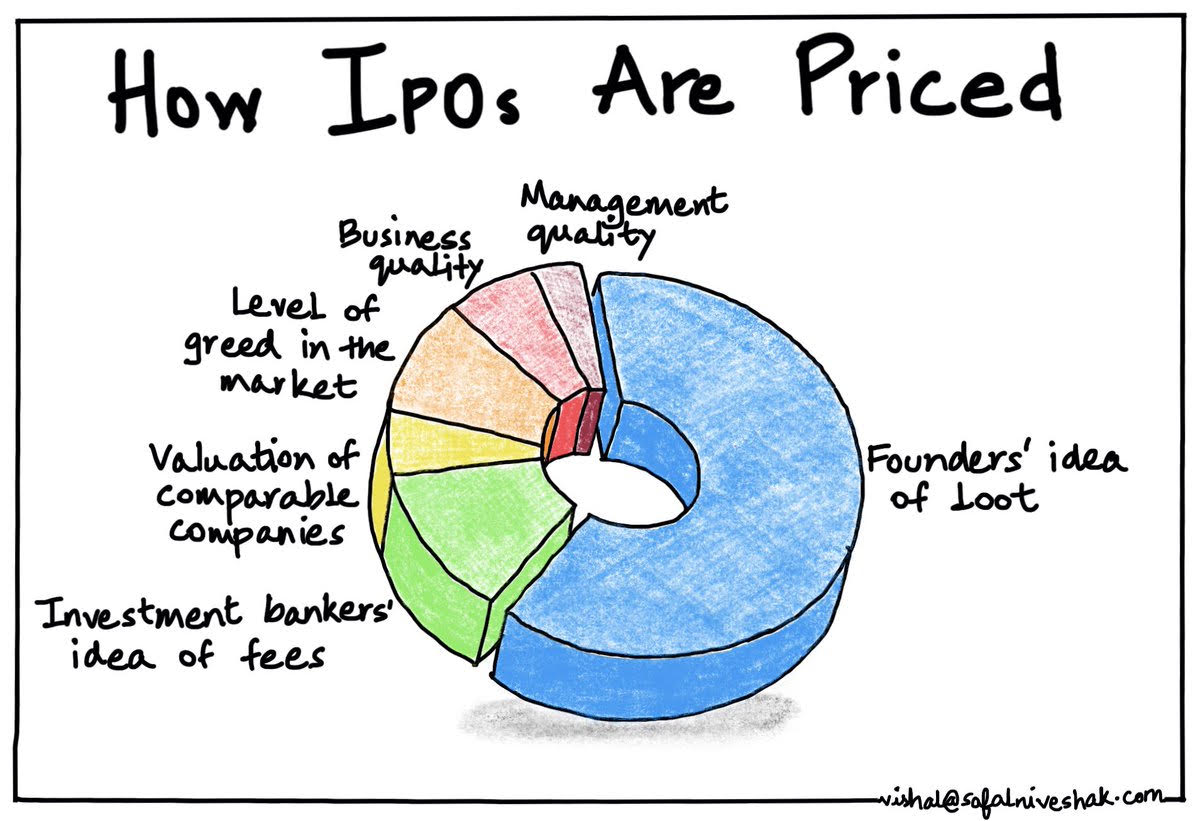 by stjeanluc - March 4th, 2019 10:23 pm
A good start from Barry Ritholtz:
Excerpt:
The threat to America is this: we have abandoned our core philosophy. Our first principle of this nation as a meritocracy, a free-market economy, where competition drives economic decision-making. In its place, we have allowed a malignancy to fester, a virulent pus-filled bastardized form of economics so corrosive in nature, so dangerously pestilent, that it presents an extinction-level threat to America – both the actual nation and the "idea" of America.

This all-encompassing mutant corruption saps men's souls, crushes opportunities, and destroys economic mobility. Its a Smash & Grab system of ill-gotten rewards for the well-connected few. The rest of the population? Fuck 'em. This is not what Capitalism is, at least not as conceived by Adam Smith.

The peril gravely putting our nation at risk of failure is Crony Capitalism.

We can define this as the return on capital generated not by innovation and risk taking, but rather through the unholy alliance between the business and political classes. Instead of genuine competition, they use the states' power to legislate, regulate, grant hand outs, permits, government licenses, special tax breaks, and other dispensations as favors to enrich each other.
by stjeanluc - December 6th, 2018 9:41 am
By Jean-Luc
Maybe we should simply try him for treason right now:
The president thinks the balancing of the nation's books is going to, ultimately, be a future president's problem.
The friction came to a head in early 2017 when senior officials offered Trump charts and graphics laying out the numbers and showing a "hockey stick" spike in the national debt in the not-too-distant future. In response, Trump noted that the data suggested the debt would reach a critical mass only after his possible second term in office.

"Yeah, but I won't be here," the president bluntly said, according to a source who was in the room when Trump made this comment during discussions on the debt.
And his advisors are simply the dream team of supply side:
Stephen Moore, a conservative economist at the Heritage Foundation and an economic adviser to Trump's 2016 campaign, recalled making visual presentations to Trump in mid-2016 that showed him the severity of the debt problem. But Moore told The Daily Beast that he personally assured candidate Trump that it could be dealt with by focusing on economic growth.

"That was why, when he was confronted with these nightmare scenarios on the debt, I think he rejected them, because if you grow the economy… you don't have a debt problem," Moore continued. "I know a few times when people would bring up the enormous debt, he would say, 'We're gonna grow our way out of it.'
Proven not to work multiple times but these guys don't believe in facts. They believe in beliefs!
by stjeanluc - June 22nd, 2018 12:47 pm
Via Jean-Luc:
Famed investor reflecting on his mistakes:
One that stands out for me:
Instead of focusing on how value factors in general did in identifying attractive stocks, I rushed to proclaim price-to-sales the winner. That was, until it wasn't. I guess there's a reason for the proclamation "The king is dead, long live the king" when a monarchy changes hands. As we continued to update the book, price-to-sales was no longer the "best" single value factor, replaced by others, depending upon the time frames examined. I had also become a lot more sophisticated in my analysis—thanks to criticism of my earlier work—and realized that everything, including factors, moves in and out of favor, depending upon the market environment. I also realized that you were far better off seeing how a stock scored on a composite of value factors that took more aspects of the balance sheet into account.

The lesson? No single factor or fundamental piece of data is ever the answer or solution to the complicated question of how to pick stocks that outperform. For example, I have long been a fan of shareholder yield (Dividends+Net buy backs) but even though it performs well on its own, it performs much better when selected from a group of stocks that are very cheap; have good earnings quality and have a high conviction in their buybacks, as evidenced by percentage of outstanding shares they are buying. As Einstein is reputed to have said, "make everything as simple as possible, but not simpler."
by stjeanluc - January 26th, 2018 10:31 am
Via Jean-Luc
How propagandist beat science – they did it for the tobacco industry and now it's in favor of the energy companies:
The original tobacco strategy involved several lines of attack. One of these was to fund research that supported the industry and then publish only the results that fit the required narrative. "For instance, in 1954 the TIRC distributed a pamphlet entitled 'A Scientific Perspective on the Cigarette Controversy' to nearly 200,000 doctors, journalists, and policy-makers, in which they emphasized favorable research and questioned results supporting the contrary view," say Weatherall and co, who call this approach biased production.

A second approach promoted independent research that happened to support the tobacco industry's narrative. For example, it supported research into the link between asbestos and lung cancer because it muddied the waters by showing that other factors can cause cancer. Weatherall and his team call this approach selective sharing.

Weatherall and co investigated how these techniques influence public opinion. To do this they used a computer model of the way the scientific process influences the opinion of policy makers.
by stjeanluc - December 18th, 2017 1:13 pm
By Jean-Luc
These are the policies of a theocracy, not a modern democracy:
Trump Admin Bans CDC From Using Words Like 'Science-Based,' 'Diversity'
The Trump administration has prohibited the Centers for Disease Control and Prevention (CDC) from using words like "science-based," "diversity," and "transgender" in their official documents for next year's budget, according to the Washington Post.

Senior CDC budget leader Alison Kelly met with the agency's policy analysts on Thursday to announce the order. Other forbidden words include "vulnerable," "entitlement," "fetus," and "evidence-based."

…

President Donald Trump has long disregarded the scientific consensus on global warming, calling climate change a hoax invented by the Chinese while rolling back several Obama-era environment protection policies. EPA chief Scott Pruitt has also cast doubts about human impact on the environment, which a majority of scientists agree is the driving force in global warming.
One day, the human race will suffer an extinction event because these clowns don't believe the science…
by stjeanluc - October 7th, 2017 2:43 pm
Courtesy of Jean-Luc
The circles don't look to be to scale much!
by stjeanluc - June 27th, 2017 7:41 pm
Courtesy of Jean-Luc
This would be excellent news for AAPL and GOOG to a lesser extent although not inconsequential:
The App Economy Will Be Worth $6 Trillion in Five Years
In five years, the app economy will be worth $6.3 trillion, up from $1.3 trillion last year, according to a report released today by app measurement company App Annie. What explains the growth? More people are spending more time and — crucially — more money in apps. While on average people aren't downloading many more apps, App Annie expects global app usership to nearly double to 6.3 billion people in the next five years while the time spent in apps will more than double. And, it expects the average app spend — including app-store purchases, advertising spend and, most importantly, commerce — to increase from $379 per person to $1,008 in 2021. The 800-pound — or $6 trillion — gorilla in the room is mobile commerce…
by stjeanluc - June 8th, 2017 3:05 pm
Courtesy of Jean-Luc
Speaking of FTR – not nice people…
By JON BRODKIN, Arstechnica.com
Broadband provider Frontier Communications recently laid off the West Virginia state Senate president after a vote the company didn't like—and yes, you read that correctly.

West Virginia does not have a full-time legislature, and state lawmakers can supplement their part-time government salaries ($20,000 a year, according to BallotPedia) with jobs in the private sector. West Virginia Senate President Mitch Carmichael, a Republican from Jackson County, was also a sales manager for Frontier. But after six years with the company, Frontier terminated his employment on May 26.

The dismissal came just weeks after Carmichael voted for a broadband infrastructure bill that was designed to bring faster speeds, lower prices, and more competition to Internet customers. It was described as a layoff in local press reports, but Carmichael said in multiple interviews that he believes the Senate vote led to his newfound unemployment.

"I bet you that cost me my job"

[When ethical concerns stop mattering at the top, they stop mattering at the bottom. Wouldn't be surprised if Carmichael decides to sue Frontier. ~ Ilene.]
by stjeanluc - June 1st, 2017 12:04 pm
Via Jean-Luc
"Greedy bastards. $160M in compensation while kids who need the medicine to save their lives can't afford it!"
Meanwhile, a new report suggests Mylan overcharged taxpayers by $1.27 billion.
A group of disgruntled Mylan investors launched a campaign late Tuesday to block the re-election of six directors over their exorbitant—and increasing—compensation. That's according to a report in the Wall Street Journal.

In a letter sent to fellow shareholders, the group lambasted hefty bonuses and salary increases that came as the company faced backlash for the skyrocketing price of its life-saving EpiPen devices. Such outrage is likely to continue given that a new government report released today suggests that Mylan overcharged taxpayers $1.27 billion dollars for EpiPens over 10 years.

The ongoing EpiPen pricing scandal has caused Mylan "significant reputational and financial harm," the investors complained. Yet directors continued to be rewarded. The investors were particularly critical of Chairman Robert Coury, who received more than $160 million in compensation in 2016 and will receive a $1.8 million per year "cash retainer" as part of a deal made with Mylan last year. Trade publication FiercePharma reports that Coury is the highest-paid executive in the drug industry.

[...]
See also:
Amid outrage and tumbling stocks, Mylan's chairman pocketed $97M
To keep EpiPen sales up, Mylan threatened states, sued making bogus claims