by phil - May 21st, 2019 8:26 am
What a month this has been!
It's all over now because Monday is a holiday and EVERYONE (who matters) is out the door early on Friday or Thursday or Wednesday for that matter and they don't come back until next Tuesday or Wednesday or, if they do – they sure aren't working much. While Americans complain that they don't get many holidays – they certainly seem to stretch the ones they do have out quite a bit.
I said we shouldn't expect much volume and yesterday's SPY volume was 60% of Friday's and I think we'll see even lower transaction numbers as the week goes on. In other words, the whole thing is a joke – you may as well take the week off. Our picks from yesterday morning were no joke as the Nasdaq (/NQ) Futures popped back to 7,450 this morning for a lovely $1,000 per contract gain from the long play we discussed in Monday Monring's PSW Report. Likewise the S&P Futures (/ES) gained 10 points at 2,860 (again) and that was good for $500 per contract – not a bad way to start our trading week.
This morning we're playing JULY Gasoline (/RBN19) Futures at $1.99 and I'll be very surprised if we're not at $2.05 by Thursday and, at $420 per penny, per contract, that could be good for $2,520 per contract – good enough to barbeque some steaks instead of hot dogs this weekend. A stop below the $198 line limits the risk to $420.
This weekend is the start of "Summer Driving Season" and the EIA forecasts a slight increase in consumption vs. last year, despite a 1% increase in overall fuel efficiency for the motor vehicle fleet:
For summer 2019, EIA forecasts U.S. motor gasoline consumption will average 9.54 million barrels per day (b/d), up 29,000 b/d (0.3%) compared with last summer's level and nearly the same as the record summer average set in 2017. Highway travel is forecast to be 1.3% higher than last summer. The forecast increase in highway travel is largely because of growth in employment and population. The effect of the increase in highway travel is forecast to be partially offset by a 1.0%
…

Posted in Appears on main page, Immediately available to public | Join Member's Chat - 45 Comments Here »
by ilene - May 21st, 2019 1:25 am
Drones to deliver incessant buzzing noise, and packages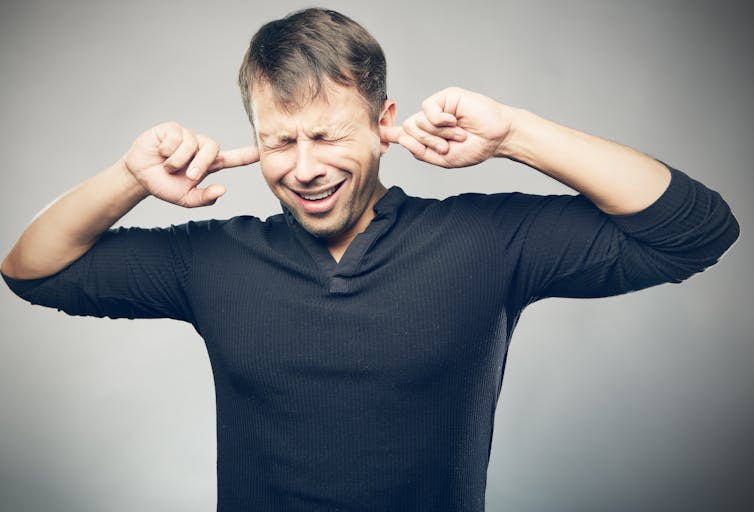 Courtesy of Garth Paine, Arizona State University
A sister company of Google, Alphabet's Wing Aviation, just got federal approval to start using drones for commercial delivery. Amazon's own drone-delivery program is ready to launch as well. As drones take flight, the world is about to get a lot louder – as if neighborhoods were filled with leaf blowers, lawn mowers and chainsaws.
Small recreational drones are fairly loud. Serious commercial drones are much louder. They have eight or more propellers (Alphabet's Wing has 14; Amazon's Octocopter has eight spinning at thousands of revolutions per minute, physically beating the air to generate lift and movement. The heavier the load, the harder they have to work, the more air gets beaten – and the louder the sound.
Drones also make higher pitched buzzing sounds than helicopters, which have much lower frequencies because their larger rotors don't need to spin as fast to generate the necessary power. Now imagine tens or even hundreds of drones buzzing around your neighborhood, delivering packages to homes and businesses. Next, imagine the round-the-clock hives of aerial activity that warehouses and distribution centers will become, in addition to their existing burden on local roads; Amazon recently ordered 20,000 new vans.
As an acoustic ecologist, I monitor the sound of our environment and how it changes. I am concerned that drones are taking to the air without a lot of thought for the ears of people on the ground.
Will there be a weight limit on delivery-drone payloads? Who will monitor the sound levels, and how? Should there be a curfew on hours of operation? There must be a reason companies don't include the sound of the drone in advertising materials – and it's probably not because they sound so nice.
Health and
…

Posted in Appears on main page, Immediately available to public, Phil's Favorites | No Comments »
by phil - May 20th, 2019 8:22 am
And down we go again!
Don't worry, it's not only Monday but it's a pre-holiday week so the volume is likely to be low and it's hard to break out of a range on low volume – even to the downside. That means we kind of like playing 7,400 on the Nasdaq (/NQ) Futures for a bounce – with tight stops below tha line. The S&P (/ES) Futures are also playable if they get back over 2,850 (now 2,845) with very tight stops below that line as /ES is $50 per point, per contract – so we don't want to mess around.
The Nasdaq bottomed out at 7,300 on the 13th and the S&P was 2,800 with the Dow (/YM) 25,200 and the Russell (/RTY) 1,520 so, if we fail to hold our lines this morning – that's the next place we'll take a stand but the Russell is already down at 1,527 and looking a bit shakey – so be very careful this morning.
We did get a nice pop this morning on Natural Gas, which was our long idea from Wednesday's Live Trading Webinar and we're already up over $500 so that's now our stop line but hopefully $2.75(ish) will hold and we'll leg up further but congrats to all who played along with that one on the quick winner.
We also, of course, blew through our hoped-for 25-point drop on the Nasdaq (/NQ) as we're now down over 100 points from our Webinar short and that one is good for $20 per point, per contract so $2,000+ on that short and that's why we love the Futures – it's a great, quick way to hedge your portfolio that quickly returns the cash you need to adjust your bullish positions – like we did last week in our Portfolio Reviews.
Speaking of the Portfolio Reviews, I want everyone to keep in mind that I have been saying for the past month that we are only staying in our portfolio positions to demonstrate how to trade through a downturn in the market and we ABSOLUTELY would have cashed out any portfolio that mattered to our long-term financial future.

We are very
…

Posted in Appears on main page, Immediately available to public | Join Member's Chat - 58 Comments Here »
by ilene - May 18th, 2019 1:41 am
Cryptocurrencies are finally going mainstream – the battle is on to bring them under global control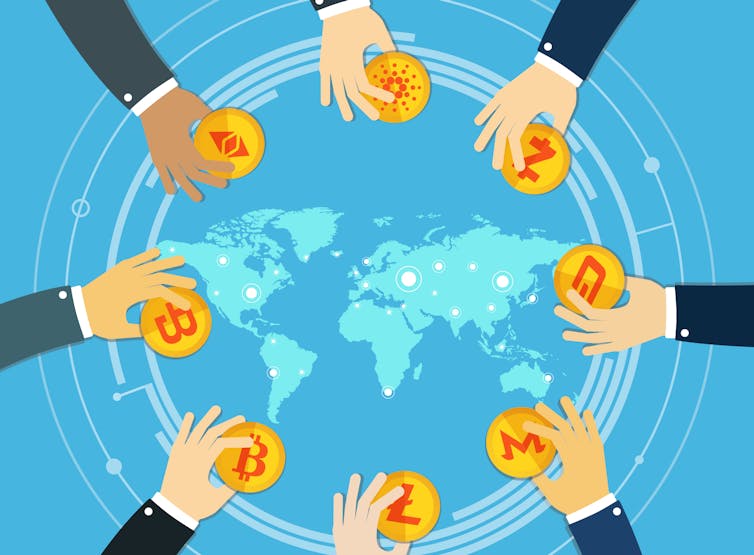 Courtesy of Iwa Salami, University of East London
The 21st-century revolutionaries who have dominated cryptocurrencies are having to move over. Mainstream financial institutions are adopting these assets and the blockchain technology that enables them, in what is perhaps the most profound development since the birth of cryptocurrencies through the launch of bitcoin a decade ago.
JP Morgan Chase has been leading the way, having announced JPM Coin earlier this year, the first cryptocurrency issued by a big international bank. When trials begin in the coming months, each JPM Coin will be redeemable for one US dollar, protecting this cryptocurrency from the volatility characteristic of the likes of bitcoin.
One of the main reasons for JP Morgan launching these coins is to offer large corporate clients a way of making international payments in real time. This could gradually replace the current global interbank funds transfer network known as SWIFT, whose wire transfer payments can sometimes take a whole business day to settle.
A few weeks later, the IMF and World Bank jointly announced the launch of Learning Coin, a private blockchain and quasi-cryptocurrency designed to help them better understand the technology. Facebook, too, was reported to be interested in launching a cryptocurrency.
Meanwhile, financial firm 20|30 became the first company to float on a mainstream regulated trading platform using blockchains, when it issued shares in the form of "equity tokens" similar to a cryptocurrency on the London Stock Exchange.
It is all a far cry from the rationale for creating bitcoins and blockchains in the first place: to decentralise finance away from the dollar-dominated system of fiat currencies and to gradually render financial institutions obsolete.
Good, bad and ugly

Yet this space remains attractive to those seeking to undermine US financial hegemony. Iran and Russia are both looking at launching state-backed cryptocurrencies, in response to US threats to disconnect them from the SWIFT payments system. This would enable these countries to join other blockchain-based payment networks, with the…

Posted in Appears on main page, Crypto Corner - Bitcoin, ETC, Immediately available to public, Phil's Favorites | No Comments »
by phil - May 17th, 2019 8:49 am
The markets are very moody.
Just when we got the S&P back to our 10% line, we're down 20 points this morning and back below the 50-day moving average (2,866), back at the 2,860 line that marks the bottom of our 5% correction zone on the bounce charts we've been using all week. It's a very disappointing setback and, if this is how we're going to go into the weekend – we are going to need more hedges!
At the moment (7:30), however, the 5% Rule's™ Bounce Chart™ looks like this:
Dow

25,200

is the 5% line and the bounce lines are

25,450

(weak) and 25,700 (strong)
S&P

2,860

is the 5% line and the bounce lines are

2,875

(weak) and

2,890

(strong)
Nasdaq

7,475

is the 5% line and the bounce lines are 7,540 (weak) and

7,605

(strong)
Russell

1,550

is the 5% line and the bounce lines are 1,565 (weak) and

1,580

(strong)
We were all red except the Dow (which was at the weak bounce line) on Tuesday morning so this is still progress, but just yesterday afternoon we only had 3 red boxes left to capture and we would have been back to bullish. That's what's useful about the Bounce Chart – it keeps you from making bad decisions by making sure the rally is real before…

Posted in Appears on main page, Immediately available to public | Join Member's Chat - 155 Comments Here »