by Zero Hedge - April 6th, 2020 7:04 pm
Courtesy of ZeroHedge
With most of the developed world on lockdown, and markets and economies paralyzed until there is a material decline in new coronavirus cases, i.e., until we slide "over the hump" of the coronavirus curve, the biggest question – and variable – in assessing the economic damage unleashed by the covid-19 virus is the length of the lockdowns now in force, with Deutsche Bank's Luke Templeman pointing out that "politicians and health officials have discussed dates ranging anywhere from weeks to over a year."
In an attempt to answer this most important for capital markets question, namely when will the civic and economic restrictions begin to be lifted in various key countries, Deutsche Bank provides some estimates largely based on the experience of the lockdown and reopening in China's Hubei province.
Using the "Chinese" experience as indicative of what other countries can achieve, recent studies have confirmed that after implementing various suppression measures, several large countries "appear to be converging onto the decline in the daily growth rate of deaths" seen in China. An Imperial College study in particular pointed out that the overall number of deaths in other countries could be between two and eight times the number of deaths as in China.
As DB notes, one way to look at how other countries are converging on the experience in Hubei province, China is shown in the following chart. As the German bank explains, it uses "a three-day comparison in order to filter out the noise from sudden jumps and drops when figures were relatively small. We also start each time series at the point at which restrictions were introduced to attempt a closer comparison. We then show all the countries individually against the Hubei experience."
With that in mind, here's China:
Looking at the charts above, at first glance it appears that the growth rate in the number of fatalities in Hubei province is
…

Posted in Appears on main page, Immediately available to public, Phil's Favorites | No Comments »
by phil - April 6th, 2020 7:37 am
Are you down 50% one or more of your stocks?
That's the position a lot of people are finding themselves at the moment and some part of that is, of course, from the overall market drop but a lot of that is from paying too much when they bought the stock in the first place. At Philstockworld.com, we teach our Members to NEVER pay retail prices for a stock – that's what retail traders do – not professional traders!
First of all, see our article about Scaling Into Positions from the Strategy Section of Philstockworld.com. The very short story is that you should never make a full commitment to a position early on. You should break your portfolio down into Allocation Blocks (see Strategy Section) equal to no more than 10% and preferably 5% of your portfolio so that no one position can break you and THEN you break your allocation blocks into quarters and each position should be started with a 1/4 entry.
Now, not only can no single position damage your portfolio but no single entry should be able to damage it either. For example, Disney (DIS) seemed like a very safe stock and, even at $140, it wasn't terribly overpriced but then the virus hit and all the movie theaters closed and the theme parks closed and POOF! – half their business disappeared and the stock dropped to $85 before recovering a bit to $94. Had you bought DIS for $140 in February, you'd be down 33%.
Had you, however, made a 1/4 allocation to DIS in Feb, let's say buying 100 shares for $14,000 in a $50,000 allocation block, you would have plenty of buying power to buy 100 more at $90 ($9,000) and your average on 200 shares would be would be $115 ($23,000) – not even 1/2 of your $50,000 and down only 18.3% on the larger position.
If DIS dropped another 33% to $62 (and we're assuming you still want to be in the stock, of course), you would have $27,000 on the sidelines in your allocation block and you could buy 200 more shares for just $12,400,…

Posted in Appears on main page, Immediately available to public | Join Member's Chat - 150 Comments Here »
by ilene - April 5th, 2020 4:33 am
How high will unemployment go? During the Great Depression, 1 in 4 Americans were out of work

By Jay L. Zagorsky, Boston University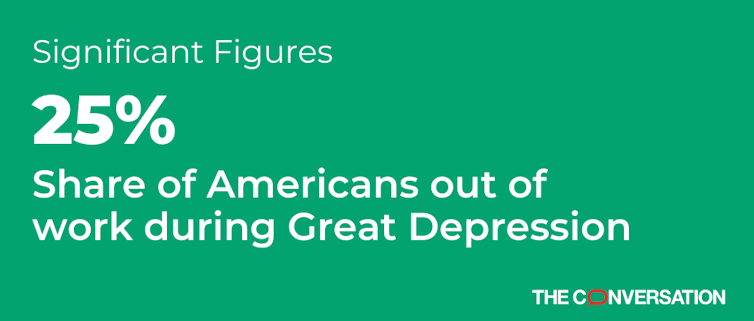 The U.S. unemployment rate climbed from a half-century low of 3.5% to 4.4% in March – and is expected to go a lot higher.
But could the rate, as some predict, surpass the 25% joblessness the U.S. experienced at the peak of the Great Depression?
As a macroeconomist who has tracked the labor force for decades, I've been wondering about this myself.
There are actually two figures the Bureau of Labor Statistics uses to estimate employment levels in the U.S.
One is the unemployment rate, which comes from the Current Population Survey. The U.S. Census Bureau contacts about 60,000 randomly selected households every month to get an estimate of this rate.
The other is an estimate of how many nonfarm jobs were lost or created in the month. The Bureau of Labor Statistics creates these figures by asking more than 140,000 private businesses, nonprofits and various state and local governments how many people were on their payroll at any time during the week containing the 12th of the month.
The latest data show the economy lost 701,000 jobs in March.
But these are just very early estimates of the impact from the coronavirus. It will get a lot worse before it gets better. About 10 million people have applied for employment benefits in the past two weeks alone.
The employment surveys – single-week snapshots – were both taken in mid-March, around the time the U.S. first began to experience a sharp uptick in cases, and some states, such as New York and California, ordered businesses to close. Both surveys likely only reflect the very early effects of the pandemic.
In addition, they consider someone employed even if they worked only part of that week. Starting off the week employed and ending the week laid…

Posted in Appears on main page, Immediately available to public, Phil's Favorites | No Comments »
by ilene - April 4th, 2020 2:03 am
David Brin is a scientist, transparency/internet security expert, public speaker, consultant, social media influencer and best-selling author. You can find his books on his website, and his latest articles on his blog.
Courtesy of David Brin, Contrary Brin Blog
First off, I want to discuss a couple of generalities. Let's start with a fellow by name of Hyman Minsky, whose insights into the nature of stability in human systems have been getting a lot of attention. Basically, during times of great stability, many people – taking continuity for granted – pile up ever greater amounts of risk without hedging against a reversal… till reversal happens — a "Minsky Moment" when instability suddenly returns, at which point things shake out amid lots of pain. Perhaps everyone adjusts together, weaning themselves of bad habits and making things work better, with more wisdom. Alternately, things may go as Karl Marx, described, viewing such shakeouts as inevitably both culling the capitalist class and impoverishing workers, leading to revolution.
Take the example of Japan, which had fine-tuned their economy according to the teachings of American quality and efficiency guru W. Edwards Demming. Taking Demming to an extreme, Toyota led at innovating ultra slim, just-in-time supply chains that squeeze every possible drop of margin from goods and services. Like an athlete who tunes her body to perfectly perform a particular movement, companies following Demming principles aimed for zero on-site storage or stockpiling – equivalent to the athlete's nonexistent fat reserves. And just like such an athlete, stuck on a life-raft for a week without supplies, Japanese companies learned the "Minsky folly" of their mistake, when an exogenous shock – the Fukushima disaster – shattered supply chains and Japan virtually shut down.
As futurist Jamais Cascio put it: "The villainization of over-capacity has been a hallmark of the current post-industrial capitalism environment. What we have seen over the past couple of months is the value of slack in a world that's gone unstable." (Personal correspondence.) Certainly the short-sighted selling off of federal U.S. medical stockpiles, not long ago, is a rabid chicken now coming home to roost. One might wonder if this correlates with the rise of MBAs and decline of engineers in corporate boardrooms.
…

Posted in Appears on main page, Immediately available to public, Phil's Favorites | No Comments »
by phil - April 3rd, 2020 8:32 am
Time to get real.
We've had 3 Workshops so far on fixing our portfolios this week:
Now we move onto a very important topic that combines what we have learned and that is Adjusting our Goals. I talked about this on Tuesday (Part 2) in the Boeing example for someone who bought Boeing at $350 and now it's $150 (today it's $123!) and we do not sit there and HOPE (not a valid investing strategy) that BA will go back to $350 because it's no longer realistic!
As much as you may love a stock – you have to be realistic when there is damage done to it's financial position or outlook and you have to adjust your expectations accordingly – perhaps even considering abandoning the stock altoghether – especially in times like these when there are other fantastic stocks on sale and, even as I say this, I'm thinking that BA is not really a fantastic stock anymore – they simply have too many troubles to be excited about them – even at $123.
So today we'll take a look at our Earnings Portfolio, which started out with $100,000 on October 21st and was originally supposed to be just quick earnings plays but, the way things went, we ended up getting "stuck" in some good bargains (or we thought as the time) and we rolled them into longer-term bets. So now it's a bit of a hybrid but that makes it interesting. At the moment, we're at $132,078 so up 32% for the year but, as you'll see – NOT because our picks were any good – but because our HEDGES saved us!
Notice we have more cash than the portfolio has value – that's because we follow our core Philosphy, which is: "Be the House – NOT the Gambler", which means we always try to be sellers of premium, not buyers and that gives us a huge advantage in our trades while also dropping a lot of cash into…

Posted in Appears on main page, Immediately available to public | Join Member's Chat - 132 Comments Here »
by clarisezoleta - April 2nd, 2020 10:20 am
For LIVE access on Wednesday afternoons, join us at Phil's Stock World – click here.
Major Topics:
00:01:49 – Checking on the Markets
00:04:19 – Earnings Portfolio
00:05:46 – STP
00:10:37 – Weekly Petroleum Status Report
00:17:01 – Crude Oil WTI | Butterfly Portfolio
00:25:24 – AAPL
00:22:57 – TSLA
00:26:30 – Earnings Portfolio
00:37:20 – COVID-19 Update
01:17:33 – IMAX
01:22:16 – F
01:24:16 – DOW
01:28:50 – Sugar
01:31:07 – Margin Portfolios
01:51:19 – ET
Phil's Weekly Trading Webinars provide a great opportunity to learn what we do at PSW. Subscribe to our YouTube channel and view past webinars here. For LIVE access to PSW's Weekly Webinars – demonstrating trading strategies in real time – click here to join us at PSW!
Posted in Appears on main page, Immediately available to public, Phil's Favorites | No Comments »