by phil - July 18th, 2018 8:34 am
That's what Robert Reich calls the confusion and bewilderment Americans feel when listening to the President but the same can be said for our New Federal Reserve Chariman, Jerome Powell, who testified before the Senate yesterday and will testify again tomorrow without actually saying anything at all but, like the parable of the blind men feeling an elephant – everyone will be able to draw a conclusion about what he said – even if those conclusions are diametrically opposed to each other.
CNBC says "Powell backs more rate hikes as economy growing "considerably stronger"" while Market Watch says Treasury yeilds are heading lower on doveish testimony and CBS says "Jay Powell shrugs off trade worries, expects rates to keep rising" and Bloomberg says "Powell's 'For Now' Caveat a Sign Fed Rate Hikes Not on Autopilot." So Jerome Powell, like the President, is all things to all people – whatever you want to think he said – he kind of said it.
Is that really what we want in a Fed Chairman? Why is our monetary policy a closely guarded secret? There was, briefly, a movement to make the Fed more transparent and have them set firm tartgets for actions well ahead of time but investment banks can't make money if EVERYONE know what the Fed is going to do – who would they be able to bet against with their inside information?
It doesn't get more inside than Goldman Sachs, of course, who have alumni like Neel Kashkari, Stephen Friedman, Bill Dudly, Patrick Harker and Robert Kaplan. In fact, there are 12 GS Alumni currently on the Fed Board (not to mention Carney heading the Bank of England, and, of course Draghi at the ECB) and Goldman was even fined $50M after one of it's emploees was caught obtaining regulatory documents from former collegues at the NY Fed but don't worry, no one has been caught since! Treasury Secretary Steve Mnuchin is also a former GS partner.
And, of course, a few Trillion Dollars worth of our National Debt (which you and your children owe) was accrued by the Fed (who still have $4.5Tn worth of debt on their balance sheet) bailing out Goldman and other…

Posted in Appears on main page, Immediately available to public | Join Member's Chat - 159 Comments Here »
by ilene - July 18th, 2018 5:13 am
Courtesy of Michael Batnick
There's been a ton of talk lately about the flattening yield curve. I don't really have anything insightful to add to the conversation, but I do want to share some of the best charts I've seen on the topic.
First, why is the curve inverting, via Tim Duy.
Last week the interest rate spread between ten- and two-year Treasuries narrowed to a cycle low of 25 basis points. Such narrowing is a typical characteristic of a tightening cycle as short-term rates respond more quickly to monetary policy moves than long-term rates. This cycle has been no different. Despite tighter policy, an economy near full employment, quantitative tightening as the Fed reduces the balance sheet, and a fiscal budget situation that promises to deliver massive new bond supply, the long end of the yield curve remains locked to roughly three percent.
Charlie Bilello has done some great work on this topic. Each of the last nine yield curve inversions were followed by a recession. However, the lead time was anywhere from 8 to 24 months, with an average of 14 months.
This time, like all other times, is a little bit different. What makes today unique is where the fed funds rate could be at inversion. The average during the last nine inversions was 6.16%. Today, while not yet inverted, we're at 2%.
The economy is not the stock market, so how much information can we get about the stocks from an inverted yield curve? Again, here's a table from Charlie which shows that while an inverted curve has meant trouble for the economy and for stocks, there was an average of 8 months time between the inversion and the stock market peak.
Finally, this chart from @oddstats shows the next 500 days for stocks when the yield curve was flattening to where it is today. You can see that stocks have performed rather well over the next two years.
ARE YOU OR SOMEONE YOU KNOW BE BULLIED INTO BELIEVING THE YIELD CURVE IS CURRENTLY BEARISH FOR
…

Posted in Appears on main page, Immediately available to public, Phil's Favorites | No Comments »
by ilene - July 18th, 2018 4:24 am
Microprocessor designers realize security must be a primary concern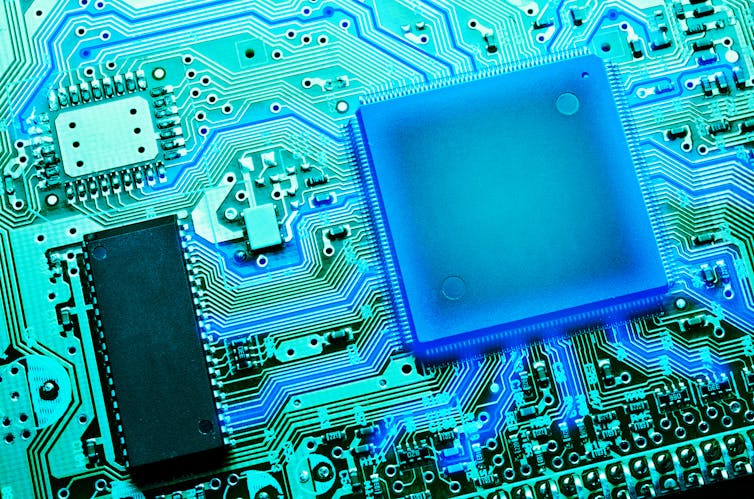 Courtesy of Mark Hempstead, Tufts University
Computers' amazing abilities to entertain people, help them work, and even respond to voice commands are, at their heart, the results of decades of technological development and innovation in microprocessor design. Under constant pressure to extract more computing performance from smaller and more energy-efficient components, chip architects have invented a dizzying array of tricks and gadgets that make computers faster. But 50 years after the founding of Intel, engineers have begun to second-guess many of the chip-making industry's design techniques.
Recently, security researchers have found that some innovations have let secrets flow freely out of computer hardware the same way software vulnerabilities have led to cyberattacks and data breaches. The best known recent examples were the chip flaws nicknamed Spectre and Meltdown that affected billions of computers, smartphones and other electronic devices. On July 10, researchers announced they discovered new variants of those flaws exploiting the same fundamental leaks in the majority of microprocessors manufactured within the last 20 years.
This realization has led to calls from microchip industry leaders, including icons John Hennessy and David Patterson, for a complete rethinking of computer architecture to put security first. I have been a researcher in the computer architecture field for 15 years – as a graduate student and professor, with stints in industry research organizations – and conduct research in power-management, microarchitecture and security. It's not the first time designers have had to reevaluate everything they were doing. However, this awakening requires a faster and more significant change to restore users' trust in hardware security without ruining devices' performance and battery life.
Not so secure

A single modern microprocessor chip can have more than a billion tiny components, including transistors and switches, that form their own little network on a piece of silicon deep inside a computer or electronic gadget. The main problem stems from the fact that tidbits of useful information can leak out from one component to others nearby, just like neighbors often know what's going on in…

Posted in Appears on main page, Immediately available to public, Phil's Favorites | No Comments »
by phil - July 17th, 2018 8:26 am
Wheeeee!
That's the way to play earnings! In yesterday's Morning Report we called for shorting the Nasdaq (/NQ) Futures at the 7,400 line in hopes that Netflix (NFLX) would disappoint and take down the index and that's exactly what happened. Nasdaq Futures contracts pay $20 per point so the 100-point drop paid $2,000 for each short contract – not bad for a day's work and, of course, our other index contracts were also winners:
S&P (

/ES

) short at 2,800 fell to 2,792 is just 8 points at $50 per point for

gains of $400 per contract

.
Dow (

/YM

) short at 25,000 fell to 24,960 and 40 points at $5 per contract

gained $200 per contract

Russell (

/RTY

) short at 1,690 fell to 1,675 and 15 points at $50 per point was a gain of $750 per contract.
And, of course, our Netflix (NFLX) short play will be doing very well this morning as that stock dropped $50 (12.5%) on disappointing subscriber growth and we could see that coming a mile away as no stock is likely to justify 250x earnings – even in the best conditions and we simply didn't see the current economic conditions (rising oil prices, economic slowdown, political turmoil) as a good recipe for continued super-bullishness on NFLX.
There is, however, still time to initiate our bullish earnings trade on Sketchers (SKX) as detailed in yesterday's Report. That stock finished right at $31.07, down 0.22 for the day despite our bullish pick – but what do we know? Speaking of what we know, my comments were featured in Investing.com's weekly commodity outlook and that led to yet another $2,000 per contract day's gain on Oil (/CL) Futures shorts at the $70 line – which is a follow-through from our $5,000 per contract gain from our original call to short oil at $75 on July 3rd (nailed it!).
Though we have a longer-term target of $65, we're now using our Ultra-Short Oil ETF (SCO) play to cover that, not the Futures. Our goal in the futures, as noted…

Posted in Appears on main page, Immediately available to public | Join Member's Chat - 106 Comments Here »
by ilene - July 17th, 2018 2:57 am
Courtesy of Joshua M Brown
The S&P 500 is up 2.6% year to date through the first half and technology stocks have contributed approximately all 2.6% of it.
Just a few large tech stocks in particular.
Savita's equity and quant group relays the following:
Only three sectors outperformed in the first half On a total return basis, Discretionary +11.5%, Tech +10.9% and Energy +6.8% beat the market. Energy was 2Q's best-performing sector (+13.5%) after turning amongst the worst returns in 1Q. Tech was the single-biggest contributor to the S&P 500's 1H gain, contributing 98% of the S&P 500's total return. Excluding FAANG, the total return would have been negative (-0.7%) in the 1H. Staples (-8.6%) and Telco (-8.4%) were the worst.
and a pair of charts illustrating this:
Josh here – Now, of course, every bull market has its leadership stocks. This one is no different, albeit the concentration at the top is fairly high because of the sheer size of the companies' market caps we're talking about.
But another leadership area thus far has been the small caps – the Russell has made new highs repeatedly, owing to an investor preference in US-focused domestic stories and the continued strength of the dollar this year.
So there's more going on here, it's just been tremendously overshadowed.
Source:
1H18: good micro, bad macro
Bank of America Merrill Lynch – July 16th, 2018
Posted in Appears on main page, Chart School, Immediately available to public, Phil's Favorites | No Comments »
by phil - July 16th, 2018 7:57 am
President Trump is meeting his handler this morning.
It's a private meeting, of course, and whatever goes on from there we will only know from what Trump and Putin say about it but, fortunately, both men are well-known for giving the public faithful accounts of their actions behind closed doors, right? According to protocols, however, Putin at least should have a report and maybe one day we'll get to see it.
Futile though it's been, we're taking another whack at shorting the Futures this morning as noted in my 7:21 note to our Members:
On the whole, I still like the short side and we'll be looking to cash a lot of positions in our portfolio reviews. /NQ below 7,400 (tight stops above for all) is good as is, /YM 25,000, /ES 2,800 and /RTY 1,690 – 3 below and short the laggard is the safest way to play but I'm hoping NFLX disappoints and hurts the Nasdaq and, of course, it's time for negative AAPL rumors!
Powell testifies before Congress for the first time tomorrow – that's a biggie. June Retail Sales this morning, Industrial Production tomorrow, Housing Wednesday and the Beige Book and NY and Philly Feds this week too! So plenty of data to chew over.
TIME (ET)
REPORT
PERIOD
ACTUAL
FORECAST
PREVIOUS
MONDAY, JULY 16
8:30 am
Retail sales
June
0.5%
0.8%
8:30 am
Retail sales ex-autos
June
0.3%
0.9%
8:30 am
Empire state index
July
--
25.0
10 am
Business inventories
May
--
0.3%
TUESDAY, JULY 17
9:15 am
Industrial production
June
0.6%
-0.1%
9:15 am
Capacity utilization
June
78.3%
77.9%
…

Posted in Appears on main page | Join Member's Chat - 136 Comments Here »