by phil - November 19th, 2019 8:31 am
What are they so afraid of?
I know I sound like an old curmudgeon, always looking at the downside of all these rallies but doesn't it seem odd that our Governments seem to find it necessary to add various forms of stimulus to economies they keep telling us are great – again? This week it's China, with the PBOC cutting rates on its Repos for the first time since October of 2015 – sending the Shenzhen Index up 1.8% overnight and even Hong Kong's Hang Seng Index rose 1.5% to the sound of gunfire on the streets exchanged between students and the police.
"Having had a day to digest that news, investors seem to believe that the rate cut is indeed a sign of better liquidity on the way, lifting more sentiment-driven stocks in Shenzhen," said Bill Chen, CIO at Shenzhen Valley Asset Management Co. As to the Hang Seng – it was in danger of failing 26,000 and turning negative for the year and China doesn't want it to look like the protests are affecting their business – even though they clearly are.
In fact, the headline in the South China Morning Post is: "Hong Kong's Stock Market Bulls Shrug Aside City's Street Protests" saying: "42% investors surveyed by Bright Smart Securities expect the Hang Seng Index to rise 5% next year, while only 6% see it declining from the current level."
Apparently, 52% of the investors were hiding from the Government surveyors… "The protests may have led Hong Kong's economy into a technical recession in the third quarter, but the survey shows Hong Kong investors are cautiously optimistic about the stock market next year," said Edmond Hui, chief executive of Bright Smart Securities.
Can you imagine living in a near-totalitarian state where the Government controls the news? That must be creepy! Almost as creepy as the fake world over at Fox where the mountains of evidence against the President are still being called a "Witch Hunt" and attempts to hold our leader accountable is "A Coup" when, not only is it IN the Constitution – IT'S THE WHOLE POINT OF HAVING A CONSTITUTION!!!
I mean, come on…

Posted in Appears on main page, Immediately available to public | Join Member's Chat - 96 Comments Here »
by Zero Hedge - November 18th, 2019 8:20 pm
Courtesy of Lance Roberts via RealInvestmentAdvice.com
The following comment was recently making its way around the "twittersphere" suggesting a "new secular bull market" has started.
10. Some longer term perspective on the S&P500 vs the US 10yr Bond Yield. h/t @jfahmy $SPX $TNX pic.twitter.com/Q7ezYTFWyS

— Callum Thomas (@Callum_Thomas) November 9, 2019
This isn't the first time such a call has been made.
"Despite concerns in the third quarter, bears never had a strong argument for why stocks were overvalued and the major indexes simply traded sideways for much of the last six months, wrote Robert Sluymer, technical strategist at Fundstrat Global Advisors.

"We 'continue to view the market cycle as being a normal pause in an ongoing secular bull market similar to what developed in 2016, 2011 and the 'cycle' pullbacks that developed during the secular bull markets in the 50s-60s and 80s-90s."
It is an interesting point. The current bull market certainly seems unstoppable, but the question that must be answered, fundamentally, is if this is indeed a "secular bull market," and if so, "where are we" within that cycle.
What is a "secular market?"
"A secular market trend is a long-term trend which lasts 5 to 25 years and consists of a series of primary trends. A secular bear market consists of smaller bull markets and larger bear markets; a secular bull market consists of larger bull markets and smaller bear markets."
In a "secular bull' market, the prevailing trend is "bullish" or upward-moving. In a "secular bear" the market tends to trend sideways with severe drawdowns and sharp rallies.
However, what truly defines long-term secular markets are valuations, and whether those valuations are contracting or expanding.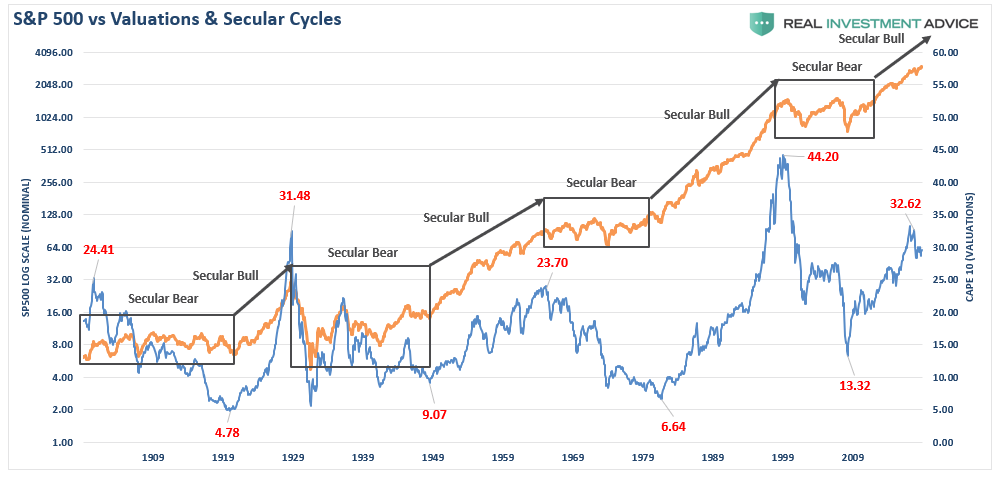 The chart above shows the history of secular bull market periods going back to 1871 using data from Dr. Robert Shiller. One thing you will notice is that secular bull markets tend to begin with CAPE 10 valuations around 10x earnings or even less. They tend to end around 23-25x earnings or greater. (Over the long-term valuations do matter.)
As noted above, what drives long-term secular "bull" markets is "valuation expansion." In order to have the magnitude of "valuation expansion" needed to support
…

Posted in Appears on main page, Chart School, Immediately available to public, Phil's Favorites | No Comments »
by phil - November 18th, 2019 8:29 am
Curiouser and curiouser.
Now we're approaching 3,150 on the S&P 500 (/ES) and my prediction was 3,300 IF we got a trade deal (and then back below 3,000) but, if we're getting this simply on rumors of a partial trade deal maybe happening sometime – who knows what madness lies ahead?
"One pill makes you larger, and one pill makes you small

And the ones that mother gives you, don't do anything at all

Go ask Alice, when she's ten feet tall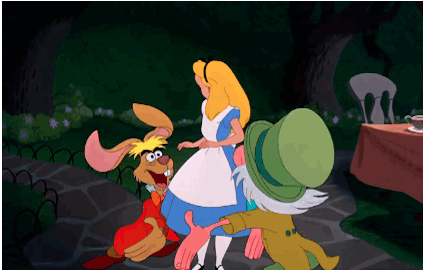 Uh oh! The last time I started making Alice in Wonderland references about the stock market being ridiculous was back in the Summer of 2008 when, as it turned out – it was ridiculous and we crashed horribly soon after. Today we are celebrating that crash's UnBirthday though the situation is a bit different this time and apparently traders have gotten older – simply not wiser…
Back in 2008 oil was over $100 per barrel and most people thought it was a sign of a strong economy but I said "How can the Consumers afford to keep paying this?" and, lo and behold – they could not. Now we have a rally that is fueled not by oil money but FREE MONEY and, while Consumers are spending at record levels – their debts are piling up at record levels as well. How can the Consumers and the Government afford to keep paying this?
That, my friends, is a HELL of a thing to ignore – isn't it? The National Debt was, in fact $11.5Tn at the start of 2009 so we're up almost exactly 100% since then but the statistic we should keep in mind was that our GDP…

Posted in Appears on main page | Join Member's Chat - 118 Comments Here »
by ilene - November 18th, 2019 3:36 am
Courtesy of Lee Adler, Wall Street Examiner
Here's today's press release (11/14/19) from the NY Fed verbatim. They've announced that they will be making special holiday welfare payments to the Primary Dealers this Christmas season. I have highlighted the relevant text.
The Open Market Trading Desk (the Desk) at the Federal Reserve Bank of New York has released the schedule of repurchase agreement (repo) operations for the monthly period from November 15, 2019 through December 12, 2019. In accordance with the most recent FOMC directive, the Desk will continue to offer at least $35 billion in two-week term repo operations twice per week and at least $120 billion in daily overnight repo operations.

The Desk will also offer three additional term repo operations during this calendar period with longer maturities that extend past the end of 2019. These additional operations are intended to help offset the reserve effects of sharp increases in non-reserve liabilities later this year and ensure that the supply of reserves remains ample during the period through year end. They are also intended to mitigate the risk of money market pressures that could adversely affect policy implementation. The Desk will adjust the timing and amounts of repo operations as necessary to maintain an ample supply of reserve balances over time and based on money market conditions, consistent with the directive from the FOMC.

Detailed information on the schedule and parameters of term and overnight repurchase agreement operations are provided on the Repurchase Agreement Operational Details site.
The Fed will offer the dealers AT LEAST $120 Billion per day in overnight repos. It will offer AT LEAST $35 billion in 8, 13-15 day term repo operations. And it will offer a total of AT LEAST $55 Billion in special Christmas Giving Financing, which will almost certainly never need to be paid back.
As I pointed out in an earlier post, the Fed is effectively monetizing the Federal Budget Deficit, dollar for dollar. In addition, it is ensuring that the Dealers can carry their bloated, overstuffed inventory of Treasuries until hell freezes over, and will never,…

Posted in Appears on main page, Immediately available to public, Lee's Free Thinking, Phil's Favorites | No Comments »
by ilene - November 15th, 2019 7:34 pm
Courtesy of Joshua M Brown
I just wanted to wrap the week up with a few links because I've been reading so much great stuff and I didn't want you to miss any of these…
Nick Maggiulli went long-form on why it's so easy for people to be tricked by anecdotes and information derived from small sample size research:
It's easy to poke fun at humans for their reliance on small sample sizes when making decisions, but this criticism fails to recognize our ancestral environment. We evolved in a world where making sure you had a sufficient sample size before making a decision was not necessary to pass on your genes. In fact, waiting for a sufficient sample size would most certainly lead to the opposite result—your extinction.
Read it:
Morgan Housel on why economic history keeps repeating (or rhyming):
only seven plots exist in the history of fictional storytelling: 1. Overcoming Monsters, 2. Rags to Riches, 3. The Quest, 4. Voyage and Return, 5. Rebirth, 6. Comedy, and 7. Tragedy.

It's not that all stories are the same. It's that the plots that make good stories are less diverse than the characters and scenes that populate good stories.
And what is economics if not an exercise in narratives and belief systems?
Read it:
Common Plots of Economic History (Collab Fund)
I got a question this week from a prospective client about the long-term problem of increasing US debt. I gave a decent answer, but Ben Carlson really went above and beyond here to explain the current situation and put it into context. You will be sharing this for a long time to come.
If you want to get people worked up about the financial system the easiest thing to do is mention debt.

It could be U.S. national debt (clocking in at a whopping $23 trillion).

Student loan debt is, of course, another favorite that gets people worked
…

Posted in Appears on main page, Immediately available to public, Phil's Favorites | No Comments »
by phil - November 15th, 2019 8:13 am
Larry Kudlow says things are going great!
That's enough to pop the indexes another half a point overnight because there is ALWAYS about to be a trade deal with China and we ALWAYS celebrate it as if it's a surprise party – over and over again. As George Orwell said:
"And if all others accepted the lie which the Party imposed -if all records told the same tale — then the lie passed into history and became truth. Who controls the past,' ran the Party slogan, 'controls the future: who controls the present controls the past. And yet the past, though of its nature alterable, never had been altered. Whatever was true now was true from everlasting to everlasting. It was quite simple. All that was needed was an unending series of victories over your own memory. 'Reality control', they called it: in Newspeak, 'doublethink'."
You need to read 1984 to understand the current political climate in the US, where the (Grand Old) Party practices constant Doublespeak and is always rewriting the past. "If you tell a lie often enough, it becomes the truth" is another basic tenet of modern propaganda and it's no coincidence the Orwell worked for the British Propaganda Office in the Spanish Wars and WWII as he imagined a society where the truth was subject to change at the whims of whichever party controlled the media – which would become so invastive that there was a screen in every room – watching you as much as you were watching it.
Even Orwell never imagined we'd actually be forced to carry screens with us at all times AND that they would add a microphone AND a GPS tracker AND transaction tracking – so "THEY" would know what we were doing every second of every day. Gosh, they even track our heart-rates now!
"But what is peculiar to our own age," Orwell wrote, "is the abandonment of the idea that history could be truthfully written"; that there is a "body… of neutral fact on which neither [historian] would seriously challenge the other." ?

So we can accept the party's lies and all be good citizens. The good citizens of Oceana had jobs and enjoyed their rations and they hated the enemy of the moment…

Posted in Appears on main page | Join Member's Chat - 177 Comments Here »