by phil - July 15th, 2019 8:34 am
And we keep going higher!
The S&P is now up 15% for the year and 25% off the December lows and 10% off the June lows, so it's been quite a year for the senior index. Citigroup (C) kicked off earnings season this morning with a decent report but tomorrow things begin to get serious and it will be a jam-packed couple of weeks as July 4th cost us a week so we're a bit behind in our reporting already.
Income at C is up 7% from last year at $4.5Bn for the quarter, which is $1.95/share vs $1.85 expected but revenues were only in-line at $18.5Bn so we're not likely to get a very enthusiastic reaction with the stock already at $72 (we are long C with a 2021 target of $75 in our LTP). There aren't many bank stocks we like but C is one of them so no surprise here. Wells Fargo (WFC) tomorrow will be much more interesing and Johnson & Johnson (JNJ) also reports in the morning and we'll see what they set aside for their talcum powder scandal.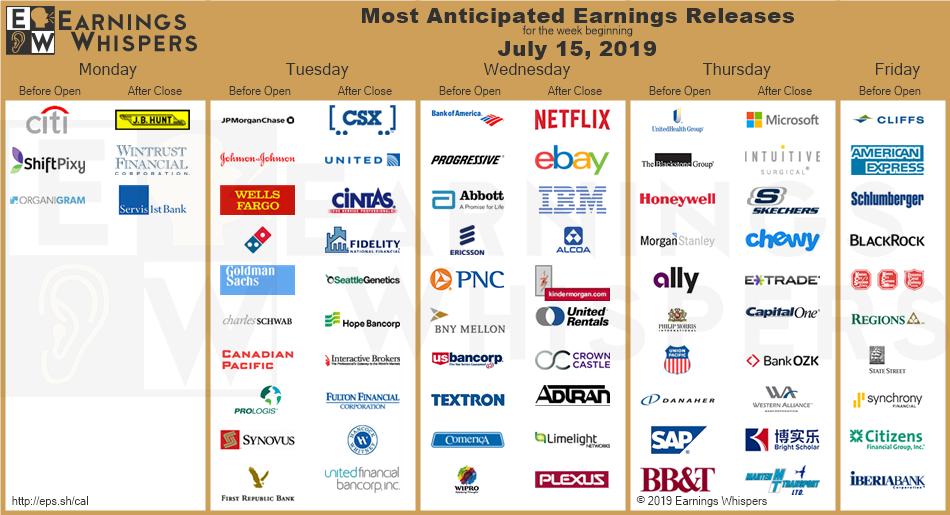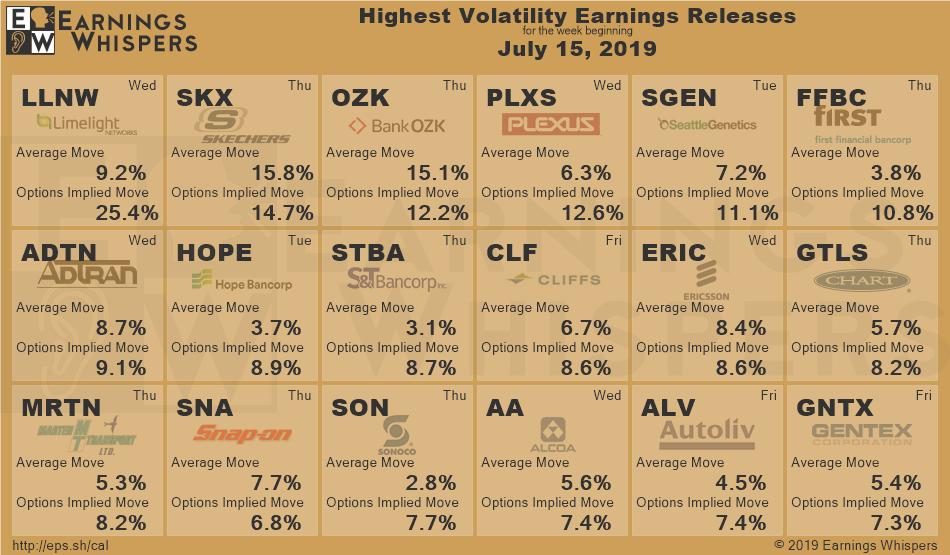 These are probably the most fun earnings to play but it's early in the season and we have little to go on though we are already long on Skechers (SKX) and Cliffs (CLF) though SKX passed our $27 target long agao and we're just waiting to get paid as the spread is netting just $11,025 out of a potential $16,000 so it still has $4,975 (45%) left to gain between now and Jan 17th, 2020 even though it's +20% in the money – aren't options fun?
SKX Short Put

2020 17-JAN 30.00 PUT [SKX @ $34.11

$0.00

]

-10
…

Posted in Appears on main page, Immediately available to public | Join Member's Chat - 68 Comments Here »
by ilene - July 14th, 2019 3:13 am
This is the final letter of the six-part series of my reply to Ray Dalio's essays. Here are some links to help you wrap it all together.
As Ray notes, the problems he describes really are existential. He and I agree more than we disagree, but our responses differ.
I think that we both agree that the wrong answers will cause much angst and pain for most of our fellow citizens (and that is a severe understatement). And given his reply to me in Forbes, I think Ray would agree with me there are no easy solutions, only very difficult choices vs. disastrous ones. The longer we wait to deal with the problems, the more painful resolving them will be.
And make no mistake, the existential problems we are talking about (and neither of us use the word "existential" lightly) will resolve themselves in a highly tumultuous manner if we as a society don't face them directly and soon. They are mostly problems of our own making, and since there are no time machines, we must deal with the reality which we created.
Today in my final reply to Ray I sum up my previous letters and describe one possible path for dealing with these problems. My idea will be controversial for most people. I am totally open to another, better solution if anybody knows one.
Ray started his letter as an invitation to a dialogue/conversation. I hope we can continue our conversation and others will join in. And with that, let's finish my open letter to Ray…
Dear Ray,
Let me see if I can summarize my writing so far and what I believe to
…

Posted in Appears on main page, Immediately available to public, Phil's Favorites | No Comments »
by ilene - July 12th, 2019 4:05 pm
The 'yield curve' is one of the most accurate predictors of a future recession – and it's flashing warning signs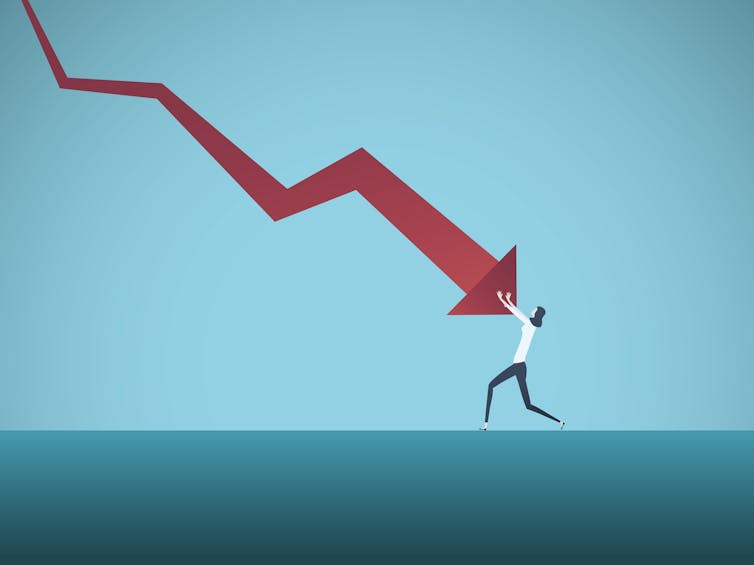 Courtesy of Julius Probst, Lund University
More than ten years on from the global financial crisis and economies around the world are still struggling to fully recover. The latest data is not promising. International institutions such as the OECD, IMF and World Bank have all recently downgraded their growth forecasts for the current and upcoming year.
Compared to just a year ago, all major economies are now expected to grow significantly slower than what was previously expected. For the US, the phasing out of Donald Trump's tax cuts will negatively affect the economy. And the global trade war is starting to weigh down on the global economy, with some major exporting countries like Germany and Japan being affected the most.
More importantly, one of the most accurate recession indicators, known as the yield curve, has recently been flashing warning signs. Every postwar recession in the US was preceded by an inversion of the yield curve, meaning that long-term interest rates had fallen below short-term interest rates, some 12 to 18 months before the outset of the economic downturn.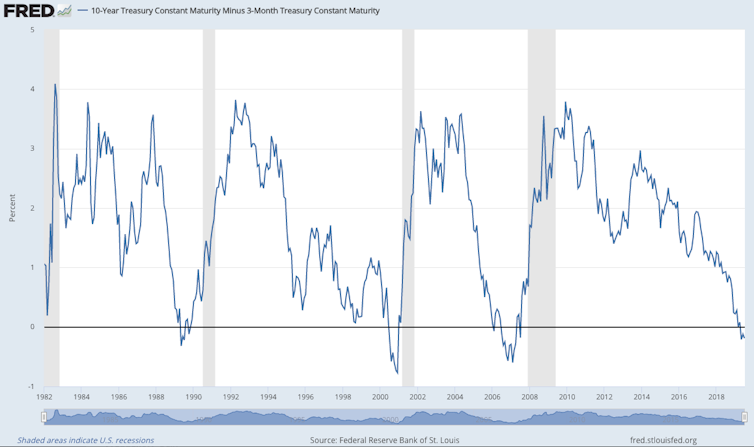 There are many different interest rates in the economy. In general, the interest rate must reflect the riskiness of the borrower and the type of investment that is carried out.
The time structure of the loan also matters. Governments issue debt with very different maturities – from short-term Treasury bills in the US that mature within one year or less to long-term bonds, which can have maturities of two years to 30 years. Some countries like France and Spain even have government bonds with a duration of 50 years.
Usually, interest rates on long-term bonds are higher than interest rates on short-term bonds, leading to an upward sloping yield curve. This is because investors need to be compensated for the extra risk they bear…

Posted in Appears on main page, Immediately available to public, Phil's Favorites | No Comments »
by phil - July 12th, 2019 8:29 am
2,999.91!
That's where the S&P 500 closed yesterday and, this morning, they've pumped it up to 3,010 because "THEY" didn't do all this work just to fall short of S&P 3,000. After all, they already made the hats… They were wearing Dow 14,000 hats back in July of 2007 – those were replaced by Dow 8,000 hats a year later so let's not get too excited by the fashion accessories worn by the MSM cheerleaders.
On Monday, Japan is supposed to start restricting key electronic components from being shipped to South Korea and this may become the most damaging battle in the Global Trade War so far as it will screw up a large amount of electronics manufacturing world-wide and the stuff they are making now is what's supposed to be going on the shelves for Christmas – so the repercussions could flow out far and wide. SoKo's Samsung and SK Hynix are the World's two largest chip-makers – key suppliers to Apple and dozens of other companies.
Even worse is that this is a preview of the kind of pressure China can exert on the United States by restricting the trade in Rare Earth materials – something we were worried about a month ago but people seem to have already forgotten all about. Though trade talks resume next week, China has put together a new trade team packed with hard-liners and Larry Kudlow stated that there is no timeline for an agreement and "He also hoped that China would not seek to "wait out" the Trump administration." So the White House is concerned that this could drag on for 18 more months!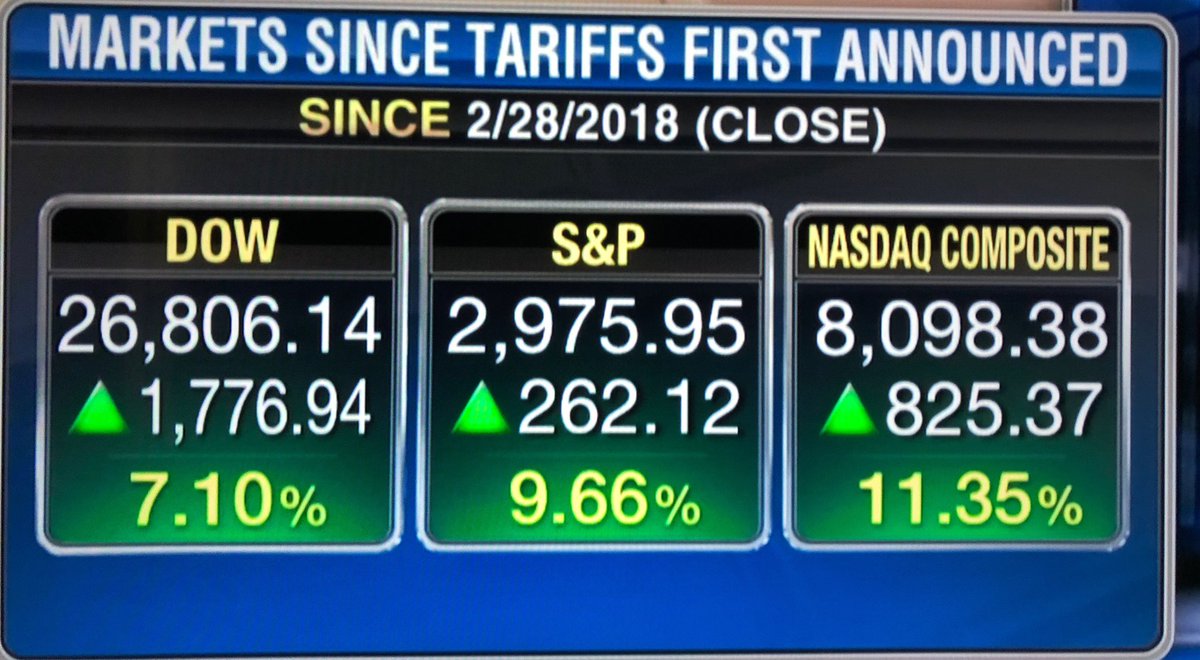 Trade discussusions collapsed in May and now it's July and we're only just getting back to the table. China has flatly stated they won't capitulate to Trump's demands and threatened to take action using Rare Earth Exports and, unlike Trump, China is not knows for making empty threats while posturing for their base. Trump, meanwhile, is still threatening to add another $300Bn worth of tariffs if China doesn't play ball with him.
As you can see from the graphic (which is already eclipsed), the indexes are up about 10% since the tariffs…

Posted in Appears on main page | Join Member's Chat - 88 Comments Here »
by phil - July 11th, 2019 8:13 am
350%!
That's 3.5 times more than the S&P 500 was valued at just 10 years ago. That would imply economic growth of 35% a year for the past 10 years so kudos to all the believers although, to be fair, we thought the market was toppy at 2,850 last year and we're really only up 150 (5%) since then so let's not get too excited that we're finally hitting 3,000 after trying for 18 months.
All the heavy lifting, from 666 to 2,500 (275%) was done under Obama's watch and the economy was doing so well that the Fed was tightening and reducting their balance sheet. 30 months into Trump's turn in office and the Fed is hitting the panic button again, reversing course and actually going back to cutting rates to help stabilize an economy ravaged by rampaging deficits, political instability and pointless trade wars.
And that's considered the "GOOD" news that traders are embracing from Powell's comments as he stretches to justify bowing to pressure from the President to lower rates despite all the prosperity the President claims we are enjoying. Of course it makes no sense – but is that a reason not to pay all-time high prices for stocks? $1Tn for Apple (AAPL), $1Tn for Microsoft (MSFT), $1Tn for Amazon (AMZN)… sure, why not? After all, what's a Trillion anyway – we run up more than that in debt every 12 months now.
We're on a path towards making money meaningless so why not spend it on over-priced equities? As you can see from the chart above, it's been a pretty much straight up 10-year run with only 6 noticeable corrections so once every 18 months we average a pullback on our 350% run. No wonder so many people are trained to buy any dip – it's been a winning formula since Generation Y got out of college – they don't know any better.
Ignorance can truly be bliss in a bull market as traders are content to ride stocks like Amazon to the moon while more cautious investors might have taken some off the table half a Trillion Dollars ago. Just yesterday, AMZN gained 1.5% or $15Bn in market cap despite the fact that…

Posted in Appears on main page, Immediately available to public | Join Member's Chat - 68 Comments Here »