by ilene - February 21st, 2021 2:22 pm
The Deep Freeze Is the Disastrous Result of Decades of Republican Government in the State
Courtesy of David Cay Johnston, DCReport
The misery and death in Texas, where the state electric grid was taken down by unusual but predictable cold weather, underscore the misguided conservative Republican values of less regulation, devil-may-care burning of fossil fuels, dangerous tax cuts and unfettered trust in markets as the universal problem solver.
In Texas, the blame for the unheated homes, the dark urban skylines and winter water shortages is on just one politician—Greg Abbott. He has been governor of the Lone Star state for more than six years.
Abbott gained notoriety in the past few days for making the ridiculous claim that Texans are freezing because windmills fail in the cold. The fact is that they are running just fine in such spots as Iowa, Minnesota, Alaska, Finland and even Siberia.
Texas didn't require that natural gas pipelines be built in anticipation of severe weather, didn't require sufficient natural gas storage for electric power plants and didn't insist that the electric grid itself be hardened against severe heat and cold.
The reason Texans are freezing is that Texas state government:
Failed to require that natural gas pipelines be built in anticipation of severe weather
Didn't require sufficient natural gas storage for electric power plants
Neglected to insist that the electric grid itself be hardened against severe heat and cold, more of which is certain as climate change generates raucous weather
What did Abbott do? He appointed all three members of the Texas Public Utility Commission who failed to ensure adequacy of the Texas electric grid for all weather.
Inadequate Reserves

Abbott's commissioners, embracing his anti-regulatory philosophy, did not require adequate power generation reserves. That's crucial. When electric generators go down in extreme weather, accidents or even planned maintenance, there needs to be plentiful additional capacity
…

Posted in Appears on main page, Immediately available to public, Phil's Favorites | No Comments »
by ilene - February 20th, 2021 11:53 pm
COVID-19 has crippled the winter sports industry – but a digital revolution will help it recover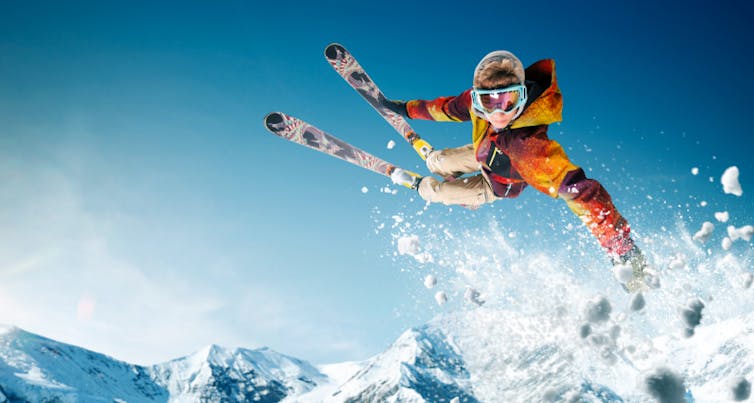 Courtesy of Sascha L. Schmidt, WHU – Otto Beisheim School of Management and Nicolas Frevel, WHU – Otto Beisheim School of Management
It was all going so well. When China sparked the greatest winter sports boom in history by trying to inspire 300m people ahead of the Olympics in Beijing in 2022, the forecast for the industry was great. The 2018/2019 season was the most successful for 20 years, as the American and European markets were thriving too.
Then the pandemic hit, and winter sports, like many other industries, were severely affected. But our recent research suggests the technological developments the pandemic has also ushered in could help secure its future by changing the way elite sportspeople and amateurs approach the sports they love.
The pandemic's impact has been widespread. Ski resorts, hotels, bars and tourism operators have all been affected, as have a whole range of suppliers who depend on demand from these organisations.
While some venues can at least remain open and maintain operations, others have had to shut down entirely for the time being.. Equipment manufacturers and retailers will be worrying about full warehouses that are waiting for buying customers.
Many businesses will not have the financial stamina and resilience to carry on. It is clear the industry will have to adapt to survive.
We investigated the future of winter sports by soliciting opinions from a diverse panel of experts from 15 countries. They included industry officials, former elite athletes, managing directors of ski resorts, technology experts, equipment manufacturers, esports video game developers and media representatives. Our report aimed to nurture a discussion on the future of the sector.
The experts, surveyed in November 2020, believe that winter sports will take at least two to three years to reach pre-COVID-19 levels (for example, in terms of live attendance at ski events). But, perhaps surprisingly, a clear majority of 30 out of 53 said they thought the pandemic would change the industry slightly for the better. And this was despite the severe, short-term challenges.
This…

Posted in Appears on main page, Immediately available to public, Phil's Favorites | No Comments »
by ilene - February 19th, 2021 6:19 pm
Rethinking the US-China fight: Does China really threaten American power abroad?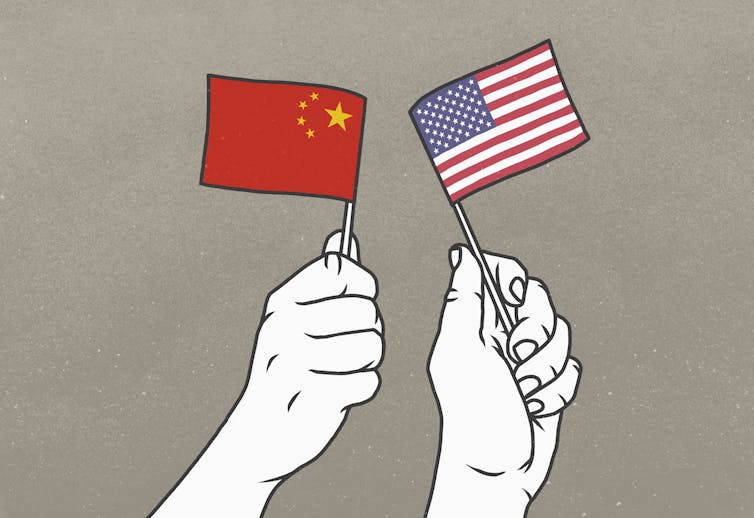 Courtesy of Andrew Latham, Macalester College
President Joe Biden is so far maintaining his predecessor's tough China policy, which aims to curb China's international power both economically and politically.
In the U.S. and Europe, China is widely recognized as a rising star that threatens Western power.
But my research on the country suggests China may no longer see itself that way.
China's rise

In the three decades I've studied and taught Chinese foreign policy, I have witnessed three discrete eras in China's approach to international relations.
After the death of the Communist Chinese leader Mao Zedong in 1976, Mao's successors, Deng Xiaoping and Jiang Zemin, introduced economic reforms that launched China on a path of phenomenal economic growth. The country rose from 11th to second place in the global GDP rankings between 1990 and 2020.
The prevailing view in Western capitals in the 1990s was that China's economic transformations would inevitably culminate in an affluent, peaceful and democratic country.
To ensure this outcome, the major economic powers were prepared to embrace China as a full member of their club of open-market societies, admitting it into international institutions like the World Trade Organization and integrating it into global markets. The West was keen to bring it into this network of international political institutions constructed after World War II to promote cooperation and peaceful conflict resolution.
And China was happy to join the club, at least when it came to trade and investment. Chinese leader Deng Xiaoping's foreign relations strategy in the 1990s was to "hide capabilities and bide time," adopting a policy of "tao guang yang hui" – keeping a low profile.
In the early 2000s, President Hu Jintao took a few modest steps toward greater Chinese assertiveness on the world stage, building up China's navy and initiating a series of port projects in Pakistan and beyond. For the most part, however, Hu still espoused a…

Posted in Appears on main page, Immediately available to public, Phil's Favorites | No Comments »
by phil - February 19th, 2021 8:36 am
Does trading have to be exciting?
While the market remains at all-time highs, I remain skeptical and a lot of that is because I allowed myself to become complacent in 2007, after having missed the rally of 1999 because that, too, was ridiculous. In retrospect I was right – but not until March of 2000 and I could have had some fun betting on anything with a pulse in 1999 so, when 2007 came along – I finally went with the flow and, while we had pretty good timing in 2008 getting out on top – a lot of people didn't. So I guess, this time around, I just want to make sure nobody gets burned when this thing collapses.
We are all shaped by our past and we all run our own gauntlets to become the people we are today. I know I trade like an old man because I learned from my Grandfather, Max Davis, who was born in 1903 and, in 1973, 10 year-old me laid on the floor on Sundays with the stock section of the paper laid out on the floor (you only got stock reports on Sundays back then), circling companies that made new highs or new lows so we could later investigate why it was happening and then Grandpa would do his Fundamental Analysis of the companies (often including actually visiting the company) to decide if there were any hidden values there.
Having lived (in England) through World War 1, the Pandemic that followed, the Great Depression and World War II, Grandpa Max had seen a lot of shit – and he was very good at conveying his experiences to me from both a Social and Economic perspective. Though he never went to college, Grandpa Max was a voracious reader and a very sharp businessman. Learning from him always gave me a long-term and patient perspective on stocks and, since we only got stock news on Sundays anyway – you learn to be patient by default.
So of course, growing up, I gravitated to books by Jeremy Grantham (also British) and Warren Buffett and that's my "style" – value investing but my twist on it (as I'm 30 years younger) is to use options for hedging and leverage – rather than just trying to…

Posted in Appears on main page | Join Member's Chat - 22 Comments Here »
by ilene - February 18th, 2021 5:49 pm
How the Texas electricity system produced low-cost power but left residents out in the cold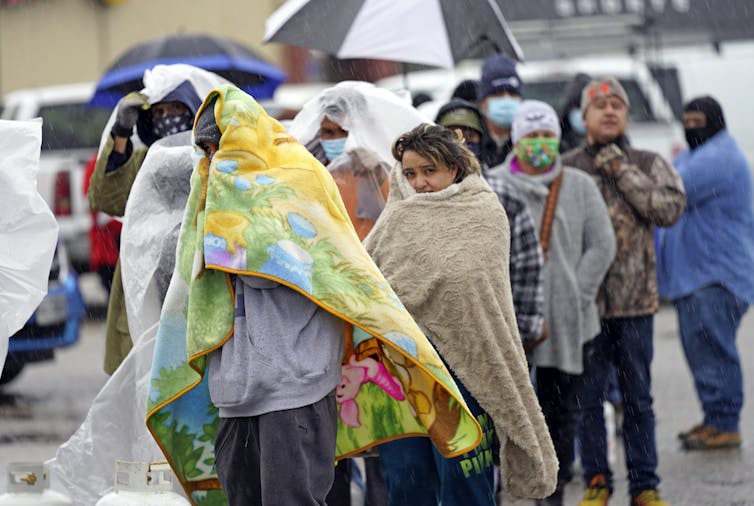 Courtesy of Theodore J. Kury, University of Florida
Americans often take electricity for granted – until the lights go out. The recent cold wave and storm in Texas have placed considerable focus on the Electric Reliability Council of Texas, or ERCOT, the nonprofit corporation that manages the flow of electricity to more than 26 million Texans. Together, ERCOT and similar organizations manage about 60% of the U.S. power supply.
From my research on the structure of the U.S. electricity industry, I know that rules set by entities like ERCOT have major effects on Americans' energy choices. The current power crunch in Texas and other affected states highlights the delicate balancing act that's involved in providing safe, reliable electricity service at fair, reasonable rates. It also shows how arcane features of energy markets can have big effects at critical moments.
Let there be light

The electric age began in 1882 when the Edison Illuminating Company sent power over wires to 59 customers in lower Manhattan from its Pearl Street Generating Station. Edison was America's first investor-owned electric utility – a company that generated electricity, moved it over transmission lines and delivered it to individual customers.
The scope and scale of electric utilities grew rapidly from those humble beginnings, but this underlying, vertically integrated structure remained intact for more than 100 years. Each utility had a monopoly on serving customers in its area and reported to a public utility commission, which told the company what rates it could charge.
Since the utilities knew more about their costs and abilities than anyone else, the burden was on regulators to decide whether the utility was operating efficiently. Regulators also determined whether the costs that utilities proposed to pass on to customers – such as building new generating plants – were just and reasonable.
…

Posted in Appears on main page, Immediately available to public, Phil's Favorites | No Comments »
by phil - February 18th, 2021 8:57 am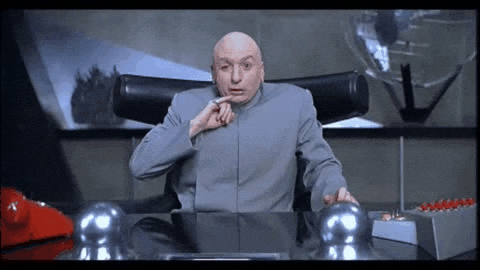 $1,766,591!
Our paired Long & Short-Term Portfolios have gained $157,564 since our January Review and that is, of course, ridiculous and reflective of this ridiculous bubble rally. The LTP went up and the loss of the STP went down – even as we increased our hedging. That's because we sell a lot of premium and the premium decays regardless of the market direction. Time is our friend using this strategy.
Also, we have SUBSTANTIAL amounts of CASH!!! across all of our portfolios as we think this entire market is BS and will collapse at some point. At least 2 or 3 days each week I wake up wanting to just cash out and go on vacation – only I can't go on vacation and I'd be bored so we stay invested – but that's a really stupid reason to risk your assets if this is money that is critical to your future.
The S&P 500 is up almost 100% from it's March lows and yes, that was a 35% drop from the February highs but now we're 20% above those (3,393) and it's simply too far, too fast so we're being very careful with our positions and very aggressive with our hedges. In our last STP Review, we determined we had a good $300,000 worth of protection and we only have $551,828 worth of position in our LTP – that is well-covered!
We added new longs however in the LTP on BABA, GOLD, OIH, TOT, VLO, WPM and WU in the past 30 days as we've been enjoying earnings season and the bargains it brings. We still have $1,057,650 of CASH!!! sitting on the sidelines and we've sold very few naked puts so we also have tons of margin to play with. On the whole, we'd love a good crash – so we can go bargain-hunting. I will repeat what I said back on December 16th as the strategy still holds and, after making 10% for the month, perhaps more people will pay attention:
We have 33% less
…

Posted in Appears on main page | Join Member's Chat - 41 Comments Here »