by ilene - July 5th, 2020 2:28 pm
I don't see how universities can be safely reopened. Classes may have to shift to largely or only online. Dorms, if they reopen, would probably need to limit rooms to one person, and maybe only for students without other options. This would obviously be a financial disaster for many colleges and millions of people. The federal government would ideally step in to help universities and employees survive financially. Any thoughts?
Ethical challenges loom over decisions to resume in-person college classes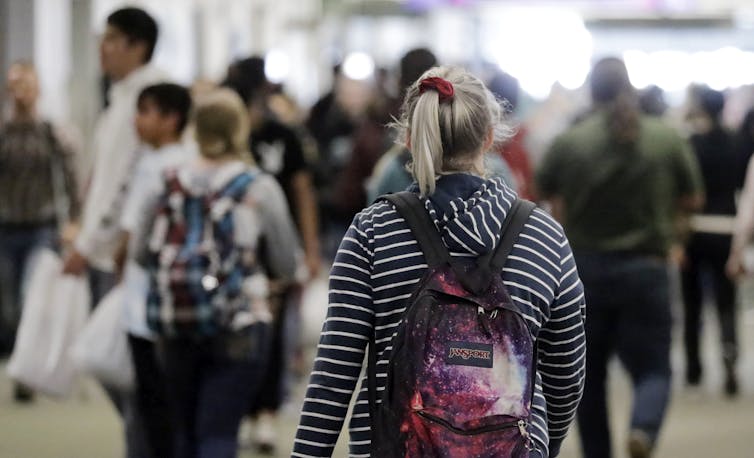 Courtesy of Neta C. Crawford, Boston University
By early July, about 80% of U.S. campuses were planning to resume at least some in-person instruction, even as a growing numbers of faculty are voicing concerns about safety.
As Michael Sorrell, president of Paul Quinn College, argues, "Because we do not yet have the ability to bring students and staff back to campus while keeping them safe and healthy, we simply cannot return to business as usual." Sorrell says that bringing students back in this context "constitutes an abdication of our moral responsibility as leaders."
But this isn't just about the responsibilities of individual campuses and university leaders to do what's right. As a scholar of ethics, I believe it is unwise and unethical for government to leave schools largely on their own to navigate in deciding whether and how to open their campuses. The health risks are too high.
I also consider it unwise and unethical for the federal government and the states to leave so much of the financial burden that COVID-19 places on the higher education sector up to schools to resolve on their own.
Pressure to resume on-campus education

So far, few campuses have said they plan to go all or almost entirely online. The California State University system, with the exception of a few classes, will go online. University of Massachusetts Boston administrators say…

Posted in Appears on main page, Biotech, Immediately available to public, Phil's Favorites | No Comments »
by ilene - July 4th, 2020 6:24 pm
Courtesy of John Mauldin, Thoughts from the Frontline
"A similar effect is taking place in economic life. I spoke about globalization in Chapter 3; it is here, but it is not all for the good: it creates interlocking fragility, while reducing volatility and giving the appearance of stability. In other words, it creates devastating Black Swans. We have never lived before under the threat of a global collapse. Financial institutions have been merging into a smaller number of very large banks. Almost all banks are now interrelated. So, the financial ecology is swelling into gigantic, incestuous, bureaucratic banks (often Gaussianized [bell curve] in their risk measurement)—when one falls, they all fall.

The increased concentration among banks seems to have the effect of making financial crisis less likely, but when they happen they are more global in scale and hit us very hard. We have moved from a diversified ecology of small banks, with varied lending policies, to a more homogeneous framework of firms that all resemble one another. True, we now have fewer failures, but when they occur… I shiver at the thought. I rephrase here: we will have fewer but more severe crises. The rarer the event, the less we know about its odds. It means that we know less and less about the possibility of a crisis."

—Nicholas Nassim Taleb, The Black Swan, presciently written 2006ish
Happy Fourth of July, when we in the United States celebrate independence from England. This year ironically proves independence has limits. It didn't protect us from a virus that originated elsewhere.
In a further irony, the same virus has compelled every government on the planet to, in various ways, declare independence from allies and trading partners. Similarly, consumers and businesses have also declared a kind of "independence" from each other because close contact is suddenly risky.
We knew pandemics happen and can have big consequences. No one knew in 2019 one was coming in 2020. It was what my friend Nassim Taleb called a "Black Swan" in his 2007 book with that title. (That book, along with Antifragile, are his two best. You only need to read the first half…

Posted in Appears on main page, Immediately available to public, Phil's Favorites | No Comments »
by ilene - July 3rd, 2020 4:31 pm
Coronavirus deaths and swelling public sector debt share a data-quality problem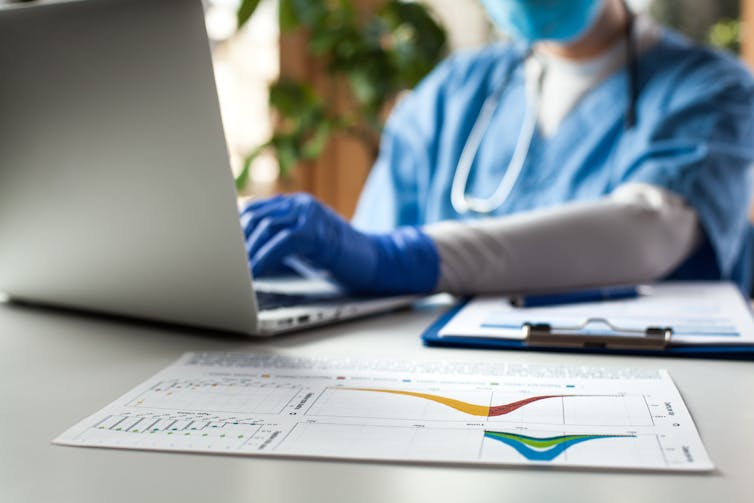 Courtesy of Marion Boisseau-Sierra, Cambridge Judge Business School
Watching scientists, politicians and journalists struggle to compare national death rates from the coronavirus pandemic, I had an acute case of déjà vu. Though the virus may be novel, the confusion generated by inconsistent data standards is anything but. It's something I've observed closely for many years in studying public sector debt.
Such league table comparisons in both cases are simply not reliable. The pandemic has shown that public health data and economic data share the same flaws and challenges regarding basic accounting issues. Chief among these is how different countries measure data and how to harmonise data that comes from lots of different sources.
Take harmonisation. The UK is widely reported to have the highest number of coronavirus deaths in Europe. But what is considered to be a COVID-19 death is, in fact, not commonly defined. Spain and Germany count all deaths where the person had tested positive for COVID-19. As testing capacities were limited at the beginning of the pandemic, this limited the number of COVID-19 deaths actually reported. France (like the UK) first counted only hospital deaths, before adding deaths in elderly homes. Belgium includes untested but suspected persons in its numbers.
Such lack of harmonisation is hardly confined to Europe. In the US, methods vary from one state to another, with lots of states initially not including retirement homes in their reporting. This lack of harmonised data makes it very difficult to compare what's going on and to accurately study the spread of the disease.
We see the same pattern in public sector debt measurements. The most commonly used numbers from the International Monetary Fund (IMF) or from the Organisation for Economic Cooperation and Development (OECD) – two of the world's biggest producers of global economic data – are not reliably comparable.
Yet politicians compare them all the time. And this mixing of apples and oranges will surely grow even more complicated and unreliable as countries around the world massively increase their debt levels by spending to prop up economies…

Posted in Appears on main page, Biotech, Immediately available to public, Phil's Favorites | No Comments »
by clarisezoleta - July 2nd, 2020 5:01 pm
For LIVE access on Wednesday afternoons, join us at PSW!
Major Topics:
00:04:08 – Checking on the Market
00:04:38 – Futures Chart
00:08:05 – AMZN | WALMART
00:18:19 – TSLA
00:20:18 – TM | TSLA
00:30:33 – AAPL
00:31:35 – COVID-19 Update
00:36:16 – US Debt Clock
00:47:49 – STP
00:48:35 – LTP
00:49:35 – WMT | TSLA | TM
01:15:17 – T
01:27:04 – Coffee
01:32:47 – Top Coffee Producers
01:38:28 – Trading Techniques
Phil's Weekly Trading Webinars provide a great opportunity to learn what we do at PSW. For LIVE access to PSW's Weekly Webinars – demonstrating trading strategies in real time – join us at PSW!
You can also subscribe to our YouTube channel and view past webinars here.
Posted in Appears on main page, Immediately available to public, Phil's Favorites | No Comments »
by phil - July 2nd, 2020 8:25 am
50,000 new infections!
That's right, that's the 5th time in the past 7 days the US has hit new all-time single-day highs in infections. Over in Japan, six weeks after Tokyo lifted it's State of Emergency, they are back to their May highs in daily infections. At this point, I don't think there is much to do about it. Clearly humanity has no taste for the obvious way to control the disease and very clearly Americans don't. Maybe the "herd immunity" crowd was right – cows don't go into lockdown when a disease strikes – some die, some don't and the rest of the herd moves on…
I don't suppose a cow puts much thought into it's vulnerability or what will become of it's children and loved ones or how it's business will survive or how it's carelessness might affect his fellow cows - AND NEITHER DO AMERICANS APPARENTLY! Maybe we just eat to many cows and we are starting to think (or not think) like them? Texas eats a lot of meat and they had 8,000 new infections yesterday but Arizona, which has 1/4 of Texa's population, had 4,700 new cases – more than half, so about 5 times the infection rate of Texas.
From Japan and other countries that have had re-infections, it's very clear that bars are a major cause of the spread of the infection yet the bars are open in most states for what is usually a big drinking weekend as we bow to pressure from the Liquor Lobby to keep things flowing while completely ignoring the Rational For God's Sake Will Humanity at Least Try to Save Itself Lobby – as usual. As noted by David Leonhardt:
Government policy and economic forces have combined to make corporations and the wealthy more powerful, and most workers and their families less powerful. These workers receive a smaller share of society's resources than they once did and often have less control over their lives. Those lives are generally shorter and more likely to
…

Posted in Appears on main page | Join Member's Chat - 146 Comments Here »
by ilene - July 2nd, 2020 1:22 am
A summer of protest, unemployment and presidential politics – welcome to 1932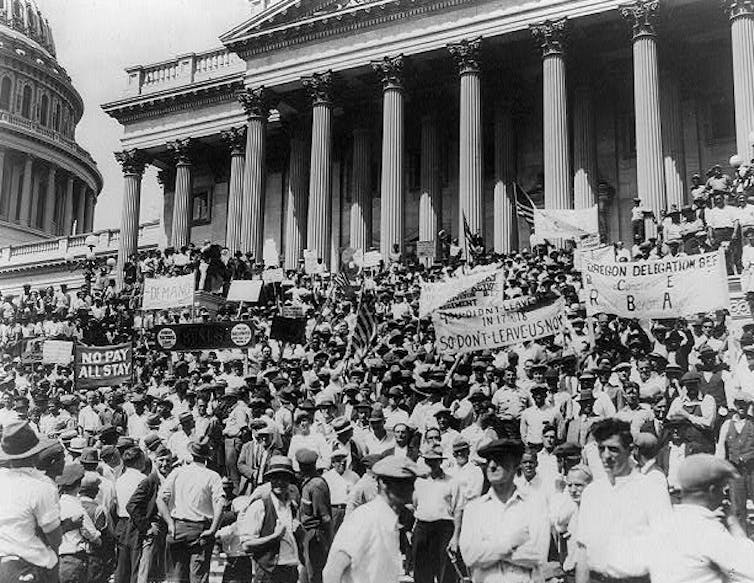 Courtesy of James N. Gregory, University of Washington
An election looms. An unpopular president wrestles with historic unemployment rates. Demonstrations erupt in hundreds of locations. The president deploys Army units to suppress peaceful protests in the nation's capital. And most of all he worries about an affable Democratic candidate who is running against him without saying much about a platform or plans.
Welcome to 1932.
I am a historian and director of the Mapping American Social Movements Project, which explores the history of social movements and their interaction with American electoral politics.
The parallels between the summer of 1932 and what is happening in the U.S. currently are striking. While the pandemic and much else is different, the political dynamics are similar enough that they are useful for anyone trying to understand where the U.S. is and where it is going.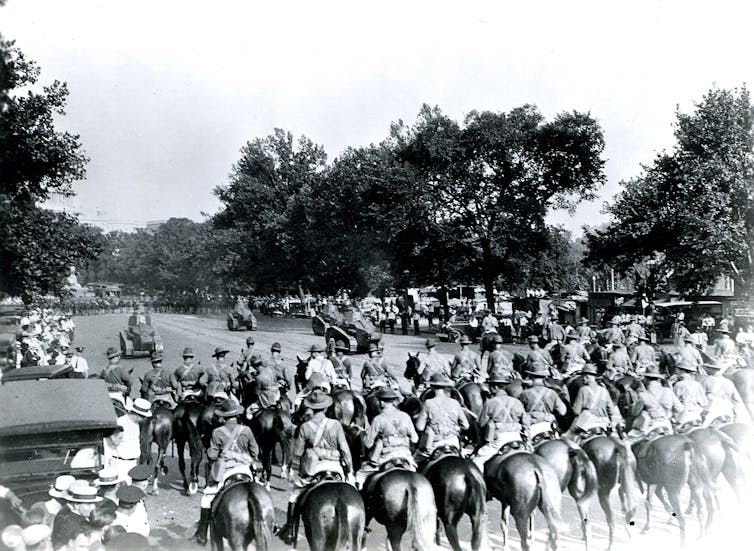 Multiracial street protest movement

In 1932, as in 2020, the nation experienced an explosion of civil unrest on the eve of a presidential election.
The Great Depression had deepened through three years by 1932. With 24% of the work force unemployed and the federal government refusing to provide funds to support the jobless and homeless as local governments ran out of money, men and women across the country joined demonstrations demanding relief.
Our mapping project has recorded 389 hunger marches, eviction fights and other protests in 138 cities during 1932.
Although less than the thousands of Black Lives Matter protests, there are similarities.
African Americans participated in these movements, and many of the protests attracted police violence. Indeed, the unemployed people's movement of the early 1930s…

Posted in Appears on main page, Immediately available to public, Phil's Favorites | No Comments »