by phil - May 17th, 2018 8:32 am
WTF?
The Russell 2,000 Index is often disconnected from the other indexes but lately it's become disconnected from the economic data, which has turned substantially lower in Q2 while the index has rocketed from 1,500 on April 1st to 1,620 yesterday – not quite 10% in not quite 2 months.
As you can see from Zero Hedge's chart, this is the widest disconnect between the Russell and the Economic Surprise Index (data better or worse than expected) since last October, when the Russell topped out at 1,520 and then corrected 50 points to 1,470 but it only stopped when the Data turned more positive. What's propelling the Russell to unreality this week is the suddenly strong Dollar, which is great for small cap companies who do the vast majority of their business locally, in US Dollars.
But the Dollar can't keep up this pace and, in fact, just yesterday, the Hong Kong Monetary Authority stepped in to put a floor on their currency's slide and we can expect the PBOC and other Central Banks to follow as the Dollar hits the 5% Rule™ at 93.45.
Given the 4.45 run from 89, we can expect a weak retrace of 20% of that run (0.89) so call it 0.9 and that takes us back to 92.55 and a stronger retrace would be 91.65 – so that's what we'll look for to see if the Central Bank Interventions are enough to stop people from running to the relative safety of the Dollar while the World is in turmoil (see yesteday's Morning Report).
Speaking of turmoil, team Putin Trump are hard at work destroying America's credibility around the World, first making demands that caused Kim Jong Un to re-think making a deal on nukes and then Treasury Secretary Steve Mnuchin and White Hose Economic Adviser Peter Navaro end up cursing each other out at the China Trade Talks with Mnuchin holding side meetings with Chinese officials that Navaro was not invited to. Just imagine negotiating with guys who act like that!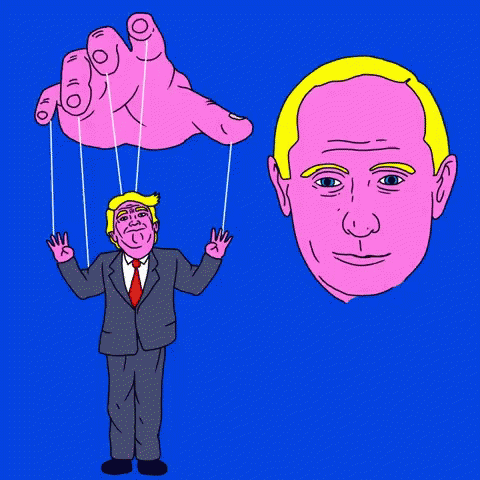 Meanwhile, Japan is fed up with us and is planning retaliatory trade strikes on the US while simulataneously…

Posted in Appears on main page, Immediately available to public | Join Member's Chat - 46 Comments Here »
by ilene - May 17th, 2018 12:30 am
Courtesy of Michael Batnick
Michael Steinhardt once said "Nothing gives a better feeling to a manager than making money for his or her investors when almost everyone else is losing." I'd imagine that there are few worse feelings for a money manager than not keeping up when everyone around you is winning.
The tech bubble is the modern day poster child for managers who couldn't keep up. From 1995-1999, the NASDAQ Composite gained 441%, or 40% compounded annually.
Stanley Druckenmiller is the owner of one of the most remarkable track records of all time. He is one of the few investors to clearly see and navigate the macro landscape. But during the late 90s, like so many others, he was infected with the fear of missing out.
In early 1999, Druckenmiller shorted $200 million worth of tech stocks in George Soros's Quantum Fund. He went short an inning too early, and was forced to cover a few months later after a $600 million loss. Through May, the fund was down 18%. Meanwhile, the NASDAQ Composite was up 15% and the S&P 500 was up 10%.
Druckenmiller once said, "The first thing I heard when I got in the business….was bulls make money, bears make money, and pigs get slaughtered. I'm here to tell you I was a pig. And I strongly believe the only way to make long-term returns in our business that are superior is by being a pig." So, practicing what he preaches, he went on a buying spree, and collected $6 billion of tech stocks over the next few months.
One of the high-flying stocks he bought was *VeriSign, which went on a spectacular run. From January 1999 through February, the stock gained 1575%, doubling every 72 days, on average. He first bought the stock at $50, then going for the jugular, doubled up at $240. The very next day, the stock peaked at $251…
…
And we know how that movie ended.
When asked about his experience, Druckenmiller said "I bought $6 billion worth of tech stocks, and in six weeks I had lost $3 billion in that one…

Posted in Appears on main page, Immediately available to public, Phil's Favorites | No Comments »
by phil - May 16th, 2018 8:23 am
I told you I like CASH!!!
In fact, I told you on Friday morning in our Report titled: "TGIF – Silly, Low-Volume, Pumped-Up Week Finally Ends", saying:
"Volume has been anemic this week too with, 55M SPY shares trading on Monday, 67M shares on Tuesday, 59M shares on Weds and 68M shares yesterday vs an average volume of 101M shares so about 35% below "normal" volume, which is already close to half of last year's volume. Why is volume drying up like this? Because stocks are more expensive so the same money buys less and less stock and, because the economy isn't really growing – there is no more money to pay for the stocks – just a lot of idiots SPECULATING that there will be money to pay these ridiculous prices one day, so it's not important to actually earn any money because the greater fool theory will fix everything.

"The greatest fools, of course, are the last people to buy at the top – we call them bag-holders and I have been saying all week that this test of our Strong Bounce Lines is a good time to dump your stocks on the bagholders that are coming in and get back to CASH!!!. Again, I can only tell you what is likely to happen and how to make money trading it – the rest is up to you!"
So far this week, the markets are down and the Dollar is up 1.5% and still cimbing this morning at 93.50, that's putting pressure on the indexes and commodities which makes people panic out of those and they then demand more CASH!!!, which drives up the price of Dollars (as they get scarce) and the cycle continues. People are also trying to trade in their dying TBills for cash – so even more demand for cash. Thank goodness housing is still dead or the Dollar would be back over 100!
We're thrilled to have a nice little pullback and we even bought a couple of stocks yesterday but, on the whole, we're even more thrilled to be mainly in CASH!!! during this period of market uncertainty. You…

Posted in Appears on main page, Immediately available to public | Join Member's Chat - 109 Comments Here »
by ilene - May 15th, 2018 3:45 pm
Courtesy of Joshua M Brown
Jim Chanos is the man, that I can tell you. Barry's new interview with the legendary money manager and short-seller has too many highlights for me to list individually.
Here's Barry:
This week, we speak with famed short seller Jim Chanos, founder and president of Kynikos Associates LP, the world's largest exclusive short-selling investment firm.

Chanos has identified — and sold short — many of the past 3 decades best-known corporate disasters. His celebrated short-sale of Enron shares was dubbed by Barron's as "the market call of the decade, if not the past 50 years." He also made bets against Baldwin-United, Commodore International, Coleco, Integrated Resources, Boston Chicken, Sunbeam, Conseco, Tyco International, and most recently, Valeant Pharmaceuticals.

He explains why he believes Elon Musk's first love is SpaceX, and that "Tesla is a zero."
Make sure you find some time for this asap.
Masters In Business: James Chanos (Bloomberg)
Picture from CNBC.
Posted in Appears on main page, Immediately available to public, Phil's Favorites | No Comments »
by phil - May 15th, 2018 8:23 am
The market is so predictable.
There's a ton of money to be made from predictable, so we're certainly not complaining. After a meaningless spike higher, the S&P calmed right down and finished right at our 2,782 line (2,730, actually) and this morning, as expected, the index is pulling back as the Dollar rises back to the top of it's range. Eventually, one of these will break out and the other will fall – but which one will prevail?
We had a good run on /ES, all the way from 2,600 (barely touched two weeks ago) back to 2,728 and a 28-point run means we're looking for a 5.6-point retrace back to 2,723 (weak) and 2,717 (strong) and, even as I write this (7:30), the Futures bounced off 2,723, failed 2,728 again and are now testing 2,723 again but I think they'll fail as the Dollar is at 92.87 and rising and that's up half a point so we'll look for 2,717 and see how that's doing. The Futures on the S&P (/ES) pay $50 per point so it's a quick $300 if that bet plays out and, of course, simply stop out over 2,723 to limit the risk.
The Dow is also having fun around it's own 20% line but, in this case, it's been unable to get over the line (25,200). 26,250 is the 25% line and that's 1,050 away but we'll call it 1,000 so we can call the bounce lines 200 points and that makes our up and down range from 25,200: 24,800, 25,000, 25,400 and 25,600 so we can chart that like this:
The Dow strayed down to the 200 dma at 23,750 so the run to 24,950 yesterday was 1,200 points and we'll call those rejection lines 250 points to 24,700 (weak) and 24,450 (strong) but that would take us back below the 20% line and that would be a big negative so very bad if 24,700 does not hold.
Exxon (XOM) and Chevron (CVX) have been boosting the Dow as oil and gasoline test new highs but what's great for them is not so good for the industrials that use oil and gas to produce goods but, fortunately, there are not too many…

Posted in Appears on main page, Immediately available to public | Join Member's Chat - 78 Comments Here »
by ilene - May 15th, 2018 2:27 am
Courtesy of Joshua M Brown
The thing very few people tell you about "overvalued" markets is that, occasionally, the fundamentals arrive to justify them. Later, of course, which is how risk takers are compensated for owning stocks selling at a higher than normal multiple. If there were no chance of this happening, then stocks would never reach these higher valuations to begin with, because no one would pay up for them.
But it can happen. It does happen. At the micro level (individual stocks and sectors), there are hundreds of recent examples one could rattle off. Amazon, Netflix, Nvidia – you could go back a decade and pretty much never find a moment where these stocks sold at what investors would traditionally call a "reasonable" valuation. Their stock prices soared and then soared again, thousands of percentage points, as the fundamental stories grew up to justify the valuations investors had already been paying.
Not every bet like this works out, but sometimes it does.
This also applies to entire markets. The critics of stock market valuations can't know what the future holds in terms of fundamentals. They can guess, and guess negatively if they'd like, but they can't know. It is unknowable. But sometimes the economic backdrop and corporate opportunity set becomes positive enough to justify expensive markets ex-post.
Michael Batnick and I were talking about this recently with regards to the S&P 500, which had made a new record high in the spring of 2013. It was easy to look at the rising valuation multiple and conclude that stocks were expensive relative to history on key metrics like trailing earnings. Mike pointed out that you were buying stocks at that moment, five years ago, at a cyclically adjusted price-earnings (CAPE) ratio that was higher than 87% of all readings for this measure throughout history. The stock market had only been that expensive during 13% of all months.
And then the S&P 500 went up 90%.
No one could have known that the fundamentals would arrive to back up the elevated valuations for stocks eventually. There was a possibility that they would, and a possibility they wouldn't. There's formula for calculating…

Posted in Appears on main page, Immediately available to public, Phil's Favorites | No Comments »