by ilene - January 27th, 2020 12:14 am
Courtesy of Michael Batnick
We've been hearing about the prospect of lower future returns for U.S. based investors for years now*. The thesis behind this is fairly straightforward; high recent returns coupled with high valuations in the stock market, and low interest rates in the bond market is not conducive to further above average returns.
Consider the following:
A U.S. only 60/40 portfolio has compounded at 10.5% over the last 10 years.
The CAPE ratio is at 30.9
The ten-year treasury is currently yielding 1.8%
The more you pay for an asset relative to its underlying fundamentals, the less you should expect to receive going forward. You can see this relationship in the chart below, which plots the inverted CAPE ratio on the left-axis, and forward 10-year returns on the right-axis.
But valuations don't matter over the short-term, sometimes matter over the medium-term, and usually matter over the long term. This is a long way of saying that valuations are a terrible timing tool, as we've learned over the last few years. We can see the relationship between higher valuations and lower returns in the chart below. Again, they matter, but no guarantees.
Future bond returns, unlike stocks, can be boiled down to a single variable, starting yield. The chart below shows the relationship between the starting yield of a ten-year bond and the future ten-year returns.
Below is a scatter plot that shows just how tight this relationship is. Starting yield tells you pretty much all you need to know about forward returns.
Okay, so we suspect that the above average returns we've been accustomed to won't continue forever. The obvious question is, what do we do with this information?
Here are a few ideas (not investment advice)
Go beyond the S&P 500. Value stocks have done well, despite lagging by nearly 2% per year, foreign stocks, both developed and emerging, have done bubkis, while commodities have done downright awful.
If you're worried about not just lower returns, but a potential market crash, realize that…

Posted in Appears on main page, Chart School, Immediately available to public, Phil's Favorites | No Comments »
by Zero Hedge - January 24th, 2020 11:05 pm
Courtesy of Iman Ghosh via VisualCapitalist.com
In 2018, trade accounted for 59% of global GDP, up nearly 1.5 times since 1980.
Over this timeframe, international trade has transformed significantly – not just in terms of volume and composition, but also in terms of the countries that the rest of the world leans on for their most important trade relationships.
Now, a critical shift is occurring in the landscape, and it may surprise you to learn that China has already usurped the U.S. as the world's most dominant trading partner.
Trading Places: A Global Shift

Today's animation comes from the Lowy Institute, and it pulls data from the International Monetary Fund (IMF) database on bilateral trade flows, to determine whether the U.S. or China is a bigger trading partner for each country from 1980 to 2018.
The results are stark: before 2000, the U.S. was at the helm of global trade, as over 80% of countries traded with the U.S. more than they did with China. By 2018, that number had dropped sharply to just 30%, as China swiftly took top position in 128 of 190 countries.
The researchers pinpoint China's 2001 entry into the World Trade Organization as a major turning point in China's international trade relationships. The dramatic shift that followed is clearly demonstrated in the visualization above—between 2005 and 2010, a number of countries tipped towards Chinese influence, especially in Africa and Asia.
Over time, China's dominance has grown dramatically. It's no wonder then, that China and the U.S. have a contentious trade relationship themselves, as both nations battle it out for first place.
A Tale of Two Economies

The United States and China are competitors in many ways, but to be successful they must rely on each other for mutually beneficial trade. However, it's also the major issue on which they are struggling to reach a common ground.
The U.S. has been vocal about negotiating more balanced trade agreements with China. In fact, a mid-2018 poll shows that 62% of Americans consider their trade relationship with China to be unfair.
Since 2018, both parties have faced a fraught relationship, imposing major tariffs on consumer and industrial goods—and
…

Posted in Appears on main page, Immediately available to public, Phil's Favorites | No Comments »
by Zero Hedge - January 24th, 2020 10:05 pm
Courtesy of Lance Roberts via RealInvestmentAdvice.com
It is easy to suggest the economy is booming when your net worth is in the hundreds of millions, if not billions, of dollars, or when your business, and your net worth, directly benefit from surging asset prices. This was the consensus from the annual gaggle of the ultra-rich, politicians, and media stars in Davos, Switzerland this past week.
As J.P. Morgan Chase CEO Jamie Dimon told CNBC on Wednesday the stock market is in a "Goldilocks place."
Of course, it is when your bank receives an annual dividend from the Federal Reserve's balance sheet expansion. This isn't the first time I have picked on Dimon's delusional view of the world. E.g.:
"This is the most prosperous economy the world has ever seen and it's going to be a very prosperous economy for the next 100 years. The consumer, which is 70% of the U.S. economy, is quite strong. Confidence is very high. Their balance sheets are in great shape. And you see that the strength of the American consumer is driving the American economy and the global economy. And while business slowed down, my current view is that, no, it just was a slowdown, not a petering out."

Jamie Dimon during a "60-Minutes" interview.
If you're in the top 1-2% of income earners, like Jamie, I am sure it feels that way.
For everyone else, not so much. Here are some stats via the WSJ:
"The median net worth of households in the middle 20% of income rose 4% in inflation-adjusted terms to $81,900 between 1989 and 2016, the latest available data. For households in the top 20%, median net worth more than doubled to $811,860. And for the top 1%, the increase was 178% to $11,206,000."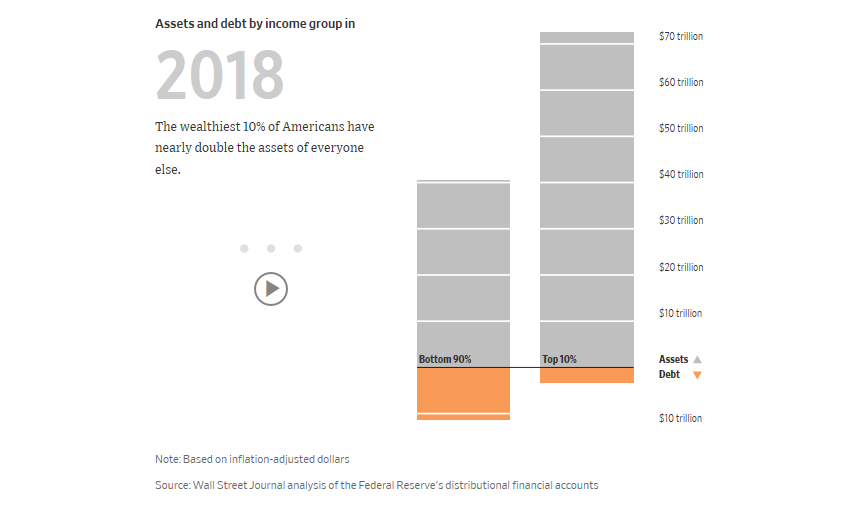 Put differently, the value of assets for all U.S. households increased from 1989 through 2016 by an inflation-adjusted $58 trillion. A full 33% of that gain—$19 trillion—went to the wealthiest 1%, according to a Journal analysis of Fed data.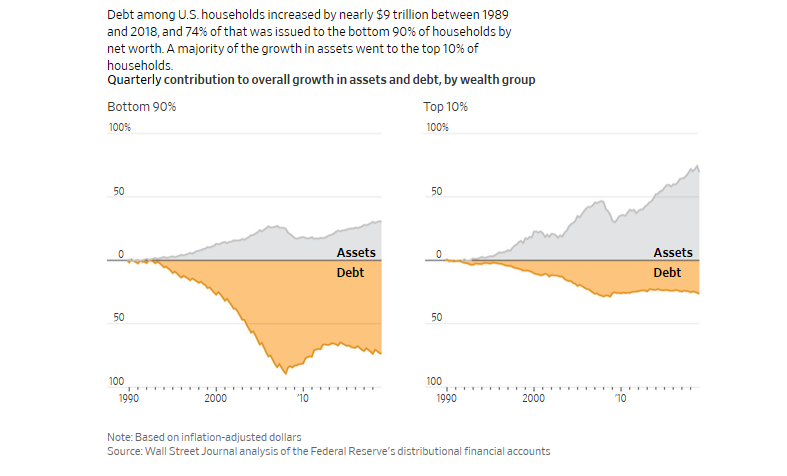 The problem that is missed is that the "stock market" is NOT the "economy."
This
…

Posted in Appears on main page, Immediately available to public, Phil's Favorites | No Comments »
by ilene - January 24th, 2020 7:00 pm
'Slow-minded and bewildered': Donald Trump builds barriers to peace and prosperity

Courtesy of John Hawkins, University of Canberra
The US president "had no plan, no scheme, no constructive ideas whatever", according to one of the world's most influential economists.
He was "in many respects, perhaps inevitably, ill-informed". He was "slow-minded and bewildered", and failed to remedy these defects by seeking advice. He gathered around him businessmen, "inexperienced in public affairs" and "only called in irregularly".
This assessment was written a century ago, in 1919, by the up-and-coming economist John Maynard Keynes.
The president was Woodrow Wilson, whom Keynes criticised for his inability to influence Europe's post-first world war settlement in a way more likely to lead to peace and prosperity.
A century later the United States has another president out of his depth in global affairs. Wilson, at least, was a "generously intentioned" man. What would Keynes make of Donald Trump, whose policies are driven by a sense of entitlement and fear of being played for a sucker?
This week, at the World Economic Forum in Davos, Trump flagged new fronts in his dangerous campaign of economic nationalism. He reaffirmed his intention to reshape the World Trade Organization, which he said been "very unfair to the United States for many, many years".
He fretted about the "tremendous advantages" given to China and India. He threatened tariffs on European cars if the European Union didn't agree to a "fair" free-trade deal.
The barrier-besotted president is pretty much everything Keynes warned against as ruinous to the prospects of a lasting peace.
A tale of two presidents

Keynes had observed Wilson at the talks in Paris to conclude the Treaty of Versailles, which set out the detail of terms and conditions following Germany's surrender (on November 11 1918) to end the war.
Wilson had proposed 14 points for a "just and stable peace" but proved completely ineffectual at the talks. The result was a treaty with terms so punitive for Germany they arguably created the conditions for Adolf Hitler to come to power, and thus led to the second world war.
Keynes's disquiet with the treaty led him to write…

Posted in Appears on main page, Immediately available to public, Phil's Favorites | No Comments »
by phil - January 24th, 2020 8:35 am
We're in danger of having a down week.
We opened on Monday at 3,321 on the S&P 500 and we closed last night at 3,325 so it won't take much for us to dip under and close the week in the red. As you can see from the chart, if not for that silly gap up into Wednesday's open (which we shorted!), it's doubtful we'd be even close to green now.
Speaking of shorting, our current position is 2 short Nasdaq (/NQ) contracts at an average entry of 9,271.50 and I'd be more likely to add to them if they go higher than stop out ahead of the weekend with China now "locking down" 40M of their citizens (only 2.5%) with travel restrictions on 10 cities as cases have now spread to 32 of China's 34 provinces. The markets got a boost yesterday when the WHO decided NOT to declare a Global Emergency (yet) but that's only because the virus has, so far, been fairly contained to China – for now, I'd rather be safe than sorry with our hedges (see yesterday morning's PSW Report).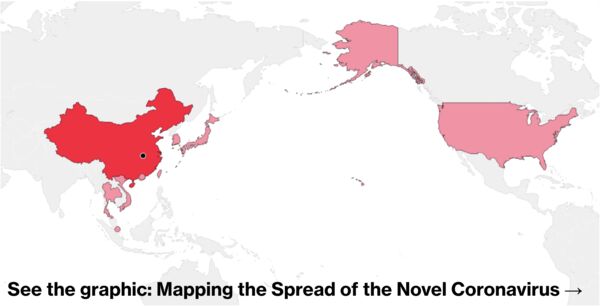 As noted by Bloomberg: The turmoil comes as the virus stymies efforts to track infected patients. While the death toll continues to rise — and now includes someone as young as 36 — some infected patients aren't showing a fever, a symptom governments around the world have been using to screen for the pathogen. Even Disneyland in Shanghai is closing down so it might be time to short Booking (BKNG) again – though we already missed a 5% drop.
I'm not a doom and gloom kind of person but, to put it in perspective, in a usual year, about 30M people around the World get the flu and 60,000 people die (0.2%), mostly people who are old and sick in the first place (not that that makes it better but it's understandable). So far, out of 830 confirmed cases, 26 people are already dead (3%) but, more alarmingly, over 100 people are in critical care units in hospitals – and some of them are young people.
It's the way the Governments are scrambling…

Posted in Appears on main page, Immediately available to public | Join Member's Chat - 150 Comments Here »
by clarisezoleta - January 23rd, 2020 3:04 pm
For LIVE access on Wednesday afternoons, join us at Phil's Stock World – click here.
Major Topics:
00:02:27 – Recap of last week's Trade Deal
00:03:10 – Money Talk Portfolio
00:03:59 – IMAX
00:27:28 – TOT
00:39:40 – Trade Techniques
00:40:45 – Money Talk Portfolio
00:41:37 – Butterfly Portfolio
00:42:37 – GOLD
00:44:46 – Dividend Portfolio
00:56:30 – Futures | More trading techniques
01:01:37 – TSLA
01:10:18 – FCEL
01:18:23 – AAPL | 5G
01:43:03-JP Morgan Profitable Trading Days
01:44:47 – More trading techniques
01:51:28 – Natural Gas
01:52:00 – Earnings Portfolio
01:52:05 – Hemp Boca Portfolio
01:52:10 – STP
01:57:29 – NLY
Phil's Weekly Trading Webinars provide a great opportunity to learn what we do at PSW. Subscribe to our YouTube channel and view past webinars here. For LIVE access to PSW's Weekly Webinars – demonstrating trading strategies in real time – click here to join us at PSW!
Posted in Appears on main page, Immediately available to public, Phil's Favorites | No Comments »