by ilene - May 15th, 2021 2:18 am
Apple threatens to upend podcasting's free, open architecture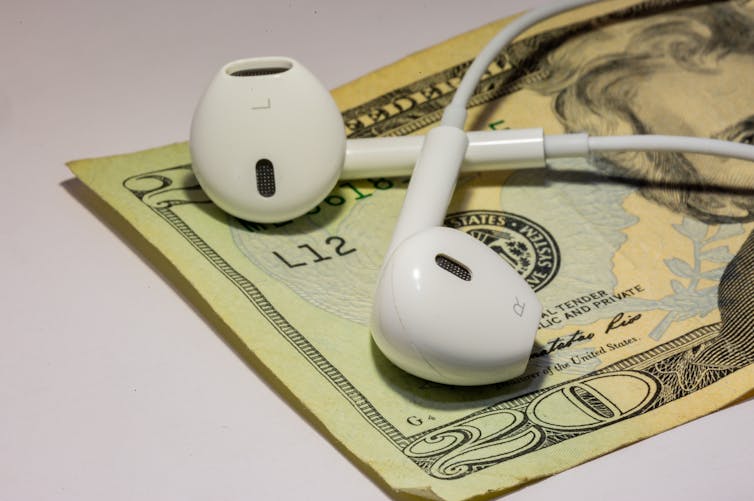 Courtesy of John Sullivan, Muhlenberg College; Kim Fox, American University in Cairo, and Richard Berry, University of Sunderland
Back in 2005, an ebullient Apple CEO Steven P. Jobs announced the integration of podcasting into Version 4.9 of its desktop iTunes software, calling podcasting "TiVo for radio."
Sixteen years later, during its April 20, 2021, "Spring Loaded" event, Apple has once again signaled a long-term corporate commitment to podcasting. But this time, instead of introducing listeners to the medium, Apple is creating the technical infrastructure for paid subscriptions through its Apple Podcasts service.
Creators will now have the option to require a payment for audiences to access their content on Apple's platform, with Apple taking a 30% cut of the revenue.
Paid subscriptions aren't new. But as scholars who study the podcasting industry, we believe the integration of paid subscriptions into podcasting's most powerful platforms could reshape the medium in significant ways.
Millions introduced to podcasting

In 2005, Apple brought podcasting into the mainstream by making the medium visible and instantly available. Transforming iTunes into a sophisticated podcatcher – software that allows users to locate and download audio files – made it easy for users to access podcast shows. It did this by allowing users to easily find and add podcast RSS feeds, which give people the opportunity to automatically access new episodes as they're released.
Once it began installing the now-iconic purple Apple Podcasts app by default on iPhones in late 2014, many listeners discovered podcasting for the first time, leading to major audience growth. Currently there is a proliferation of podcast apps to discover and listen to podcasts; most of them can be used at no cost to the consumer.
To this day, Apple has by far the largest podcast directory, which serves both as a gateway to tens of thousands of new podcasts and as an archive of the medium's history by storing the RSS feeds of shows no longer…

Posted in Appears on main page, Immediately available to public, Phil's Favorites | No Comments »
by phil - May 14th, 2021 8:40 am
Aren't you glad we added hedges last week?
We did a review of our Short-Term Portfolio last week and our timing was excellent as this has been a rough week for the markets but we were able to relax as our STP bumped up from $245,485 to $281,128 as of yesterday's close, gaining $35,643 (14.5%) for the week. Meanwhile, our Long-Term Portfolio (LTP) positions, which the STP is designed to protect, are down $79,067 (4%) since our April 16th review, so our STP is mitigating about 1/2 of the damages – as it's designed to. Of course the STP kicks in a bit harder between a 10-20% drop but no real signs of that so far as we're bouncing nicely this week after a 7% drop in the Nasdaq (more on that later).
Let's take a look at where we stand now in our STP:
XRT – We went from 20 to 70 last week and caught a nice downturn and a lot of retail earnings are coming out next week – so we'll leave these for now – even though we should take 1/2 off the table now that we're even(ish).
SCO – During the week we doubled down on the long calls as oil got expensive ($66.50), taking advantage of the lower price on the calls. We also shorted Oil Futures (

/CL

) in our Live Trading Webinar and we bottomed out at $63.50 – up $3,000 per contract – that's another way we can enhance our returns while we wait for these longer options to play out. At net $13,000, this is a $30,000 spread if oil is under $60 in January and half of our gains are uncapped – so I still like this spread but we do expect oil near $70 in the summer – so it's going to be a rough ride. Rembmer, these are hedges – if the economy collapses, oil goes down and we win. If the economy stays hot – we still think $60 is too much for oil – that's what makes it a good hedge.
…

Posted in Appears on main page | Join Member's Chat - 53 Comments Here »
by clarisezoleta - May 14th, 2021 2:19 am
For LIVE access on Wednesday afternoons, join us at PSW!
The PhilStockWorld com LIVE Weekly Webinar 05-12-2021

Major Topics:
00:00:10 – Checking on the Market
00:01:57 – NASDAQ
00:13:34 – Lumber Futures | Softs Futures
00:15:31 – HG
00:27:50 – Crude Oil WTI
00:31:38 – Employers Facing Staff Shortages
00:46:59 – Lumber
00:52:33 – PHM | HOV | KBH
00:55:31 – Trading Techniques
00:59:50 – Indices
01:00:59 – Portfolios
01:01:56 – Current News
01:08:35 – STP
01:09:11 – LTP | INTC
01:11:02 – INTC Chart
01:12:33 – Low Volume Trades
01:14:40 – CMG
01:24:23 – W
01:26:54 – More Trading Techniques
Phil's Weekly Trading Webinars provide a great opportunity to learn what we do at PSW. For LIVE access to PSW's Weekly Webinars – demonstrating trading strategies in real-time – join us at PSW!
Subscribe to our YouTube channel and view our past weekly webinars here.
For LIVE access on Wednesday afternoons, join us at PSW!
Posted in Appears on main page, Immediately available to public, Phil's Favorites | No Comments »
by ilene - May 14th, 2021 1:54 am
Why the inflation rate doesn't tell the whole story – all it takes is a spike in a category like used cars to cause consumer prices to soar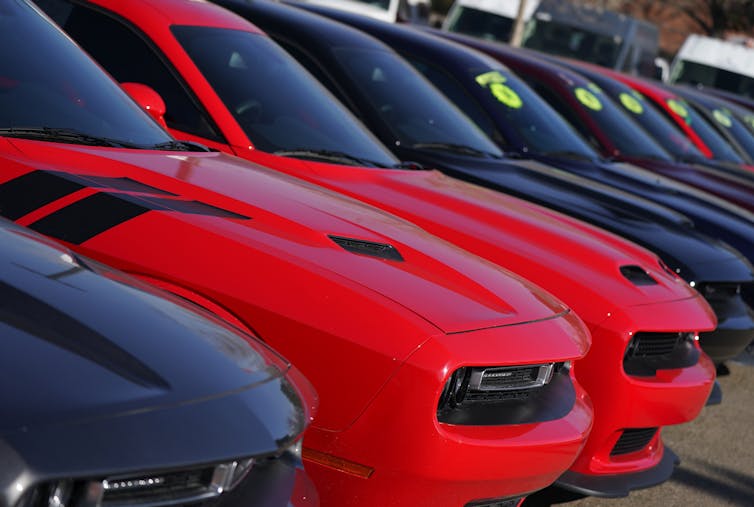 Courtesy of Richard S. Warr, North Carolina State University
Markets, economists and policymakers have been fretting about inflation for months, worried that the trillions of dollars being spent in recent and future government stimulus programs could overheat the economy and send prices soaring.
On May 12, 2021, the worrywarts seemed to have their fears confirmed when the April consumer price index shot up a seasonally adjusted 0.8%, the biggest jump since 2008. The year-over-year inflation rate of 4.2% is double what the Federal Reserve has set as its target.
Should consumers be concerned?
As a finance expert, I believe the answer to this question lies in a closer look at what actually goes into the main way the U.S. measures inflation.
What is inflation?

Inflation is defined as the change in the price of everything from a rib-eye steak and a bar of Ivory soap to an eye exam or tank of gas.
In the U.S., the most commonly used measure of inflation is based on the consumer price index. Simply put, the index is the average price of a basket of goods and services that households typically purchase. It's often used to determine pay raises or to adjust benefits for retirees. The year-over-year change is what we call the inflation rate.
Since this is an average across a range of categories, the main number masks lots of key details and big month-to-month swings in various goods and services. For example, airline fares jumped a seasonally adjusted 10% in April – partly recovering from their pandemic plunge – while shelf-stable fish and seafood declined 3.5%.
Food and energy prices in particular can be very volatile, and, for that reason, policymakers often focus on what is known as "core inflation," which excludes those numbers.
A moderate amount of inflation is generally…

Posted in Appears on main page, Immediately available to public, Phil's Favorites | No Comments »
by phil - May 13th, 2021 8:33 am
"Transitory" Inflation is still here – month 5.
While the Fed tries to convince us it won't last, inflation is soaring higher and higher and bonds are dropping as that market doesn't believe a word the Fed is saying – especially after yesterday's decade-high 0.8% jump in Consumer Prices – double the projections by the usual crew of leading Economorons. How long inflation readings persist on the high side has implications for when the Fed decides to start withdrawing monetary stimulus by paring back bond-buying and raising interest rates from near zero.
"Transient does not mean one month. As supply shortages run up against aftershocks from fiscal stimulus, and the base for comparison remains low, the CPI will continue to run hot into the summer. The impact of the Colonial pipeline shutdown on fuel prices will also have to be monitored closely." — Andrew Husby and Yelena Shulyatyeva, U.S. economists
"Transitory pandemic influences clearly contributed to the surprise but there's residual firmness in core inflation that's hard to ignore," said Michael Gapen, chief U.S. economist at Barclays Plc. Aside from the reopening effect, "there was still some residual firmness that suggests risks around inflation in the near term are still skewed to the upside." Wages have shown signs of picking up, and supply chain challenges have elongated delivery times and driven materials prices higher.
Tranportation Services have not jumped 5.8% since 1975, when the Fed Funds Rate was at 7%. More Federal Spending means more inflation, not even Powell can pretend that it doesn't and Biden still has proposals to spend $4Tn more on Infrastructure along with the Fed's ongoing $2Tn giveaway program and, of course, 0% borrowing rates. If either the stimulus bill is dropped or the Fed allows rates to rise to contain inflation – the blowback on the market could be tremendous.
It's not just the $28Tn National Debt we need to be concerned about but the $10.5Tn of Corporate debt that is 100% higher than the last time the market crashed – as companies have been on a low-rate binge ever since. And what is the main thing corporations spend all that borrowed money on? Buying back their own stocks to make their static earnings look like they are making more…

Posted in Appears on main page | Join Member's Chat - 59 Comments Here »
by ilene - May 13th, 2021 2:22 am
Courtesy of Joshua M Brown
We don't have the same economy as we had in the 1970's. Thinking about inflation through the lens of the 70's is incorrect. We have an economy built around intangibles and consumer spending, not metals, mining, heavy industry and manufacturing. Technology will remain a disinflationary force, perhaps the most important force in the economy.
Please listen to this very important explanation for why inflation will indeed be transitory from Viktor Shvets, a Managing Director at Macquarie, on the Odd Lots podcast with my friends Tracy and Joe. I am telling you that this is must-listen…
Posted in Appears on main page, Immediately available to public, Phil's Favorites | No Comments »