by phil - July 23rd, 2021 7:27 am
Here we are again.
It's been quite a run for the Nasdaq – up 50% since last July and it only took $8Tn (40% of our GDP) in stimulus spending to get there. 9,736 was our pre-Covid high so all this hoopla is over and above where we were. In fact, in 2019, the Nasdaq was generally at 7,500, so we're up 100% in two years – yay!
The current PE for the Nasdaq is 38.37 times earnings. The S&P 500 is at 36.6 so just as crazy and the P/E for the Russell 2,000 has now broken the meter at the Wall Street Journal – having passed 100 times earnings. Of course everyone ESTIMATES they will do better in the next 12 months and the last 12 momths were pretty bad but even the forward estimates of the Nasdaq peg them at 27.43 times forward earnings while the Russell is at 33.81 times earnings.
That's a very long time to wait for payback on your investment. In December, 2018, the PE ratio of the Nasdaq was 20.34 so going from 7,500 to 15,000 over the past 2 years has NOTHING to do with earnings growth and everything to do with price inflation. You are simply paying twice as much money for each Dollar of earnings. That is Fundamentally unsound as it's very unlikely to continue over the long-run but, in the short run – anything can happen.
Corrections can come hard and fast when the market is in a bubble so please be aware that this is NOT normal – even as "not normal" continues to be the norm. We are back to Dot Com and 2008-high levels of valuation and, if you remember, people were partying until the very last minute then as well. I have to call the Nasdaq a good short here on the /NQ Futures. Below the 15,000 line with tight stops above would be the way to play.
In our Short-Term Portfolio, which we reviewed last week, we're going to take advantage of this Nasdaq high to roll our 200 SQQQ Jan $10
…

Posted in Appears on main page | Join Member's Chat - 47 Comments Here »
by clarisezoleta - July 22nd, 2021 10:00 am
PSW's LIVE Weekly Webinar 07-21-2021

Major Topics:
00:00:04 – EIA Report
00:02:22 – Crude Oil WTI
00:03:50 – VLO
00:06:07 – Crude Oil WTI
00:08:31 – EIA Report | OPEC Oil Production Chart
00:21:48 – LTP: TTE
00:26:12 – Trading Techniques
00:33:12 – Bargain Hunting
00:55:01 – VTRS
01:03:36 – ATH | APO
01:09:51 – WBA
01:20:31 – VIAC
01:26:58 – LTP
01:27:09 – STP
01:27:52 – CMG
Phil's Weekly Trading Webinars provide a great opportunity to see what we do at PSW. For LIVE access to all our webinars, join us at PSW!
Subscribe to our YouTube channel and view our past weekly webinars here.
Posted in Appears on main page, Immediately available to public, Phil's Favorites | No Comments »
by phil - July 22nd, 2021 8:34 am
I don't know what people think is going to happen?
The Fed meets next week and they certainly aren't going to LOWER rates, are they? According to Powell and others, they are in no hurry to raise them but, as you can see from this chart, inflation is rising about twice as fast as wages so our workers are falling further and further behind in buying power. This effect is, however, masked by stimulus checks that boost spending power – that's the key to our "great" economy this year.
Labor supply shortages are still evident across all sorts of industries. The latest survey of manufacturers from the Institute for Supply Management cites complaints from makers of furniture, chemical products, machinery and electrical products about the difficulties of fulfilling demand and that hurts growth and growth is what the economy is all about, right?
Rents are starting to rise sharply, according to a range of data sources. And businesses facing higher prices for Supplies and Labor may be in the early stages yet of passing on those higher costs to consumers. The Producer Price Index, which tracks the costs of the supplies and services that companies buy, rose 1% in June, an acceleration from April and May. This is a signal that inflationary forces may still be working their way through the economy.
It is supposed to be the Fed's job to prevent prices from going up more than 2% by raising rates but, with inflation up 4% in the first 6 months of the year, the Fed is too busy lying to us about how strong (but weak) the economy is, which gives them the excuse to keep printing up $120Bn per month and distributing it to their Bankster Buddies (keep in mind the Fed is not a Government body but a banking cartel that is blessed by the Government – after many contributions from Banksters).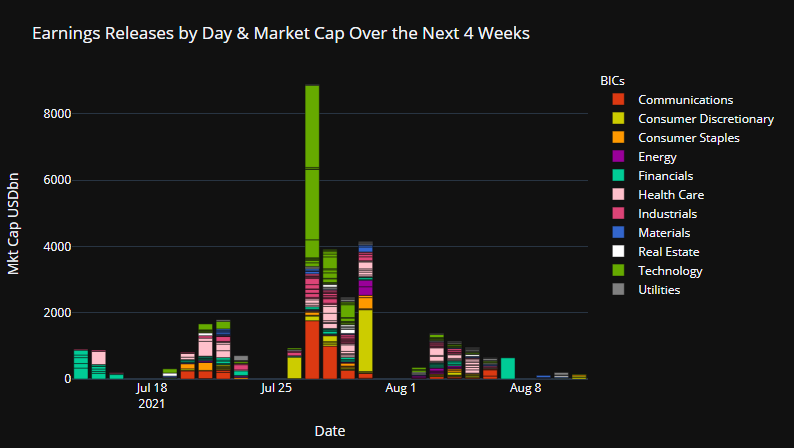 Meanwhile, all this free money is keeping earnings afloat for most companies (so far) but next week will be telling as the bulk of the S&P 500 will be reporting. So far, earnings have generally beaten fairly low expectations as few companies are matching their 2019 performance but that doesn't matter as they only compare…

Posted in Appears on main page, Immediately available to public | Join Member's Chat - 38 Comments Here »
by ilene - July 21st, 2021 10:15 pm
Courtesy of Ben Thompson, Stratechery
[Originally published June 8, 2021]
Apple acquired Dark Sky, the popular weather app and weather API provider, in March of 2020; the Android version was shut down in July, and the API in December. The real storm, though, arrived in yesterday's WWDC keynote, when Senior Vice President of Software Engineering Craig Federighi spent 49 seconds previewing iOS 15's new weather app, filled with new features and wrapped in a gorgeous interface featuring real-time weather elements like accumulating snow and bouncing raindrops.
What made these 49 seconds notable is that they came at a developer conference, and yet Apple's acquisition of Dark Sky and iOS 15's new weather app are quite clearly focused on obviating 3rd-party weather apps built by the developers WWDC is theoretically for. This isn't a complete surprise — the public WWDC keynote is focused on consumers, while the afternoon Platforms State of the Union is for developers — but the new Weather App was only the most extreme example of Apple deciding what part of the iPhone user experience was theirs, and what was left for developers.
The Dark Side of Weather Apps

There is another way of thinking about Apple's new Weather app; in 2019, a year before the Dark Sky acquisition, the city of Los Angeles sued the IBM-owned Weather Company for collecting and selling location information from its popular Weather Channel app; the company eventually settled with an agreement to better disclose that it was leveraging user location data for more than delivering weather reports.
The problem for users is that it is not as if they could turn location data off: unless a user wanted to manually enter their location every time they used a weather app the app would be fairly useless for its intended function — displaying the weather wherever the user was. The challenge for weather app makers, though, is that weather information is a commodity that costs money: app makers had to pay for the data, but that data was open to anyone willing to pay. The result was a race to the bottom, with user privacy as the casualty: AccuWeather was shown…

Posted in Appears on main page, Immediately available to public, Phil's Favorites | No Comments »
by ilene - July 21st, 2021 7:57 pm
Billionaire space race: the ultimate symbol of capitalism's flawed obsession with growth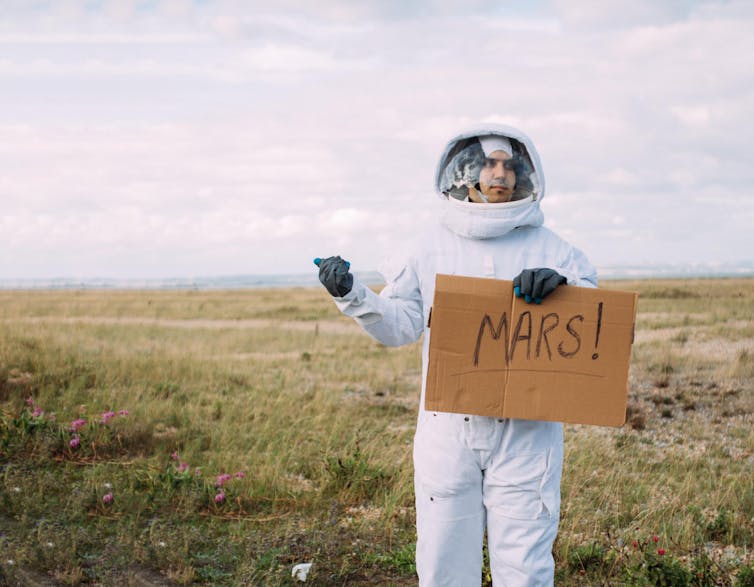 Courtesy of Tim Jackson, University of Surrey
Mars ain't the kind of place to raise your kids, laments the Rocket Man in Elton John's timeless classic. In fact, it's cold as hell. But that doesn't seem to worry a new generation of space entrepreneurs intent on colonising the "final frontier" as fast as possible.
Don't get me wrong. I'm no sullen technophobe. As lockdown projects go, Nasa's landing of the Perseverance rover on the surface of the red planet earlier this year was a hell of a blast. Watching it reminded me that I once led a high school debate defending the motion: this house believes that humanity should reach for the stars.
It must have been around the time that Caspar Weinberger was trying to persuade President Nixon not to cancel the Apollo space programme. My brothers and I had watched the monochrome triumph of the Apollo 11 landing avidly in 1969. We'd witnessed the near disaster of Apollo 13 – immortalised in a 1995 Hollywood film – when Jim Lovell (played by Tom Hanks) and two rookie astronauts narrowly escaped with their lives by using the Lunar Module as an emergency life raft. We knew it was exciting up there.
I remember later going to see Apollo 13 (the film) with a friend who wasn't born when the mission itself took place. "What did you think?" I asked as we came out of the cinema. "It was OK," said my friend. "Just not very believable."
But we kids were glued to our black-and-white TV sets the entire week of the original mission. We watched in horror as CO? levels rose in the Lunar Module. We endured the endless blackout as the returning astronauts plunged perilously back to Earth. We held our breath with the rest of the world as the expected four minutes stretched to five and hope began to fade. It was a full six minutes before the camera finally came into focus on the command module's parachutes – safely deployed above the Pacific…

Posted in Appears on main page, Immediately available to public, Phil's Favorites | No Comments »
by phil - July 21st, 2021 8:34 am
Amazing!
Nothing seems to stop this market for more than a moment. We flew right back to the strong bounce line (see yesterday's Report) at 4,292 and went all the way to 4,340 before pulling back to 4,322 this morning. That is a very strong market and, as I said to our Members, the only caveat is that the volume is much lower (99M) on the way up than it has been on the way down (223M) in the past few days. That means the recovery has, so far, left us weaker than we were when it started – with less actual dollars supporting the prices that failed to be supported before.
That's OK, though, stocks don't actually need INVESTORS to go up in price. Do you think people bought $500Bn worth of AAPL stock since June 1st? Of course not! AAPL trades an average of 84.5M $146.15 shares per day (and it was $122 at the start) so that's $12.3Bn/day and 30 days would be $370Bn so EVEN IF EVERY SINGLE TRADE ON AAPL was just a buyer and not a single seller (not possible) – we'd still be 30% short of the money we need to account for the gain in valuation over the last 45 days.
That is because the stock market is a very distorted pricing mechanism that values the entire company based on the last price paid for a share. Clearly that is idiotic and my favorite example is this.
Let's say you have a town with 100 potential drivers who make an average of $50,000 a year and can afford, generally, to buy a $25,000 car and they ALL want Beetles. That's good news for the VW dealer, who has 100 Beetles on his lot that he bought from the factory for $20,000 ($2M). Unfortunately, they all have cars now so he has to wait for people to decide they want new ones.

So he sells 5 cars the first week at $25,000 and makes $5,000 per car, which is a $25,000 profit. He can anticipate that his STOCK of Beetles is worth $25,000 per car
…

Posted in Appears on main page | Join Member's Chat - 15 Comments Here »