Posts Tagged 'BXP'
by phil - August 8th, 2011 6:23 am
Wheeeeeeee, this is fun!
There's nothing like an active virtual portfolio to get you through a rough market. The last update to our very aggressive virtual porfolio was on the July 28th, when I said to Members "On the whole, we're pretty short so we'll be either adding longs or cashing in shorts tomorrow to get a little more even into the weekend but still bearish if there's no debt deal." There was, of course, no debt deal that week and the next morning I said in our Member Alert:
Volume is not very high – this is a retail panic so far. If you have short positions, strongly consider put tight stops on them (this includes the $25KP and Income Virtual Portfolio) as they put plenty of cash in your pocket and we can always find another layer of shorts if the RUT can't hold 775.
Needless to say, the RUT failed (10% ago!) and we stayed generally bearish. At the time we "only" had $57,760 of virtual cash (after starting with just $25,000!) with $960 worth of unrealized losses in our remaining, mostly bearish positions. How do you think that worked out? That's right, possibly our biggest gains of the year! In the last two weeks, we closed the following positions as the markets collapsed around us:
10 USO 8/5 $36 calls at $1.35, out at $2.35 – up $1,000
…

by phil - July 9th, 2011 6:39 am
Here we go again!
After a very wild ride tracking our VERY aggressive virtual portfolio, we closed out the first half with $53,942 – up 115% for the first half of the year and, since we put $11,630 back in the bank above $25,000 from last year's $10,000 virtual portfolio, that brings us to a grand total of $65,722 – up 555% from the $10K we started with last year. Our goal in this small, aggressive virtual portfolio is $100K but forget the extra $15,722 – as I said last week, that's our starting basis with a nice profit so we put that back into nice, safe, conservative investments (like our Income Virtual Portfolio) and that leaves us $50,000 to play with.
Our first week of trades has already been very interesting. Make sure you to read the original post and the update if you haven't already to get an idea of what we are trying to learn by following this "hyper-aggressive" virtual portfolio model – especially last quarter's lesson on taking those profits off the table and working on those losers. Our "biggest loser" of last quarter was, of course, FAS and those Aug $23 calls hit $5 last week (we are already out), which is $40,000! Anytime you can roll and DD a position in a $25,000 virtual portfolio that eventually cashes out for $40,000 – you will probably come out well…
The problem is mainly in learning how to stick with a position like that and that requires a lot of conviction because there were dozens of opportunities to panic out with a loss and that's why we practice this kind of trading – you need to get the experience in playing these out over time so that you can learn to BELIEVE in the strategy and, even then, it should only be used in places where you REALLY have a very good reason to believe a stock or ETF will, eventually, come back sharply enough to make all the work pay off – because it's a LOT of work!
Of course, no one makes 100% every six months by taking it easy, right? Practice, practice, practice with virtual trading until you get comfortable with the strategies and, even then, use them sparingly. This aggressive virtual portfolio is meant to be a…

by phil - July 30th, 2010 8:25 am
Everyone is down on the GDP all of a sudden.
As I related Wednesday - the GDP, like the Beige Book report (which we expected to be poor) is made up of many factors like Trade Balance (same), Government Spending (up due to census), Personal Consumption (earnings reports indicate up), Residential Investment (HD and LOW indicate up), Corporate Earnings (way up),etc. The biggest etcetera is Inventories and they are a major wildcard. As near as I can tell, April was a very enthusiastic month and we began May with the "flash crash" but that was shaken off so I have no reason to think orders didn't continue to outpace inventory through mid-may at least.
We did, as we discussed, get the best Beige Book in 2 years in early June so I've gotta go with expecting two months of inventory builds that trail off sharply as merchandise went unsold in early June as the market collapsed and even the top 10% stopped shopping for a couple of days. Still, it seems to me that that was too late in the month to knock GDP below 2.7% and I think we still have an excellent shot at 3%.
We'll find out shortly but Asia didn't wait and had a pity party this morning with the Nikkei giving up all of the week's gains, back at 9,537 so I'm still loving EWJ if we head higer but, if not, look for the Dow to begin filling that gap! The Hang Seng was choppy but held 21,000 and the Shanghai can afford to take a break at 2,637. India continues to be our top global concern as the Bombay Sensex continues to move to test the rising 50 dma as they fall to 17,868 and it looks like they'll meet up next week in the 17,600s and that will be a very critical test.
Samsung knocked the ball out of the park with an 83% jump to record profits on amazingly strong memory chip sales. We can probably thank 64-Gig Smartphones and IPads for much of that gain but, holy cow! Net income climbed to 4,280,000,000,000 – too bad that was Won ($3.6Bn) but not bad considering our own chip giant, INTC, only hit $2.4Bn last Q. Despite lower chip prices, revenue was up 17% and I've already mentioned that Samsung has pledged $20Bn to become the World's #1 solar power provider so you've gotta love these guys…

by phil - October 3rd, 2009 8:27 am
Wow. what a fantastic week!
Well, not for the markets but for us as we totally nailed it. It's hard to believe that it was just two weeks ago, on Monday, the 21st, after I posted the "Wrong Way Weekly Wrap-Up" as the Dow rose from 9,600 to 9,800, that I had to apologize to members, saying: "I'm sorry because I don't like being bearish – I'm an optimistic guy usually but I can't just sit here and tell people what they want to hear. It's just too irresponsible not to be cautious here. We make plenty of bullish picks but I maintain a very wary outlook until we get some real fundamental improvements."
That's the funny thing about fundamentals, they don't matter until they do – and then they matter a lot. It's funny how I get labeled a perma bear when I'm shorting the market at the top and a perma bull when I'm buying the maket at the bottom. Gee, I always thought that's what you're supposed to do but it turns out that few people have the patience to work a market trading range and I don't blame them, I blame the mainstream media, who encourage this destructive herd mentality to investing that culminates in Jim Cramer and his sound-board, where all the complexities of the market are supposed to boil down to either BUYBUYBUY or SELLSELLSELL.
It makes me seem downright wishy-washy when I said to members on the 21st: "I don't have all the answers, but I do have a lot of questions – too many to get comfortable buying at these levels." On the whole, as I explained in detail way back in late July, I am neither bullish nor bearish, I am Rangeish. Yes, it's a made-up word and I have to make it up because no other analysts these days seem to believe the market can go up AND down, everyone seems compelled to stick to one or the other AND THEY DO IT TO THE DETRIMENT OF THEIR READERS – I WILL NOT DO IT!
There are strong stocks and there are weak stocks and I can't believe I even have to write this out but the best strategy is to short weak stocks and ETFs that have gone too high and buy strong stocks and ETFs that have gone too low. As I explained in my LiveStock appearance back on March 6th (when I was called a "perma-bull" for…

by phil - October 2nd, 2009 8:28 am
Wheeee, what a ride!
Just like any good roller coaster, market plunges can be fun when you are strapped in safely and prepared for them. Our members have been so prepared we'll have to hand our Eagle Scout badges (we don't need no stinkin' badges) for riding out a toppy market for two tedious weeks, which I won't rehash here but you can go back to my Sept 19th "Wrong Way Weekly Wrap-Up" to see how hard it was to stay bearish in the face of all that "great" news that the media kept throwing at us. Nonetheless, had you followed our trading ideas in that post, you'd be a VERY happy camper right now!
Now we are down 300 points from that Friday's finish, about halfway to our 9,100 target, which is the top 5% of our original trading range around Dow 8,650. We'd love to see 9,100 hold, especially on a nice volume sell-off so we can move our range up 5% and make 9,100 our new mid-point, putting the 33% (off the top) lines withing striking distance of a proper breakout but suddenly the news-flow has turned sharply negative. This is something I warned members about way back on August 11th, the last time I thought we were getting toppy (and we were) at Dow 9,400 when I said: "Watch the newsflow in the MSM. If it starts to get negative, look out below."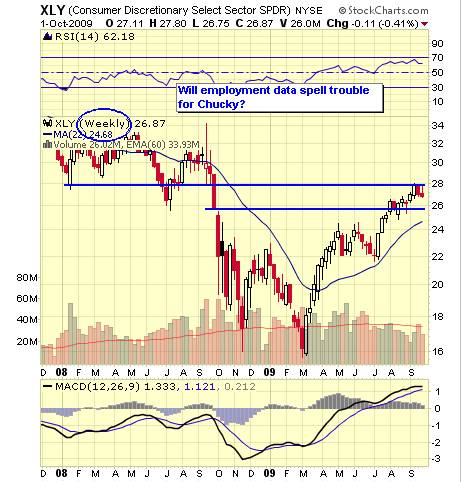 Yesterday we talked about GS's about-face on the REIT sector and, later that day, we noted during Member chat that JPM had decided to downgrade SKS, hitting the retail sector hard in the afternoon. I called a slightly early top on Retail on 9/16, when I said to Members: "Right now all retail is being played like a huge winner, as if no segment will lose market share to another. This is amazingly stupid in a declining wages and declining consumer credit environment." RTH was $88.76 that day after running up just about 20% from July 7th so we were looking for a pullback at least to $85, but I think worse as I see nothing in the data that makes me believe in Santa Clause this year or the rally he often brings.
As you can see from David Fry's chart of the XLY (another Retail tracker) we topped out at technical resistance and are now looking for a completion of a 5%…

by phil - October 1st, 2009 8:28 am
Look out below!
I warned yesterday that the end of the quarter may well mark the end of Goldman and their Gang of 12's Global pump job and what better way to pull the rug out from under the markets then for Goldman Sachs themselves to issue a report that warns that REIT valuation seem "stretched" and they are projecting "flat to down 15% returns next year" with concerns that they are "just beginning what could be a multi-year down-cycle."
Other headlined charts (and Zero-Hedge has the full scoop) are:
Still a long road ahead for a recovery in credit.
Cap rates to rise substantially.
Deleveraging process just beginning for the REIT sector
Despite pipeline reductions, development remains a risk
In other words, all the stuff I've been saying for for the last couple of months as they IYR has climbed 50% since July 15th is now the subject of a GS report on Oct 1st. I was fine with the sector rising 20% (IYR $36) but the move to $46 was completely without merit and, as I noted in a post last week, we shorted it there and went very long on SRS (ultra-short on the IYR). In fact, just yesterday, in the morning post, I discussed Friday's multiple plays on SRS. We also have short positions on BXP and, of course, we're still overall short on the whole market as a correction in the real estate sector is not going to be an isolated incident.
Fortunately, at PSW, we don't have to wait for Goldman Sachs to tell us a sector is overvalued because we understand valuations and we practice sound fundamentals – something that is sorely lacking in the larger investing community. There's a reason REITs usually trade at 10x multiples and it's the same reason commodity producers usually trade at 10x multiples as well – because the underlying commodity, whether it is land or oil or gold or copper, can fluctuate in price over time and will sometimes spike earnings up and sometimes spike them down so, on the whole, they are WORSE long-term investments than say AAPL, MCD, KO or PG, who tend to steadily grow their business over time and deserve stronger multiples.
When the REITs were trading at 5x earnings in March, we were loading…

by phil - September 27th, 2009 8:23 am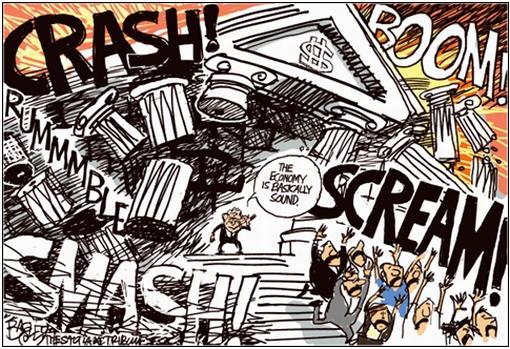 Fundamentals don't matter, until they do – then they matter a lot…
We had a fantastic week because we stuck to the fundamentals and stayed short – even though it was a very painful path to follow. In last week's wrap-up, facing the never-ending market climb on low volume I had said "I am trying to get bullish, really I am," and I was trying to find bullish plays for members - but we still ended up bearish for the week with a lot of bearish plays being added and thank goodness as it gave us a fantastic week this week!
Just following the plays I mentioned in last week's wrap-up would have been great as we had SKF bullish at $21 (now $26), DIA bearish at $98 (now $96.74), FAZ bullish at $16 (now $22.12), OIH bearish at $120 (now $114.75), SRS bullish at $8.50 (now $9.93) – and those were just from Thursday and Friday, last week was very active and very successful. I had been quoting Samuel Jackson to highlight my difficulty joining the bullish analysts and I closed last week's comments by saying: "It really is hard to be the shepherd in this market as I see wolves everywhere, waiting to pounce on the flock as the mainstream media leads them off to slaughter. Or maybe (hopefully) I'm just being paranoid and everything's fine…"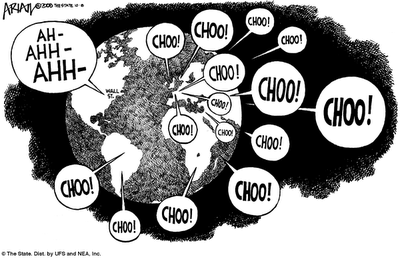 Monday I led off the week with my concerns about the spread of the flu, as the season is upon us. That gave us 4 bullish (but hedged) plays on SVA, BCRX and CAH (2), none of which are performing so far so all of which are still good entries, especially CAH who got whacked by a DB downgrade on Thursday yet paid back $1Bn in debt on Friday and still look very good long-term.
I had an early look at the G20s "Framework for Sustainable and Balanced Growth," and our conclusion was that, although a good plan, it sure wasn't something the markets should be all pumped up about as stability was not going to grow us into the bullish valuations that our stocks had already risen to. I warned members that the media was misinterpreting/misrepresenting this report saying: "You can bet though, that "THEY" are acting on this information and they will be SELLSELLSELLING, as they did on Friday…

by phil - September 23rd, 2009 8:22 am
We're just waiting on the Fed today, as are the rest of the markets.
Yesterday's volume was the lowest since Sept 11th but not as low as Monday, which was our lowest volume since the end of June, just before we had a 5% correction. June 26th and 29th were our last two consecutive ultra-low volume days but June 30th was much bigger (a down 100 day), July 1st was up again on low volume and then July 2nd was another big down day and we bottomed out on July 10th. That was the time that the media was telling us we were forming a "classic" head and shoulders pattern and were doomed to revisit the March lows. It was also the last time we enthusiastically bought stocks.
At the time of that weekly review (7/11), we had CAL at $10 (now $16.82), CBS at $5.97 (now $12.58), COST at $43.45 (now $58.58), CVX – who we just shorted – at $58.20 (now $72.60), DIS at $22.41 (now $28.38), EXM at $6.05 (now $7.32), RT at $7.12 (now $8.85), SNDK at $14.47 (now $22.91), SPY at $87.96 (now $107.27), SPWRA at $22.35 (now $32.63), SUN at $22.09 (now $27.75), V at $59.86 (now $74.41), VLO at $15.57 (now $20.50), WFR at $16.61 (now 19.09), X at $30.77 (now $50.45), XLF at $11.10 (now $15.35), XOM at $65.12 (now $69.85) and ZION at $11 (now $19). Of course our members had much better entries as we had been targeting our entries on all of those but anyone reading our weekend review on July 11th could have played along at home from those prices (we even spiked down at Monday's open) and when I say we are now bearish – it is that we are bearishly protecting these ridiculous profits – the kind of profits you usually don't get after 3 years, not 3 months!
Overall, the broader market is up 20% over that time so it can be argued that a monkey with a dart board could have made good picks at that time but, if you read that week's notes – you'll notice that this monkey was screaming for people to buy and was going against what pretty much EVERY other analyst was saying and I was confident enough…

by phil - September 19th, 2009 8:28 am
I am trying to get bullish, really I am.
As I said to Members on Thursday morning in chat, like Sam Jackson in Pulp Fiction: "I'm trying hard to be the (bullish) shepherd" but the data makes it hard – so very hard! Anyway, I'm not here to complain about the market forces moving against us but to review the carnage of our picks going all the way back to Sept 10th, when we decided the prior day's beige book was not going to be enough to break out over 9,600 on the Dow. Now, with the Dow at 9,820 after testing 9,900 it's a good idea to look back and see what we missed in this last 2.5% leg up.
On Thursday the 10th, we talked about patterns. One pattern I recommended following right in the morning post was the famous "stick save" investment. Simply buying high-delta DIA calls at about 2:30 each afternoon and selling into the pumped-up close. That was a winning play on the 10th, 11th (Fri), 14th and 16th but not the last two days, when we turned a lot more bearish – but we'll get to that further down this review. 4 out of 5 days is pretty good for a patten and seeing it broken 3 of the past 5 days is also significant. I did promise that Thursday that we will look for more bullish opportunities once we have a clear break over our last two levels (NYSE 6,959 and S&P 1,056) and we did make those this week. If we hold it through Tuesday, it will be time and we're going to line up some trades this weekend. True to my word on that Thursday, we chose a variety of bullish and bearish plays in Member Chat. I'm posting the plays along with suggested adjustments if needed as it's a nice way to review our various strategies in progress – especially under "adverse" conditions.
Trade ideas of the day for Members were:
DIA $95 puts that ended up being rolled and doubled down for a net 20% gain (too much bother to detail).
SUN at $23.36, now $28.45 (up $5.09), short Oct $25 calls at $2.20, now 3.70 (down $1.50) and short the Jan $22.50 puts at $1.15, now .70 (up .45).

Another buy/write at net $23.01/22.76, already
…