Posts Tagged 'Economic Growth'
by ilene - January 20th, 2011 12:56 pm
Courtesy of Michael Snyder at Economic Collapse
What could cause an economic collapse in 2011? Well, unfortunately there are quite a few "nightmare scenarios" that could plunge the entire globe into another massive financial crisis. The United States, Japan and most of the nations in Europe are absolutely drowning in debt. The Federal Reserve continues to play reckless games with the U.S. dollar. The price of oil is skyrocketing and the global price of food just hit a new record high. Food riots are already breaking out all over the world. Meanwhile, the rampant fraud and corruption going on in world financial markets is starting to be exposed and the whole house of cards could come crashing down at any time. Most Americans have no idea that a horrific economic collapse could happen at literally any time. There is no way that all of this debt and all of this financial corruption is sustainable. At some point we are going to reach a moment of "total system failure".
So will it be soon? Let's hope not. Let's certainly hope that it does not happen in 2011. Many of us need more time to prepare. Most of our families and friends need more time to prepare. Once this thing implodes there isn't going to be an opportunity to have a "do over". We simply will not be able to put the toothpaste back into the tube again.
So we had all better be getting prepared for hard times. The following are 12 economic collapse scenarios that we could potentially see in 2011….
#1 U.S. debt could become a massive crisis at any moment. China is saying all of the right things at the moment, but many analysts are openly worried about what could happen if China suddenly decides to start dumping all of the U.S. debt that they have accumulated. Right now about the only thing keeping U.S. government finances going is the ability to borrow gigantic amounts of money at extremely low interest rates. If anything upsets that paradigm, it could potentially have enormous consequences for the entire world financial system.
#2 Speaking of threats to the global financial system, it turns out that "quantitative easing 2" has had the exact opposite effect that Ben Bernanke planned for it to have. Bernanke insisted that the main goal of QE2 was to lower interest rates, but instead all it has done is…

by ilene - September 26th, 2010 7:30 pm
Courtesy of Tyler Durden
Ever wonder how China can endlessly generate goal-seeked GDP of precisely 8.00001% year after year? Or how it can constantly find use for the massive and ever-larger surplus of warehoused commodities? Simple – never stop building. Which, apparently means blowing up empty building before they are even finished and rebuilding them. Rinse. Repeat. After all gotta keep all those construction workers from rioting, and all those USD reserves redirected into Brazilian and OZ commodities, now that China is not really buying US debt anymore. China Hush has some stunning pictures confirming that in its search of the great home bubble perpetual engine, the politbureau comrades may have stumbled onto the bricks and mortar equivalent of Shangri La.
More from China Hush on the "unnatural" death of Chinese buildings.
As one of the most architectural productive country, China aggregates 2 billion m2 of new building area every year, consuming about 40% of the world's concrete and steel. However, on the flip side of the new building fever, there lie the rubbles and remains of other "older" buildings: people tear down four-star hotels to build five-star ones and bulldoze newly developed construction sites before they are even finished. Lots of young strong buildings are down, fulfilling their unnatural destiny in the roaring noise of blasting. (Source from ifeng.com and people.com.cn)
1. Vienna Wood Community in Hefei City died before born on Dec. 10th, 2005. The community covered about 20,000 m2 construction area with the main structure raised to 58.5 m high. The tens of millions yuan worth building was blasted as a whole when its 16th floor was still under progress. According to local government, the community punctuated the central divide of Hefei City, blocking the scenery between Huangshan Road and Dashushan Mountain. They couldn't straighten Huangshan Road unless the community was out of the way.
2. The Bund Community in Wuhan, 4 years old, blasted on March 30th, 2002. "I give you the Yangtze River" the slogan of the community captured many people's hearts, so did its view over the magnificent Yangtze River and Wuhan's historic spot Yellow Crane Tower. It took only 4 years to build the community that was documented and verified by relative…

by ilene - September 21st, 2010 1:13 pm
Christopher Whalen writes about how the U.S. economy in first half of the 20th Century could be characterized as stagnant, with a brief growth spurt during WWI and a mirage of growth during WWII and the cold war:
Following the Crash of 1929, the pretense observed by both political parties that all was well in the U.S. economy evaporated into almost twenty years of economic stagnation. While the massive mobilization for WWII provided the appearance of a recovery, and the period of the Cold War extended this mirage on a sea of public debt and paper dollars, the basic issue of overcapacity remained.
The illusion continued through the 1970s when the housing sector took over defense as the main driver of economic growth. However, Chris argues, that what was perceived by most Americans as real growth was actually the result of deficit spending and "reckless monetary expansion" by the Fed, courtesy of Alan Greenspan and later Ben Bernanke. – Ilene
The page proofs of my upcoming book, "Inflated: How Money and Debt Built the American Dream
," just went back to the editors. One of the benefits of writing a book about U.S. financial history is that it forces you to take a long view of both economics and the political narrative used to describe it. It is the issue of language and labels, in my view, that is making it so difficult for Americans to understand the current state of the economy.
The National Bureau of Economic Research just declared that the "recession" that began in 2007 ended in the middle of 2009, making it the longest downturn since WWII. The only problem is that none of the people who work at NBER today, which is one of my favorite research organizations, are old enough to remember what the U.S. economy was like before WWII; before the age of Keynesian socialism and the use of debt to stimulate growth and employment became standard policy in Washington.
Let's start with the term "recession," which itself reflects the assumption that economic growth is always positive and the trend line is always upward sloping…
Continue here: blogs.reuters.com
by ilene - September 14th, 2010 4:14 am
Courtesy of The Pragmatic Capitalist
Two of the primary drivers of the economic recovery are now becoming headwinds. In an interview on CNBC yesterday Jan Hatzius of Goldman Sachs described why he is more bearish than the consensus. His primary concerns are the inventory and stimulus headwinds. In a similar strategy note UniCredit expressed the same concerns and provided some more detail. They believe these two trends alone could shave 6 to 7 points from GDP:
"Our expectation of a significant growth slowdown is largely based on the assumption that the growth at the end of 2009/ beginning of 2010 was supported primarily by temporary factors, whose contribution will not only decline in the course of this year but is even likely to become negative. As the following chart illustrates, the fiscal program (American Recovery and Reinvestment Act) and private inventories added roughly 5 percentage points to growth in both the fourth quarter of 2009 and the first quarter of 2010. In the spring, this contribution already dwindled to half a percentage point, and in the second half of 2010 as well as 2011 both components are likely to shave roughly 1½pp off growth. The swing is, therefore, a considerable six to seven percentage points."
Here's hoping for a consumer recovery in 2011….Unfortunately, we probably shouldn't count on it.
Source: UniCredit
by ilene - September 1st, 2010 12:04 pm
Courtesy of Tyler Durden
I'm this many, how many are you?
So you thought communist states go down without a fight? Wrong: here is Rosenberg who explains why both China and the US are now actively involved in the business of propping up anything and everything. And totally off topic, Rosie confirms that the liquidity trends in the mutual fund industry continue to deteriorate: "As for liquidity ratios, equity funds portfolio manages have theirs at an all-time low of 3.4%, down from 3.8% in June. Tack on the fact that there are really not very many shorts to be covered – since the market peaked in April, short interest is 4.3% of the S&P 500 market cap (in August 2008 it was 6%) and there's not a whole lot of underlying fund-flow support for the stock market here." In other words, throw in a few more market down days, a few more weeks of redemptions (and at 16 weeks in a row, there is no reason why this should change), and the liquidation theme will promptly be added to the new normal.
THE VISIBLE HAND

The two largest economies in the world are being sustained by the long arm of the law. At least in China it's to be expected that a communist country would be fuelled by command central, but in this miracle story, below the surface it is becoming abundantly clear that Beijing is becoming increasingly involved. The front page article of the Monday NYT uncovered how the economy is delivering its red-hot growth rates: "New data from the World Bank show that the proportion of industrial production by companies controlled by the Chinese state edged up last year … investment by state-controlled companies skyrocketed, driven by hundreds of billions of government spending and state bank lending." No wonder the Chinese economy and stock market have diverged.

Is it really much different in the U.S.A. today with every 1 in 6 Americans now receiving some form of government assistance? More than 50 million Americans, from food stamps, to Medicaid, to extended jobless benefits, are on one or more taxpayer-supported programs. This likely explains why this depression does not have that 1930s feel of despair to it. But a depression it is.

In a depression, radical
…

by ilene - August 13th, 2010 3:50 pm
Courtesy of MIKE WHITNEY writing at CounterPunch
On Tuesday, the Fed announced that it will reinvest the proceeds from maturing mortgage-backed securities into US Treasuries. The process is called Quantitative Easing. In theory, Q.E. increases inflation expectations so that consumers spend more before their money loses value and thus rev up the economy. That's the theory. But adding to bank reserves when the banks are already loaded to the gills, achieves nothing. It doesn't put money in the hands of people who will spend it, generate more economic activity or increase growth. It's a big zero. Oddly enough, the Fed even admits this. According to an article in Bloomberg News, "The Central Bank posted a paper co-written by Seth Carpenter, associate director of the Fed's monetary-affairs division, finding that the "quantity of reserve balances itself is not likely to trigger a rapid increase in lending." No "increase in lending" means no credit expansion and no rebound. Thus, QE will have no real impact.
From the FOMC Statement:
"Information received since the Federal Open Market Committee met in June indicates that the pace of recovery in output and employment has slowed in recent months. Household spending is increasing gradually, but remains constrained by high unemployment, modest income growth, lower housing wealth, and tight credit. Business spending on equipment and software is rising; however, investment in nonresidential structures continues to be weak and employers remain reluctant to add to payrolls. Housing starts remain at a depressed level. Bank lending has continued to contract. Nonetheless, the Committee anticipates a gradual return to higher levels of resource utilization in a context of price stability, although the pace of economic recovery is likely to be more modest in the near term than had been anticipated…..

"The Committee will continue to monitor the economic outlook and financial developments and will employ its policy tools as necessary to promote economic recovery and price stability."
There's not a glimmer of light in the Fed's statement, and yet, "the Committee anticipates a gradual return to higher levels of resource utilization". But how? And on what is the Fed basing its prediction? Certainly not the data. Maybe tea leaves? The truth is the economy is in very bad shape and getting worse. This is from Wednesday's New York Times:
"The government's preliminary estimate for economic growth in the
…

by ilene - July 30th, 2010 12:48 pm
Courtesy of Rick Davis at Consumer Metrics Institute
Bureau of Economic Analysis ('BEA') released its "advance" estimate of the annualized growth rate of the U.S. Gross Domestic Product ('GDP') during the 2nd quarter of 2010. Per their report, the GDP grew during the quarter at an annualized rate of 2.4%, down from 3.7% in the 1st quarter of 2010. Several points from the report merit comment:
* Readers familiar with prior GDP reports will be more surprised by the reported 1st quarter growth as by the new 2nd quarter number (which had been leaked by Mr. Bernanke last week), since only last month the Q1 of 2010 was supposedly growing at a 2.7% rate. Why did the Q1 number suddenly get altered upward by 1%? The BEA quietly revised the 1st quarter inventory adjustment up to a level that represents a 2.64% component within the revised 3.7% figure, with 1st quarter "real final sales of domestic product" now reported to be growing at a modestly improved 1.06% annualized clip, compared to the 0.9% number reported last month. In short, factories were piling on inventory at a substantially higher rate than previously thought, while the "real final sales" remained anemic.
* The 2.4% figure will garner all of the headlines, but the more important "real final sales of domestic product" continues to be weak, growing at a reported 1.3% annualized rate. The real cause for concern is that the reported inventory adjustments dropped from a 2.64% component in the revised 1st quarter to a 1.05% component during the 2nd quarter. If factories have begun to realize that end user demand remains anemic, the inventory adjustments could well go negative soon, pulling the reported total GDP down with it.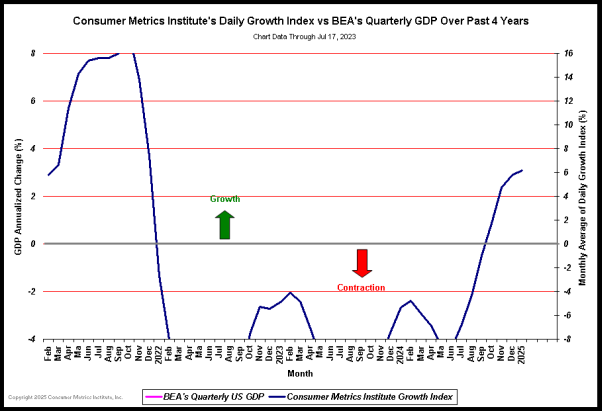 (Click on chart for fuller resolution)
* The BEA revised much more than the first quarter of 2010. They revised down 2009, 2008 and 2007 as well. Apparently the "Great Recession" has been worse than our government has previously reported. And the recovery's brightest moment, Q4 2009, has been revised down from 5.6% to 5.0%. Similarly Q3 2009 dropped from 2.2% to 1.6%. And so on. The bottom of the recession was shifted back one quarter, with Q4 2008 now reported to have contracted at a -6.8% rate, revised down from the…

by ilene - July 28th, 2010 2:44 pm
Courtesy of The Pragmatic Capitalist
Interesting new commentary out of PIMCO by Bill Gross. Mr. Gross has popularized the idea of the "new normal". In this month's missive he discusses one of the major headwinds that the new global economy faces: poor demographic trends:
"The danger today, as opposed to prior deleveraging cycles, is that the deleveraging is being attempted into the headwinds of a structural demographic downwave as opposed to a decade of substantial population growth. Japan is the modern-day example of what deleveraging in the face of a slowing and now negatively growing population can do. Prior deleveraging periods such as what the U.S. and European economies experienced in the 1930s exhibited a similar demographic with the lowest levels of fertility in the 20th century and extremely low population growth. Things did not go well then. Today's developed economies almost assuredly offer substantially less population growth than the 1.5% rate experienced over the prior 50 years. Even when viewed from a total global economy perspective, population growth over the next 10–20 years will barely exceed 1%.

The preceding analysis does not even begin to discuss the aging of this slower-growing population base itself. Japan, Germany, Italy and of course the United States, with its boomers moving toward their 60s, are getting older year after year. Even China with their previous one baby policy faces a similar demographic. And while older people spend a larger percentage of their income – that is, they save less and eventually dissave – the fact is that they spend far fewer dollars per capita than their younger counterparts. No new homes, fewer vacations, less emphasis on conspicuous consumption and no new cars every few years. Healthcare is their primary concern. These aging trends present a one-two negative punch to our New Normal thesis over the next 5–10 years: fewer new consumers in terms of total population, and a growing number of older ones who don't spend as much money. The combined effect will slow economic growth more than otherwise."
Read the full piece at PIMCO.
by ilene - July 28th, 2010 12:51 am
Courtesy of Rick at Consumer Metrics Institute
Since last week our Daily Growth Index has weakened further, surpassing a year-over-year contraction rate of 3%. This daily measurement of on-line consumer demand for discretionary durable goods has now dropped to the lowest level it has recorded since late November 2008: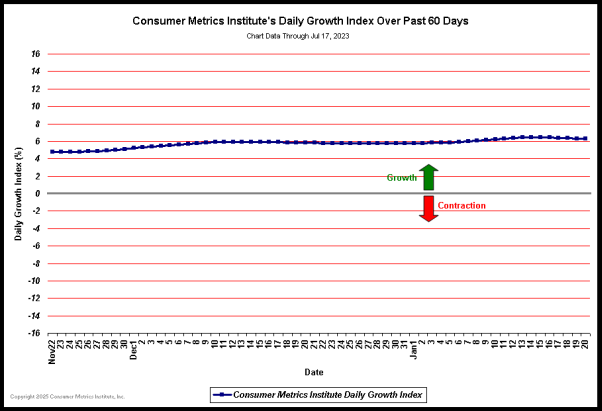 (Click on chart for fuller resolution)
Our Daily Growth Index reflects the strength of consumer demand over the trailing 91-day 'quarter', weighted according to the contribution that goods involved in on-line transactions make to the GDP (per the BEA's NIPA tables). It is designed to serve as a proxy for a 'real-time' GDP, and it slipped into net contraction on January 15th, 2010. To put this decline in perspective we offer the following observations:
1. The current contraction in consumer demand for discretionary durable goods has now extended for more than 6 months.
2. The day to day level of the year-over-year contraction is now worse than a similar reading of the 'Great Recession' of 2008 was after 6 months.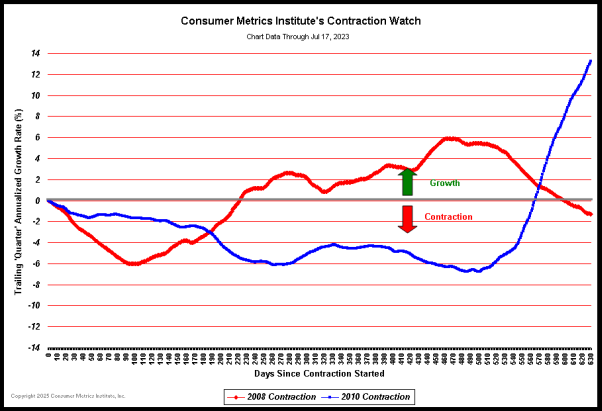 (Click on chart for fuller resolution)
The amount of damage done to an economy by an economic slowdown can by quantified by multiplying the event's average rate of contraction times the duration of the event. By that measure the 2010 contraction has now inflicted 43% as much pain on the economy during its first 6 months as the 'Great Recession' did during the first 6 months of that slowdown.
Although this contraction has not yet reached the extreme contraction rates that were seen during 2008, after 6 months it has not yet formed a bottom. Furthermore, it is now likely to last longer than the 2008 event.
In an even broader perspective, the current level of the Daily Growth Index over the trailing 91-day 'quarter' would put it among the lowest 6% of all calendar quarters of GDP growth since 1947. Only roughly 1 in 17 quarters of GDP activity have been worse.
The duration of the current contraction event is becoming a real problem. Our trailing 183-day 'two consecutive quarters' growth index has dropped into the 5th percentile among similar two consecutive quarters of GDP 'growth' since 1947. This means that the trailing 6 months have been statistically worse than the trailing 3
…

by ilene - July 12th, 2010 4:02 am
Courtesy of Michael Panzner at Financial Armageddon
Although there are many reasons why it was not a good idea to keep dead and dying businesses alive, to spend and borrow hundreds of billions of dollars for ill-conceived stimulus programs and other boondoggles, to keep interest rates at record lows for an extended period of time, and to encourage people to hang on in hope that a recovery was just around the corner, the biggest issue with not facing the music early on is how daunting the problems have now become. As the New York Times notes in "Crisis Awaits World's Banks as Trillions Come Due," the scale of short-term obligations that have built-up as a result of the decision to extend and pretend — or delay and pray — is frightening, to say the least.
FRANKFURT— The sovereign debt crisis would seem to create worry enough for European banks, but there is another gathering threat that has not garnered as much notice: the trillions of dollars in short-term borrowing that institutions around the world must repay or roll over in the next two years.

The European Central Bank, the Bank of England and the International Monetary Fund have all recently warned of a looming crunch, especially in Europe, where banks have enough trouble raising money as it is.

Their concern is that banks hungry for refinancing will compete with governments — which also must roll over huge sums — for the bond market's favor. As a result, credit for business and consumers could become more costly and scarce, with unpleasant consequences for economic growth.

"There is a cliff we are racing toward — it's huge," said Richard Barwell, an economist at Royal Bank of Scotland and formerly a senior economist at the Bank of England, Britain's central bank. "No one seems to be talking about it that much." But, he added, "it's of first-order importance for lending and output."

Banks worldwide owe nearly $5 trillion to bondholders and other creditors that will come due through 2012, according to estimates by the Bank for International Settlements. About $2.6 trillion of the liabilities are in Europe.

U.S. banks must refinance about $1.3 trillion through 2012. While that sum is nothing to scoff at, analysts seem most concerned about Europe because the banking system there is already weighed down by the sovereign debt crisis.

How banks will come up
…