Posts Tagged 'federal law'
by ilene - October 20th, 2010 4:50 pm
Courtesy of Michael Snyder at The American Dream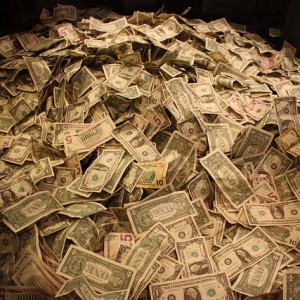 Everyone knew that the foreclosure fraud crisis was going to spawn a festival of lawsuits, and now it looks like it is already beginning. The New York Federal Reserve Bank is part of a consortium of eight large institutional investment firms that has launched an effort to force Bank of America to repurchase $47 billion worth of mortgages packaged into bonds by its Countrywide Financial unit. It turns out that most mortgage bond contracts explicitly require the repurchase of loans when the quality of the loans falls short of promises made by the sellers. As most of us know by now, many of these mortgages that were packaged together into "AAA rated" securities were actually a bunch of junk. But this is just the beginning. There are going to be hordes of lawsuits stemming from this crisis and it is going to take years and years for this thing to work through the legal system.
All of the big players in the U.S. mortgage industry are going to be paralyzed for an extended period of time by this crisis, and that means that buying a home and achieving the American Dream is going to become a lot harder for millions of Americans. Not only that, if mortgage lending institutions end up being forced to take back gigantic mountains of bad mortgages it could end up sinking a whole lot of them. The implications for the U.S. financial system would be staggering.
And it turns out that the effort by the consortium of eight large institutional investment firms to get Bank of America to take back $47 billion in mortgages is not the only action already being taken. An even larger mortgage repurchase initiative involving investors holding a total of more than $500 billion in mortgage debt is being coordinated by Dallas lawyer Talcott Franklin.…

by ilene - May 17th, 2010 3:39 pm
Courtesy of Lynn Parramore at New Deal 2.0
Aristotle called usury the "most hated form" of wealth-accumulation. Dante sent practitioners to the seventh circle of hell. The Qur'an proposes that usurers are controlled by the devil's influence, and we've all heard how Jesus, that avatar non-violence, was stirred to a round of ass-kicking when he found the money lenders in Herod's temple.
Screwing the poor through usury has been considered an abomination throughout human civilization – a disease of the body politic that sickens people morally and economically.
For two centuries, American states had the power to enforce usury laws against any lender doing business with its citizens. But in 1978, a Supreme Court case transformed the world of lending. In Marquette National Bank of Minneapolis v. First of Omaha Service Corp., the Supreme Court changed the interpretation of the National Bank Act of 1863 so that states could no longer regulate interest rates on nationally-chartered banks. BINGO! Big banks quickly saw a Big Opportunity. They would now be able to dodge interest rate restrictions by reinventing themselves as "national banks" and hightailing it to states with weak consumer protections. A small number of states chucked interest rate caps in order to lure credit card business and related tax revenue.
Thanks to that unfortunate 1978 decision, credit card divisions of major banks are based in just a few states, while local banks struggle with unfair out-of-state competition fight to stay afloat. Meanwhile, consumers across the country are gouged by stratospheric interest rates and fees.
An amendment submitted by Senator Whitehouse and cosponsored by Senators Cochran, Merkley, Durbin, Sanders, Levin, Burris, Franken, Brown (OH), Menendez, Leahy, Webb, Casey, Wyden, Reed, Udall (CO), and Begich aims to change all this by restoring state powers to protect their citizens with interest rate limits on lending done within the state.
Here's a breakdown of what the amendment would accomplish:
Restore to the states the ability to enforce interest rate caps against out-of-state lenders.
By Amending the Truth in Lending Act, cover all consumer lenders, no matter what their legal form, minimizing the opportunity for gaming by changing charter type.
Become effective twelve months after enactment – giving state legislatures time to evaluate and update usury statutes.
Level the playing field so that intrastate lenders like community banks, local retailers, and credit unions are no
…

by ilene - April 22nd, 2010 12:05 am
Courtesy of JESSE'S CAFÉ AMÉRICAIN
Although the National Guard has been used in the past to deal with protests, they were called by the state governors and were not acting at the direction of the Federal government.
"The Posse Comitatus Act is a United States federal law (18 U.S.C. § 1385) passed on June 18, 1878, after the end of Reconstruction, with the intention (in concert with the Insurrection Act of 1807) of substantially limiting the powers of the federal government to use the military for law enforcement. The Act prohibits most members of the federal uniformed services (today the Army, Navy, Air Force, and State National Guard forces when such are called into federal service) from exercising nominally state law enforcement, police, or peace officer powers that maintain "law and order" on non-federal property (states and their counties and municipal divisions) within the United States.

The statute generally prohibits federal military personnel and units of the National Guard under federal authority from acting in a law enforcement capacity within the United States, except where expressly authorized by the Constitution or Congress. The Coast Guard is exempt from the Act during peacetime."
I wonder if this is true, and if the Obama Administration intends to deploy Federal troops, or declare martial law, this summer prior to the elections. I am not familiar with the Newark Examiner.
It does not seem consistent with the law, because this is a regular army regiment. The provisions for their deployment passed during the Bush Administration had been repealed, setting the use of troops back to the conditions of Insurrection as I recall.
I believe that is the premise by which the government directed MacArthur to lead regular army troops to dispel the WWI veterans from the Capitol in the last Great Depression.
Even in the race riots of the 1960′s which were in many cases armed and dangerous, the National Guard was deployed at the direction of the state's governor. I am not aware of any other legal precedents or rules on this. Perhaps someone else can oblige.
P.S. A reader informs me that this news report is from a 'conservative' news source that has a…