Posts Tagged 'taxpayers'
by ilene - January 8th, 2011 4:45 pm
Robert Reich defends public workers and redirects charges of unfairness to the top 1% holders of wealth. Charles Hugh Smith discusses the heart of the problem in U.S.O.F.C.: If the Fraud Stops, the Financial System Collapses. The financial system is where the most dramatic inequities lie. – Ilene
Courtesy of Robert Reich
In 1968, 1,300 sanitation workers in Memphis went on strike. The Rev. Martin Luther King, Jr. came to support them. That was where he lost his life. Eventually Memphis heard the grievances of its sanitation workers. And in subsequent years millions of public employees across the nation have benefited from the job protections they've earned.
But now the right is going after public employees.
Public servants are convenient scapegoats. Republicans would rather deflect attention from corporate executive pay that continues to rise as corporate profits soar, even as corporations refuse to hire more workers. They don't want stories about Wall Street bonuses, now higher than before taxpayers bailed out the Street. And they'd like to avoid a spotlight on the billions raked in by hedge-fund and private-equity managers whose income is treated as capital gains and subject to only a 15 percent tax, due to a loophole in the tax laws designed specifically for them.
It's far more convenient to go after people who are doing the public's work – sanitation workers, police officers, fire fighters, teachers, social workers, federal employees – to call them "faceless bureaucrats" and portray them as hooligans who are making off with your money and crippling federal and state budgets. The story fits better with the Republican's Big Lie that our problems are due to a government that's too big.
Above all, Republicans don't want to have to justify continued tax cuts for the rich. As quietly as possible, they want to make them permanent.
But the right's argument is shot-through with bad data, twisted evidence, and unsupported assertions.
They say public employees earn far more than private-sector workers. That's untrue when you take account of level of education. Matched by education, public sector workers actually earn less than their private-sector counterparts.
The Republican trick is to compare apples with oranges — the average wage of public employees with the average wage of all private-sector employees. But only 23 percent of private-sector employees have college…

by ilene - November 21st, 2010 11:14 pm
Mish writes about how Irish Citizens Sold Down the River in "Firepower of Stupidity" - Ilene
Courtesy of Mish
Today the Irish Government sold its citizens into debt slavery by agreeing to guarantee stupid loans made by German, British, and US banks. Those loans fueled one of the biggest property bubbles in the world. Ireland has since crashed.
Ireland Agree To Bailout
Please consider Ireland Seeks Bailout as 'Outsized' Problem Overwhelms Nation
Ireland applied for a bailout to help fund itself and save its banks, becoming the second euro member to seek a rescue from the European Union and the International Monetary Fund.

Irish Prime Minister Brian Cowen said he expects talks on the package to be completed in the "next few weeks." Finance Minister Brian Lenihan said the loan will be less than 100 billion euros ($137 billion), though he refused to give any further details at a press conference in Dublin today.

"A small sovereign like Ireland faced with an outsized problem that we have in our banking sector, cannot on its own address all those problems," Lenihan said. Ireland may not draw down on the entire loan, he said.

While Ireland may not fully use any cash it gets from the EU and IMF, Lenihan said the size of the package "is important to demonstrate" the "firepower that stands behind the banking system."

The Irish turmoil has also reopened tensions about the governance of the euro region after German Chancellor Angela Merkel last month called for bondholders to foot more of the bill of European bailouts. Her stance, criticized European Central Bank President Jean-Claude Trichet, sparked a bond market selloff.
Bondholders Should Foot Entire Bill
Trichet is pissed about common sense statement by German Chancellor Angela Merkel about who should foot the bill. Actually, Merkel did not go far enough. When you make stupid loans you pay the price. Or at least you should.
But no! Trichet as well as the Irish Prime Minister seem to think that Irish taxpayers should bail out the Irish banks (which is in reality a bailout of German, and UK banks that made piss poor loans to Ireland).
Why the average Irish citizen should have to bail out foreign bondholders is beyond me, but I do note that the same happened in the US with taxpayers footing an enormous bill for Fannie Mae, Freddie Mac, and…

by ilene - November 19th, 2010 6:49 am
Courtesy of Mish
Market participants are giddy today on the great news that Ireland will go deeper in debt in a foolish attempt to bail out the German and UK bondholders who were in turn foolish enough to lend ridiculous amounts of money to Irish banks in various real estate schemes.
The Irish government was of course foolish enough to guarantee all of this foolishness which means that Irish citizens many of whom were sucked into buying property at foolish prices are now on the hook to bail out the bondholders, rubbing salt into the wounds of Irish taxpayers, not all of whom were foolish enough to freely participate in the general foolishness.
Got that?
Here is a short video from the Wall Street Journal that explains why the bailout will not work.
Ireland Nears Bailout
Now let's consider details of this foolishness in greater detail, starting with Crude Oil Rises From Four-Week Low as Ireland Nears Bailout
Crude oil increased from a four-week low as Ireland moved closer to a European Union-led financial bailout, strengthening the euro and boosting commodities.

Irish Central Bank Governor Patrick Honohan said in an interview with state broadcaster RTE today he expects the country to ask the EU and the International Monetary Fund for "tens of billions" of euros to rescue its banks.

Desirable Outcome

"If these talks were to result in a substantial contingency capital funding" pool that didn't need to be drawn down, that "would be a very desirable outcome," Finance Minister Brian Lenihan said in the Irish parliament in Dublin today. He said no agreement has yet been reached.
Fairy Tale Nonsense
Check out that fairy tale silliness from Finance Minister Brian Lenihan, then answer this question: What are the odds that a "substantial contingency capital funding" would not be drawn down?
If you answered zero percent you are a winner, which makes the Irish taxpayer a loser.
Allied Irish Bonds Have Face Value Bid of 45 Percent
Bloomberg reports Allied Irish Bonds Fall on Concern IMF 'Bad Guy' to Impose Loss.
Allied Irish Banks Plc's 12.5 percent subordinated bonds due 2019 were quoted at a bid price of about 45 percent of face value, according to Jefferies International in London, down
…

by ilene - November 19th, 2010 12:42 am
Courtesy of Yves Smith at Naked Capitalism
In negotiations, understanding where you have leverage relative to your counterpart is key. Ireland appears to be engaged in a quiet staredown with the EU, evidently with the objective of securing a rescue of its banks rather than its government.
In case you managed to miss it, Ireland is in the midst of a long running budgetary crisis that has reached an acute phase. The implosion of a real estate bubble has left the country with banks up to the gills in bad loans. The government set up a "bad bank" entity, and the commitments per taxpayer, which were over 25,000 euros per taxpayer as of July, just keep rising. Deep budget cuts to meet eurozone fiscal deficit targets have put the economy in freefall, with nominal GDP falling nearly 20% and unemployment at 13%.
The immediate trigger for panic over Ireland was Merkel's announcement that bondholders would have to take their lumps in any Eurobailouts. That immediately put Irish and other periphery country bonds under pressure. And although Merkel was beaten a bit back into line (all bondholders will supposedly be protected through 2013), the damage was done. As Richard Smith noted two weeks ago:
Since the Irish budget is fully funded for a few more months (ex any revenue surprises, or God forbid, further bank loan writedowns), they can in principle trundle along like this until their date with destiny in Q2 2011, when they have to raise funds again. But somehow it's hard to believe that that is going to be the way things go. We will see if the budget gets thrown out or not; or the government. It will be close, on either count. Either eventuality brings forward the timetable for the Irish crisis proper, but it's coming, one way or the other…

The folk close to the action think
…

by ilene - November 1st, 2010 7:48 pm
Courtesy of Ellen Brown, at Web of Debt
China may be as heavily in debt as we are. It just has a different way of keeping its books — which makes a high-profile political ad sponsored by Citizens Against Government Waste, a fiscally conservative think tank, particularly ironic. Set in a lecture hall in China in 2030, the controversial ad shows a Chinese professor lecturing on the fall of empires: Greece, Rome, Great Britain, the United States . . . .
"They all make the same mistakes," he says. "Turning their backs on the principles that made them great. America tried to spend and tax itself out of a great recession. Enormous so-called stimulus spending, massive changes to health care, government takeover of private industries, and crushing debt."
Of course, he says, because the Chinese owned the debt, they are now masters of the Americans. The students laugh. The ad concludes, "You can change the future. You have to."
James Fallows, writing in the Atlantic, remarks:
"The ad has the Chinese official saying that America collapsed because, in the midst of a recession, it relied on (a) government stimulus spending, (b) big changes in its health care systems, and (c) public intervention in major industries — all of which of course, have been crucial parts of China's (successful) anti-recession policy."
That is one anomaly. Another is that China has managed to keep its debt remarkably low despite decades of massive government spending. According to the IMF, China's cumulative gross debt is only about 22% of 2010 GDP, compared to a U.S. gross debt that is 94% of 2010 GDP.
What is China's secret? According to financial commentator Jim Jubak, it may just be "creative accounting" — the sort of accounting for which Wall Street is notorious, in which debts are swept off the books and turned into "assets." China is able to pull this off because it does not owe its debts to foreign creditors. The banks doing the funding are state-owned, and the state can write off its own debts.
Jubak observes:
"China has a history of taking debt off its books and burying it, which should prompt us to poke and prod its numbers. If we go back to the last time China cooked the national books big time, during the Asian currency
…

by ilene - September 23rd, 2010 6:02 pm
Courtesy of Mish
If ever you want to see tax policies that are ass backwards, look no further than two Congressional tax bills, one should pass but may not even get a vote, the other is seriously misguided but will pass anyway.
Senate Democrats Ready To Shelve Tax Cut Vote
TPM reports Senate Dems Ready To Shelve Tax Cut Vote
A senior Senate Democratic aide told TPM today there won't be a vote on extending the Bush tax cuts in the upper chamber before the November election, a blow to party leaders and President Obama who believed this would have been a winning issue.

"Absent a stunning turn of events, we're not going to do tax cuts before the election," the aide told TPM.

"We have a winning message now, why muddy it up with a failed vote, because, of course, Republicans are going to block everything," the aide said.

Aides for two senators in tough bids have suggested they would take the plunge and vote before the election, but they'd prefer to vote if it means the tax cuts extension could actually be passed. And that's not counting the conservative Democrats who disagree with the majority of the caucus about where the threshold should be — and lean toward a higher than $250,000 in income definition of the middle class.
Politics as Usual
The irony is both parties are blaming each other and both parties are to blame. Certainly the Democrats should have enough votes to pass something given they have a majority. I highly doubt the Republicans would filibuster a tax cut proposal this close to election.
However, Democrats might not have the votes because of defections. Senate leaders fear those defections, and do not want to risk Democrats being blamed.
Another, perhaps more likely alternative is that Democrats believe a "winning message" (blaming Republicans) is better than "winning action".
Either way, taxpayers will suffer.
Contrary to the what the Democratic fools believe, I think people will blame incumbents not Republicans for failure to pass something. Thus, Republicans have every incentive to do the wrong thing, short of a filibuster.
The bottom line is the same. Nothing gets done, and both parties are to blame.
Year End Cliff Gamble on 2% of GDP
I did not think it would…

by ilene - September 2nd, 2010 5:50 pm
Courtesy of DEAN BAKER at CEPR
This column was originally published by The Guardian.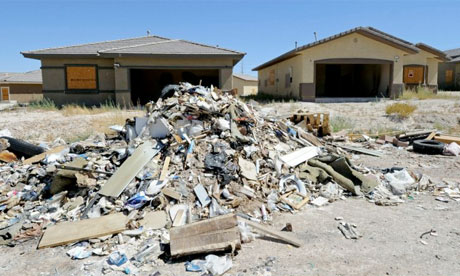 Trash is piled up outside houses at the abandoned Desert Mesa subdivision in Nevada. The north Las Vegas housing authority started the project in 2004, but the entire subdivision has since fallen into foreclosure. Nevada continues to lead the nation in foreclosures, unemployment and bankruptcies. Photograph: Ethan Miller/Getty Images
The howls of surprised economists were everywhere last week as the government reported on Tuesday that July had the sharpest single-month plunge in existing home sales on record. The next day the Commerce Department reported that new home sales hit a post-war low in July.
All the economists who had told us that the housing market had stabilized and that prices would soon rebound looked really foolish yet again. To understand how lost these professional error-makers really are it is only necessary to know that the Mortgage Bankers Association (MBA) puts out data on mortgage applications every week. The MBA index plummeted beginning in May, immediately after the last day (April 30) for signing a house sale contract that qualified for the homebuyers tax credit.
It typically takes 6-8 weeks between when a contract is signed and a house sale closes. The plunge in applications in May meant that homebuyers were not signing contracts to buy homes. This meant that sales would plummet in July. Economists with a clue were not surprised by the July plunge in home sales.
What should be clear is that the tax credits helped to pull housing demand forward. People who might have bought in the second half of 2010 or even 2011 instead bought their home before the tax credit expired. Now that the credit has expired, there is less demand than ever, leaving the market open for another plunge in prices. The support the tax credit gave to the housing market was only temporary.
It is worth asking what was accomplished by spending tens of billions of dollars to prop up the market for a bit over a year with these tax credits. First, this allowed millions of people to sell their home over this period at a higher price than would…

by ilene - August 29th, 2010 12:19 am
Courtesy of Mish
In response to Another Atlas Shrugs – Small Business Owners Chime In I received still more emails from business owners regarding healthcare costs.
In contrast to the CEO of a healthcare consulting company who blames Obama, a CEO Therapist in New York, says healthcare insurers are the problem.
"Therapist CEO" writes ….
Hello Mish,

I'm a long time reader of you blog. Thanks for keeping some sanity in an otherwise economically insane world.

I'm writing in response to your post regarding small business owners, specifically the letter from "Healthcare CEO".

I am also a small business owner. I share many of the same difficulties that he discussed. One point he made did surprise me though, when he mentioned that he didn't "blame the insurers too much". On that point I couldn't disagree more.

As a small business owner, I have been feeling the pinch of ever rising healthcare premiums; our premiums went up 26% last November and I can't imagine what they will be this year when we renew. I have another perspective though. The small business that I am in is physical therapy; I own two outpatient clinics in New York. Over the past year while health insurance premiums have been going through the roof, I have watched insurers do one more thing to help their bottom line. They have shifted payment for healthcare to the patient, in some cases entirely.

As an example, here in New York, there are some Oxford and Blue Cross Blue Shield plans that by contract "reimburse" $50 per physical therapy visit. Here's the kicker. The patients co-pay has been raised from $15-$25 per therapy visit to $50 per therapy visit, so what the patient pays is all we get. The insurance companies pay nothing additionally.

This is what insurance companies "sell" as insurance for these elevated premiums and I don't know how that's even legal. It's a joke when patients come in and present their insurance card like that provides them any benefit at all. The insurance companies also still have the audacity to require us to submit continued requests for them to authorize care, and in many cases they won't give us that authorization even though they aren't paying a dime for the service (yes, we are currently in the process of exiting some of these contracts).
…

by ilene - August 21st, 2010 3:56 pm
Courtesy of DAVID STOCKMAN, courtesy of Minyanville
Some raids on the US Treasury by America's crony capitalists are so egregious as to provoke a rant — even if you aren't Rick Santelli. One such rant-worthy provocation is Pimco's latest scheme to loot Uncle Sam's depleted exchequer.
According to Bill Gross, who heads what appears to be the firm's squad of public policy front runners, the American economy can be saved only through "full nationalization" of the mortgage finance system and a massive "jubilee" of debt forgiveness for millions of underwater homeowners. If nothing else, these blatantly self-serving recommendations demonstrate that Matt Taibbi was slightly off the mark in his famed Rolling Stone diatribe. It turns out that the real vampire squid wrapped around the face of the American taxpayer isn't Goldman Sachs (GS) after all. Instead, it's surely the Pacific Investment Management Co.
As overlord of the fixed-income finance market, the latter generates billions annually in effort-free profits from its trove of essentially riskless US Treasury securities and federally guaranteed housing paper. Now Pimco wants to swell Uncle Sam's supply of this no-brainer paper even further — adding upward of $2 trillion per year of what would be "government-issue" mortgages on top of the existing $1.5 trillion in general fund deficits.
This final transformation of American taxpayers into indentured servants of HIDC (the Housing Investment & Debt Complex) has been underway for a long time, and is now unstoppable because all principled political opposition to Pimco-style crony capitalism has been extinguished. Indeed, the magnitude of the burden already created is staggering. Before Richard Nixon initiated the era of Republican "me-too" Big Government in the early 1970s — including his massive expansion of subsidized housing programs — there was about $475 billion of real estate mortgage debt outstanding, representing a little more than 47% of GDP.
Had sound risk management and financial rectitude, as it had come to be defined under the relatively relaxed standards of post-war America, remained in tact, mortgage debt today would be about $7 trillion at the pre-Nixon GDP ratio. In fact, at $14 trillion or 100% of GDP the current figure is double that, implying that American real estate owners have been induced to shoulder an incremental mortgage burden that amounts to nearly half the nation's current economic output.
There's no mystery as to how America got hooked on this…

by ilene - August 17th, 2010 8:08 pm
Courtesy of The Daily Bail
An outstanding discussion, primer and visual lesson on toxic assets, failed banks, the Federal Reserve, HR 1207, auditing the Fed, and you, the f*cked taxpayer. Don't miss this clip and then send it to someone else. Pay it forward until we have millions of f*cked taxpayers who will at least be informed. Awareness is our only chance.
More green shoots from Dylan Ratigan's awesome new show. Dylan puts on his Banker hat and swaps a (literal) bag of trash, on-air, for $13.9 Trillion worth of Monopoly money from a guy wearing a "Fed" hat. Dylan then explains why we should support Ron Paul's Audit of the Fed (HR 1207) and explains in plain and simple terms how we have been screwed by the Fed's bailout of the banks. This is really good stuff. I can't help but admire Ratigan for what he's doing with the new show. From our perspective, it just gets better and better. Here are just two of several choice morsels from this clip:
"The Federal Reserve just extended $14 Trillion of our money, our children's money, America's future…and now they don't want to talk about what's in the bag. And they did it because the banks created a garbage bag full of bad debts." (4:45)
"I feel as if America has suffered the greatest theft and cover-up — ever, … where banks created a pile of garbage, that they paid themselves billions of dollars in personal compensation, and then stuck the trillions of dollars worth of garbage with the American taxpayer. That, to me, is stealing." (7:05)