by phil - December 13th, 2017 8:30 am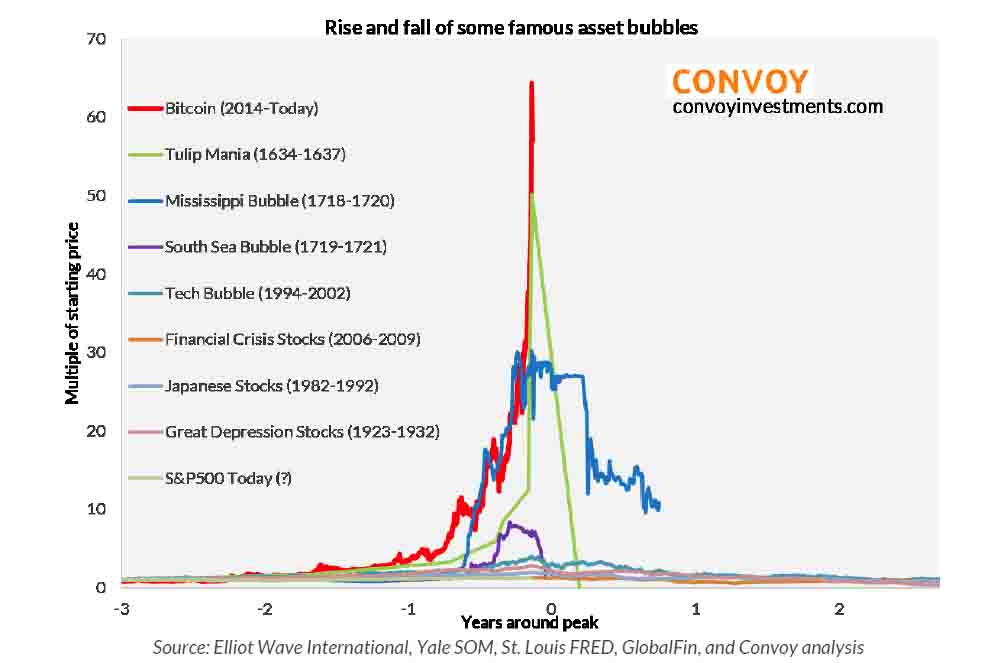 Bubbles, bubbles, everywhere.
BitCoin has passed tulips in 1637 as the biggest bubble that ever existed. The S&P bubble (see yesterday's post) is only up 300% in 8 years – hardly a blip on a chart where BitCoins (/XBT) is now up 6,500% in 3 years. Amazingly, it was only two weeks ago when I said "We Will All Be Billionaires" if the markets keep growing at this pace yet the pace most certainly has continued, with our Money Talk portfolio (see yesterday) hitting +80% in yesterday's trading.
There were no changes and no adjustments – just the same 4 positions going from +70% to +80% in two weeks while BitCoin went from $11,200 to $18,000 (+69%) and our GreenCoins went from 0.000220 to 0.000812 (+269%) before crashing back down to 0.000305 as we reminded people not to be greedy and take profits in yesterday's Live Member Chat Room. Of course the whole thing is ridiculous, but it's a ridiculous thing we can play with – so why not?
We're still accepting GreenCoins (GRE) as payment for 2018 Annual Memberships during the month of December at 0.00044 so, if you can buy them for 0.000300, you're getting a 25% discount at the moment but I'd offer 0.000200 – as those lows are still filling if you are patient. That gives you a 50% discount on Annual Memberships so, assuming you wanted an Annual Membership anyway, it's a free way to go through the process of playing the cryto market and, if you get lucky, GRE pops again and you can sell them for 4x, which pays for the Membership (2x) and leaves you 2x in your pocket as well!
See how easy it is to make money in America – we just make everyone rich on a weekly basis – what could possibly go wrong? Two weeks ago, if you bought a BitCoin for $11,200 to exchange for GreenCoins (that's how small cryptos work, they trade in BitCoins) and you waited until they were back at 0.00022 on the 8th, your BitCoin was at $20,000 and you only needed 22.7M GreenCoins for a Premium…

Posted in Appears on main page, Immediately available to public | Join Member's Chat - 108 Comments Here »
by Zero Hedge - December 12th, 2017 7:55 pm
Source: NY Times
****
Courtesy of Zero Hedge
Update: President Trump has reacted to Doug Jones' victory:
Update: US equity futures are sinking after Democrat Doug Jones wins Alabama Senate special election against Roy Moore, the state's Republican former chief justice who was dogged throughout the campaign by sexual misconduct accusations, AP reports.
Jones has 49.6% to Moore's 48.8% with 88% of vote counted, according to AP tally.

President Trump carried state in 2016 election by nearly 30 ppts over Democrat Hillary Clinton.

Jones wins seat vacated by Jeff Sessions, who became Trump's attorney general.

Jones, 63, a former federal prosecutor, becomes first Democrat in U.S. Senate from deeply-Republican state of Alabama in over 20 years (last Ala. Democratic senator was Howell Heflin, who left office in 1997; the state's senior senator Richard Shelby was a Democrat but switched parties to the Republicans in 1994)
Once Jones is sworn in, GOP's Senate majority would narrow to the smallest possible 51-49… which explains why US equity futures are sliding…
Shortly after 8pm EST this evening, the voting results of one of the most controversial special elections in modern history, which pits Republican Roy Moore against Democrat Doug Jones for Jeff Sessions' vacant Senate seat, will start to flow in to news desks all around the country.
While this election would have been a complete blowout just a few months ago, allegations of sexual assault which surfaced against Moore in November and which reportedly occurred in the late '70s, have made it a complete toss up. As we noted earlier this morning, even pollsters have no clue how to predict voter turnout tonight with Fox News predicting a 10-point win
…

Posted in Appears on main page, Immediately available to public, Phil's Favorites | No Comments »
by ilene - December 12th, 2017 6:15 pm
Our survey reveals that even Republicans want a fairer tax deal for America

Courtesy of Sven Steinmo, University of Colorado and John W. D'Attoma, University of Exeter
The American Republican party is about to pass a massive tax bill that almost no one – including their own voters – really wants. While many people like the idea of paying lower taxes, remarkably few favour the kind of tax bill proposed.
We do not yet know the exact shape of the final bill, but three things are certain. Corporations and wealthy individuals will get a big tax cut. Middle-class Americans will get a small tax cut. And the government will borrow approximately US$1,500,000,000,000 (yes, that's what 1.5 trillion looks like) to pay for those cuts.
Few Americans like any of these outcomes. According to one study earlier this year, 52% believe that taxes on large corporations should be increased, not cut. The same survey found that only 24% are in favour of cutting taxes on high income earners, while 48% believe people earning over US$250,000 should pay more tax, not less. Very few believe it is a good idea for the government to borrow even more money than it does already.
Good arguments can of course be made for public borrowing during economic downturns in order to stimulate spending. Similarly, some would argue that borrowing to spend on education or infrastructure can be positive investments in the future.
But neither of these arguments apply to this tax cut. This is simply a massive giveaway to the very people and institutions that need the money the least. According to the Federal Reserve Bank, annual post-tax corporate profits (US$1,738 billion) are higher now than they ever have been in US history. America's richest individuals now have more of the nation's wealth than any time since the 1920s.
Still, Congress is decorating a Christmas tree with tax goodies for companies and the rich, and leaving future generations to pay for them.
Today the federal government owes over US$20 trillion – more than the total value of goods and services produced in the US last year. That's US$62,000 for every man, woman and child living in the country. Even…

Posted in Appears on main page, Immediately available to public, Phil's Favorites | No Comments »
by Zero Hedge - December 12th, 2017 9:16 am
Courtesy of Zero Hedge
One month ago, a chart from Convoy Investments went viral for showing that among all of the world's most famous asset bubbles, bitcoin was only lagging the infamous 17th century "Tulip Mania."
One month later, the price of bitcoin has exploded even higher, and so it is time to refresh where in the global bubble race bitcoin now stands, and also whether it has finally surpassed "Tulips."
Conveniently, overnight the former Bridgewater analysts Howard Wang and Robert Wu who make up Convoy, released the answer in the form of an updated version of their asset bubble chart. In the new commentary, Wang writes that the Bitcoin prices have again more than doubled since the last update, and "its price has now gone up over 17 times this year, 64 times over the last three years and superseded that of the Dutch Tulip's climb over the same time frame."
That's right: as of this moment it is official that bitcoin is now the biggest bubble in history, having surpassed the Tulip Mania of 1936-1937.
Some more observations from Wang:
I continue this topic and discuss a main driver of bubbles. When we see a dramatic rise in asset prices, there is often an internal struggle between the two types of investors within us. The first is the value investor, "is this investment getting too expensive?" The second is the momentum investor, "am I missing out on a trend?" I believe the balance of these two approaches, both within ourselves and across a market, ultimately determines the propensity for bubble-like behavior. When there is a new or rapidly evolving market, our conviction in the value investor can weaken and the momentum investor can take over. Other markets that structurally lack a basis for valuation are even more susceptible to momentum swings because the main indicator of future value is the market's perception of recent value.
We will publish the balance of Wang's full note "What causes asset bubbles?" shortly, but for now we just wanted to experience a moment of true zen serenity, knowing that we now stand in proximity to an asset bubble the magnitude of which has never before been observed by humanity. Thanks central banks!
Posted in Appears on main page, Chart School, Crypto Corner - Bitcoin, ETC, Immediately available to public, Phil's Favorites | No Comments »
by phil - December 12th, 2017 8:32 am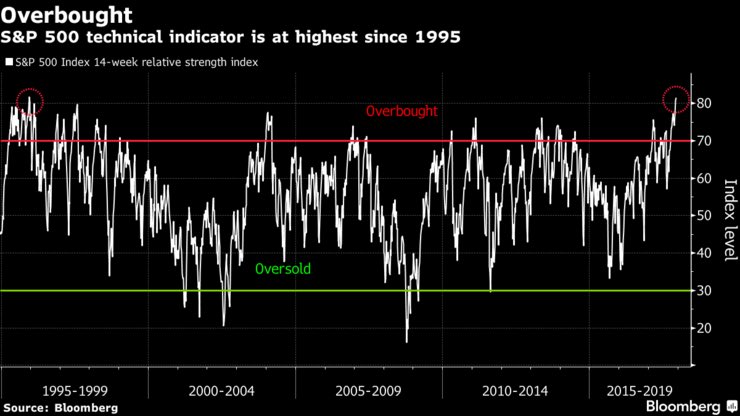 80% overbought.
We weren't even 80% overbought in 1999. The high on the RSI Index was hit back in early 1997 and, bulls take note – we kept going higher for 2 more years after that – so this doesn't mean it's the end – it just means this is crazy. This is about the point where Alan Greenspan called the market "irrationally exuberant" (Dec 5th, 1996) saying:
Clearly, sustained low inflation implies less uncertainty about the future, and lower risk premiums imply higher prices of stocks and other earning assets. We can see that in the inverse relationship exhibited by price/earnings ratios and the rate of inflation in the past. But how do we know when irrational exuberance has unduly escalated asset values, which then become subject to unexpected and prolonged contractions as they have in Japan over the past decade?
The Dow had just passed 5,000 at the time and, two years later, it was at 11,700 – up 134% AFTER the Fed Chairman said people were nuts for buying stocks. I don't know for sure if we were right to go to CASH!!! last week but it's not a permanent decision – it's simply something we're doing into the holidays and likely to remain until we see the Q4 earnings and 2018 guidance in January. THEN we will decide which stocks we want to ride for the next 100% of the market rally – if such a thing is coming.
As you can see from the chart, the Dow move was nothing compared to the Nasdaq, which more than tripled after his call. We just saw BitCoin more than double after JP Morgan's Jamie Dimon called it a scam and our GreenCoins (GRE) doubled yesterday and today they are up another 20% – that's a scam we can all enjoy!
We're waiting on a Fed decision tomorrow and they are expected to tighten and this morning's November PPI numbers were hotter than expected, at 0.4% with even Core PPI up 0.3% – so those are good reasons to expect the Fed will be tapping on the brakes tomorrow but Greenspan raised rates all the way…

Posted in Appears on main page, Immediately available to public | Join Member's Chat - 142 Comments Here »
by ilene - December 11th, 2017 2:02 pm
How the 'Greatest Showman' paved the way for Donald Trump

Courtesy of Michael Greenwald, Texas A&M University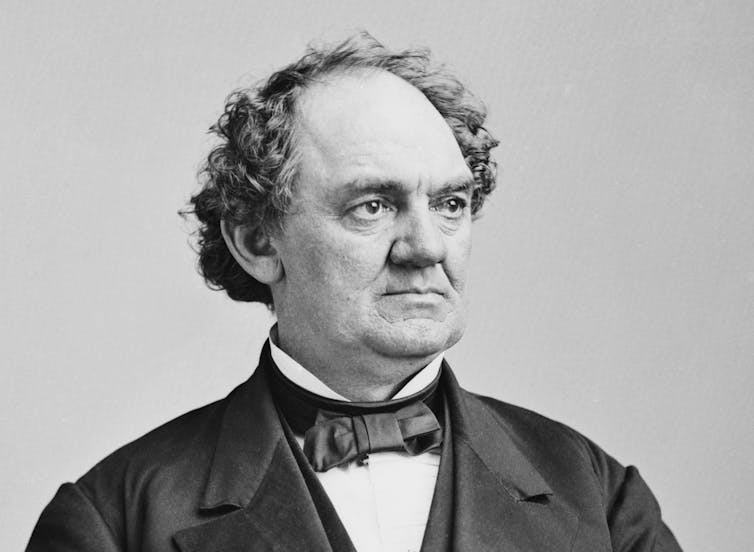 Historian James Cook, in his 2001 book "The Arts of Deception," points to July 1835 as "the birth date of modern American popular culture."
That month, a frustrated grocer named Phineus Taylor Barnum purchased Joice Heth, a purported 161-year-old slave who had been George Washington's nanny.
Barnum furiously promoted her as "Absolutely the Greatest Natural and National Curiosity in the World." It worked: Over 10,000 people saw her at New York City's Niblo's Garden during a two-week exhibition.
But while patrons gave testimonials assuring her authenticity, Barnum decided to muddy the waters: He wrote anonymous letters calling her "a deception cleverly made of India rubber, whalebone, and hidden springs." The ploy challenged people to judge for themselves whether she was real or a hoax.
After Heth died in 1836, an autopsy was arranged to determine her age. A lesser huckster might have shrunk from the spotlight, fearing being exposed. Not Barnum: He charged customers 50 cents to observe the autopsy. (She ended up being around 80 years old.)
Now P.T. Barnum is the subject of a new musical biopic starring Hugh Jackman, "The Greatest Showman." It's a fitting moment to release a film featuring the country's most famous impresario, entrepreneur and – some would say – scam artist.
Today, the country is gripped in a populist fervor, just as it was in Barnum's time. Advertising – then in its infancy – now saturates all parts of our lives. And of course there's the country's new president, who's one year into his first term. Barnum's showmanship pulses through every fiber of Donald Trump's political style.
Selling to the masses

In the 1830s, Jacksonian democracy was supplanting Jeffersonian elitism. The political movement challenging the existing social order in favor of the social, religious and aesthetic preferences of ordinary people, or, as composer Aaron Copeland later rhapsodized, "the Common Man."
Acutely attuned…

Posted in Appears on main page, Immediately available to public, Phil's Favorites | No Comments »