by phil - July 25th, 2017 8:34 am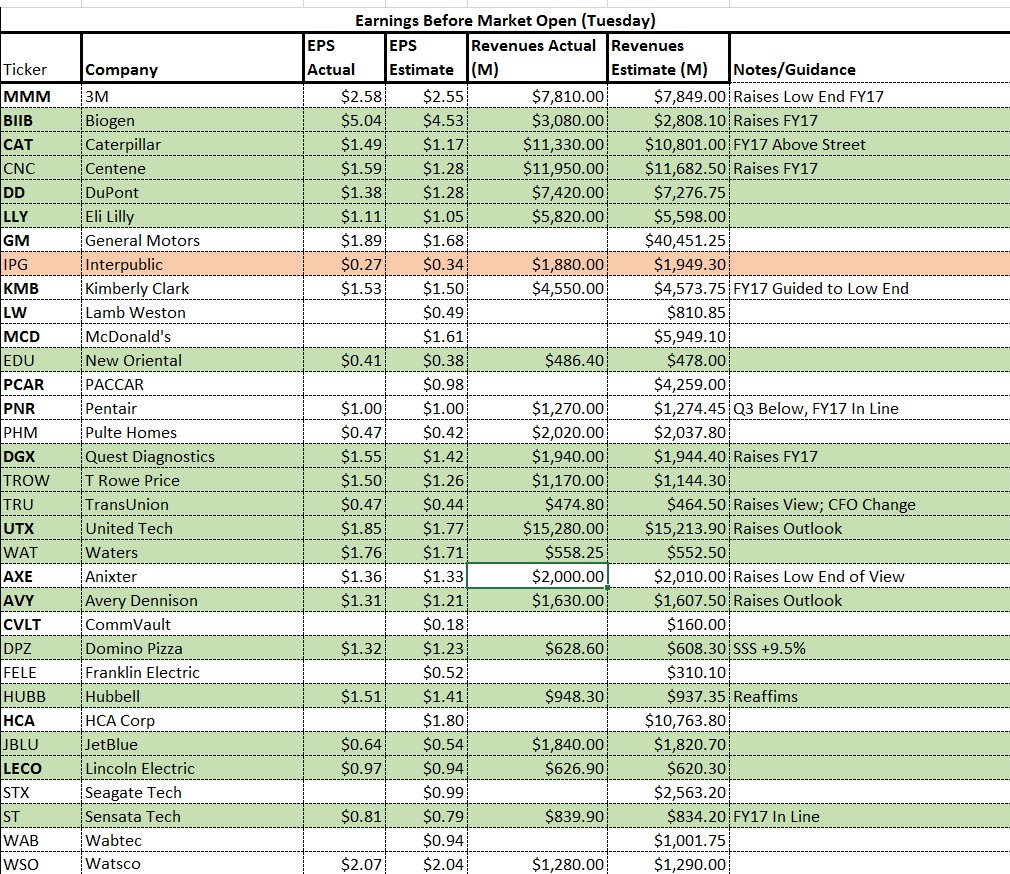 Beat crazy!
With the very notable exception of Google (GOOGL), who had higher than expected Traffic Acquisition Costs, most of today's reporting companies are nicely green and oil (USO) is back to our shorting line at $47.20 (/CL Futures) after yeasterdsay's failure to turn back down from $46.50, which is a loss of $700 per contract if you did not heed our warning, in yesterday morning's PSW Report, to use tight stops.
Nonethelss, you can be redeemed by doubling down at $47.20, which would raise your short average to $46.85 and then get out of at least half even there and back to tight stops above $47.25, which we shouldn't even see if oil remains weak. That lines up with $49.50 on Brent Oil (/BZ) – which also should be a point of non-futile resistance.
Seagate (STX) just missed and is down 20% and that does not bode well for Amazon (AMZN), who we've been shorting to no avail, as the only place they make any money is cloud storage. That's right, turns out it's not profitable to pack and ship you a $3.99 case of Pepsi overnight – who'd have thought? I was at the post office yesterday, contemplating what a stupid business Amazon really is. Yes, it's nice that they can ship me all that stuff but, even at the post office, shipping costs are expensive and AMZN doesn't MAKE the stuff they ship, they only get a commission on it. Even if they send you a book, where they take 30% of the sale price – by the time they pack, wrap and ship it to you – it's break-even at best.
That's why Amazon doesn't have any real competition – there's no money in their business, why would anyone compete? Don't get me wrong, you can sell the crap out of a service that doesn't make any money because the people will love it but how long before they wise up? For instance, I was at the super market and I saw Starbucks (SBUX) Cold Brew Cofee with cream, cocoa and honey – 3 things I like in coffee so, even though it was $4, I had to buy one and it was…

Posted in Appears on main page, Immediately available to public | Join Member's Chat - 10 Comments Here »
by ilene - July 25th, 2017 2:45 am
Courtesy of Zero Hedge
Do you ever get the sense that your favorite steak at that Quick Service Restaurant of your choice keeps getting thinner and thinner all while your check size at the end of the night continues getting larger and larger. Well, it is. How else are publicly traded chains going to continue to deliver margin growth to Wall Street in the midst of rising labor costs, rising commodity costs and shrinking customer traffic?
As a new study in the U.K. just revealed, shrinking portion sizes among food manufacturers is actually way more common than you might think and you probably never even noticed it. In fact, according to data from the Office for National Statistics, over 2,500 consumer products in the U.K. shrunk in size over the past five years despite being sold for the same price.
But it's not just food manufacturers that are shrinking portions while maintaining price as many consumers goods items from chocolate to coffee to toilet paper are all experiencing the same trends. Known in grocery circles as 'liar packs,' shrinking portion sizes became an attractive alternative to simply raising prices back during the great recession when consumers became particularly sensitive to price. Of course, the net effect is exactly the same but it's much more difficult to notice that fine print on the bottom corner of the packaging than it is the price tag at check out. From The Telegraph:
Mark Jones, a food and drink solicitor at Gordons law firm, said: "Shrinkflation was borne out of the recession and has gathered staggering pace since 2009. The ONS's report confirms this. Against the back drop of a weak economy, commodity prices have been rising over the last five years.

"The recession made people very price sensitive and you can see the evidence of that by looking at the impressive growth of discount retailers in the last five years, no retail sector has grown faster.

"Suppliers and retailers do not want to raise the 'on the shelf' price, but both have had to adapt to increasing commodity prices.

"Shrinking the size of the products being sold, whether that is toilet paper, chocolate or cleaning products, is just another way of pushing through a price increase, but in a more subtle way. How many
…

Posted in Appears on main page, Immediately available to public, Phil's Favorites | 1 Comment »
by ilene - July 24th, 2017 10:37 pm
How a secretive network built around a Nobel prizewinner set out to curtail our freedoms
By George Monbiot, published in the Guardian 19th July 2017 (A despot in disguise: one man's mission to rip up democracy)
It's the missing chapter: a key to understanding the politics of the past half century. To read Nancy MacLean's new book, Democracy in Chains: the deep history of the radical right's stealth plan for America, is to see what was previously invisible.
The history professor's work on the subject began by accident. In 2013 she stumbled across a deserted clapboard house on the campus of George Mason University in Virginia. It was stuffed with the unsorted archives of a man who had died that year, whose name is probably unfamiliar to you: James McGill Buchanan. She writes that the first thing she picked up was a stack of confidential letters concerning millions of dollars transferred to the university by the billionaire Charles Koch.
Her discoveries in that house of horrors reveal how Buchanan, in collaboration with business tycoons and the institutes they founded, developed a hidden programme for suppressing democracy on behalf of the very rich. The programme is now reshaping politics, and not just in the US.
Buchanan was strongly influenced by both the neoliberalism of Friedrich Hayek and Ludwig von Mises and the property supremacism of John C Calhoun, who argued, in the first half of the 19th century, that freedom consists of the absolute right to use your property – including your slaves – however you may wish. Any institution that impinges on this right is an agent of oppression, exploiting men of property on behalf of the undeserving masses.
James Buchanan brought these influences together to create what he called "public choice theory". He argued that a society could not be considered free unless every citizen has the right to veto its decisions. What he meant by this was that no one should be taxed against their will. But the rich were being exploited by people who use their votes to demand money that others have earned, through involuntary taxes to support public spending and welfare. Allowing workers to…

Posted in Appears on main page, Immediately available to public, Phil's Favorites | No Comments »
by phil - July 24th, 2017 8:20 am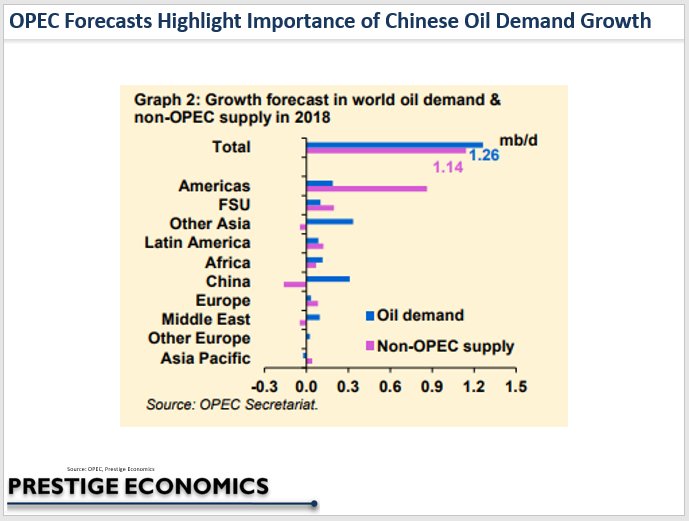 As we predicted on Friday, the Saudis have unilaterally cut production.
It was less than we recommended, however – 600,000 barrels vs. 1Mb needed to make enough impact to get Brent Crude back to $50 so we'll be back to shorting oil once the bulls get done reacting to the headline. At the moment (8am), US Oil (/CL) is trading at $46.06 and hopefully we can short it at $46.50 but we'll take a short under $46 with tight stops above as they may not get there on this half-assed effort.
The Saudis have to act in loco parentis at these meetings but it was hoped by oil bulls that holding the OPEC meeting in St. Petersburgh meant Russia would be joining in with more cuts. Not only didn't that happen but both Nigeria and Lybia have room to INCREASE their production under today's agreement, which offsets most of the Saudis' new cuts. The success of this deal rests on the rest of OPEC complying with November's production cut – something they are notoriously bad at.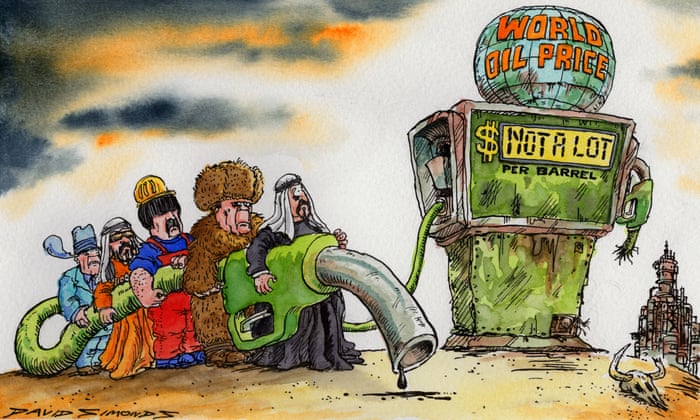 Long-Term, the OPEC nations face a disaster of biblical proportions as their oil-dependent economies are running headlong into the end of the oil era. According to a new book. Burn Out: The Endgame for Fossil Fuels takes the view that oil prices will not just be "lower for longer", as BP chief Bob Dudley predicted, but lower forever. The evidence for author Dieter Helm's case rests on plentiful supply unlocked largely by the US shale revolution, "unstoppable" global action on climate change, and technological advances.
"My view is that oil prices will probably carry on falling forever, and $50 is a high price for oil, not low," the University of Oxford professor told an audience in London.
Helm described his book as "very bleak" about the fate of the Middle East's oil producers, who he warns face challenges "at best uncomfortable and at worst close to existential". Of Opec, he writes: "The popular narrative … assumes that these countries still have the power to move the price, and hence assumes that, eventually, Opec will restore order and return to the good days of ever-higher prices. This narrative is profoundly wrong."…

Posted in Appears on main page | Join Member's Chat - 99 Comments Here »
by Zero Hedge - July 22nd, 2017 3:07 pm
Courtesy of Zero Hedge
Several years ago, Gluskin Sheff's superstar economist (previously at Merrill), David Rosenberg (in)famously flipped from bear to bull, predicting what amounts to a victory for the Fed: a jump in (wage) inflation, a burst in economic growth, and an overall selloff in that most deflation-dependent asset, the US Treasury. None of those happened, and while we (gently) mocked Rosie's transformation at the time, recently Rosenberg himself admitted that our skepticism was accurate, when he reverted to his bearish bias over the past year, predicting that deflation would end up winning after all.
Today, in his latest market musings chartpack, we present the key reasons why Rosenberg has never been more convinced that all those calling for an end to the secular bond bull market, are wrong and why despite the Fed's best intentions to create the impression that the global economy is stabilizing, what is about to be unleashed on the global economy is at least 5 years of accelerating deflationary pressures.
As the main catalysts for his gloomy outlook, Rosenberg lists the obvious ones, debt and deflation, but by far the most important factor that prompted Rosenberg to revert to the "dark side", the one about which Rosie says "nothing is more important than this if you are looking at what will fundamentally influence the financial markets for the next decade-plus"… is demographics.
"The first of the boomers turned 70 this past year, that 80 million proverbial pig-in-the-python in North America, and 1.5 million will be doing so each year for the next fifteen years."
That fact, Rosenberg believes, will be the single most important driver of returns over the next decade.
Below, he explains why those seeking to understand market moves and inflationary forces over the coming ten years, should first and foremost focus on demographics. Everything else will follow.
* * *
As excerpted from Lower for Longer Lingers, by David Rosenberg, July 2017:
We are back into the "lower for longer" theme — lower growth, lower inflation and lower bond yields. Each cycle, the peaks keep on going lower and lower. Just as Bank of Canada Governor Stephen Poloz warned everyone last September. To be sure, he just raised
…

Posted in Appears on main page, Immediately available to public, Phil's Favorites | No Comments »
by clarisezoleta - July 21st, 2017 1:05 pm
PhilStockWorld.com Weekly Trading Webinar – 07-20-17

For LIVE access on Wednesday afternoons, join us at Phil's Stock World – click here
Major Topics:
00:02:22 Indexes
00:08:11 Currencies
00:09:00 Butterfly Portfolio
00:09:47 Short-Term Portfolio
00:10:35 Long-Term Portfolio
00:13:44 Short-Term Portfolio
00:18:37 EWZ
00:21:56 CSIQ July 15-17 Short Puts in the OOP
00:26:50 SPX Charts
00:29:53 MSFT
00:46:17 Trade Ideas
00:52:02 WPM
00:54:29 SPX
00:54:59 AMZN Income Statement
00:55:36 TM Income Statement
00:56:41 XOM and Walmart Income Statement
00:58:45 AMZN
01:03:30 TWX and NFLX
01:11:23 WTIC
01:21:42 BRENT
01:27:45 GOOGL
01:29:39 Checking on the Markets
01:36:41 Money Supply Money Velocity
01:41:32 Gold
01:43:27 More Trade Ideas
01:44:40 COST
01:49:17 CMG
Phil's Weekly Trading Webinars provide a great opportunity to learn what we do at PSW. Subscribe to our YouTube channel and view past webinars, here. For LIVE access to PSW's Weekly Webinars – demonstrating trading strategies in real time – join us at PSW — click here!
Posted in Appears on main page, Immediately available to public, Phil's Favorites | No Comments »