by phil - July 21st, 2017 8:36 am
Will the last short seller please turn out the lights?
According to S3 Analytics, Bets against the SPDR S&P 500 (SPY), the largest ETF tracking the broad index, fell to $38.9Bn last week, the lowest level of short interest since May, 2013. The same thing is going on in hedge funds as we're well below 2013 levels in short funds – people have simply given up on the idea that this market is going to go down – and that's probably the best time to short it!
In our Portfolio Reviews this week, we have been pressing our hedges by using about 1/4 of the money we have made on our longs, simply trying to lock in our gains as we certainly don't expect the market to make 4-7% every month – that would be silly, right? These days, you have to wonder as the S&P is up 25% from the mid-point (not the lows) of 2015 and early 2016 (2,000) yet, as I noted in yesterday's Live Trading Webinar (Members Only, but you can see the replay here) the earnings of the components of the S&P are not matching those gains at all:
Apple (AAPL) is the top component of the S&P. With an almost $800Bn market cap, it makes up 3.7% of the index. In 2015 they had $233Bn in sales and made $53Bn, last year they had $215Bn in sales and made $45Bn and this year they are looking for $220Bn in sales and $46Bn in profit yet AAPL is trading 60 points higher (66.6%) than it was at the beginning of last year (after 2015 earnings were reported). What has AAPL actually done to justify a 66% gain? Mostly, it was drastically undervalued but, other than that – it has added no profits to the overall S&P. In fact, it has subtracted them!
AAPL is also the largest Dow component and $1 in share price is 8.5 Dow points (yes, it's an idiotic system). So AAPL alone is responsible for 510 points (12.5%) out of the Dow's 4,100 point run from 17,500 (23%). Now I love AAPL, it was our Stock of the Year in 2013, 2014 and 2015 (this year it is WPM), so I'm fine with their value now, it was…

Posted in Appears on main page, Immediately available to public | Join Member's Chat - 20 Comments Here »
by Zero Hedge - July 20th, 2017 10:40 pm
Courtesy of Zero Hedge
Amazon is having a rough week.
The e-commerce powerhouse has celebrated a string of victories this year. Its stock price broke above $1,000 for the first time; it is presiding over an unprecedented retrenchment within the retail space as more than 8,000 brick-and-mortar stores are expected to close in the US this year, and the company announced plans to acquire yuppie favorite Whole Foods Market, promising to transform the company's stores into laboratories for automation and AI where advanced sensors will perform tasks previously reserved for human cashiers. It also revealed that its "Prime Day" sale was the "Biggest Global Shopping Event in Amazon History", surpassing Black Friday and Cyber Monday sales.
But the string of good news came to an abrupt halt last week when Reuters reported that the top Democrat on the House antitrust subcommittee, David Civilline, has voiced concerns about Amazon's $13.7 billion plan to buy Whole Foods Market and requested in a letter to the House Judiciary Committee a hearing to examine the deal's potential impact on consumers – the first stirrings of what could metastasize into an anti-trust probe.
Adding to the antitrust concerns, Reuters reported Thursday that the FTC is investigating the company for allegedly misleading customers about its pricing discounts, citing a source close to the probe. The news sent Amazon shares lower in afternoon trade:
Amid the negative news, the company's investors enjoyed a brief moment of levity when career website Ladders reported on a patent that was awarded to the company earlier in the week. The patent, first filed in 2015, revealed the company's plans to build a robot that, using the company's massive data-mining apparatus, would be able to track down desperate mobile-device users in crowed public spaces like an airport or concert venue and present them with the greatest gift of all: an opportunity to charge their phones.
Here's a quick rundown of how it'll work, courtesy of Ladders:
"You will make a wireless request (perhaps with your last precious few moments of juice).

The robot will find you in a
…

Posted in Appears on main page, Immediately available to public, Phil's Favorites | No Comments »
by phil - July 20th, 2017 8:29 am
Every 12 minutes.
That's how often an American citizen dies due to lack of health care. Trump gave a fiery speech yesterday ordering his Republican goons to repeal Obamacare at any costs – and the costs are turning out to be staggering. According to the Congressional Budget Office, Trump's plan will throw 32 MILLION Americans off health care and that will cost over 500,000 of them their lives over the next 10 years.
That will make Trump, the GOP and the people who voted for them, the greatest mass murderers in the history of this country – right up there with the worst in World history (would rank #12, actually). And why are they doing this, why do 4,000+ Americans have to die every month? Well, according to the Congressional Budget Office, taking health care away from 1 out of 10 people you see today will save us $473Bn – over 10 years. That's $47.3Bn a year and that does sound like a lot but there are 165M taxpayers so we each save $286.66 per year.
$286.66 a year! How many people would you kill for that kind of money? Next time you are at a football stadium (50,000 people) pick 8 people to kill because that's how many out of 50,000 (1/6,400) are being killed to give you $286.66. In fact, the amount of people in the stadium (all of them) is just about how many people your vote will be killing each year. Isn't that GREAT!?!? America is truly great again when we can value $286.66 over 50,000 human lives.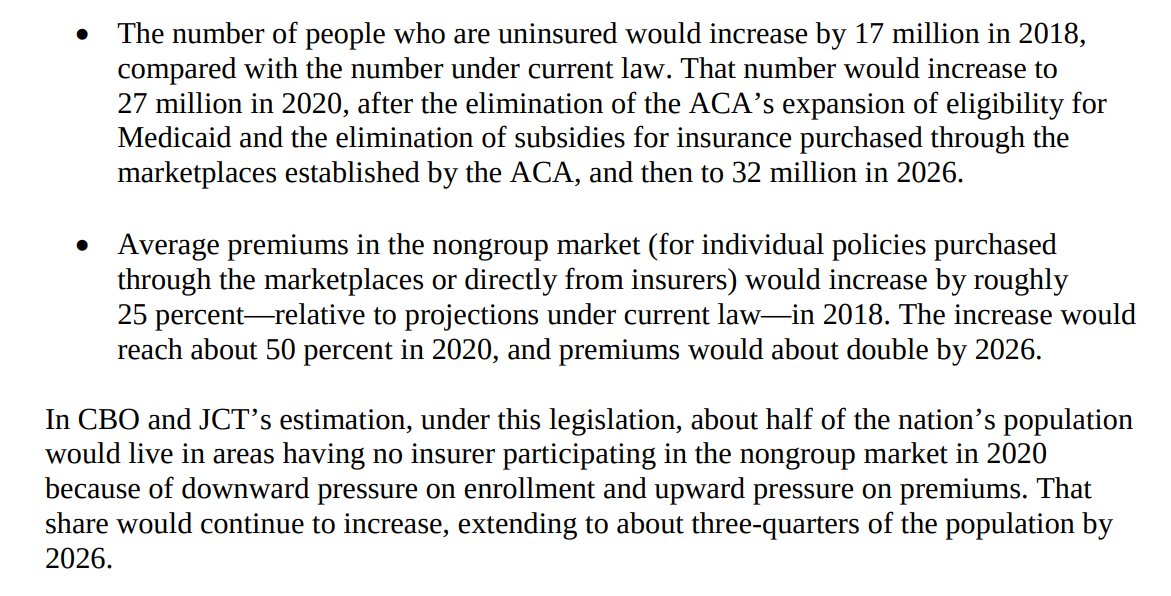 And, if you think your own health care bill won't rise quite a lot more than $286.66 without Obamacare protections, then you are way too far down the rabbit hole to be saved. The repeal-only act will increase premiums for those who hold plans, according to the CBO. The office estimates that "average premiums in the nongroup market (for individual policies purchased through the marketplaces or directly from insurers) would increase by roughly 25%" in one year. That average premium increase would hit 50% by 2020 compared to projections of rates under the current law, and double by 2026, the CBO said.
…

Posted in Appears on main page, Immediately available to public | Join Member's Chat - 106 Comments Here »
by ilene - July 20th, 2017 2:06 am
How long will this go on? Actually, go ahead and make your prediction in the comments.
Courtesy of Michael Batnick, The Irrelevant Investor
"There are decades where nothing happens; and there are weeks where decades happen." -Vladimir Lenin
U.S. stocks made zero progress in the seventeen months from October 2014 to January 2016. And in the seventeen months since the February lows, here's how the following indexes have performed.
S&P 500 +36%
NASDAQ 100 +52%
Russell 2000 +52%
What's happened in the last seventeen months? Three rate hikes, a U.S. election, and a CAPE ratio that expanded from 24 to 30.The market has had plenty of reasons to stop rising, except it has refused to acquiesce to the demands of thirsty bears and hungry bulls.
Each of these three indexes can close today at an all-time high for the seventh time this year. (The dots below represent the all-time closing highs for each)
The easy money is being made, enjoy it while it lasts.
Posted in Appears on main page, Immediately available to public, Phil's Favorites | No Comments »
by ilene - July 19th, 2017 8:11 pm
Courtesy of Vitaliy Katsenelson, Contrarian Edge
I wrote this article in May. Every time it was destined to be published in the pages of Institutional Investor, it got bumped by another, more timely one I had written. Finally, when a space opened in September, the market had taken a major dive, and what was supposed to be an "evergreen" article was suddenly out of touch with reality. Here is the irony: This piece addresses complacency, but its author was complacent too. The market has recouped its summer losses, and this article is relevant again.
I am a skier. When someone says this, you assume he or she is good. Well, I thought I was good. I was not Lindsey Vonn, but I had the technique down. I'd be the fastest person going down the mountain, always waiting for my friends at the bottom
Then, at the beginning of last season, I went skiing with my kids at Vail. It had snowed nonstop for a few days. Vail is a very large resort, and the mountain crew could not keep up with the snow, so I found myself skiing on unusually ungroomed slopes in powder more than knee-deep.
Suddenly, something changed. I could not ski. I could barely make turns. I was falling multiple times per run. My kids, including my nine-year-old daughter, Hannah, were now waiting for me as I dug myself out of pile after pile of snow.
My technique — along with my confidence — was gone. The discomfort from constant falling turned into fear. I was ready to go back to the hotel after only two hours on the slopes.
I was devastated. It was as if I had never skied. So I talked to a ski instructor about this incident. He told me that I'm a "good skier" on groomed slopes because they allow me to go fast without trying hard. Speed covers up a lot of mistakes and lack of skill. Skiing in powder requires different skis — not the skis I had — but more importantly, it slows you down and makes you rely on skills that I thought I had but…

Posted in Appears on main page, Immediately available to public, Phil's Favorites | No Comments »
by phil - July 19th, 2017 7:38 am
Up and up she goes.
Now we're watching that 6,000 line on the Nasdaq (/NQ) Futures which is up 33% in 18 months and up 40% from the lows of Jan, 2017. We barely paused at 5,000 and didn't pull back at 5,500 but our first attempt at 6,000 was rejected and, if we call it a 1,500-point run from 4,500, then the "weak" reatracement, according to our 5% Rule™, would be back to 5,700 – and it was.
Holding the weak retracement is a sign of strength – indicicating that it's more likely we're consolidating for a move up than making a sustained move down and now we're testing 6,000 again but now we have to raise the bar and cannot accept more than a 150-point correction (5,850) to stay bullish on the Nasdaq and failing 5,700 would signal the start of a broader correction, down to 5,400 or possibly all the way to 5,000 before stabilizing. That's why we pressed the hedges in our Short-Term Portfolio (which protects our Long-Term Portfolio) as well as our Options Opportunity Portfolio, though we still didn't find many long plays we wanted to take off the table.
That leaves us, so far, net bullish and more bullish than we thought as we "only" have about $300,000 of downside protection in our Short-Term Portfolio against a Long-Term Portfolio that gained $200,000 (17%) in the past 30 days – very aggressively bullish. The Nasdaq is up 300 points (5%) since our last LTP review and that in itself calls for at least a 1% correction (60 points), back to 5,840 but that would then be below 5,850 – so you can see why this is such a tricky spot.
Not much to do but see how the week plays out. In yesterday's Live Member Chat Room, we took the money and ran on our Tesla (TSLA) short position and we added a long on Chipotle (CMG) towards the close as their sell-off has just gotten silly. I'm not supposed to be giving away trades but this is such a juicy one I'll tell you what I said to our Members at 2:37:
"CMG Aug $370 calls are $14.30 and were $47 two weeks ago.
…

Posted in Appears on main page, Immediately available to public | Join Member's Chat - 149 Comments Here »