by phil - January 23rd, 2017 5:12 am
No kaboom.
Trump has been President all weekend and the World is still here so I suppose we're going to have to formulate a trading strategy going forward. We reviewed our 4 Member Porfolios over the weekend and we are 75-90% in CASH!!! and, if the World continues not to end this week – we will be looking for more opportunities to deploy some of it.
Of course we're already dealing with the first crisis of the Trump Administration – How big was the crowd at the inauguration? You might think, "who cares" if you are a rational person but crowd size experts told the New York Times they estimated Trump's audience at fewer than 200,000 people, and widely distributed side-by-side photographs showed the stark contrast between the comparatively sparse crowd for Trump's inauguration and the record-setting crowd for Obama's first.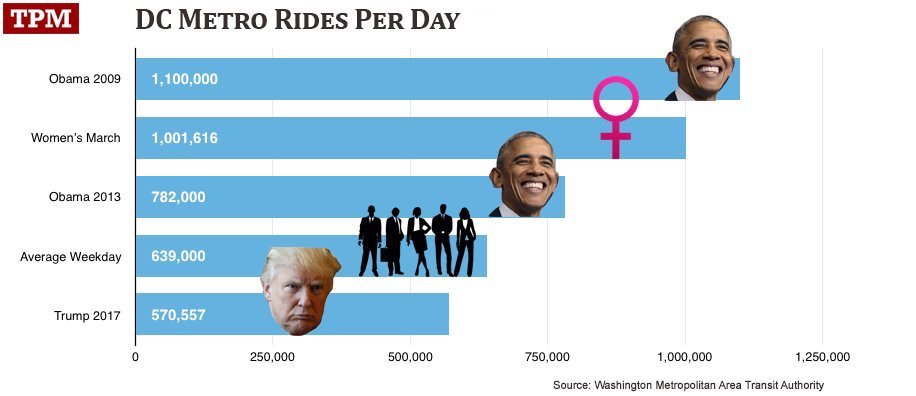 The President of the United States of America said the press was lying and under-reporting the crowd and White House Press Secretary Sean Spicer gathered the press to deliver a five-minute statement Saturday in which he issued multiple falsehoods, declaring erroneously the number of people who used the D.C. metro on Friday, that there was a change in security measures this year and that "this was the largest audience to ever witness an inauguration, period, both in person and around the globe." "These attempts to lessen the enthusiasm of the inauguration are shameful and wrong," Spicer said Saturday.
Then things get really freaky as Trump's counselor, Kellyanne Conway, went on Meet the press to confront the liberal media head on and ended up fighting with Chuck Todd and threatening NBC, saying "I think we're going to have to rethink our relationship here." You have to see it to believe it:
Nope, I still don't believe it! As noted by Todd, when the President's Press Secretary blatantly lies in his first Press Conference it undermines the credibility of the entire administration. Even more frightening is Conway's statement that: "You're saying it's a falsehood and Sean Spicer, our press secretary, gave alternative facts to…

Posted in Appears on main page, Immediately available to public | Join Member's Chat - 221 Comments Here »
by phil - January 22nd, 2017 6:38 pm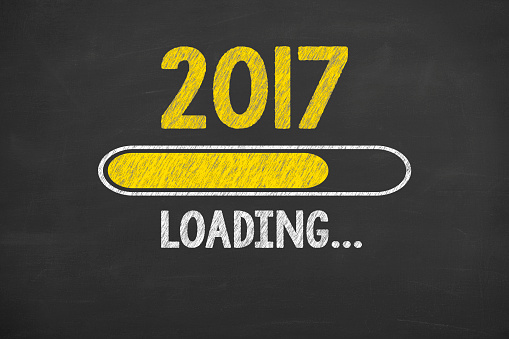 We're off to a great start!
Only 20 days into the new year and, since our last review, all 4 of our Member Portfolios have added substantial gains as our bets on a flatlining market are paying off:
Our Options Opportunity Portfolio (OOP) is up $9,352 (9.3%), at $246,577, which is up 148.6% since its 8/8/15 inception – our newest portfolio.
Our Butterfly Portfolio is up $7,816 (7.8%) at $331,408, which is up 231.4% since its 7/29/13 inception.
Our Short-Terrm Portfolio (STP) is up $9,222 (9%) at $484,298 which is up 375.1% since its 11/26/13 inception.
Our Long-Term Portfolio (LTP) has jumped 29,649 (6%) to $1,209,372, which is up 141.9% since its 11/26/13 inception.
In addition to our 4 virtual tracking portfolios, we also have our Top Trade Ideas, which do not go into a portfolio but I will do a review of those next week. For the first time ever, our last two Top Trade Ideas were hedges – that should tell you something about my mindset for the market going forward.
All of our Member portfolios are 75-90% CASH!!! at the moment and using 1/4-1/2 margin – leaving us plenty of room to adjust if the market does turn sour – something I feel is very likely to happen in the next two months and yes, I know I've said this before but, really, how much over our 2,100 top call on the S&P are we? It's at 2,262, so we're 162 points over what I called a value top and that's 7.7% but, in fairness, the Dollar is down 3% and that explains most of it.
The rest of the pop comes from runaway expections from the Trump Presidency and yes, he will lower the Corporate Tax Rate but Corporations only pay 12% on avergage now – how low can they really go? More pop came from the Banking Sector, where deregulation expections have added 20% to that index but we saw what deregulated Banks did to themselves under Bush – why is that a good thing? And, of course, rising oil prices have boosted the Energy…

Posted in Appears on main page | Join Member's Chat - 2 Comments Here »
by ilene - January 22nd, 2017 6:17 pm
Courtesy of John Mauldin, Thoughts from the Frontline
I have been in Washington DC for the last three days. The ostensible reason was to participate in a board meeting of a public company, Ashford Inc. (AINC). We manage hotel REITs that own three hotels here in DC, and the group decided to move our board meeting up a few weeks and hold it in DC during the inauguration. That gave me the opportunity to set up a few meetings to try to gain some insight into what the first 100 days, the first six months, and the first year of the Trump administration might look like.
This is going to be a short letter summarizing my impressions from the last few days. I think it might be easiest to present them in the form of a list.
If you listen to the media you might have the impression that the Trump transition team is in complete disarray. Talking with leaders of the transition team certainly didn't leave me with that impression. They have broken the transition process down into over 30 departments and have created a "landing document" for each department. The analogy they are using is that this process is like planning an invasion, and they are going to hand the landing document off to the "beachhead teams" who will then execute the plans.
I was briefly allowed to look at (without actually being able to read) the plan for one cabinet-level department. It appeared to be about 100 pages plus of serious detail as to exactly what executive orders would need to be removed and added, what personnel would have to be replaced (both appointees and regular staff), what policies would need to be changed, and so forth.
I was told that this level of planning was being done for every department. My impression is that there are a lot of people from various think tanks and others with experience in the presidential transition process who are involved in directing the plan for each department. That level of detailed planning doesn't happen in less than two months. My guess is that some of that thinking has been going on for years, and now…

Posted in Appears on main page, Immediately available to public, Phil's Favorites | No Comments »
by ilene - January 22nd, 2017 12:11 am
Trump's inaugural speech: Is it morning or mourning in America?

Courtesy of Christian Lundberg, University of North Carolina – Chapel Hill and Joshua Gunn, University of Texas at Austin
President Donald Trump's inaugural speech – a brief address, which, at 1,433 words, was the shortest since President Carter's – combined his trademark combative populism with shades of Ronald Reagan.
Though sprinkled with calls for unity, it also relied upon creating a sharp divide between his self-declared "movement" and forces aligned with the "Washington establishment." He also implicitly distinguished between those whom he dubbed "patriots" and everyone else.
In a sense, the speech mimicked today's political climate. For his base, it will be received as a call for all Americans to unify around his agenda. For his opponents, it will be seen as not only negative, but divisive. Whether one believes that his speech echoed the high ideals of the Gipper or the acrimony of the campaign trail may depend on whether you are a person who believes it is once again morning in America or a person who is mourning America.
In the end, if it was a call for unity, it was a divisive one.
Still mired in campaign rhetoric

According to Karlyn Kohrs Campbell and Kathleen Hall Jamieson, two leading experts of presidential rhetoric, an inaugural address functions to: (1) bring together the country; (2) rehearse common values; (3) set forth guiding presidential principles; and (4) demonstrate the presidential persona can be competently performed. Typically, the primary purpose of unification is achieved by rehearsing common values. On that foundation the presidential principles and persona are advanced.
For this reason, inaugural speeches usually don't name domestic enemies. Trump's inaugural was remarkable because of his stark use of direct scapegoating.
For example, although Ronald Reagan decried the "Washington establishment" in his 1981 address, he was deliberately vague:
"From time to time we've been tempted to believe that society has become too complex to be managed by self-rule, that government by an elite group is superior to government for, by, and of the people."
Trump, however, was very direct:
…

Posted in Appears on main page, Immediately available to public, Phil's Favorites | No Comments »
by ilene - January 20th, 2017 8:33 pm
Courtesy of Bill Moyers
This post first appeared on BillMoyers.com.
In this web exclusive, Bill Moyers and four historians dissect the big lie Trump rode to power: the Birther lie. Nell Painter, historian and Edwards Professor of American History, Emerita, at Princeton University; Khalil Gibran Muhammad, professor of history, race and public policy at Harvard Kennedy School; Christopher Lebron, assistant professor of African-American studies and philosophy at Yale University; and Philip Klinkner, James S. Sherman Professor of Government, Hamilton College discuss the fertile ground on which the birther lie was sown: our nation's history of white supremacy.
Credits: Gail Ablow, Producer; Sikay Tang, Editor
TRANSCRIPT
BILL MOYERS: I'm Bill Moyers. The most important thing to remember about Donald Trump is that he was the same man at 12:01 p.m. Friday after he took the oath of office as he was at 11:59 a.m. before his swearing in. His character: the same. His temperament and his values: the same.
What's different is that in those two minutes Donald Trump was handed the most awesome power imaginable. He now controls the world's most powerful nuclear arsenal. The Army, Navy, Air Force, Marines and Coast Guard are at his command. The FBI, the CIA, the NSA, the IRS, Homeland Security, the State Department, Justice Department, Treasury Department, the Department of Education, the Interior Department — all of the agencies of the executive branch — report, ultimately, to this one man. The world awaits his pronouncements, the markets and the media live by and for his tweets. So here's the second most important thing to remember about Donald Trump: He rode to power on the wings of a dark lie — one of the most malignant and ugly lies in American history. We must never forget it.
(MONTAGE)
LOU DOBBS (CNN 7/21/09): Up next, the issue that won't go away: the matter of President Obama and that birth certificate.
DONALD TRUMP (The View, ABC 3/23/11): There's something on that birth certificate that he doesn't like.
TRUMP (The O'Reilly Factor, FOX News 3/30/11): He doesn't have a birth certificate.…

Posted in Appears on main page, Immediately available to public, Phil's Favorites | No Comments »
by ilene - January 20th, 2017 8:05 pm
Eastern Promises

Courtesy of Joshua M Brown
This is how the game is played:
Either before or after the tweet is sent about your company, you make a trip to Trump Tower on Fifth Avenue or to Mar-a-Lago (which will be the new combination White House / Camp David, by the way) and you parade ostentatiously before the bank of TV cameras. "Look at me! I'm down with the President's agenda!"
Then a half hour later, you come down the golden elevator with the man himself, who holds an impromptu Q&A with you, as part of his end of the deal. Announcements of new jobs are made. New factories. New initiatives that will be undertaken, ASAP. Then he goes back up in his golden elevator for the next meeting and you get another 10 minutes of face time with the news crews. You grin optimistically, knowing that you and your company are off the Twitter shit list for awhile.
Mission accomplished.
It's an old playbook, imported from the east. More on that in a moment.
One of the obvious things going on here, at least to the business world, is that much of this is just another reality show. There's truth to these corporate pronouncements, but there's plenty of artifice as well. It's a pageant of sorts, designed for the consumption of the masses. To which I'd say, so what? If it gets the job done, let the man put on his show. Just don't get overly excited about any sort of national transformation.
Here's NBC News with some background on the fact that many of these corporate hiring and expansion plans were already in the works. It's just that they don't usually necessitate a press release and a meeting with the White House. The fifteen million jobs created by American businesses under President Obama were mostly not tweeted by @POTUS. Maybe they should have been.
Companies eager to avoid becoming the target of the next attack by President-elect Donald Trump are preemptively — or retroactively — announcing U.S. job creation plans.

But peel back a layer and the promises come with some caveats. A company's plan to increase capital
…

Posted in Appears on main page, Immediately available to public, Phil's Favorites | No Comments »