Author Archive for ilene
by ilene - July 2nd, 2015 5:02 pm
By Elliott Wave International
"Chao gu" is the Chinese term for speculating in stocks. Roughly translated, it means "stir-frying" shares. Lately, though, for millions of Chinese investors, it means getting fried.
Enter the "nerve-shredding," "whiplash-inducing," rollercoaster "tantrum" of China's stock market. After soaring to 7-year highs on June 12, both the Shanghai Composite and Shenzhen stock indexes collapsed in a respective 21% and 25% sell-off (as of June 30), frequently marked by wrenching intraday swings the likes of which haven't been seen in 20 years.
In the words of one June 28 news source (bold added):
"You have to have a very strong stomach to trade in China. You have to be prepared for days when you are up or down more than 5% and there is no clear fundamental explanation." (FinanceAsia)
In fact, not only isn't there a bearish fundamental explanation for the market rout, but those fundamentals widely seen as bullish for stocks have also failed to stem the slide. Take, for instance, these recent stock-boosting initiatives on the part of the People's Bank of China:
A .25% cut to both its 1-year lending and deposit rates
A decrease in banks' reserve requirements to loosen the lending spigot
The first-ever approval of local government pensions to buy stocks
That China's stock market shrugged off these (and other) supposedly bullish catalysts hasn't gone unnoticed. In the words of one Chinese investor, these moves imply "the stock market is kidnapping the government." (The Globe & Mail, June 30)
Well, he's sort of right. The moves imply the government is not in control of the market. Actually, on June 5, our own Asian-Pacific Financial Forecast expressed this exact sentiment and wrote:
"China's current bull market is not a product of government stimulus or of investor ignorance or — as a prominent short-seller told CNBC this week — 'the largest pump-and-dump in history.' "(Bloomberg, 6/1/15).
So, what is it a product of? Well, our Asian-Pacific Financial Forecast provides this Elliott wave explanation:
"Actually, it's the initial wave within China's wave V up, which followed the end of
…

by ilene - July 2nd, 2015 4:53 pm
By Tony Sagami
2006.
The last time the Federal Reserve raised interest rates was way back in June of 2006. Moreover, the Fed has kept interest rates near 0% since 2008.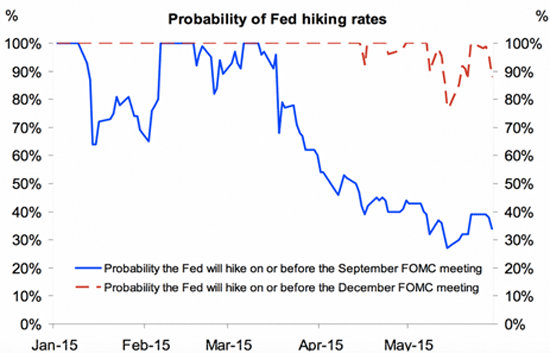 But after the June 17 FOMC meeting, just about everybody—and I mean everybody—is assuming that the Federal Reserve will raise interest rates later this year.
The Fed has been so convincing that the market sees a 34% probability for a rate hike by September and an overwhelming 88% probability for a rate hike before or in December.
Heck, even Fed Chairperson Janet Yellen has said that she expects the Fed to raise rates in 2015.
Frankly, I don't trust the Fed to do anything right, so my prediction is that Janet Yellen and her Fed buddies should not and will not raise interest rates this year.
Hey, I'm not the only person who thinks so.
The International Monetary Fund (IMF) says the FOMC better not raise interest rates this year. The IMF urged the Federal Reserve to delay a rate increase because of a still-struggling US economy and warned of "significant uncertainties as to the future resilience of economic growth."

IMF Chairperson Christine Lagarde didn't pull any punches:
"Higher US policy rates could still result in a significant and abrupt rebalancing of international portfolios with market volatility and financial stability consequences that go well beyond US borders."
"Asset price volatility could last more than just a few days and have larger-than-anticipated negative effects on financial conditions, growth, labor markets, and inflation outcomes."
"We think that there is a case for waiting to raise rates until there are more tangible signs of wage or price inflation than are currently evident. So, in other words, we believe that a rate hike would be better off in early 2016."
The IMF sees a very different world than the Federal Reserve, though.
Fed-Speak: The Fed reiterated in its most recent policy statement that it needs to be "reasonably confident" that inflation will move back up to…

by ilene - July 2nd, 2015 1:42 pm
Courtesy of Mish.
Improper training of a Taiwan pilot took the lives of 43 people in February. In a report just released, the pilot's last recorded words were "wow, pulled back the wrong side throttle".
Please consider TransAsia Crash Pilot Pulled Wrong Throttle, Shut Down Sole Working Engine.
The captain of a TransAsia Airways ATR mistakenly switched off the plane's only working engine seconds before it crashed in February, killing 43 people, Taiwan's Aviation Safety Council (ASC) said in its latest report on Thursday.

The ASC's report also showed that Captain Liao Jian-zong, who was at the controls, had failed simulator training in May 2014, in part because he had insufficient knowledge of how to deal with an engine flame-out on take-off.

"Wow, pulled back the wrong side throttle," Liao, 41, was heard to say on voice recordings seconds before the crash.

There appeared to be confusion in the cockpit as the two captains tried to regain control of the plane after the other engine lost power about three minutes into the doomed flight.
Robots the Solution
There is no way a robot would have pulled the wrong throttle.
There is no way a robot would have flown planes into the twin towers on 911.
There is no way a robot would have Purposely Crashed Germanwings Flight 9525 killing all 150 people.
Don't email me with security issues because I am 100% confident that any security issues related to software hijacking etc. can easily be solved
Gratefully, there are not that many plane crashes, but every time they do happen, I keep asking "Why?"
The same question applies to trains, even more so. There have been several major train crashes in recent years.
An autopilot never would have crashed any of the above planes and would have surely prevented many spectacular train crashes as well. Yet there is no discussion of how to use technology to prevent disasters like these.
While looking up train crashes (preceding link), I noticed this report from just eight hours ago: 5,000 Evacuated in Tennessee After Train Crash Releases Toxic Fumes.
…
by ilene - July 2nd, 2015 12:07 pm
Courtesy of Charles Hugh-Smith Of Two Minds
Assuming "growth" will fund all promised pensions and entitlements is magical thinking.
The core problem with pension plans is that the promises were issued without regard for the revenues needed to pay the promises. Lulled by 60 years of global growth since 1945, those in charge of entitlements and publicly funded pensions assumed that "growth"--of GDP, tax revenues, employment and everything else--would always rise faster than the costs of the promised pensions and entitlements.
But due to demographics and a structurally stagnant economy, entitlements and pension costs are rising at a much faster rate than the revenues needed to pay the promised benefits. Two charts (courtesy of Market Daily Briefing) tell the demographic story:
As the 60+ million baby Boom began qualifying for Social Security and Medicare entitlements, the percentage of beneficiaries rose quickly from a decades-long level of about 16% of the total population to 18.5%. This might seem like much, but what's troubling is the steep rise in the number of beneficiaries while the number of full-time workers who pay the vast majority of the income taxes has remained stagnant: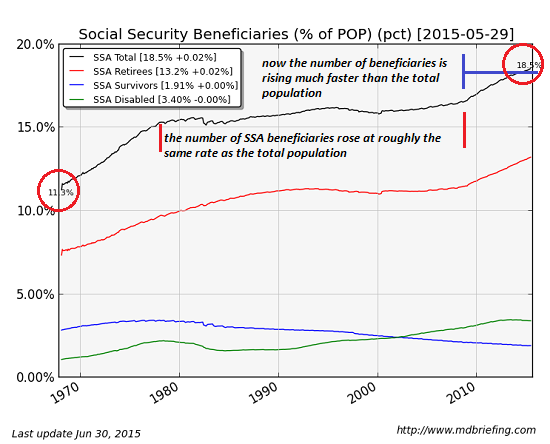 Federal social spending (entitlements) has almost tripled from 5% of GDP to 14% while federal tax revenues/spending have remained range-bound as a percentage of GDP. In other words, social spending is soaring as a percentage of the economy (GDP) while revenues to support that spending are limited by the slow-growing economy and the correlation between high tax rates and recessions.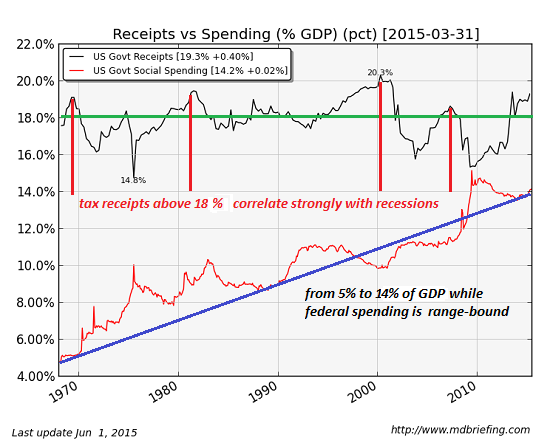 The other structural headwind is low investment returns in a zero-interest rate global economy. The only way to increase yields is to take on more risk, a strategy that has potentially catastrophic consequences: Pension Funds Are "Compromising Their Solvency" OECD Warns.
Any criticism of rapidly rising public pension costs quickly draws accusations of union-bashing, a favored propaganda technique to divert investigation of blatant abuse of the system. Since I have cousins who have retired from California police and firefighter jobs, I know all the insider games and tricks that many public employees can use to boost their pensions and benefits.
The issue isn't unions, it's the systemic abuse of public trust and public…

by ilene - July 2nd, 2015 10:44 am
Courtesy of Mish.
Initial Reaction
Today's job report (for June) once again showed a huge divergence between the household survey and the establishment survey.
Household survey employment fell by 56,000 while the establishment survey shows a gain of 233,000 jobs. The labor force declined by 432,000 and that explains the drop in the unemployment rate to 5.3% from 5.5%.
The report was weaker than it looks due to significant downward revisions in April and May totaling 60,000. May was revised to 254,000 from 280,000 and April to 187,000 from 221,000.
Part-Time Employment +372,000
Of note in the Household Survey, voluntary part-time employment rose by 519,000 while part-time for economic reasons declined by 147,000. That means there is a net increase in part-time employment of 372,000.
BLS Jobs Statistics at a Glance
Nonfarm Payroll: +233,000 – Establishment Survey
Employment: -56,000 – Household Survey
Unemployment: -375,000 – Household Survey
Involuntary Part-Time Work: -147,000 – Household Survey
Voluntary Part-Time Work: 519,000 – Household Survey
Baseline Unemployment Rate: -0.2 to 5.3% – Household Survey
U-6 unemployment: -0.3 to 10.5% – Household Survey
Civilian Non-institutional Population: +208,000
Civilian Labor Force: -432,000 – Household Survey
Not in Labor Force: +640,000 – Household Survey
Participation Rate: -0.3 to 62.6 – Household Survey
June 2015 Employment Report
Please consider the Bureau of Labor Statistics (BLS) Current Employment Report.
Total nonfarm payroll employment increased by 223,000 in June, and the unemployment rate declined to 5.3 percent. Job gains occurred in professional and business services, health care, retail trade, financial activities, and transportation and warehousing.
Unemployment Rate – Seasonally Adjusted…
by ilene - July 2nd, 2015 10:34 am
Courtesy of Pam Martens.
When Mario Draghi, President of the European Central Bank, famously said on July 26, 2012 that he would do "whatever it takes" to save the Euro, apparently providing a life line to Greece wasn't part of the "whatever." That has a lot of investors and heads of state worried: what else might not be part of his pledge? Would a financial crisis in Portugal, Spain or Italy also not be part of doing whatever it takes? It's beginning to sound like there's a monetary cap on doing whatever it takes.
This is the exact quote from Draghi's speech on July 26, 2012:
"And so we view this, and I do not think we are unbiased observers, we think the euro is irreversible. And it's not an empty word now, because I preceded saying exactly what actions have been made, are being made to make it irreversible. But there is another message I want to tell you. Within our mandate, the ECB is ready to do whatever it takes to preserve the euro. And believe me, it will be enough."
There's no question about the critical need for financial help in Greece. It's GDP has fallen by 25 percent over the past five years; its unemployment is over 25 percent with youth unemployment near 50 percent. And to onlookers around the world watching the cash rationing scenes at the banks in Greece unfold on television, it looks like Draghi's promise is an empty one.
The situation is so dire that even Pope Francis has asked Catholics worldwide to pray for the Greek people. A man in Britain has raised over 1.4 million Euros to help Greece from more than 82,000 people on the crowd funding web site, Indiegogo.
…
by ilene - July 2nd, 2015 2:53 am


Courtesy of Wade of Investing Caffeine
Just days ago, billionaire investor and corporate activist Carl Icahn called the stock market "extremely overheated," especially as it relates to high yield bonds. He communicated these comments over Twitter after saying markets are "sailing in dangerous unchartered waters." Given recent Greek developments regarding its inability to strike a debt repayment deal with eurozone leaders, Mr. Icahn might get exactly the volatility he expected when he made those comments. There's no question a Greek default could definitely cause a short-term contagion effect, but there will be much larger fish to fry than domestic equity markets (I will have much more to say on the Greek topic in my monthly newsletter).
While it's difficult to argue with Carl Icahn's long-term investment track record, currently there is little objective data (unemployment, yield curve, corporate profits, GDP, etc.) signaling an imminent recession or economic collapse. Whether you are an optimist or pessimist, there is no doubt we have come a long ways since the lows of 2009 – see Global Stock Market chart below:
Source: Mark Perry (Carpe Diem)
The rapid price appreciation has been undeniable, but Mr. Icahn and other equity bears may be missing the forest for the trees. There has been a disproportional increase in the value of bond assets versus equity assets. More specifically, as can be seen from the chart below, the value of global financial assets increased an estimated +21.5% to $294 trillion from 2007 to 2014. Of the $52 trillion increase in global financial assets, 92% of the increase ($48 trillion) was derived from expanding debt obligations – not stocks. I've said it many times before, but if you are worried about the pricking of an equity bubble, make sure to buy some heavy-duty industrial ear plugs for eventual pricking of the bond bubble.
Source: Business Insider / McKinsey
Former Treasury Secretary and Harvard President Larry Summers recently commented in an interview that a potential "Grexit" could have unforeseen consequences just like the situations leading to the collapse of Lehman Brothers, Long Term Capital Management, and the subprime market. At the time, those particular circumstances…

by ilene - July 1st, 2015 9:51 pm
Courtesy of Mish.
Demand for truck drivers is on the rise. Yet, there are not enough young drivers who want that rough of a lifestyle.
Supply Chain reports Aging Truck Driver Work Force – A Major Issue in Filling Demand & Empty Seats.
With a combination of retirements and people exiting the industry, carriers need to recruit in roughly 100,000 drivers per year over the next decade to simply keep pace with projected United States freight needs.

The American Transportation Research Institute (ATRI) released a fascinating white paper analyzing the age demographics of truck drivers.

The bottom line is that the U.S. truck driver population is aging and there are not enough young drivers in the labor force to fill the empty seats that will be opened by the upcoming retirement of drivers.

As I think about how to attack the driver shortage problem, I believe the answer is more than higher pay.

Increasing Supply

The primary shortage is for over-the-road TL drivers who spend weeks at a time away from home, sleeping in their trucks, showering and eating in truck stops, and enduring unnecessary hassles in getting unloaded in a timely fashion.

Increasingly, we also hear about shortages in LTL and drayage capacity. Higher pay is the simplistic answer, but manufacturers and retailers can ill afford higher transportation rates so higher pay has to be associated with greater productivity.

Getting 18-year olds into the industry is critical, but is limited by the CDL 21-year old age requirements. Immigration can be part of the solution to the driver shortage, just as it is for high tech workers.
Higher Pay?
In addition to higher pay, Supply Chain also discussed reducing the legal age of truck drivers, automatic transmissions, using retirees, spousal teams and other related nonsense.
Good Grief!…
by ilene - July 1st, 2015 4:42 pm
Courtesy of Mish.
Sirens of Blackmail
Having already explained twice what is going on with Tsipris' ever changing statements, I find it amusing that eurozone nannycrats cannot figure things out.
A few snips from the Financial Times article Tsipras Urges Greeks to Defy Creditor' "Blackmail" will explain what I mean.
Greece's prime minister accused Europe's leaders of attempting to "blackmail" Greek voters, just hours after apparently holding out an olive branch to the country's creditors by accepting most of the terms of the economic reform plan they had tabled last weekend.

Eurozone officials said they were baffled by the mixed messages coming from Greece, which this week missed a €1.5bn payment to the International Monetary Fund and has been forced to impose capital controls to avert a financial meltdown.

In a nationally-televised address, Alexis Tsipras, the Greek premier, urged his countrymen to vote No in a referendum on whether they should accept tough terms for bailout aid, and accused EU leaders of threatening to drive Greece out of the euro.

"The sirens of destruction are blackmailing you to say yes to everything without any prospect of exiting the crisis," Mr Tsipras said.
Baffled by Clear Picture
One has to be really dense to not understand Tsipras is saying and doing exactly what needs to be said and done to help sway a "no" vote on the referendum.
One might argue argue that eurozone officials do understand but purposely sound like they don't, however, that idea two major strike against it.
When stupidity is a clear choice, it is likely the right one. Occam's Razor suggests the simplest answer that works is the most likely answer, and what can be simpler than stupidity?
It could be in the best interest of the eurozone offcials to make a statement that Tsipras is electioneering.
Of course, the eurozone officials are also electioneering, so perhaps they simply feel trapped and have no idea what to do or say about Tsipras' moves.
Merkel's Revenge
Here's an amusing story that is equally clueless in nature: Angela Merkel Takes Revenge on Greek Prime Minister.
Alexis Tsipras stunned Greece's creditors on Saturday by walking out of rescue talks and calling a national referendum on their last bailout offer. Now German Chancellor Angela Merkel is taking her revenge….
by ilene - July 1st, 2015 3:01 pm
Courtesy of Lee Adler of The Wall Street Examiner
Given the way that the Wall Street Journal and its biggest client, the National Association of Realtors keep you in the dark and feed you manure, they must think you are a mushroom. They did it last week with the "existing home sales" and have done it again this week with the "pending home sales" release. Pending home sales were down, not up, in May, as the report said.
Here's why the WSJ may not be interested in allowing you to see the light of day. Rupert Murdoch's Wall Street Journal is the PR affiliate of his Move, Inc. which operates websites and mobile products for the NAR. The NAR is the monolithic, monopolistic US housing marketing cartel that controls the market, spending billions to disseminate its propaganda to the public and to manipulate Congress. The incestuous relationship between the NAR and Rupert Murdoch's organs prevents any possibility of fair and balanced reporting of the news when it comes to housing (or virtually anything else around which Murdoch has his power mongering propaganda tentacles).
"Pending home sales" are contracts, reported at the time the contract was signed by both buyer and seller. "Existing home sales" are the closings (aka "settlements" in some states), when the deeds are transferred. The contract is when the actual, real-time meeting of the minds takes place. This is far more timely market data than the data on closings.
The closing is the official transfer of the deed, which usually occurs 30-60 days after the date of the contract. This data is then delayed in recording and reporting by another 30 days or so. By the time the media reports "existing home sales" the data is stale. Case Shiller compounds the problem by using a 3 month average, causing another 6 weeks of lag.
The Wall Street Journal's headline was true.
U.S. Pending Home Sales at Highest Level in Nine Years

But this isn't news. Sales have been at their highest levels in 9 years since February, if we exclude 2010 when tax credits goosed the market artificially. Note that February is when mortgage rates hit their lowest levels since 2012. Since then they have ratcheted higher.
The Journal reported that contracts rose 0.9% in May on…