Romney, Newt or Santorum?
In the movie "Sophie's Choice," Meryl Streep was forced to make a terrible decision over which of her children would be sent to the gas chamber and which to the labor camps. Even after choosing, she was unable to live with the decision and she and her husband killed themselves, which manages to further screw the boy who was sent off to the labor camps, now an orphan too. That pretty much sums up this Primary season for the Republicans as they have to choose between 3 TERRIBLE candidates – any one of which is a pretty clear path towards National suicide.
A recent Gallup poll indicated 55% of Republican voters say they wish someone else was running but, that leaves 45% happy with their choices (I guess if they were Sophie, they would have just flipped a coin and been done with it) and perhaps today we'll get a better indication of who the front-runner is as 410 delegates go up for grabs today, which is much less than last election, when John McCain alone scored 511 delegates on Feb 5th, 2008. Interesting Republican trivia: On that day in 2008, Mitt Romney came in 2nd with 176, Mike Huckabee had 147 and Dr. Ron Paul scored 10. So Romney was only 1/3 as popular as McCain 4 years ago and I'm pretty sure McCain got his ass kicked in the General elections, didn't he?
Something has to change in this country as 93% of all income gains in 2010 (most recent figures) went to the top 1%. 93%. How does this work? In 2010, average real income per family grew by 2.3%, but the gains were very uneven. Top 1% incomes grew by 11.6% while bottom 99% incomes grew only by 0.2%. Looking ahead to last year, National Accounts statistics show that corporate profits and dividends distributed have grown strongly in 2011 while wage and salary accruals have only grown only modestly. Unemployment and non-employment have remained high in 2011.
While it is very, VERY good to be in the top 1%, being in the bottom 99% – not so much. What I try to get the top 1% to see though, is that getting 45% of the growth, like we did under Clinton, is pretty good – especially when it means that EVERYONE is participating in economic improvements and the overall growth is MUCH BIGGER. There's no point in climbing to the top of a pyramid if the base is about to crumble but the top 1% have gone completely into plunder and pillage mode – throwing the bottom 99% under the bus so they can get what they can out before they escape the last days of the American Empire.
Idiot Joe on CNBC was just saying this morning that he was at Universal Studios in Orlando and he had to wait 15 minutes in line to pay $11.50 for a Harry Potter Butter Beer (and even that was purposely misleading because it's not the beer that's $11.50, it's the souvenir mug that comes with it – but never let the facts get in the way of a Conservative making a point, right) and Joe's conclusion was that (and I kid you not) "the bottom 99% in this country have it better off than the top 1% in the rest of the World."
Wow, what a clueless moron! Does he really believe that the people who pay $80 a day for park admission at Universal and stay in $300 a night hotels around the park (where you have to be to join Joe's early admission privileges and yes, I know because I go all the time) are the bottom 99%? People in the bottom 80% have an average family income of $24,000 – it costs 5% of their ANNUAL post-tax income PER DAY to vacation at Universal Studios!
So, is Joe as clueless and out of touch with the reality of American life as Mitt Romney (and, if so, why the hell is this man a key analyst on CNBC?) or is he just an amoral bastard who's lying to your face in order to win points for his Corporate string-pullers? We report, you decide.
Speaking of top 1% A-holes on CNBC, TBoone is on AGAIN this morning trying to stop oil prices from going off a cliff. We're loving it as we got multiple opportunities to short oil at $107 yesterday and picked up several nice little gains and just this morning in Member Chat, we caught a nice ride down to $105.50 for a $1,500 per contract gain – Egg McMuffins for everyone!
Meanwhile gold (also short) is down to $1,684 and copper is back to $3.76 and natural gas (also being pimped endlessly by TBoone) is bouncing off the $2.35 line with gasoline retreating to $3.24 so I don't think even the great Mr. Pickens can stop oil from hitting our $105 target today and, in very bad news for oil bulls, Iran says it will be willing to allow IAEA Inspectors to visit it's Parchin Military Complex – NO WAR FOR YOU!
I was on TV at 3:05 yesterday and shorting oil at $107 was one of my picks and it stayed over $107 until 4 am so plenty of time to trade it and I'll bet that's the most profitable trade idea given out on television all week as I'm still one of the only bears out there. My reasons for remaining bearish are outlined on BNN (and in the last month of articles I've written) and now the technicals are starting to agree with me and I wonder how ready the markets are for a sudden change in the narrative from the MSM as analysts begin to rethink their overly-optimistic predictions.
Before leaving for New York yesterday afternoon, my own 12:54 prediction for Members was:
Dollar only 79.35, will be catastrophic tomorrow if we finish low and spark a continued sell-off in Asia and then Europe wakes up and realizes they were too optimistic today. I've got to go in 1/2 hour but doesn't look to me like we'll be bouncing. Oil was a nice re-short at $107 – gotta love our counterparties!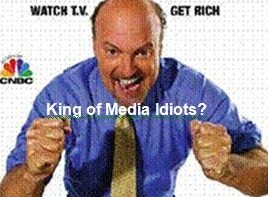 This morning the Dollar is at 79.77 and (8:52) oil is $105.45 and the Hang Seng fell 459 points (2%) and the Shanghai fell 1.4%, the Nikkei fell 0.6% and India tumbled 1% while Europe opened low and has been heading lower all morning, now down 1.5% and our own futures are down about 0.75% so far. Not bad for a 19-hour old prediction!
Now Cramer is on CNBC pimping oil, saying Iran and war as many times as possible in a single sentence. He says the market isn't pricing in war but I think war was priced into oil $20 ago and what's not priced into oil (or any commodities) are the slowdowns in China and India ON TOP OF the terrible economies of the EU, UK, US and Japan with even Australia and Canada now feeling the pinch as Global commodity demand grinds to a halt – a la 2008.
Let's just go back a moment and think about this. Jim Cramer is on CNBC at 8:55 am. He has a show that airs at 6pm-7pm so there's no way they need him here now. What is his motivation for coming on TV to implore you to buy oil? Last night, Cramer told his sheeple not to worry about China slashing their growth forecasts to 8-year lows. Judging from his "Buy the F'ing Dips" commentary this morning – I assume he's also not worried about today's news (from SA Market Currents):
Goldman Sachs (GS) -1.6% premarket on news the investment firm suffered a $103M net loss in Asia for 2011, its first loss in Asia since 2008. GS cited weak markets that took a toll on lending and investing, as well as a mark-to-market loss in its holdings of shares in Industrial & Commercial Bank of China.

Eurozone Q4 GDP second estimate -0.3% on the quarter, as expected. Yearly figure is +0.7%, as expected. (statement)

Eurozone Q4 exports -0.4% Q/Q, stripping 0.2 percentage point from GDP, imports -1.2%. Household spending, government expenditure and business investment also fall. The GDP breakdown is worrying "as it shows widespread weakness," says economist Howard Archer. The EC's Olli Rehn predicts "a turning of the tide."

U.K. retail sales fell 0.3% Y/Y in February (based on stores open at least one year), says the British Retail Consortium. This follows a 0.3% decline in January, the worst read for that month in 17 years. "The reality of weak sales shows that a convincing revival remains illusory," says BRC Director Stephen Robertson.

U.K. house prices drop 0.5% in February, according to Halifax, the 3rd consecutive decline. On a Y/Y basis, prices were 1.9% lower. Particularly troubling for the market, are rising mortgage rates despite the central bank's best efforts.

Russia's blue-chip Micex index -1.2%, nearly erasing yesterday's post-election gain, as riot police are called in to Moscow to break up protests by those contesting Putin's win. (previously)

With the the outcome of Greece's bond swap lookingdecidedly shaky, the country denies market chatter that it will put back the Thursday deadline to try to increase the participation rate.

"The euro is not in the interests of the Dutch people," says Geert Wilders, leader of the populist, right-wing Dutch Freedom Party, calling for a return to the Guilder. With a sixth of the seats in the Dutch parliament, the DFP is the first political movement in the eurozone with a large popular base to opt for withdrawal from the single currency.

Brazil's 2011 GDP growth comes in at 2.7%, short of a recent government forecast of 3% and well off the 4.5% target put in place at the start of the year. The economy grew 0.3% in Q4 (1.4% Y/Y). The central bank is in rate-cutting mode and the finmin "currency war" mode as the country looks to return to speedier growth.
As I said in yesterday's interview – it's not that I'm bearish per se, just that the markets are priced back at 2007 levels, which is ridiculous when Europe is clearly in a recession, Japan is dead in the water, India and China are slowing along with Brazil, Russia, Canada and Australia and the US "recovery" is creating no jobs and selling no homes, which means it can reverse very quickly.
So that makes me cautious when everyone else is mindlessly bullish. I guess that makes me a bear, but at least I won't be gnawing my own leg off when it's caught in a trap!
Be careful out there,
- Phil
Do you know someone who would benefit from this information? We can send your friend a strictly confidential, one-time email telling them about this information. Your privacy and your friend's privacy is your business... no spam!
Click here and tell a friend!