Ouch, that really stings!
They say you can't keep a good market down but it remains to be seen whether or not we have a good market with almost all of August and September's BS gains (see any of my posts for warnings and hedge ideas) erased just 3 days into October.
As you can see from our Big Chart, the Russell, in particular, completed it's 10% drop yesterday and, as I said to our Members in yesterday's live Chat Room as we neared the bottom:
/TF/Jasu – Just a bit oversold and, as noted yesterday (and above) it's completing a 10% drop from 1,200 at 1,080, so that's a very firm line for a bounce and that's 20% of a 120-point drop, so we're looking for 25-point bounces to 1,105 (weak) and 1,130 (strong) now. Anything less than 1,105 today is a failure and, if not tomorrow, then expect more downside next week.
/TF is the Futures on the Russell 2000 index and already this morning we're back to 1,097, which is up $1,700 per contract (see how easy this is?) from our 1,080 entry and just a little shy of our expected weak bounce.
We do expect resistance at 1,100 so this is a good time to take profits off the table and we can go long again over that line or flip to the S&P Futures (/ES) over 1,950 or Nasdaq (/NQ) over 4,000 or the Dow (/YM) over 16,800. As long as they are all performing, we can be confident on the long side.
As we discussed with our Members earlier this morning, there's no particular reason to get bullish – this is just a technical bounce we expect off our 5% lines per our 5% Rule™ and, if they trun out to be weak bounces, then we can expect another 2.5-5% of downside next week. That means we can use those same index lines to go short if they fail as we would to go long if they succeed this morning – that will be all up to the Non-Farm Payroll Report at 8:30.
The SHORT-TERM bounce lines we'll be watching for today are:
Dow 17,350 to 16,700 is 650 points so call it 150-point bounces (rounding) to

16,850

(weak) and

17,000

(strong)
S&P 2,010 to 1,925 is 85 points so 15-point bounces to

1,940

(weak) and

1,955

(strong)
Nasdaq 4,600 to 4,375 is 225 points so we'll call that 45-point bounces to

4,420

(weak) and

4,465

(strong) but we'll also know we're not really impressed until 4,510.
NYSE 11,050 to 10,450 is 600 points and we'll call it 125-point bounces to 10,575 (weak) and

10,700

(strong)
RUT 1,180 to 1,080 is 100 points so we'll call that 20-point bounces to

1,100

(weak) and

1,120

(strong)
Keep in mind that those measures are from yesterday's SPIKE lows, next week we will not be so generous but, for today, we're willing to accept just the weak bounce lines holding to call it a sign of improvement but if ANY of them fail today – especially if none of the strong bounces are retaken – we're going to position more bearish into the weekend.
As you can see from Dave Fry's McClellan Chart, we're pretty ovesold – so a strong bounce SHOULD be in the cards. Anything less would be a severe disappointment.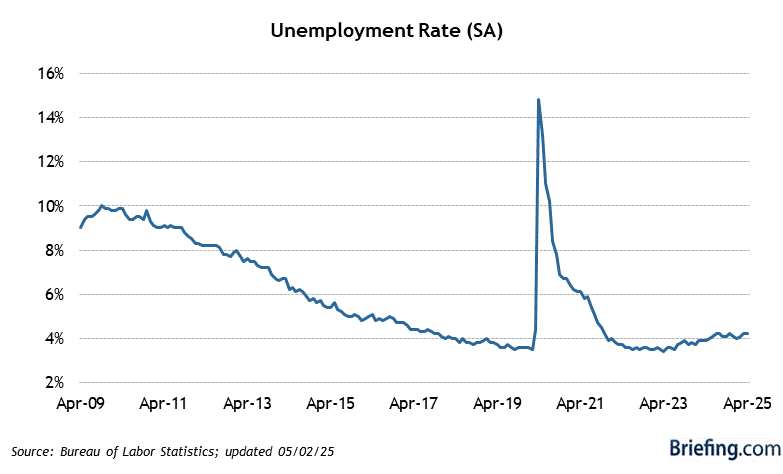 8:30 Update: Only 248,000 jobs added but the unemployment rate is now 5.9% and that's better than expected. August was revised from 142,000 to 180,000 which means the initial number was off by 26% – totally pathetic for such an important number. This is our first time under 6% Unemployment since 2008 so congratulations to President Obama for finally undoing most of the damage Bush did to our economy.
I say most because hourly earnings, unfortunately, are flat and, as we see in the brand new Study on Income and Poverty by the Census Bureau, wages for 100M American families in the bottom 90% (below $150,000 annual income), have DECLINED over the last 10 years while inflation, tame though it is supposed to be, has pushed the CPI from 270.01 in Jan 2004 to 342.1 at the end of 2013 (up 26%).
That has resulted in a horrific decline in spending power for the bottom 90% – keep that in mind when looking at this chart, which INCLUDES the top 10% in this horrific decline in disposable income:
As the US consumer runs out of cash, US Corporations are more and more dependent on Foreign Sales to pick up the slack. Unfortunately, Asia and Europe are in worse shape than we are – so where are all these profits going to come from? The S&P currently does 60% of their sales overseas and what happens when a strong Dollar gives them a poor conversion? Small-Cap Russell companies do 85% of their business in the US, and that's why the Russell and the broader-based NYSE have been learing the decline – their customers are broke!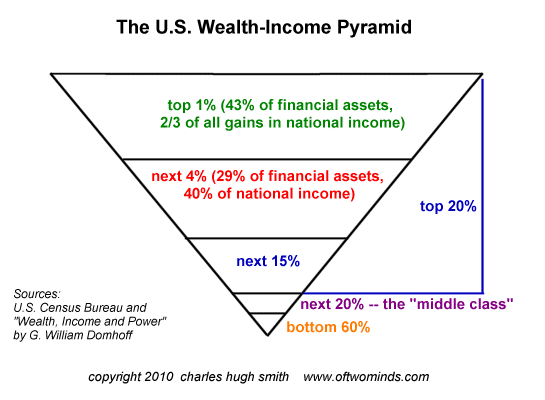 So today's NFP report is nothing to get excited about – it's just another mile-marker on the road to the decline of the American Empire, as the middle class families (who have lost 5% of their income in the past 10 years) averaging $52,000 per household in Income, go further and further in debt to support a lifestyle that only gets more out of reach for their children each year.
We'll get a pop off the "bullish" jobs report because more workers for less pay is the dream of our Corporate Masters and, if you listen carefully to what the Fed actually says – it's their goal as well. As you can see from the Wealth Pyramid, the bottom 80% have nothing left to give, so now the top 1% is turning on the rest of the top 20% so they can continue their incredible income and wealth gains.
Of course, as you can see, that's still not enough for the top 0.01%, our Nation's $100M+ club of 30,000 people – they have already turned on the rest of the top 1% to funnel more billions up to the very top which will, in turn, encourage the bottom 0.99% of the top 1% to put more pressure on the bottom 9% of the top 10% who, in turn, will put the screws to the bottom 90% until that pyramid begins to look like a gigantic screw – and guess who it is that's being screwed?
As the great George Carlin says – it's a big F'ing club and you aren't invited!
So we're going to ignore the morning pop and, while we'll respect our technical levels if they are taken back – we're going to look for some aggressive shorting opportunities because the harsh reality is that Christmas is just around the corner and our citizens can't afford it. We'll be watching debt to see if it mounts up into the Holidays but, one way or another, there will be Hell to pay in 2015 unless we do something SOON to help the bottom 300M people in this country.
Have a nice weekend,
– Phil