Get ready for a wild week.
FOMC minutes are released on Wednesday at 2pm and there are a record 12 Fed speeches in the days that surround them. Expect the market to gyrate wildly with each tweetable quote and it all kicks off this afternoon with Treasury Secretary Jack Lew, followed by KC's Hawkish Esther George at 8:30.
Tuesday we have Kocherlakota (hawk) and Dudley (dove), Wednesday is Evans (dove) and the minutes. Thursday we have Bullard (hawk), Tarullo (dove), Lacker (uber hawk) and Williams (dove) ahead of the realease of the Fed's shocking balance sheet and a look at the ever-expanding US Money Supply.
Friday ends with a bang as we hear from Plosser (uber hawk), George again, Fisher (uber hawk) and then Lacker again – so the hawks very much have the last word into the weekend. It's not much of a data week (next week is a doozy, though) and, to summarize it's hawk, hawk, dove, dove, hawk, dove, HAWK, dove, HAWK, hawk, HAWK, HAWK – do you think, perhaps, the Fed is trying to tell us something?
The next Fed meeting is October 28th and we'll hear their decision on the 29th. If they don't begin to tighten at this meeting, there is no way they'll do it right before Christmas at their last meeting on the 16th. It seems to me, they are going to be setting expectations for some hawkish action this week and the reaction will give them time to contemplate it going into the next meeting.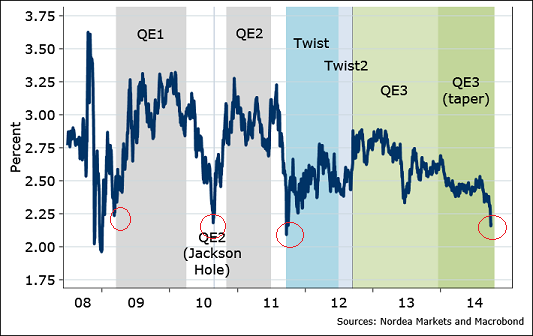 What's keeping us from getting too hawkish (bearish) is this chart from Macrobond, which points out that, the last 3 times 10-year rates have been this low, the Fed has begun major rounds of EASING, not tightening policies. QE increases the money supply and that forces note rates up to compensate and Jack Lew is the guy who has to borrow the money at those rates – so you can see how this week will all tie together once the dust settles.
As a hedge, for our Member Portfolios, we're favoring SQQQ (now $36.55) and DXD (now $24.52) to protect us from another slide but the real tilt to hawkish doesn't start until Thursday, after the Fed minutes, so we can assume they will be spun bearish from there into the weekend and we'll look to take nice, short positions against any run-up that comes from doveish Fed statements early in the week.
We're still watching our short-term bounce lines, which are far more forgiving than the long-term bounce lines we'll be looking for after they cross but, for the moment, we'll be content to see all our Strong Bounce Levels taken back (and held) today at:
16,850 (weak) and 17,000 (strong)
S&P

1,940

(weak) and 1,955 (strong)
Nasdaq

4,420

(weak) and 4,465 (strong) but we'll also know we're not really impressed until

4,510

.
NYSE 10,575 (weak) and

10,700

(strong)
RUT 1,100 (weak) and

1,120

(strong)
For this morning, the 50 dma at 197 on /ES (1,970 on the S&P) is going to be the critical line to watch – without taking that back, anything else we see is meaningless. So far, the /ES futures have stopped dead at the 1,970 mark while the Dow Futures (/YM) struggle at 17,000 and the Russell (/TF 1,102) is sitting just over the 1,100 line and the Nasdaq (/NQ), so far, is sitting just above the 4,025 line at 4,031. All those lines must hold this morning or we'll quickly flip short in the Futures.
Oil is still very weak at $89.60 and we're still expecting to see $85 tested (/CL) while silver is still a long for us above the $17 line (/SI) as is gold over $1,200 (/YG) – but not below for either! We closed our short USD/JPY trade again this morning at 109.30, picking up another 0.50 winner on our favorite trade of last week.
It's going to be a crazy, volatile week and that means lots of opportunities for us to make money trading the Futures. We're doing our Live Trading Webinar on Wednesday this week (Members Only) but last week was a free sample and you can see us demonstrate a live Futures trade that made $500 in less than 5 minutes on the Replay Link.
Today, meanwhile, will be mostly watch and wait.