Posts Tagged 'Fed Minutes'
by phil - October 6th, 2014 8:03 am
Get ready for a wild week.
FOMC minutes are released on Wednesday at 2pm and there are a record 12 Fed speeches in the days that surround them. Expect the market to gyrate wildly with each tweetable quote and it all kicks off this afternoon with Treasury Secretary Jack Lew, followed by KC's Hawkish Esther George at 8:30.
Tuesday we have Kocherlakota (hawk) and Dudley (dove), Wednesday is Evans (dove) and the minutes. Thursday we have Bullard (hawk), Tarullo (dove), Lacker (uber hawk) and Williams (dove) ahead of the realease of the Fed's shocking balance sheet and a look at the ever-expanding US Money Supply.
Friday ends with a bang as we hear from Plosser (uber hawk), George again, Fisher (uber hawk) and then Lacker again – so the hawks very much have the last word into the weekend. It's not much of a data week (next week is a doozy, though) and, to summarize it's hawk, hawk, dove, dove, hawk, dove, HAWK, dove, HAWK, hawk, HAWK, HAWK - do you think, perhaps, the Fed is trying to tell us something?
The next Fed meeting is October 28th and we'll hear their decision on the 29th. If they don't begin to tighten at this meeting, there is no way they'll do it right before Christmas at their last meeting on the 16th. It seems to me, they are going to be setting expectations for some hawkish action this week and the reaction will give them time to contemplate it going into the next meeting.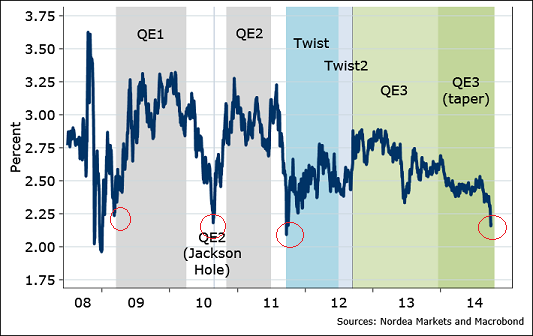 What's keeping us from getting too hawkish (bearish) is this chart from Macrobond, which points out that, the last 3 times 10-year rates have been this low, the Fed has begun major rounds of EASING, not tightening policies. QE increases the money supply and that forces note rates up to compensate and Jack Lew is the guy who has to borrow the money at those rates – so you can see how this week will all tie together once the dust settles.
As a hedge, for our Member Portfolios, we're favoring SQQQ (now $36.55) and DXD (now $24.52) to protect us from another…

by ilene - January 6th, 2010 3:44 pm
Staff Economic Outlook
In the forecast prepared for the December FOMC meeting, the staff raised its projection for average real GDP growth in the second half of 2009 somewhat, and it also modestly increased its forecast for economic growth in 2010 and 2011. Better-than-expected data on employment, consumer spending, home sales, and industrial production received during the intermeeting period pointed to a somewhat stronger increase in real GDP in the current quarter than had previously been projected. In addition, the positive signal from the incoming data, along with the sizable upward revisions to household income in earlier quarters and more supportive financial market conditions, led to small upward adjustments to projected growth in real GDP over the rest of the forecast period. The staff again anticipated that the recovery would strengthen in 2010 and 2011, supported by further improvement in financial conditions and household balance sheets, continued recovery in the housing sector, growing household and business confidence, and accommodative monetary policy, even as the impetus to real activity from fiscal policy diminished. However, the projected pace of real output growth in 2010 and 2011 was expected to exceed that of potential output by only enough to produce a very gradual reduction in economic slack.

The staff forecast for inflation was nearly unchanged. The staff interpreted the increases in prices of energy and nonmarket services that recently boosted consumer price inflation as largely transitory. Although the projected degree of slack in resource utilization over the next two years was a little lower than shown in the previous staff forecast, it was still quite substantial. Thus, the staff continued to project that core inflation would slow somewhat from its current pace over the next two years. Moreover, the staff expected that headline consumer price inflation would decline to about the same rate as core inflation in 2010 and 2011.
Oil, nat gas and copper are up 20% since the staff determined consumer price inflation was "transitory."
Participants' Views on Current Conditions and the Economic Outlook
In their discussion of the economic situation and outlook, meeting participants agreed that the incoming data and information received from business contacts suggested that economic growth was strengthening in the fourth quarter, that firms were reducing payrolls at a less rapid pace, and that downside risks to the outlook for economic growth had diminished a bit further. Although
…