Amazon (AMZN), Alphabet (GOOGL), Microsoft (MSFT) and Intel (INTC).
All four will report tonight and they make up 20% of the Nasdaq by weight (and AAPL, who are the rest of the Nasdaq that counts, reports on 11/2) so it's do or die for the index that's up 25% since the election but that's still only HALF of the move the FAANG stocks have made (Facebook (FB), Amazon (AMZN), Apple (AAPL), Netflix (NFLX) and GOOGL), who are up 50% as a group since last November.
It's truly a market gong wild and we made some lovely profits on our shorts yesterday, nailing the move oil, as we had said to you in the morning Report:
Meanwhile, in our quest to join the Top 1%, we shorted Oil (/CL) Futures again at $52.50 and the EIA Inventory Report is at 10:30, so that will be fun. We have Gasoline (/RB) shorts to at about $1.72 avg but they spiked to $1.738 overnight – so a rough ride.
Oil fell to $52 and that was good for gains of $500 per contract while Gasoline hit the $1.70 mark, which was good for gains of $840 per contract and then it bounced right back to $1.735 – so we shorted it again in our Live Trading Webinar but this time, we went with next month's /RBZ7 contract at $1.686 for our Webinar Trade (and you can see our volume spike on the chart!). This morning, in our Live Member Chat Room, we used our 5% Rule to set goals for a pullback at $1.63, which would be a better than $2,000 per contract gain.
While we usually don't share trade ideas with cheapskate readers during earnings week, the following trade is such a gift I simply have to tell you about it. Barrick Gold (ABX) is our favorite gold company and we have them in all of our portfolios but, as an earnings play, I sent out a Top Trade Alert to our Members yesterday afternoon with a trade we discussed in our Live Trading Webinar:
ABX – In the Webinar we decided 50 2020 $15 ($3.45)/$22 ($1.35) bull call spread at net $2.10 ($10,500) and 25 short $15 puts at $2.20 ($5,500) for net $5,000 on the $35,000 spread was an excellent trade into earnings as we're not worried if they go lower as we'd be happy to buy more and, if they pop, you'll be right in the money with $30,000 (600%) upside potential.
That trade will still be playable this morning as ABX missed earnings by a mile, losing $11M vs. $186M that was expected to be earned. Why does this make me want to reiterate the trade? Because they had to make an unexpected tax payment to Tanzania of $192M so, without that one-time payment, they beat expectations. Of course, a loss is a loss and there will be some impact on them but nothing to change the long-term outlook, especially as ABX produced 1.24M ounces of gold at an average, industry-low cost of $772/ounce. Since they have 100M ounces of gold still in the ground – the future looks bright for ABX!
Meanwhile, back to the Nasdaq. Celgene (CELG) just reported good earnings but lowered guidance and they are down 15% pre-market and Amgen (AMGN) beat on earnings and are pulling back. This will not be good for the Biotech Index (IBB), which has fallen 10% already this month and will critically fail support at $320 this morning, which likely means we'll see $300 again. We expected this in our Short-Term Portfolio and sold the Biotech Ultra ETF (LABU) December $70 and March $70 calls (10 each) against 20 long March $50 calls and we'll take this opportunity (at $60) to buy back the Dec $70s with a nice profit (sold for $8.80) and increase our upside potential for the next leg up.
That's how we usually make calls in our Live Member Chat Room but, since this news hit while I was writing the post, I figured I'd just call out the adjustment right here. The great advantage to our spreads is we can make small adjustments like that (uncovering 1/2 our longs to get more bullish on a dip) without having to change the whole trade. In the case of LABU, this was a planned adjustment as you can see that they routinely drop on earnings, so we purposely gave ourselves until the end of November by selling the Dec $70s in anticipation of the usual earnings pullback and then we're getting out in March – ahead of April's earnings.
Over in Europe this morning, the ECB announced it would extend it's QE program into 2018 but will cut the purchases in half, which is still $35Bn/month so "only" $420Bn in stimulus next year vs this years' $840Bn of FREE MONEY handouts. Not only are they continuing to be semi-generous, but they are leaving rates unchanged at 0.5%.
As you can see from the chart on the right, the balance sheet of the ECB is now 40% of the EuroZone's $20Tn GDP while our own Fed has given away 22% of our $19Tn GDP and the BOJ has already printed 100% of Japan's $5Tn GDP in new money to buy assets with (the BOJ now owns over 10% of the entire Japanese stock market). An optimist would say that means the US and Europe have miles to go since Japan hasn't impoded – yet. A pessimist might say we are all doomed.
Kyle Bass is one such pessimist but he's focusing on China and has essentially branded Chairman Xi Jinping as an econnomic war criminal saying:
"Today Xi is celebrated in media reports, but when future historians look back, he will be blamed for recklessly building the Chinese economy on a foundation of sand. Xi desperately seeks credibility, but true developed economies do not impose severe capital controls or move short-term rates hundreds of basis points overnight in attempts to manipulate their own currency.

"Recklessly growing a banking system in pursuit of global economic growth and respect will cause severe financial instability in the years to come. The dangerous $40 trillion credit experiment with Chinese characteristics will run its course."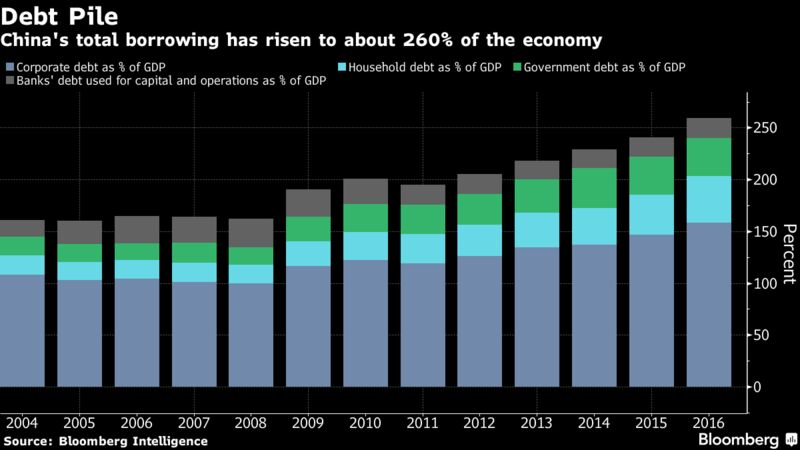 Obviously, Bass has no plans to visit China for the rest of his life! Very few fund managers have been brave enough to criticize China's policies as the Chinese tend to take criticism about as badly as our President. We've been discussing the likelihood that China will lead the next global collapse for some time and this week's Party Congress Meeting has done nothing to negate those fears. If we want to play China short, we can go with the following using FXP, the Ultra-Short China ETF:
Buy 20 FXP March $17 calls for $2.20 ($4,400)
Sell 20 FXP March $22 calls for $1.20 ($2,400)
Sell 10 CHL March $50 puts for $1.65 ($1,650)
China Mobil (CHL) is our favorite Chinese stock so it makes a nice offset to the bearish spread but you have to REALLY want to own 1,000 shares of CHL for $50 ($50,000), otherwise it's better to just play the straight FXP spread for $2,000, which is still good as it returns $5,000 for a 150% gain in 5 months if all goes well. With the CHL puts, the net of the spread drops to just $350 and you can make up to $4,650 (1,328%) if all goes well.
In theory, if the Chinese market doesn't sell off by March, then CHL should hold $50 and you would only be out $350, which makes this a great risk/reward trade.
We'll have to see how tonight's earnings go but, either way, we'll be looking to go back in on index shorts after the bounce (see recent reports for our shorting lines). Oh, that's right, I forgot to mention, we got out of our index shorts yesterday at 11:28, when I said to our Members in the Live Chat Room:
Flipped long on /TF – tired of having it reverse on me (1,482.50)
That's what it looks like when our Members flip long!
Now at 1,500, we'll take profits if 1,498 fails.
Time for more fun inside!
Do you know someone who would benefit from this information? We can send your friend a strictly confidential, one-time email telling them about this information. Your privacy and your friend's privacy is your business... no spam!
Click here and tell a friend!