Why are you here?
I told you it was going to be a pointless, slow week. You need to take advantage of these things and take vacations. Surely you didn't become a trader so you could be chained to a desk all day, right? Get out there and have some fun, the market will still be here when you come back.
We took a quick $338 per contract profit off the table already on our oil shorts and that's a nice $3,380 on 10 contracts to fly us down to Florida and have a big old turkey dinner with the family and THAT is why I like being a trader – just a little bit of work for a lot of reward (after putting in years and years of hard work and practice, though). Still, the point is you have to learn to enjoy yourself, that's why our tag-line is: "High Finance for Real People – Fun and Profits." If you're not having any fun – what good are the profits?
As I noted in our Portfolio Reviews last week, we're trying to emphasize the LONG-term investing strategies. Futures trades like the one above are fun but they are a lot more fun when you KNOW you have a good collection of stocks working for you 24/7 to keep new money pouring in. In the case of our Long-Term Portfolio (LTP), we're collecting $50,000 a year in dividends alone and we just added another dozen big dividend-paying stocks to our Watch List.
Our Portfolios have been pretty much locked in neutral since October, with only our Buttefly Portfolio putting up big returns because it's already self-hedging and doesn't really care whether the market goes up, down or sideways. If I had to trade just one strategy the rest of my life – that would be the one I'd pick (though I'd be SO bored!). Boredom is why we play the Futures. Good trading is BORING – it's supposed to be boring as you grind out steady, consistent gains. If your tading is exciting, you are probably doing it wrong…
One of our Memberships at PSW is our Top Trade Alert and we've sent out 6 Alerts in the month of November – all bullish. Those trades were:
Top Trades for Thu, 02 Nov 2017 12:01 – TEVA, M & CBI

Top Trades for Mon, 06 Nov 2017 12:12 – DIS

Top Trades for Thu, 09 Nov 2017 10:03 – M

Top Trades for Fri, 10 Nov 2017 11:40 – TWTR

Top Trades for Tue, 14 Nov 2017 15:37 – NVS

Top Trades for Fri, 17 Nov 2017 15:51 – GT
Not a bad set of earnings picks, right? Of course our Top Trade Alerts are only a small sample of the Trade Ideas we share with our Members every day at PSW but they are, generally, the ones I feel have a very high probability of success. Generally, we don't make risky trades our Top Trades – the options spreads we select are generally long-term (in case we're wrong and need to adjust) but they can still give you a huge, short-term pop if you get them right. For example, we liked Macy's (M) so much we picked it twice, on Nov 2nd it was:
Sell 10 M 2020 $15 puts for $3 ($3,000)

Buy 20 M 2020 $18 calls for $4.20 ($8,400)

Sell 20 M 2020 $22 calls for $3.10 ($6,200)

That's a net credit of $800 with $8,000 more upside at $22 and the worst case is being assigned 1,000 shares at net $14.20, which is 25% below the current price. Upside potential is $8,800 (1,100%).
That one was ahead of earnings and you would think 2020s would change that much but, already, the $15 puts are $2.58 ($2,580) and the $18 ($5.55)/22 ($3.53) spread is $2.02 ($4,040) for net $1,460 and that's up $2,260 (we had a credit in our pocket already), which is up 282% in less than a month but that's only "on track" for our expected 1,100% gain and it's still good for a new trade as there's another $7,740 (342%) left to gain from here.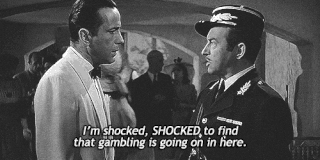 That's why, going into Thanksgiving, M is still a contender for our 2018 Trade of the Year. As I noted above, we like it so much that, after earnings on the morning of the 9th, we were SHOCKED that M hadn't rocketed on what we thought was a great earnings report so what else could we do but send out another Top Trade Alert to our Members (in case people hadn't already grabbed them). This one said:
M/Jabob – Over $18 already, silly boy. Earning $3 per $18 share could be my Stock of the Year for next year since LB has gotten away from us.

In the very least, M should be a Top Trade today as we can certainly say we'd LOVE to own them at this level:

Sell 10 M 2020 $20 puts for $6 ($6,000)

Buy 30 M 2020 $15 calls for $5.20 ($15,600)

Sell 30 M 2020 $22 calls for $3 ($9,000)

That's net $600 on the $21,000 spread that's $3 ($9,000) in the money to start (but you have to clear $20 to cash in the longs without impairment). Seriously, this would be my Trade of the Year for 2018 if it were Thanksgiving at this price! M is already in the OOP and LTP and I'll consider later if I want to adjust but today's report justified our targets.
Notice we were more confident and more aggressive this time, having had a chance to hear the earnings report that was nowhere near the disaster people thought it was. We took the more aggressive 2020 $15 calls, bought 50% more of them and paid for them by aggressively selling the $20 puts because, as I said, I would LOVE to own M for $20 in 2020.
On this one, the $20 puts have fallen to $4.95 ($4,950) while the $15 calls are $6.85 and, as above, the $22 calls are now $3.53 for net $3.32 ($9,960) on the spread and that's a net of $5,010, which is up $4,410 (735%) in 11 days. It's also still good for a new trade as the goal at $22 is $21,000, which is another $15,990 (319%) from here – so still good for a new trade if you were smart enough to save $3 a day by not being a subscriber.
This is why I ignore day trades and most short-term trades. We can make PLENTY of money making sensibly leveraged long-term trade. After all, what is my risk on the above "aggressive" trade. That M ends up below 20 and I have 1,000 shares assigned to me at $20 plus the $600 we spent on the spread (and assuming we let the spread go worthless) so the net is $20.60, barely higher than if I just bought the stock.
But, if we had just bought the stock, we'd be up about $2,000, not $5,010 and we would have laid out $18,000, not $600 (plus $5,747 in ordinary margin). What's the downside to making a sensible options spread instead of swing-trading a stock? I was just on Benzinga's Pre-Market Show and I did tell them that the first M trade is likely our Trade of the Year for 2018. I'm sure, in the end, there will be an adjustment but I can't think of a trade I feel has better odds of returning 300% than that one.
Meanwhile, I'm trying to practice not talking politics for Thanksgiving so you can read Trump's weekend tweets yourself if you want to know why we've parked our portfolios in NEUTRAL for the Holidays with plenty of CASH!!! on the side – just in case WWIII breaks out while we're at Mom's house…
Earnings reports are still trickling in and we like Lowes (LOW), GameStop (GME) and Medtronic (MDT) and Tuesday and Deere (DE) on Wednesday and LOW is still pretty cheap at $80, GME really cheap at $16.30, MDT under $80 ($79.50) is a good buy too but DE already blasted higher, so no interest there.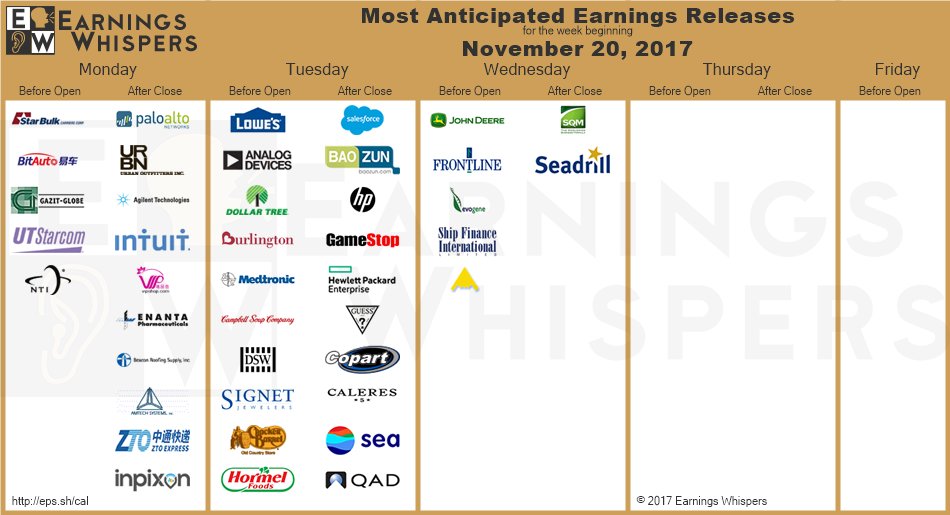 I'm have some plays on those in our Live Member Chat Room after a bit more investigation. There will be Fed Minutes on Weds at 2pm but I'll be on a plane – so good luck with those! We have Leading Economic Indicators today at 10 and the Chicago Fed and Home Sales tomorrow with Durable Goods and Consumer Comfort/Sentiment on Wednesday. So far, dissatifaction with the President hasn't spilled over to dissatisfaction with the economy but watch out if it does.
As I told Benzinga, we expect the markets to hold up into the Holidays but January is looking very scary indeed. By the way, those 597,893 open December oil contracts I told you were fake, Fake, FAKE!!! back on October 31st? Today is the last day of trading and, as of Friday's close, only 31,377 contracts remain but oil prices have gone UP $3 since then. All but 50,000 of the 1.3Bn contracts that were open in the front 4 months are still in the new front 4 months and the rest were rolled to longer months.
Click for
Chart

Current Session
Prior Day
Opt's
Open
High
Low
Last
Time
Set
Chg
Vol
Set
Op Int
Dec'17
56.69
56.76
56.18
56.24
07:42
Nov 20






-


-0.31
3448
56.55
31377
Call Put
Jan'18
56.80
56.93
56.29
56.37
07:42
Nov 20






-


-0.34
144707
56.71
595210
Call Put
Feb'18
56.88
56.98
56.38
56.44
07:42
Nov 20






-


-0.37
27861
56.81
190625
Call Put
Mar'18
56.93
57.00
56.41
56.46
07:42
Nov 20






-


-0.41
17661
56.87
300887
Call Put
Apr'18
56.83
56.98
56.45
56.46
07:42
Nov 20






-


-0.43
14958
56.89
134760
Call Put
May'18
56.73
56.85
56.32
56.35
07:42
Nov 20






-


-0.46
5120
56.81
105949
Call Put
Jun'18
56.55
56.69
56.15
56.18
07:42
Nov 20






-


-0.47
10481
56.65
234321
Call Put
It's ALL FAKE!!! I'm showing you very simply that it's a complete and utter scam yet Congress can't seem to figure that out and we ALL pay for their incompetence/complicity at the pump. Remember that when you are gassing up your car this weekend – these traders CANCELLED contracted delivery of 564,000,000 (95%) barrels of oil that were supposed to be moving into inventory in December and your oil and gas prices went UP 5.5% this month.
They won't even end up taking delivery of 31M barrels, likely less than 20,000 open 1,000 barrel contracts will remain at the end of the trading day – all just to screw you over at the gas pump. But you don't mind, do you – it's just a little screwing – a few more Dollars each time you fill up is only what, $200 a year per car? It's nothing to complain about – just another one of the daily indignities that we suffer but there's 200M drivers suffering and that's $4Bn a year in profits from this scam.
It would make a great class action suit!
Don't bother writing to Congress – write to your attorney!
Do you know someone who would benefit from this information? We can send your friend a strictly confidential, one-time email telling them about this information. Your privacy and your friend's privacy is your business... no spam!
Click here and tell a friend!